Our extraordinary research: Why Leeds
We explore why UKRI, the UK's biggest public funder of research and innovation, is marking its anniversary event at the University of Leeds.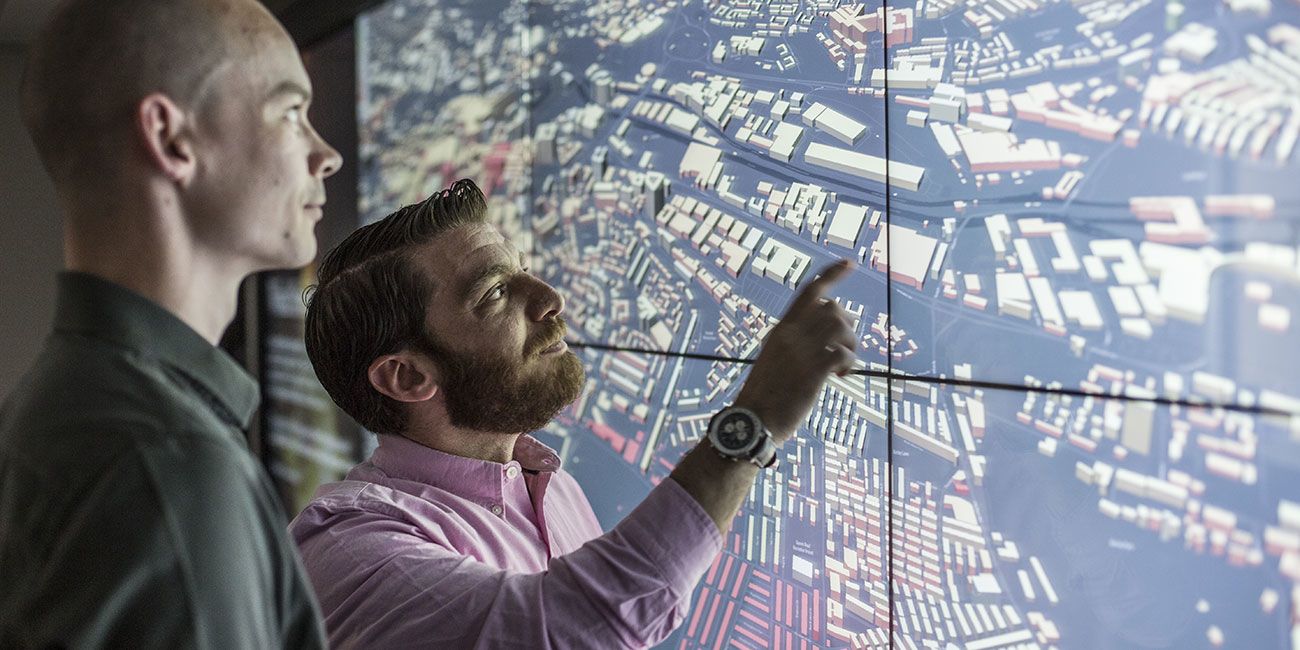 What makes Leeds stand out – not only as an internationally-recognised research university, but as one of the most successful institutions for student education as well – is its determined focus on the future.
The success of Leeds as a research-intensive institution is clear: the University is ranked in the UK top ten for research power and impact in the Research Excellence Framework 2014 and is in the top ten for attracting research council funding.
A world top 100 university, Leeds attracts top talent and critical thinkers, who are committed to making a difference to the world around them.
Recognising our strengths and an unwavering commitment to future impact, UKRI recently announced three University of Leeds Future Leaders Fellows – a scheme which nurtures and develops exceptional talent.
We have also invested heavily ourselves in the future generation, and in the last three years, Leeds has recruited 170 early career researchers from around the world, as part of its own University Academic Fellows scheme.
Leeds is resolute in its ambition to extend its global impact in the future. As the joint most successful UK university for the number of Global Challenges Research Fund and Newton Fund awards, it has has secured £45 million from 73 awards to work in more than 35 countries, bringing cross-cutting research to bear on some of the world's most intractable problems.
Pushing the boundaries of knowledge and exploring new possibilities, it means Leeds will be at the forefront of delivering the Government's strategy for improving the lives of the world's population for decades to come.
Maintaining the UK's global research position
Leeds has been chosen to host the event marking the anniversary of UK Research & Innovation (UKRI), which celebrates the accomplishments from its first year and shares its priorities for the future.
Professor Lisa Roberts, Deputy Vice-Chancellor: Research and Innovation, said: "It is a privilege to welcome UKRI and guests to Leeds. It has been an impressive first year for the organisation and we look forward to working together to help maintain the UK's global research position."
The event follows the UKRI launch in London last year and stakeholder events in Northern Ireland (Belfast), Scotland (Glasgow and Edinburgh) and Wales (Cardiff) over the past 12 months.
Professor Roberts continued: "We harness the breadth and depth of our academic expertise, combining outstanding curiosity-driven research with a powerful culture of collaboration.
"We are committed to working with industry and businesses to help them innovate, giving seamless access to support collaborative innovation opportunities, which will also support the Industrial Strategy and help deliver the Government's ambitions for the UK." 
Nexus
The University has made a step change in how it works with business to support this demand, building on its strong track record of commercialisation. Its new innovation hub, Nexus, accelerates innovation through collaborative research and development, making it as easy as possible for businesses to access the University's expertise, training and facilities.
Cross-cutting research: an interdisciplinary future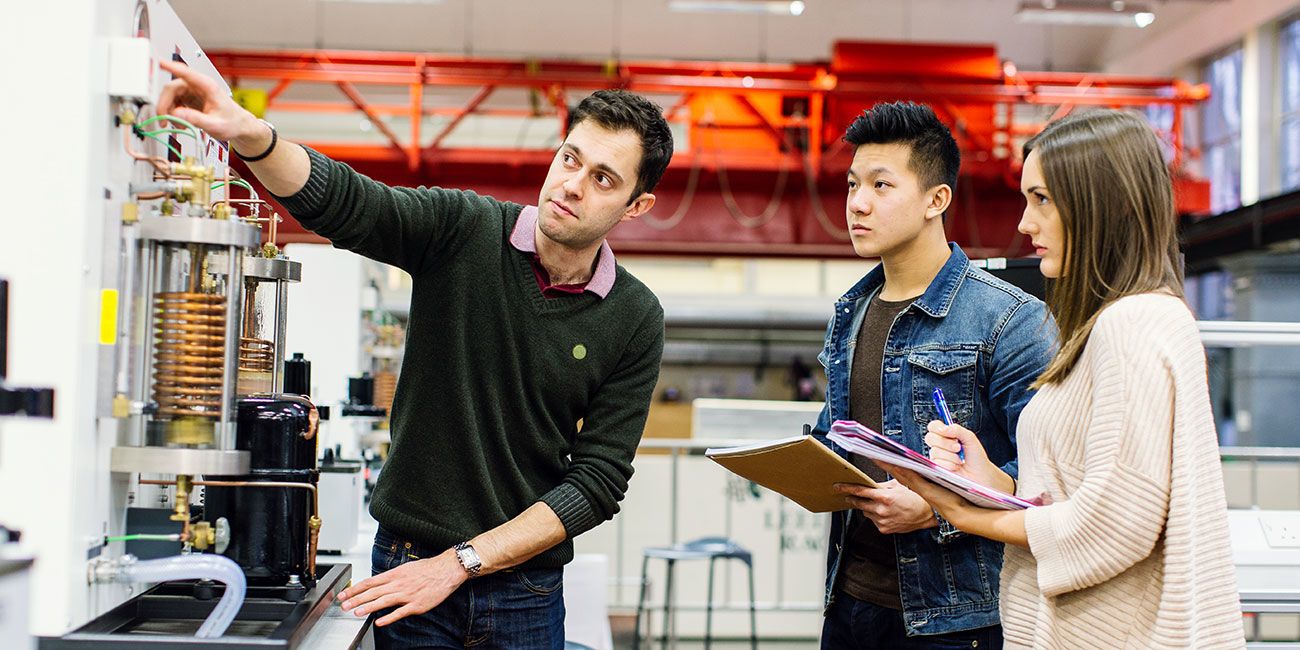 At the heart of the University's success is research that brings together experts from a range of academic backgrounds to tackle the challenges of our time: climate change and resilience; pollution and environmental degradation; food and clean water; disease and improved health; strengthening communities and promoting peaceful societies enjoying greater equality.
The unprecedented scale and complexity of the global challenges mean that universities need to embrace this spirit of collaboration, approaching issues from multiple perspectives to find solutions.
With one of the broadest disciplines ranges on offer in the UK, Leeds is able to deliver truly exceptional cross-cutting research.
And with academic staff and students from more than 170 countries, impressive international partnerships, and a network of more than 250,000 alumni from across the world, Leeds is well positioned to drive future global impact.
An example of international impact is the Priestley International Centre for Climate, which brings together experts from engineering to art and design, and whose researchers helped write the UK Government's recent Committee on Climate Change report, recommending a new net-zero emissions target by 2050.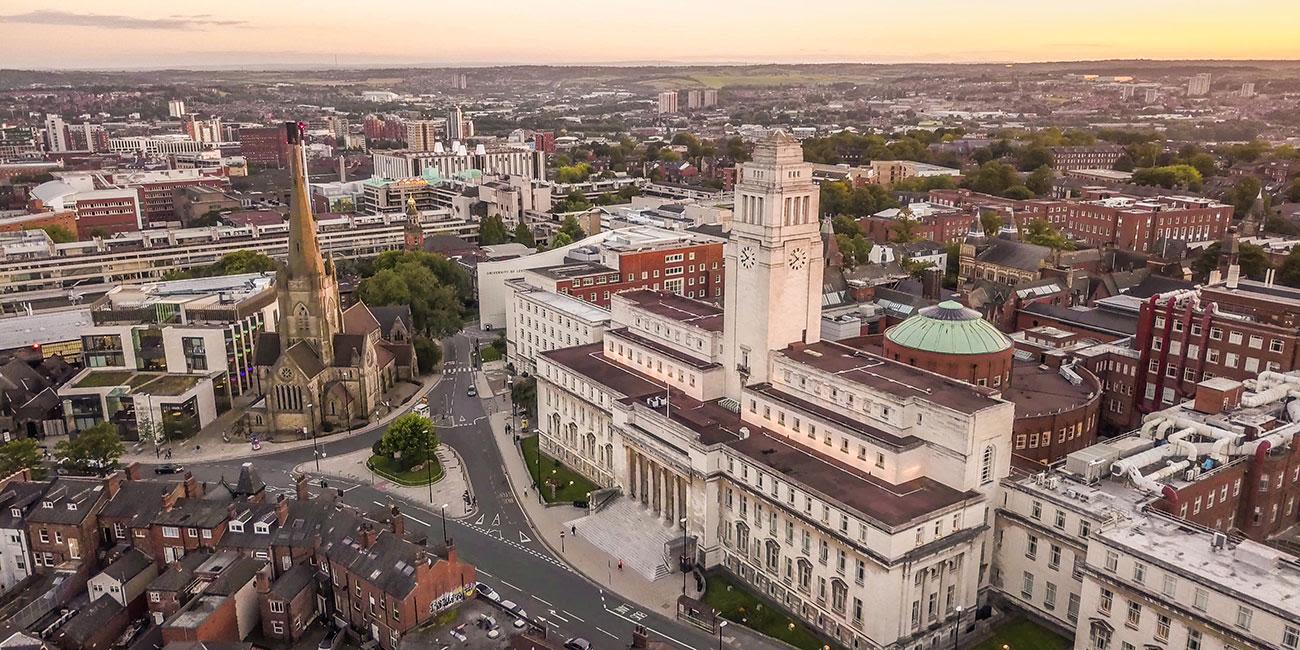 Cities for the future
As part of the University's drive to support these global challenges, it never loses sight of its civic roots and its commitment to help create cities that are socially, environmentally and economically sustainable.
How society lives and works in cities, now and into the future, is a key part of UKRI's event at Leeds - the organisation's theme of the event which focuses on the challenge of 'Designing Cities That Work'.
An exhibition in Parkinson Court brings to life some of the University's research:
360 video of the Virtuocity Simulator
Virtuocity is home to the University's driving and truck simulators and its newest addition, HIKER Lab – the largest 4K resolution pedestrian simulator in the world, enabling participants to interact with a variety of urban environments. Safe pedestrian interaction with autonomous vehicles is a current example of our research.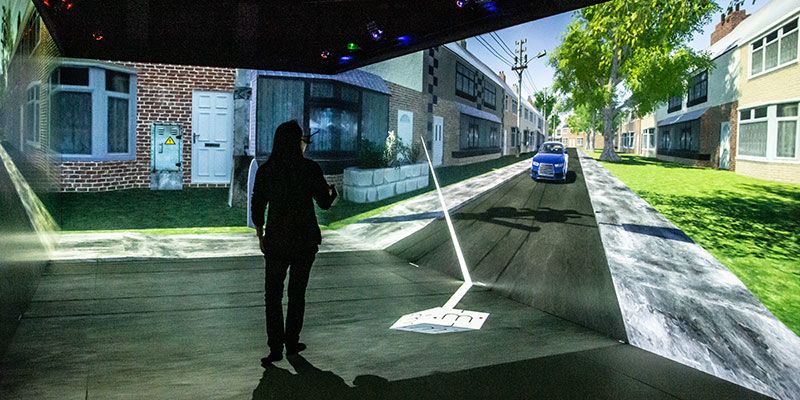 Immersive technologies
The University's Centre for Immersive Technologies has a vision to drive a digital revolution where immersive technologies can improve human lives across the world. Leeds research is also creating immersive, interactive, virtual environments based on 360 degree photography and sound recording of Holocaust memorial sites, proving that immersive technologies are not only critical for the future, but that they can be an integral way of honouring the past.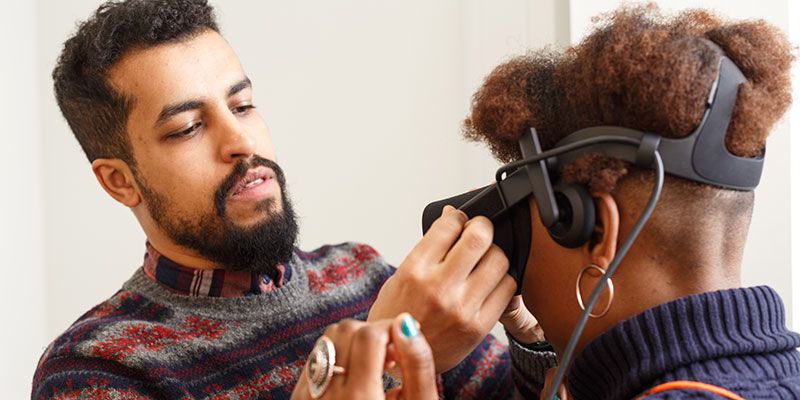 Data visualisation tools
The University's OmniGlobe is a technology-packed sphere demonstrating the processing and transport of trace gases and aerosols in the atmosphere and their interactions with the Earth.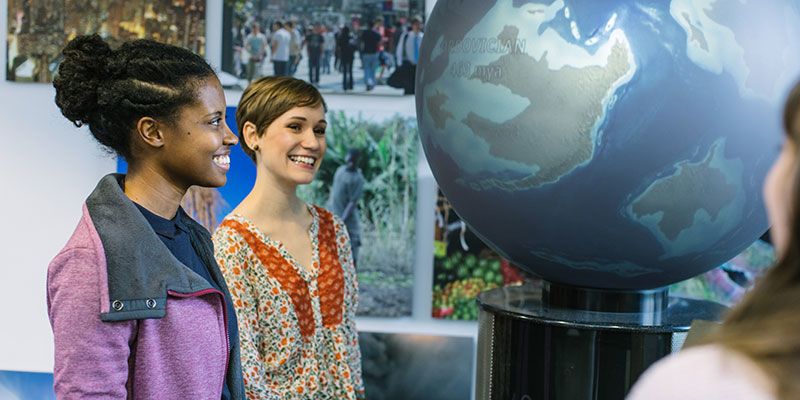 The future of fashion
The Future Fashion Factory project is developing new digital and advanced textile technologies to reduce lead times, waste and the carbon footprint of the fashion and textile industries. New "virtual swatch" technology will enable people to "feel" fabrics virtually, wherever they are in the world.