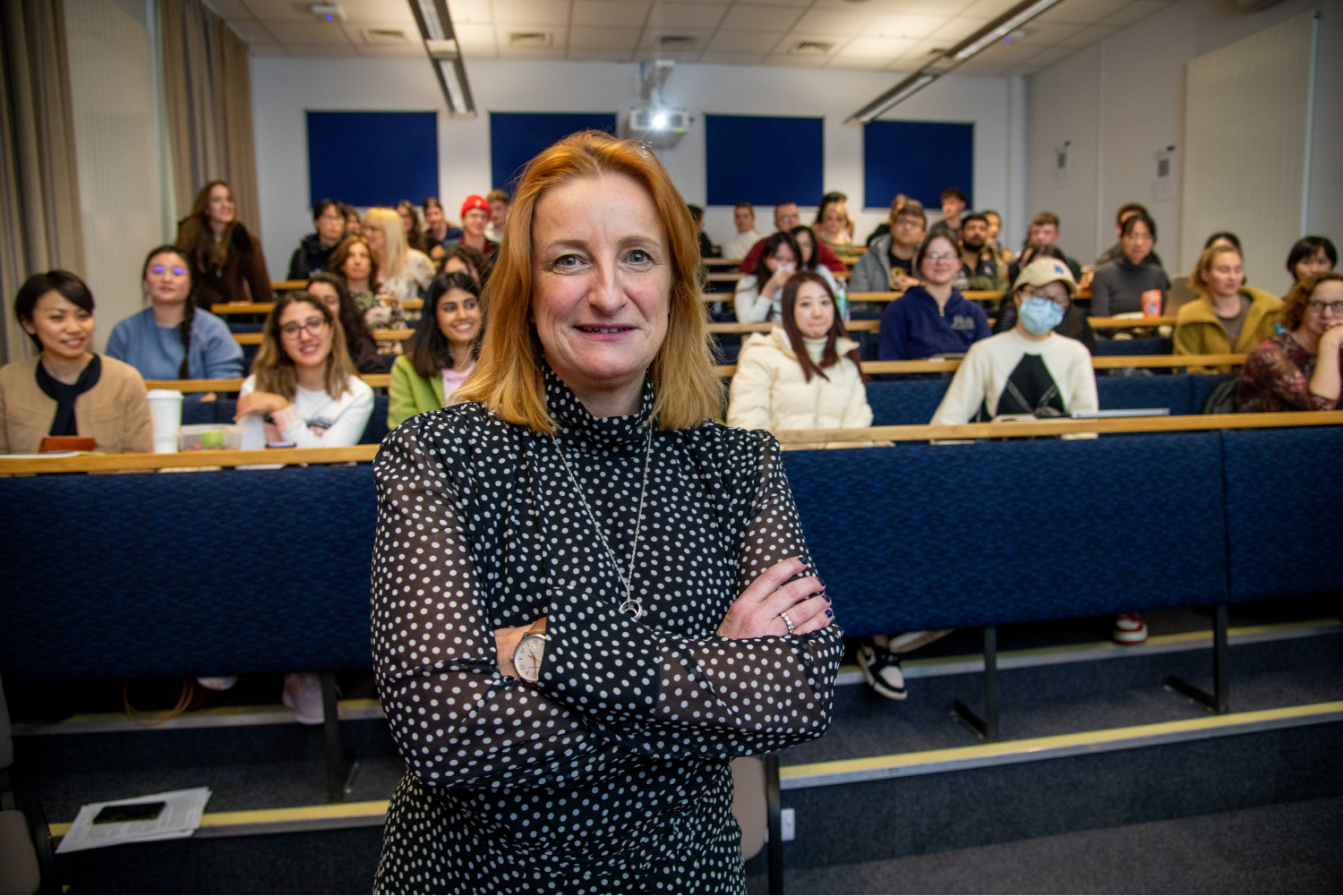 Mirror editor Alison Phillips gave an inspiring talk to the journalists of tomorrow when she returned to campus for the first time since graduating 30 years ago.
"I think I knew from quite a young age that I wanted to be a journalist," said Alison Phillips (International History and Politics 1993). "My grandfather told me that one of the most powerful words is 'why'. Asking that question is critical to what journalists do."
Alison was back in Leeds to talk to students as part of the Media Futures series, where students enjoy lively question and answer sessions with industry professionals to learn more about their career options. She told them: "If you are curious about life and want to make the world a better place, there's no better career than journalism."
It was great to meet the media students. You could just feel their real passion and enthusiasm – it was so refreshing.
Fate played a hand in Alison realising her own ambitions. "My A-level results weren't good enough first time around, so I spent a year on a weekly paper in Essex." This proved invaluable once she enrolled at University and began working for Leeds Student: "We'd queue up outside their offices and the editor would go along the line giving each of us a story to work on. I was the only one who had any real newspaper experience and they soon realised I could write."
Leeds Student – now The Gryphon – has been a launchpad for many successful journalists. Alison's first editor was Robin Perrie (Law 1989), who has spent almost 30 years on The Sun; he was followed by Damian Whitworth (History and Greek Civilisation 1990), a long-serving feature writer for The Times.
In 1991, Alison began her own sabbatical year as editor. "It was the best fun ever," she said. "It's very much like a local newspaper and an opportunity to do some great stories, like when a member of the Union Gun Club took the rest of them hostage.
"On a Thursday night I used to drive a minibus down to Wakefield to have it printed and bring the papers back. The printers must have hated us – it was always late and then we wanted to make all these changes. On at least two occasions I ran out of petrol on the way back."
She looked back fondly on her time in Leeds: "I loved the city. It's very big and grand but it's also got a warmth about it and this appealed to me, coming from a small village. In my first year, six of us shared a flat in North Hill Court and I'm still close friends with two of them." Like many students, Alison then lived in a series of shared houses in the Hyde Park area. "We had a great time," she said.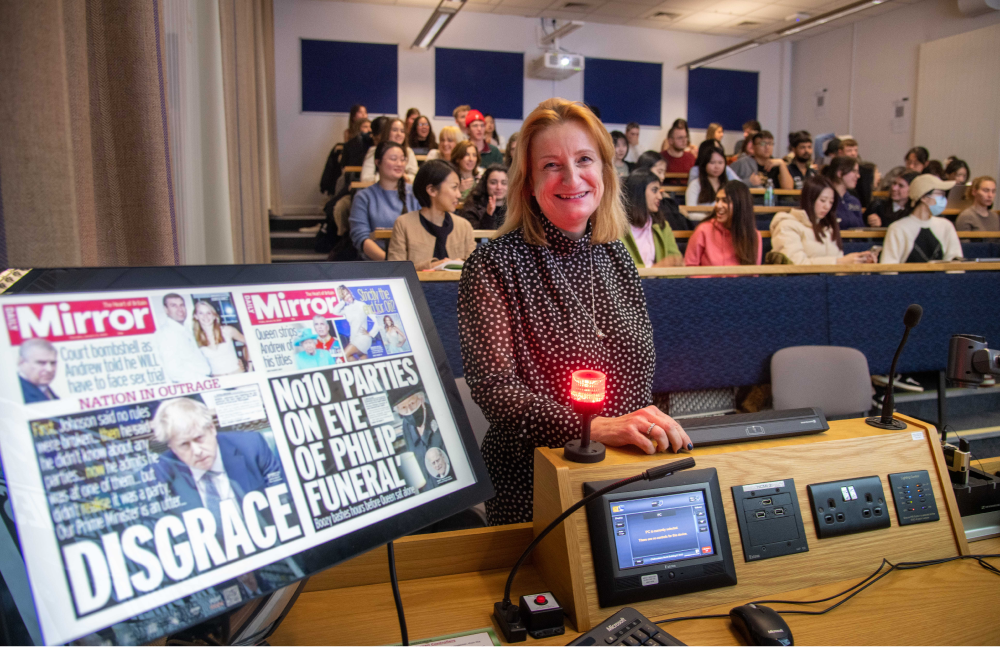 After spells at the Brighton Evening Argus and the Press Association, Alison joined the Sunday People, and in 2018 was appointed as the Mirror's first female editor in more than a century. She told the students of her pride in the newspaper's long tradition for social justice – such as its campaign for ships to carry sufficient lifeboats for all on board after the Titanic disaster and its roles ending fur farming in the UK and helping to establish the World Wildlife Fund.
Alison places this commitment to social justice right at the heart of today's Mirror, which sells around 300,000 copies daily, with a further 11 million people reading online every day. "The typical reader who makes the commitment to buy the paper every day might be 50–75, living in the north and the north west and with 'old Labour' values."
During her time in charge, Alison has driven a process of change at the Mirror to ensure staff understand those values and that they are reflected in the newspaper. "We try to give a positive side to each article – even if that's simply ensuring that the story is properly explained to make it less bewildering for people. And we always try to be kind. It's not something that you normally associate with newspapers but it's something that we generally try to do."
Alison shared with students her commitment to journalism at a time when the profession is under attack, when social media can be a source of misinformation and society is increasingly polarised. "People need to start valuing journalism and aggressively fighting those who are undermining us," she said.
"If you imagine a world with no press and no freedom of expression and the damage that does to people's lives – as in Russia – you come to see that journalism has to survive. It's something we have all come to kick, and of course we should be held to account for the things we have done wrong in the past. But journalism is absolutely vital for a healthy democracy."
She encouraged the students to follow their dreams: "You are embarking on the best job in the world. You can be a great journalist by just asking the question 'why?' – and believing in your right to know. "I've had a very fulfilling career and have never regretted it as a career choice. And it all started here."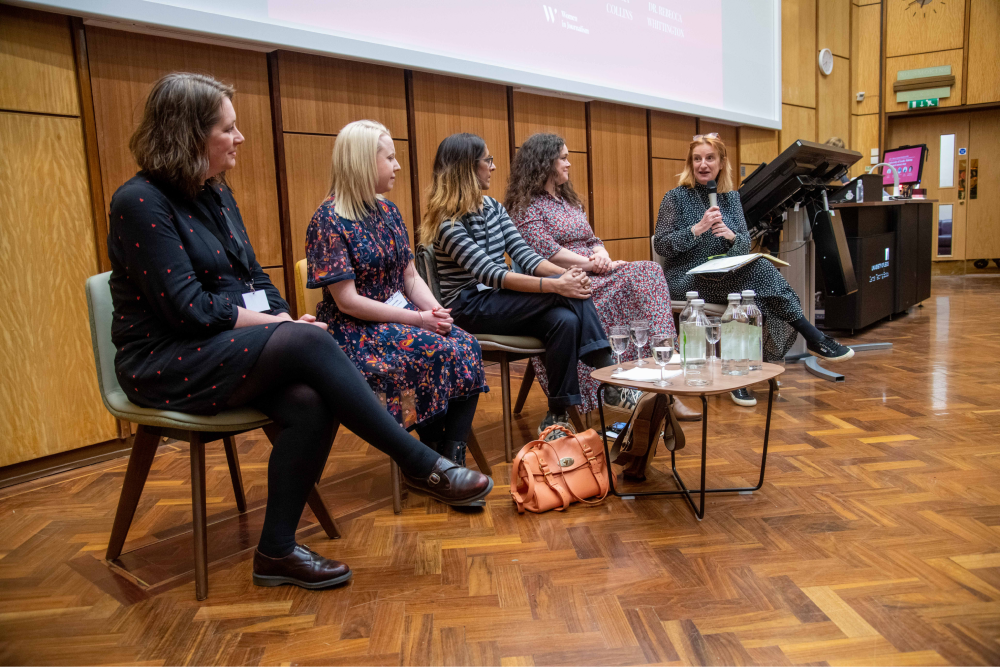 Your time could make all the difference
There are so many ways you can give the gift of time to help students at Leeds.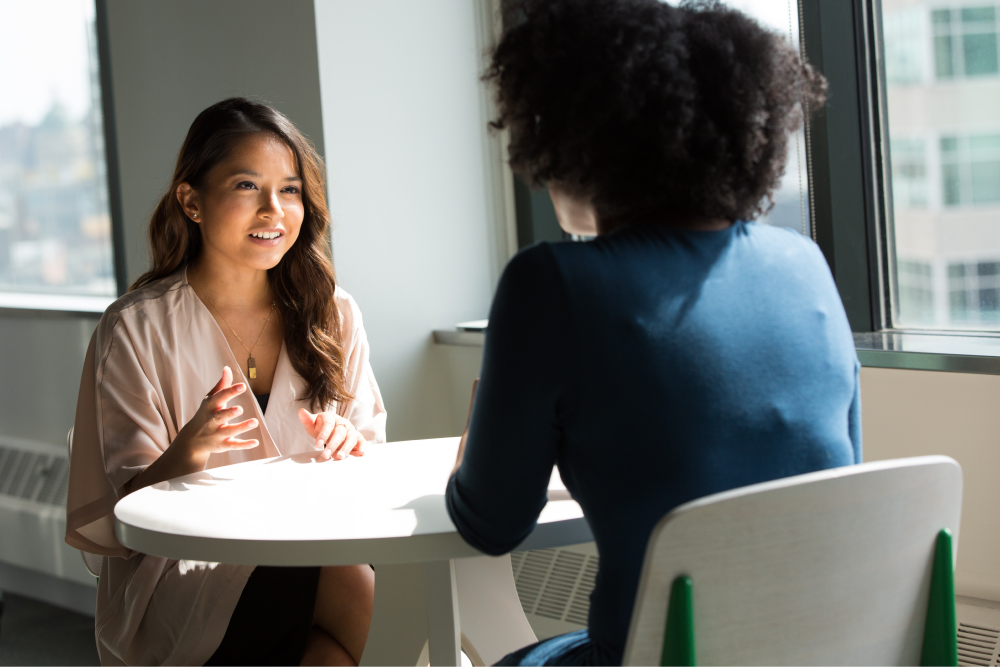 Like Alison you can use your own experiences to help our students to make informed choices as they enter the world of work. You can also help students gain valuable experience by offering a paid work placement or internship within your organisation.
We have a variety of mentoring programmes including one-to-one and group sessions, which can take as little as one day, where you can share your own expertise and experience with students.
We also have opportunities to get involved in outreach activity in local communities, helping school pupils from areas with low rates of progression to higher education to realise their potential. If you're not based in the UK, you can get involved by talking to prospective students at recruitment days or sharing your experiences of moving to Leeds for study with people at the very start of their own journey.
There are also local community-based initiatives you could get involved in. Earlier this year alumni and supporters were involved in a landscape restoration project in the Yorkshire Dales, as part of a long-term programme led by Leeds academics to conserve this beautiful part of the world.