Moscow calling
Alumni feature: Steve Rosenberg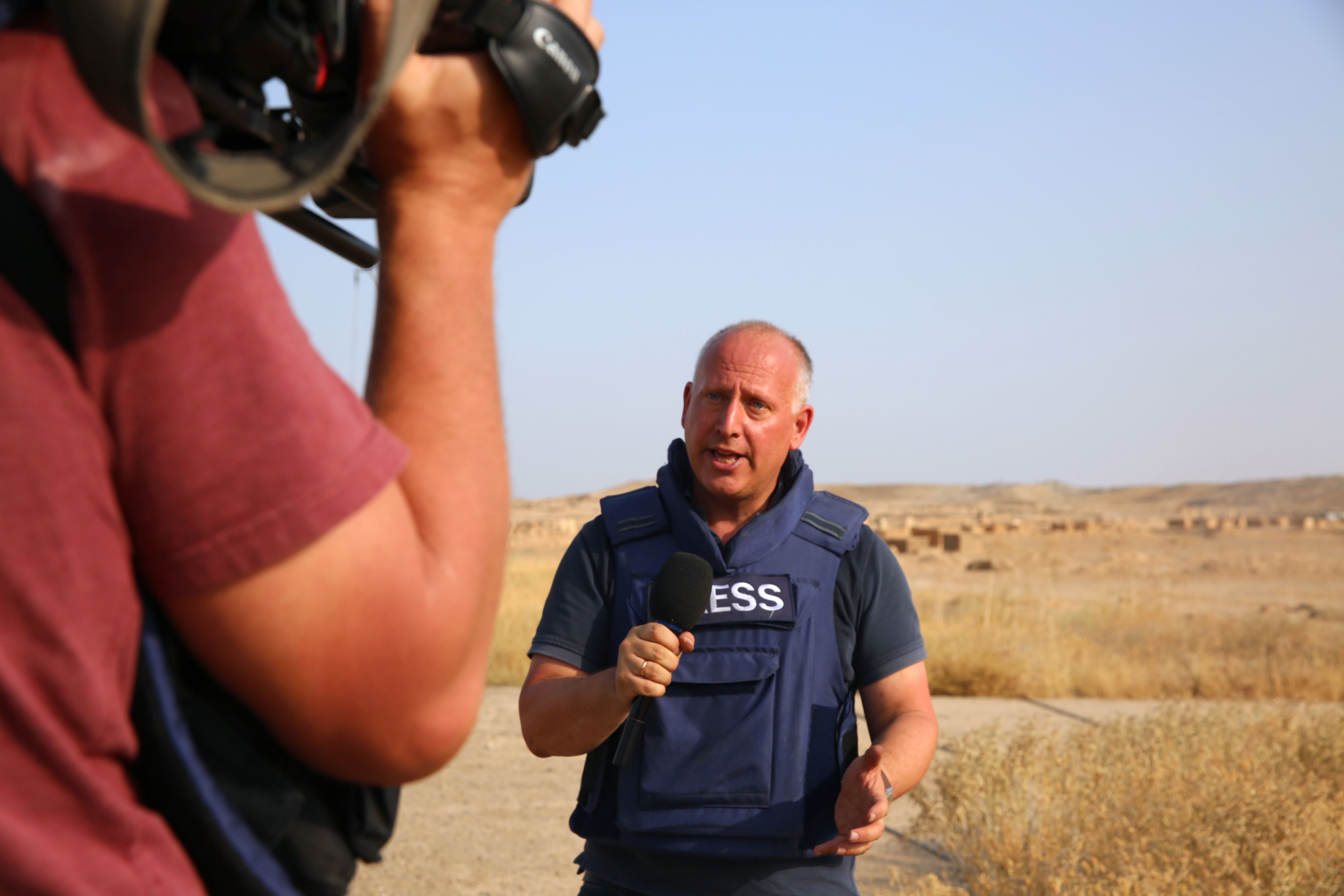 The BBC's Russia Editor Steve Rosenberg (Russian 1991) reflects on Ukraine, Putin, the death of Gorbachev – and Leeds. You can listen to the full conversation in our special podcast episode.
It was a cold dark February morning in Moscow. Steve Rosenberg was in bed, but was woken by a phone call: "It was London calling. Putin had appeared on Russian state television with an address to the nation announcing that he had given the order for – what he still calls – the special military operation in Ukraine."
In that moment, the veteran BBC Russia Editor had little time to think about the enormity of what had just happened. "The news operation rolls into action," he says. "You have to get into the office, get on air, write the despatch, appear on live TV, do the Today programme.
"It was only at the end of the day, in the few minutes I had to pause, that the enormity of that event became clear to me. Life wouldn't be the same, life couldn't be the same."

Thursday 24th February 2022 was a watershed moment for the Russia that Steve had known. He first moved to Moscow in 1991, four months before the collapse of the Soviet Union. But despite the chaos of the end of the Communist regime, Russia's war with Ukraine is the event that – according to Steve – changed the course of Russia for ever.
"This feels like a different place now. If I look back over the last 30 years, yes it's been a tumultuous time. The 90s were crazy, millions of people were pushed into poverty by the collapse of the Soviet Union. And yet, many people had some hope that life would get better. There was freedom of speech, and at least you could turn some television channels on and they'd be criticising the government. But that hope has virtually disappeared now."
Steve's journey to Moscow began at the School of Languages in Leeds, where he became obsessed with Russia.
"I remember every lunchtime they'd wheel out this satellite television and show Soviet TV. And I sat there just watching these programmes on combine harvesters and Perestroika. I was absolutely hooked. It was because of that experience I decided to move to Russia.
"I absolutely loved the Russian department. It was small and it inspired me to fall in love with the Russian language and the country."
One of his Russian teachers got him a contract to teach English at the Moscow Machine and Tool Institute. Shortly after the Soviet Union's collapse, Steve got a job answering phones at US broadcaster CBS News, before becoming an assistant producer.
He then had a brief flirtation with teletext: "I had a summer job working for Ceefax, and I got a grant from the European Union to start Russia's first teletext company. Some university friends came over and we did this teletext service. We got a deal with Russian state television. It was really good fun. I remember all the Russian state television officials thought we were making millions. And of course it made nothing, and this at a time when Russian oligarchs actually were making millions."
His dreams of becoming a teletext oligarch dashed, Steve returned to CBS, but in 1997 achieved his lifelong ambition of joining the BBC.
"When I was a kid, I always knew I wanted to work for the BBC. It sounds strange doesn't it? But I watched a lot of telly when I was young. For some reason, the BBC made a real impression on me.
"As a kid, I used to write loads of letters to different parts of the organisation – to radio and television and the World Service. And I used to go and visit different parts of the BBC."
Steve joked that he "bombarded" the corporation with letters, and he still has the letters he received as a child from BBC television executives. But that passion eventually landed him his first job at the corporation's Russia bureau, where he continues to work.
He has frequently been praised for his defiance when holding the authorities to account, from spy chiefs to the Russian president. In 2018 former Russian military officer Sergei Skripal was poisoned in a Russian nerve agent attack in Salisbury, in England. Many Western governments suggested the attack had been ordered by Vladimir Putin, which led Steve to confront the Russian president, during a press outing at an agricultural centre.
"You don't really have time to think about it too much. You just do it. I just asked the question. The Kremlin wasn't too pleased, but we had to do it. And it was a chance to get President Putin's reaction."
Putin brushed off the question, saying the British authorities needed to get to the bottom of the poisoning, and he was only interested in talking about the agricultural centre. But it was one of the few times he directly responded to the accusations.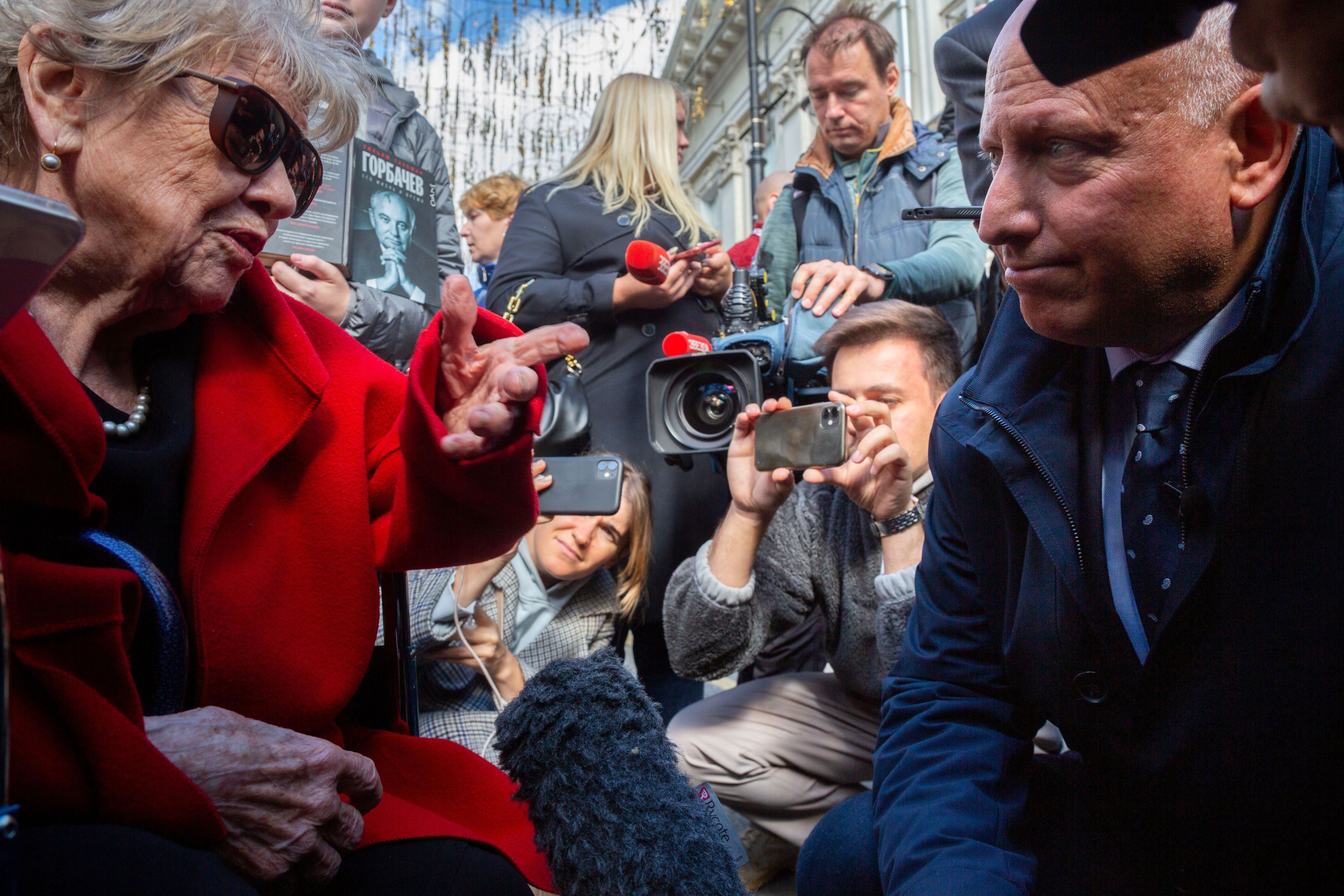 Outside of Russia's invasion of Ukraine, Steve's work in the Eastern Bloc has also been praised. He recently interviewed Alexander Lukashenko, dubbed by the media as Europe's last dictator. The Belarusian leader had been criticised for detaining and beating his critics, and for rigging presidential elections. His regime was also accused of assisting migrants to illegally cross the border with the EU.
"We didn't expect him to agree to the interview, but he did. We were dressed for the mud, and the outdoor areas of the border. So we had to rush back to Minsk to get ready for this interview; I had to buy a suit, buy shoes.
"My producer Will and I would have these training sessions, where we'd walk around a lake, he'd be Lukashenko and I'd be me. It was a good way of gaming out what might happen."
He recalls the moment he arrived at the Presidential Palace: "I shouldn't really say presidential, because Europe doesn't recognise him as president. But when you arrive at his palace, it's very imposing. Then in comes Mr Lukashenko, and he's considerably taller than me. And then you start the interview.
"It was such a strange experience because there were moments when he was trying to bully me, and then moments where he seemed to be like a three-year-old child. You have to try and keep things on track and interrupt. You can't let him come out with streams of misinformation."
The version that ended up on Belarusian state TV had all of Steve's interruptions edited out, but the unedited version showed the BBC's Russia Editor taking Lukashenko to task, which led to some shocking admissions by the authoritarian leader – including that his regime had beaten and detained political opponents.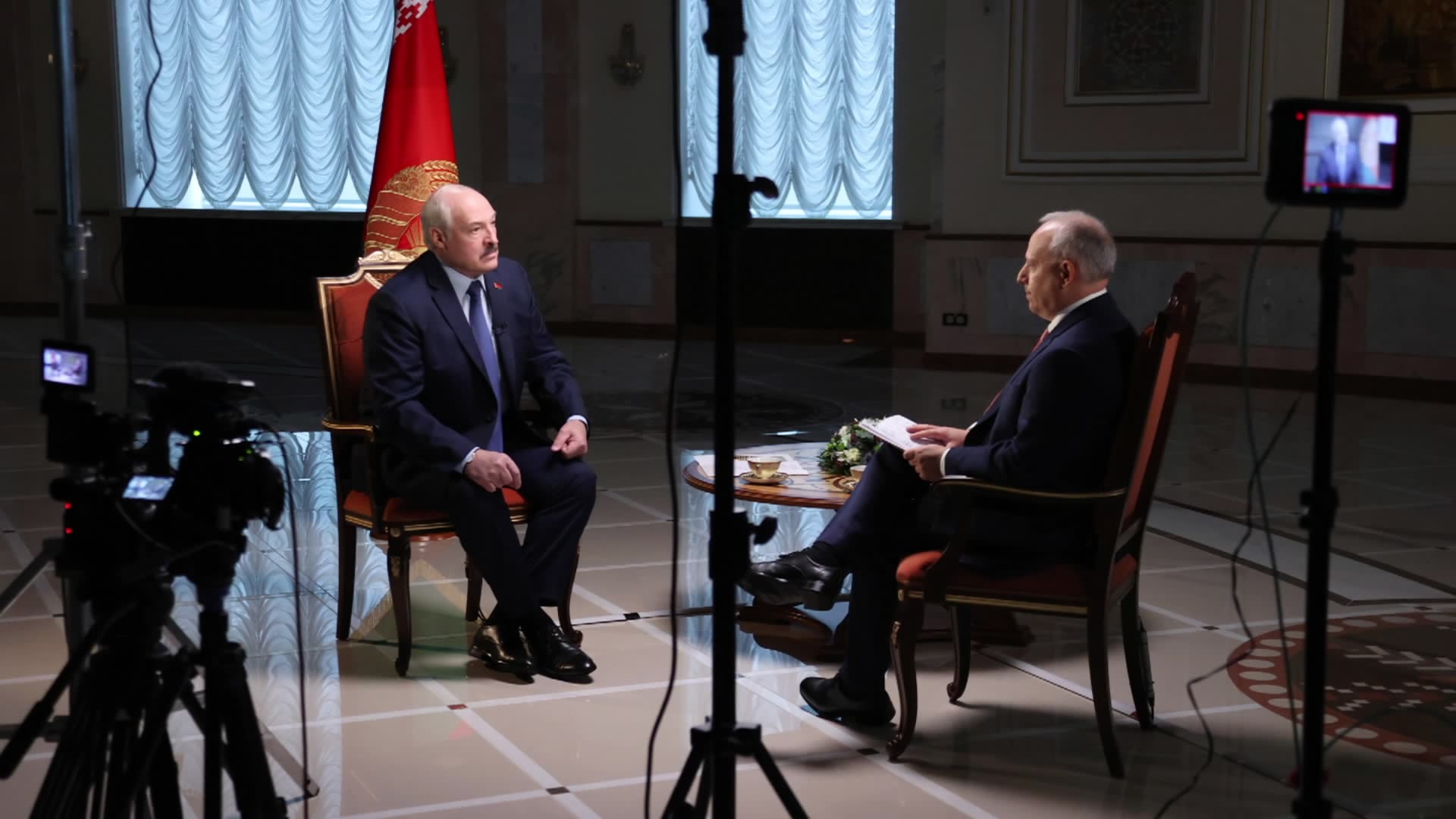 One friendlier interviewee was the man synonymous with the fall of the Soviet Union, Mikhail Gorbachev. Steve said, "In the mid-80s, Gorbachev was on our TV screens all the time. He was one of the most powerful people in the world, he was clearly trying to change the world. I never dreamt that I'd actually get to meet the man."
Not only did Steve meet and interview Gorbachev, he even serenaded him. "Gorbachev had a piano in the corner of his office, and after one interview our camera operator Rachel pointed to the piano and said, 'Mr Gorbachev do you play?'
"He said, 'No, do any of you?'
"I said I did, and I sat down and started playing Moscow Nights. Gorbachev started singing, and for the next ten minutes he was singing various songs. I learned more about the man in those few musical minutes than the whole political interview I'd just done. He really came across as very warm-hearted, very sincere, and clearly someone who loved his wife Raisa. She died a few years earlier, and he was singing some of her favourite songs."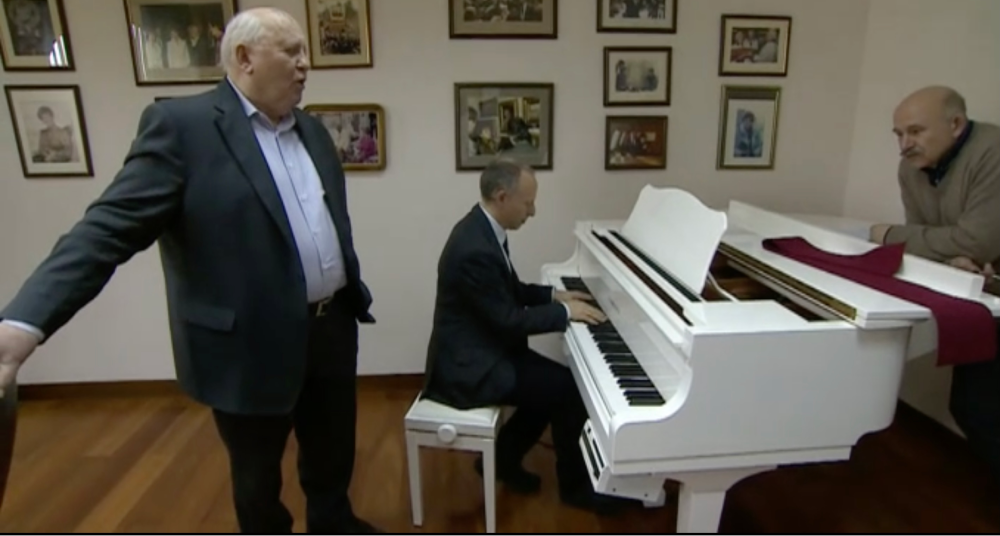 For Steve, the death of Gorbachev in August was the end of an era.
"Two moments this year have felt that way. The first was the invasion of Ukraine and the second was the death of Gorbachev. It felt like a whole page of modern Russian history had been turned, and now the country was really entering a darker chapter.
"Gorbachev's funeral really felt like this was the end of a dramatic chapter of Russian history, and perhaps a rare chapter where Russia had tried to open up to the world and taken steps towards freedom of speech, and to becoming a democratic society. But Russia is now very much moving in another direction."
"We live week-by-week and it feels since 24th February that we're in freefall."
A curtailment of press freedoms led the BBC to temporarily suspend reporting from Russia in March, after fears that draconian laws could lead to journalists being imprisoned. One of Steve's colleagues, Sarah Rainsford, had been barred from returning to Russia in 2021. Steve himself is no stranger to intimidatory tactics, and is frequently followed by Russian state officials while he is reporting.
So does he ever fear his own time in Russia could come to an abrupt end? "I have built a life here, my wife is Russian and I've lived more than half my life here. But I accept that this could happen, I'd be silly not to accept this. We live week-by-week and it feels since 24th February that we're in freefall. Anything could happen at any moment, but if you worry about that too much, then it would be very difficult to operate.
"Having my family, having the piano, and being able to get away from this crazy situation, really helps."
Stay connected with your university

Update your contact details and change your communications preferences to stay connected with Leeds.