Love through the years
A chance meeting on the Parkinson steps, a picnic on Woodhouse Moor, or a seminar buddy who became something more – Leeds has seen it all.
Read 100s of heart-warming stories of Love at Leeds.
Search by graduation year: 1950-59, 1960-69, 1970-79, 1980-89, 1990-99, 2000-09, 2010-16, 2017-2022
Or perhaps it was Leeds that stole your heart. Explore how our alumni fell in love with the city in Love for Leeds, and enjoy their love letters to the city.
---
Give to Leeds
If Leeds still holds a place in your heart, explore how you can give back to help our students and future graduates to succeed.
You might volunteer to mentor and advise students, or give financially to support students and research – make a difference to those following in your footsteps.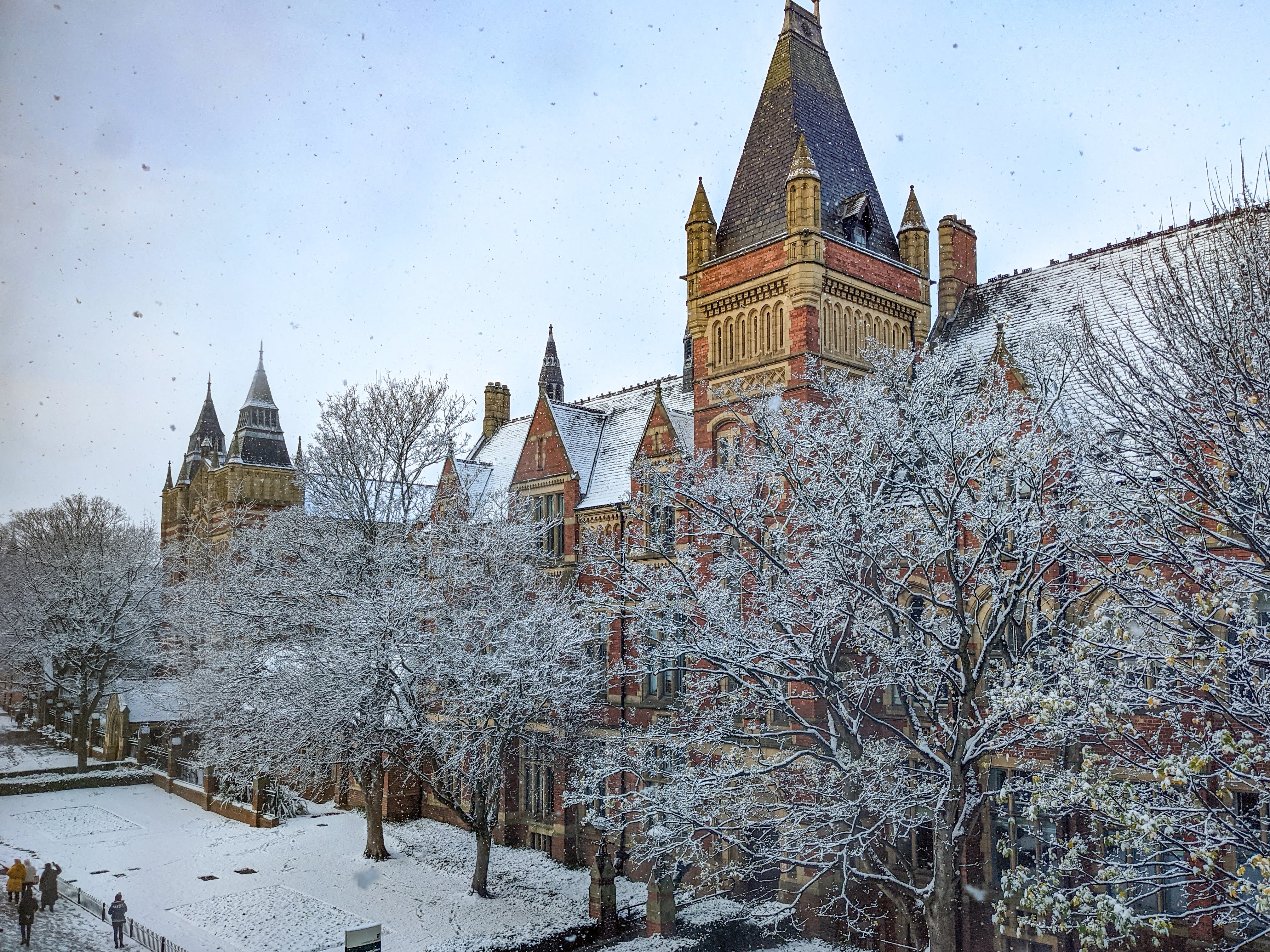 Malcolm Berwin (Textiles and Economics 1951)
My wife Shirley and I were both from Leeds and met at a party just she started at the University where I was already studying. Every day, we travelled by tram from Moortown holding hands and at every opportunity met for a horrible coffee in the Union. 
I coached the woman's basketball team of which she was captain. She came on away trips with the Rugby team for which I played and learned all the songs.
I graduated in 1951, she in 1952 on our wedding day. We were married for 66 years having three children eight grandchildren and nine great grandchildren. Shirley died on Valentine's Day 2018. Thank you Leeds.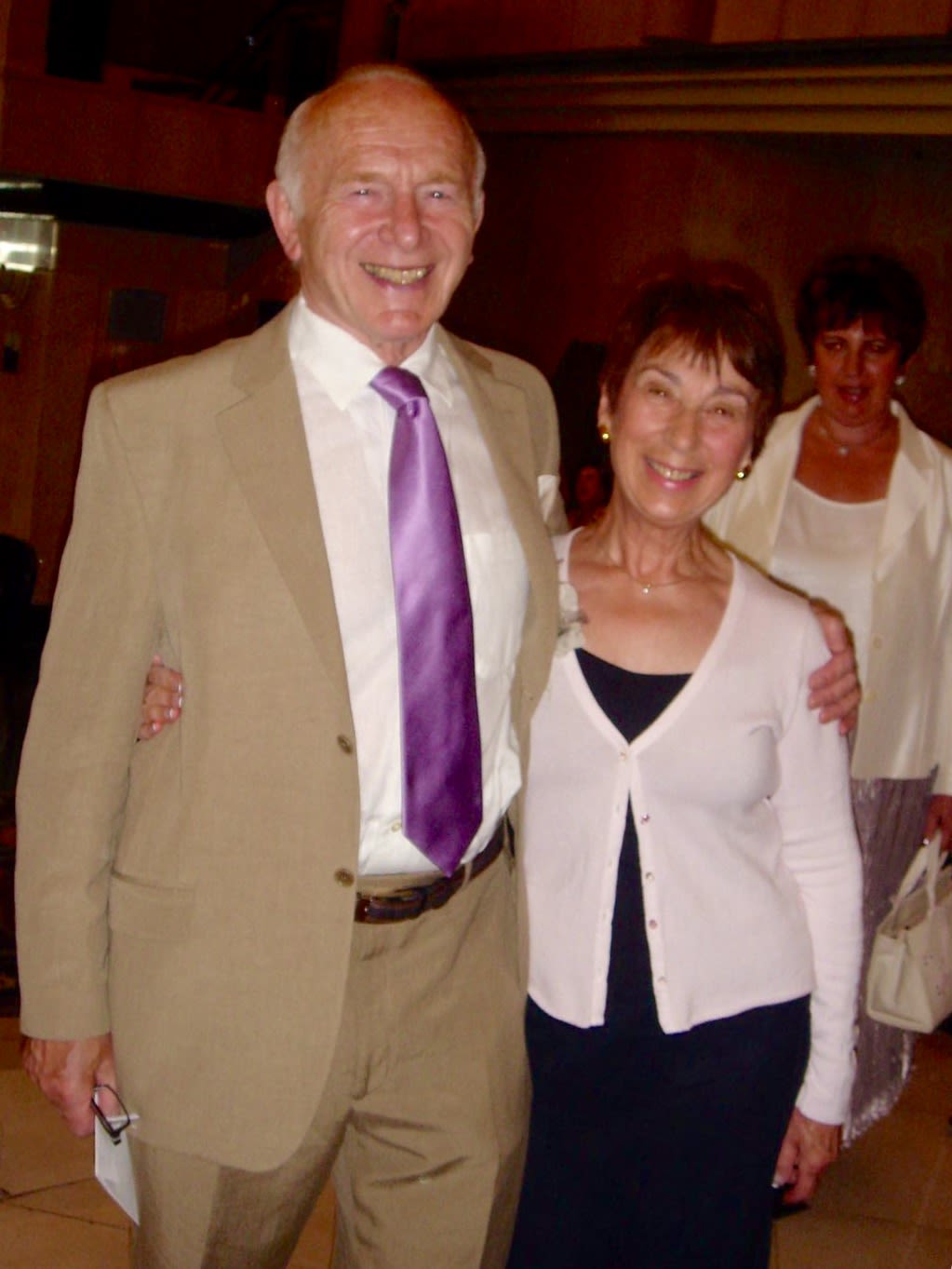 ---
Tony Turrill (Colour Chemistry 1953)
Like many of my contemporaries, way back in the 50s, I met my wife at one of the regular Wednesday and Saturday night "hops" held in the Riley Smith. I never missed one. Forgive me but times have changed.
I had four aims; (i) finding a girlfriend, (ii) consuming too many pints and cigarettes usually with friends from the boat club while (iii) adding to my repertoire of bawdy songs and (iv)either listening to the band or playing in it; these were not always compatible objectives but widely shared by a fair number of those who overpacked the dances in term time.
Luckily the first time I met Irene it was a vacation so the numbers were down, just we post graduates or medics, I can see her leaning on the balcony pillar although both Irene and pillar sadly are no longer with us.
In the words of Maurice Chevalier song, I remember it well and just as Gigi never agreed on the colour of her dress, we also disagreed on that. I am not sure it is possible to love at first sight but I am sure that by the end of the first dance we had chosen our partner for the night and by the end of the last waltz if I asked to see her back to the Nurses Home she would be happy to say yes.
By the time we reached the Home we knew that we wanted to spend time getting to know each other. Which we did by exploring Leeds, for example tram excursions all the way to Temple Newsome, Jazz University Rhythm Club Humph concerts at the Town Hall, sandwiches at Whitelocks, walks along the Ridge after Devonshire Hall all night balls and regular attendance at many of the variety of balls given by union societies.
My band often played and we had an arrangement to let a few of our partners in so we could dance with them in an interval while another band played. We both fell in love with Opera standing in the gods at the Theatre Royal, it was later demolished.
Our love of each other was growing all the time and has never been demolished. We were engaged for three and married for 59 years. Our marriage almost reached a diamond wedding when Irene died of Alzheimer's. We had a full life with a wonderful family.
My younger daughter graduated in Chemistry at Leeds before moving to her first love, nursing. Her final job in that profession was to be a lecturer in nursing at Leeds University.

---
David Kirby (Mining Engineering 1955)
In October 1951 I was a second year student living in Sadler  Hall, Adel.  It was small, only about 50 students, and closed years ago to become an estate of Bryant houses like the one we live in, Bryants  being a Midlands company. 
The catering was in the charge of the Manageress, Miss Hawes, assisted by a student from the "Pud" School, the local domestic science college. A new girl had just begun, Miss Daphne Wright, and we quite soon became friends. Her home was in Cookridge and I was able to meet her family. Having a BSA motorbike was useful and on Saturdays (her day off) we were able to explore the local countryside. We also enjoyed the Saturday hops in the Riley Smith Hall and visits to the Grand Theatre.
Family problems in 1952 separated us for a year or so but after I graduated we were able to marry  at Adel Church  in 1955 and now in 2022 we are very much retired.
In 1980 I was diagnosed with oesophageal cancer and was operated on in Birmingham by the leading expert on this disease. There was not much support as it was quite rare and had a poor survival rate so with my surgeon's help I set up the Oesophageal Patients Association and was very proud to be awarded an OBE in 2000.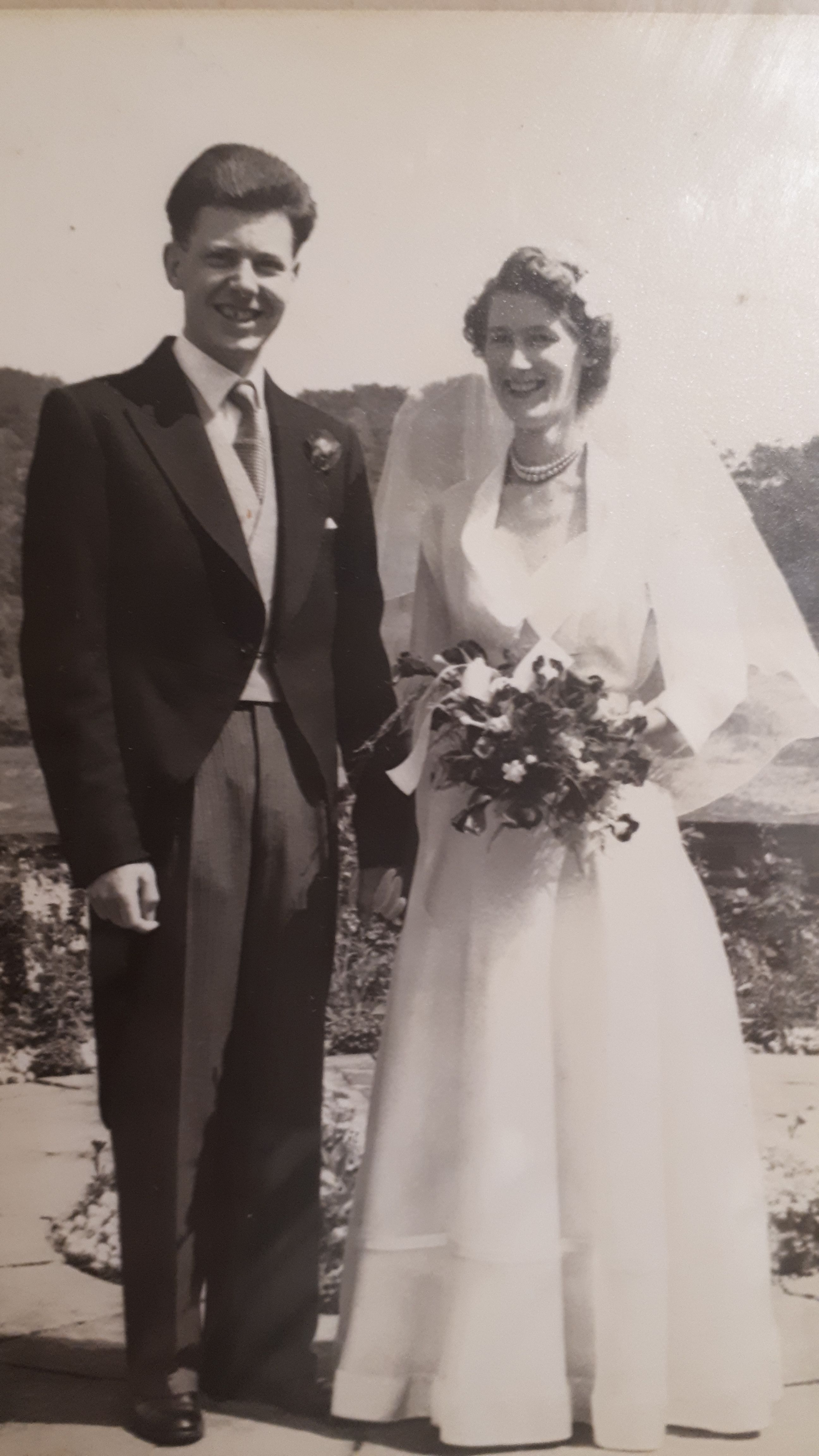 Brian Chalkley (Textile Chemistry 1956)
It was in 1952 that I first saw Stella as she entered the chemistry lecture theatre and gathered from my digs colleague that like himself she was from the Biochemistry department. We got to know each other as we attended the practical chemical sessions at the same time.
As time passed we began to meet up at the  Saturday night Hops and from then on we became more attached not only at the University but during the vacations if possible. When possible we went to several of the department balls at the Union building. We both graduated in 1956 and both of us stayed on for our PhD's. It was during this time that we were married and completed our studies together.
Sadly Stella died after we had been together for 31 years when she died through breast cancer which was a bit ironic since her PhD had been a study of cancer  this time of the stomach. We had happy memories of the time at Leeds and remembered some of the tricks played on Westwood Hall by some of the engineering students. So it was through Leeds University that we met and had a wonderful life together whilst we could.
---
Denis Cleaver (Chemistry 1955, PhD 1958)
I graduated 1952 to 1955 in chemistry and stayed on to a PhD in physical chemistry (1955 to 1958). To earn a little cash I demonstrated in the organic chemistry laboratory. In 1956 in the organic lab I saw a very attractive young lady studying for a general science degree which included chemistry. The rest is history: we married in 1959.
---
Ruth Campion Dircks (nee Hawkins) (Botany and Zoology 1951)
We met because my room mate in Weetwood Hall was going to a Devonshire Hall ball. Her partner's room mate had no one to go with so I was invited along. My blind date turned out to be an Australian studying for a diploma in textiles.  We discovered that we both cycled to and from our halls of residence so we arranged to meet next to the coal heap after lectures and cycle together at least as far as Devonshire.  The outcome was very happy memories of Leeds shared with four children,  10 grandchildren and 16 great grandchildren.
---
Terence Gluck (Chemistry of Leather Manufacturing 1959)

At the start of my fourth year, living in a flat, following two great years at Devonshire Hall, two girls, Dorothy & Kath lived in the top attic flat immediately above us (my flat mate was Michael Silver reading Law, and from Rhodesia - now Zimbabwe).

Dorothy and I started going out and we helped both girls to eat and live rather better, as they were on very low subsistence incomes.

I was greatly attracted to Dorothy and we began a relationship. However the strict rules of the (Polish) landlord forbade boy and girlfriend being in the same house, so Michael and I had to find another flat.
Sixty years later Dorothy and I have two children and five grandchildren. We live in Surrey and have just returned from three weeks in Phuket, Thailand where our fifty eight year old son, who spent fifteen years as a Tibetan Buddhist Monk in the foothills of the Himalayas now lives with his Thai wife, her four year old daughter and their seven month old baby as well as Sami at thirteen!

Sami is also half Thai (from a previous relationship) and whose primary education was here in Great Bookham. The wedding party was held at a luxury hotel beach while we and our daughter were there in early January.

Kath married Slim from the same department as mine ( no longer in existence as such) and Slim became a Forensic scientist while I moved.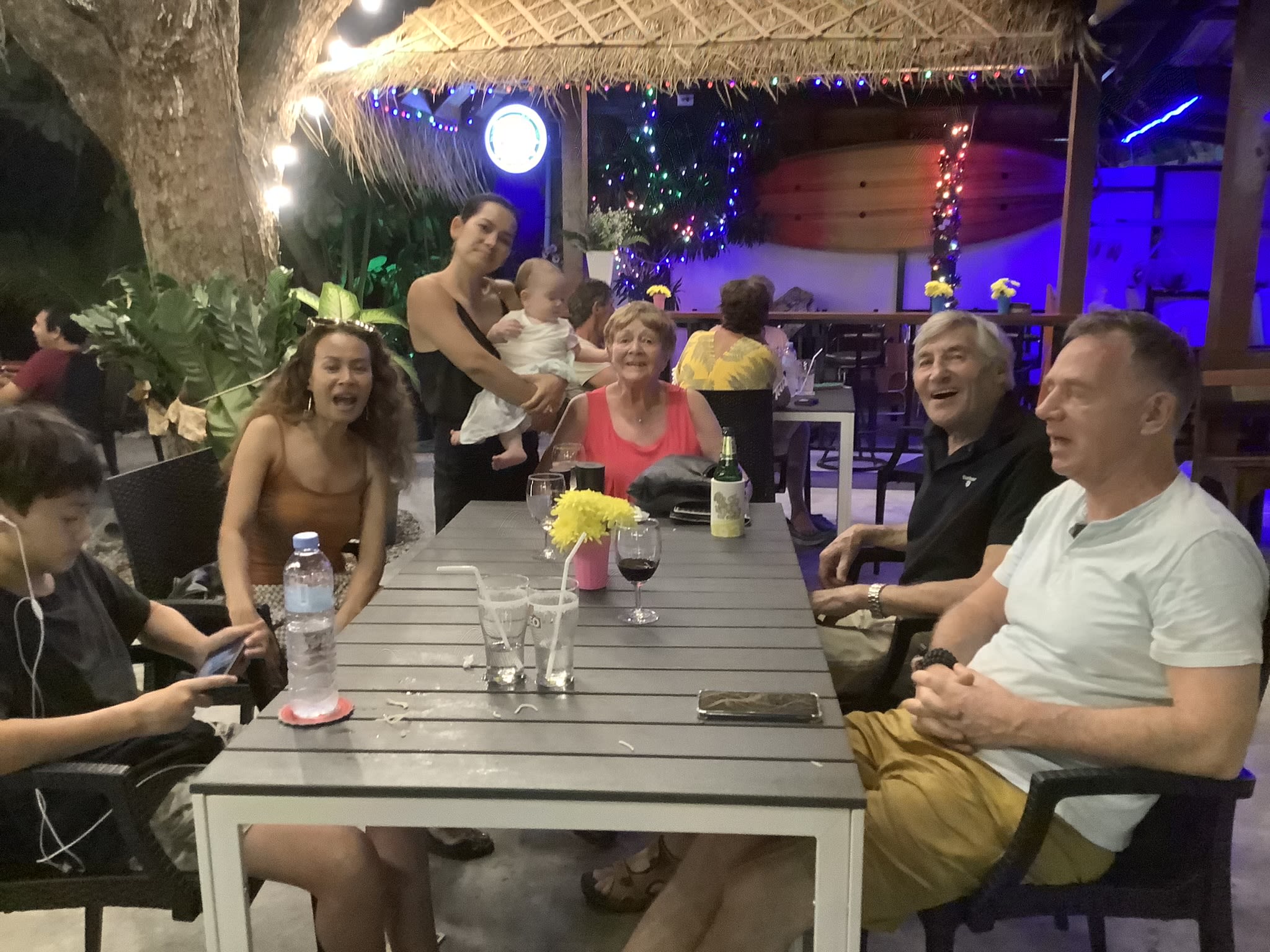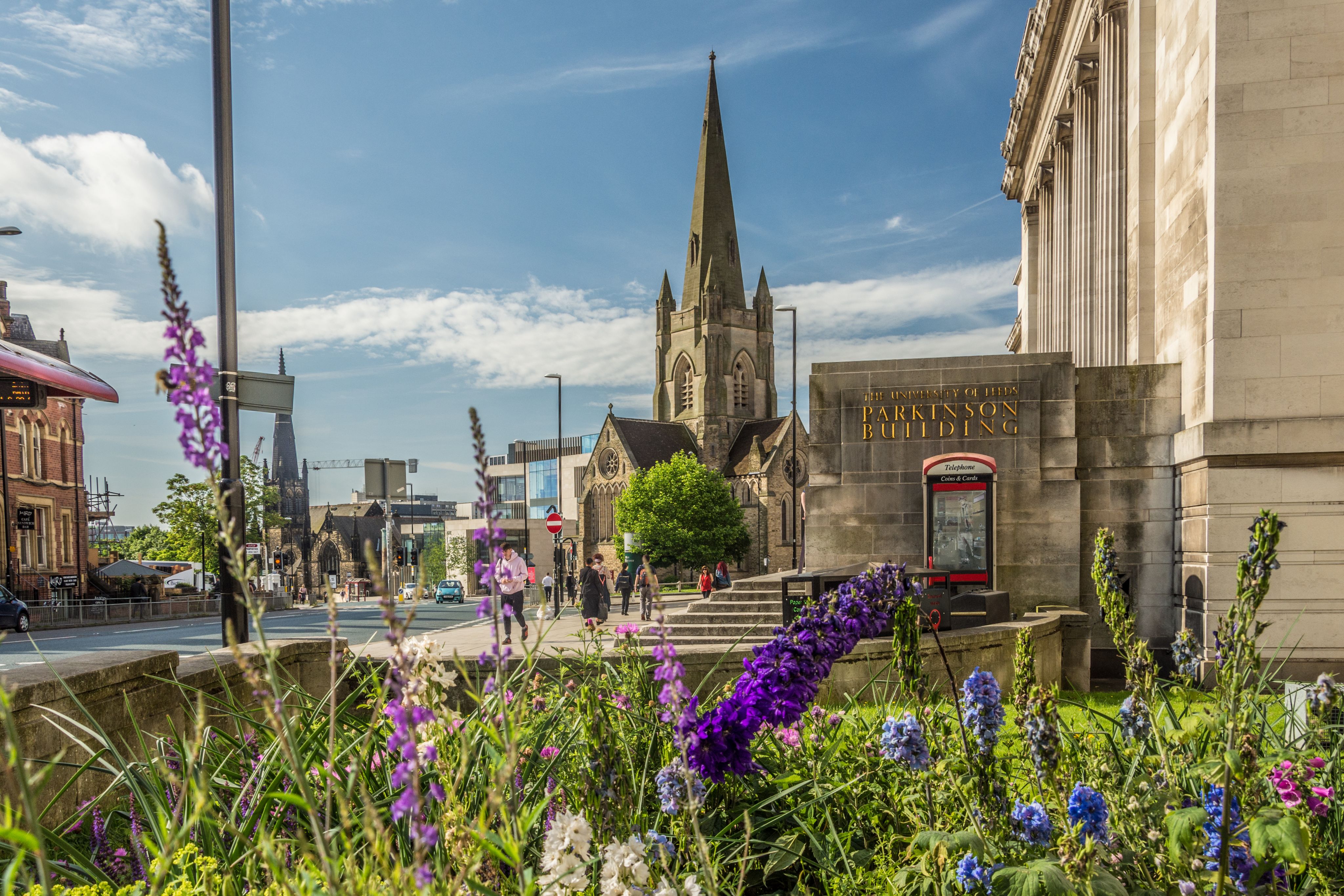 Barry Rogerson (Theology 1960)
Olga and I started a degree course in Theology in 1957. She was not overly impressed with me by any means, but on Valentine's Day 1959 we went to the Denvonshire Hall Valentine Ball together. The rest is history. We celebrated our Diamond Wedding Anniversary on Holy Innocents Day (28th December) last year.
---
John Franklin (Chemical Engineering 1961)
It was a beautiful October day in 1957. I was 18 and fresh from five years in a male-only boarding school from which I had narrowly escaped being expelled through having an illicit contact with a young lady.
It was a chance encounter with an absolutely gorgeous redhead, with a redhead's complexion, a few freckles and a mischievous grin. It was a chance meeting during Freshers Week but it was love at first sight. I am a Leeds lad, so I knew my way around and I had the use of my dad's car which was a superb benefit in those days when only a few few students had cars. Susan Hill, a year older than me and studying Sociology, which to me, a through-and-through scientist and engineer was a different world and unknown territory to explore.
We became inseparable, the Freshers Ball, frequent coffees then I showed Su around Leeds and the surrounding countryside, Wharfedale, Otley, Ilkley Moor by moonlight and always taking her back to her hall of residence before curfew and the eagle eye of Miss Lettice Pither the warden.
We both joined the University Sailing Club and I tested our love by capsizing Su into a freezing Roundhay Park lake in the middle of winter! We survived that and shortly after graduation in 1962 we were married and went on to bring up three wonderful children.
Sadly, Su died of cancer in 1998 after 36 wonderful years of marriage. Although I have now re-married hardly a day goes by when I don't think of Su, our time at Leeds and our wonderful life together.
---
Tom Holden (Physics 1961, PhD 1965)
My love story started in 1959 when I first met a bonny Leeds lass with curly brown hair called Maureen Gaughan on Catholic Society hikes and hops. At that time she was training to be a domestic science teacher at the "Pud School", the Yorkshire College of Housecraft. Maureen had been a latch-key kid whose father had been killed on D-day....
---
Josephine Coupe nee Entwistle (Geography 1964)
I met my future husband Jeffrey Coupe (Metallurgy) on the first day of the Freshers Conference in October 1961.
We bonded as we were in the same group as we were taken round the University site and arranged to meet up at the Freshers Hop. I was a resident at Oxley Hall out in Weetwood and he was in Devonshire Hall. He became President there in 1963.
My sporting interest was hockey and I became Secretary of the hockey Club. Sadly for rather a short spell as I suffered from a medical condition that curtailed being able to play. Jeff was immersed in rugby and  was in the 1st team which played in the inter-University competitions. Jeff played mainly at fullback.
Our social life revolved around our Halls of Residence and the rugby team and we have lasting friends made at this time. We both graduated in 1964 and stayed on in Leeds having married in January 1964.
Jeff obtained a post graduated apprenticeship with G.E.C. based in Bradford; we lived in a flat on Cardigan Road; our first daughter was born at St. James Hospital and Jeff continued his rugby career with Headingley Rugby Club.
We joined other friends for a Reunion of friends made during our time at Leeds in 2007.
---
Diane Mossanen (Dentistry 1964)
When anyone asks how we met I always tell them over a dead body. As I was studying dentistry and the anatomy of the head and neck on a cadaver and my husband a medical student was dissecting the legs at the time. We actually were introduced by my roommate at a party our hall of residence gave and invited the mens residence to join. They had met as they both played the violin in the orchestra. After graduation and having our first son we left for Canada and now it is 59 years together this March.
---
Valerie Bridge (Russian with German and Fine Arts 1964)
In the 1960s Leeds we met at Ellerslie Peter Murphy; he was at Mirfield, training for the Ministry; he challenged me in all my thinking, which made me fall in love with him; we married as soon as I graduated, we lived in Bayswater where our three sons were born. Sadly he died last year, but I still loved him.
---
Emeritus Professor Chris Green (Psychology and Sociology 1964, PhD 1968)
I was a second year student amongst the first intake to Boddington Hall. One evening in the autumn of 1962 I returned from a concert at Leeds Town Hall to find a social gathering in the next room to mine. I joined it, and met a young lady who was a first year student, resident at Weetwood Hall. We arranged and arranged to meet again. That romance continued.
She went to teach at Leeds Girls High School whilst I was a Research Fellow at the Department of Psychology in the University. We married in 1968 and have celebrated 54 years of partnership with two sons - one an architect and the other an accountant.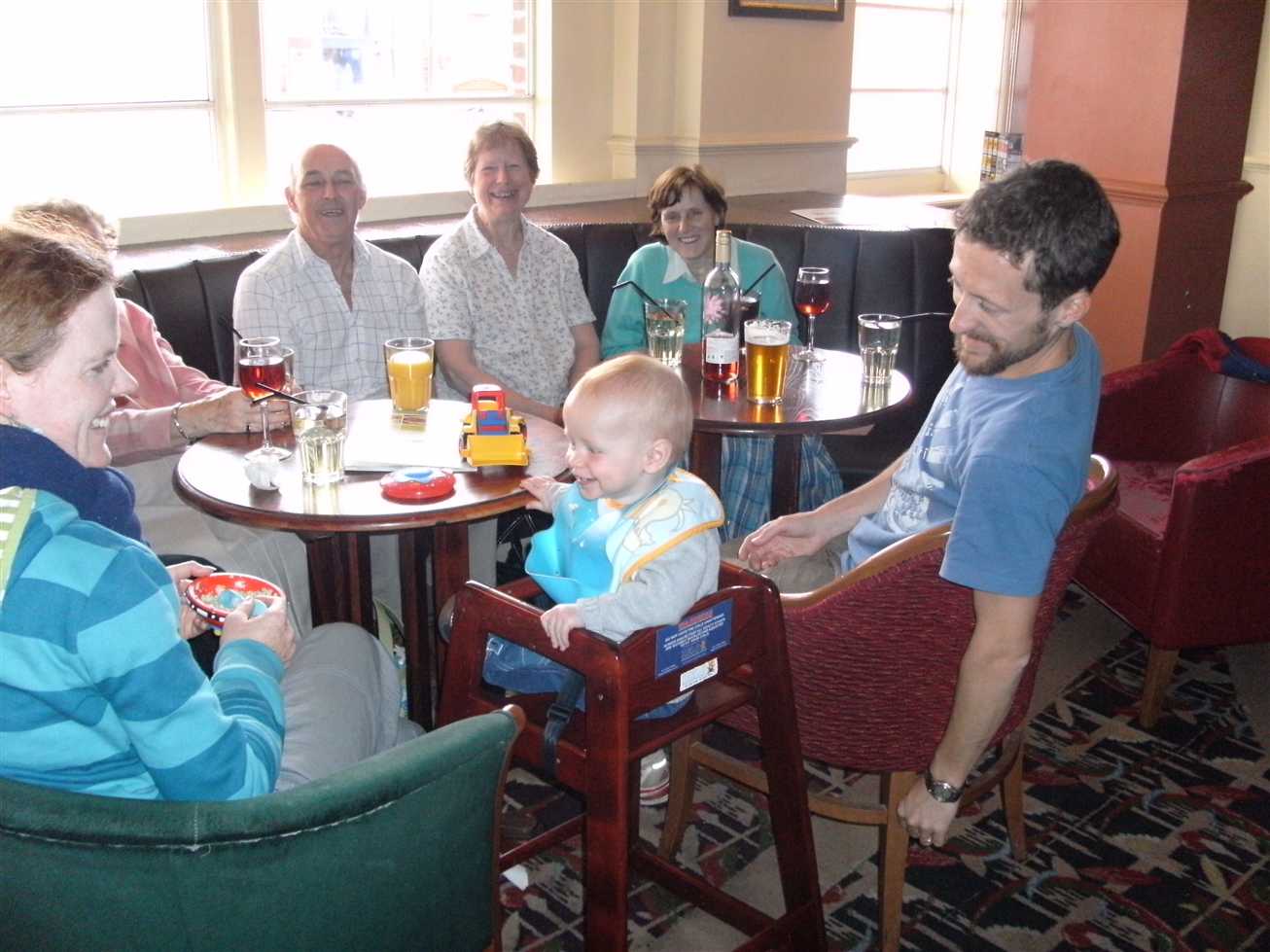 ---
Professor David Lewis (Colour Chemistry 1965)
I met Barbara in the Brotherton library around the second week of May 1963. Barbara was studying German and graduated from Leeds in 1965. We got married in 1965. Three children and now seven grand children.
In 1984 I became Professor and head of Department (Colour Chemistry). I've always been involved with Leeds despite retiring in 2004. At the age of 80 I am closely involved in research with Professor Carr. My wife attended many University functions - especially those involving the annual Clothworkers visits.
---
David Pound (Medicine 1965)
June and I met over a labour ward bed at the Leeds Maternity Hospital in Hyde Terrace. I was a medical student doing my three months residence in LMH, and I had been detailed to keep an eye on a patient having a little trouble with her labour.  
At the other side of the table was this stunning blond student nurse - both of us doing our best to comfort the poor woman while others dealt very efficiently with her problem. Over the next few days we kept bumping into each other on various wards (by accident of course!) and eventually I summoned up the courage to ask her out for a meal when she confided in me that she had thought that I was more interested in one of her colleagues than in her! Suffice it to say that we have now been married for 56 years.
---
Carolyn Killen (1966)
Stuart had been playing hockey and I had been rowing the day we met. We married at the end of my second year and we are still together after 57 years.
---
Andrew Brookes (History and Geography 1966)
Teresa and I met in May 1965. She was in digs with three other girls and I was in the Henry Price. Teresa read combined maths and sciences, whereas I loafed around in the Parkinson library. It was unusual for me to have a lecture before 10am but there were some brilliant lecturers. My history tutor had been driven out of Vienna in 1938 and the geography professor, who made his name on The Towns and Cities of Germany, never really recovered from being tasked by bomber command to identify the parts of Nazi cities that would burn.
Teresa and I married in January 1969. In those days, if a woman got married she was expected to give up her job. So she stopped teaching and brought up two great children. She then went back to full time work, first in editorial, then the Stock Exchange and finally media advertising policy. She retired last year. I retired two years before after a career in aviation, academia and then as charity CEO. We moved house 23 times, from Hong Kong to Lincolnshire.
If I have a tip for staying married, it pays to live together rather than apart. Among our five grandchildren, at least one is coming back to Leeds University. What goes around, comes around. Love blossomed for us at Leeds, and we hope it does for everyone else.
---
David McNeilly (Botany 1966)
I was living at Clapham House in Bodington Hall. The guy in the next room turned 21 so there was a Saturday night party spread over nearby rooms. I had an exam on the following Monday so I tried to avoid the party but, walking by the event I saw a tall, beautiful young woman and stopped to talk to her. The good news was we hit it off, the bad news was that her family were moving to Australia and she was transferring to Sydney Uni.
We kept in touch when she left six months later (wrote letters!!). I was determined to follow her so as soon as I graduated I went to Australia and found a job related to my degree subject. We got engaged immediately and were married not long afterwards. We will soon celebrate our 55th anniversary. We stayed nine years in Australia then lived in 5 different countries including 3 stays in the USA and two in France, and it was Paris where we finally settled. The moral of the story is that if you want a long happy marriage and a global lifestyle, don't stay in and study, go to the nearest party!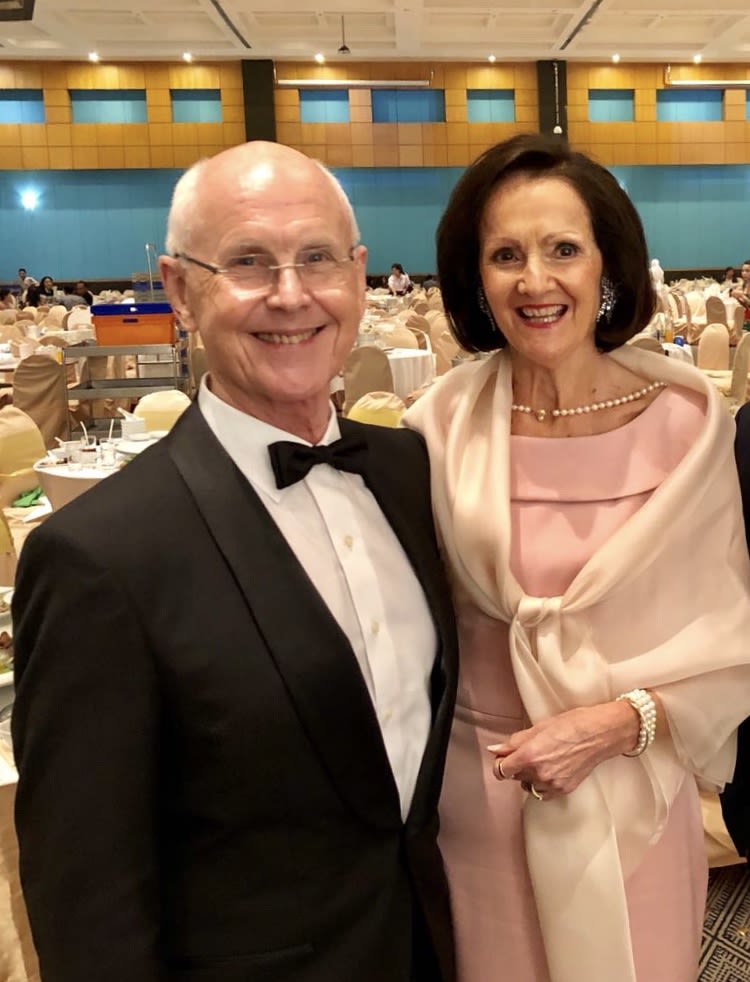 Margaret Davidson (History 1966)
The Beatles, Rolling Stones, Bob Dylan and "the times were certainly a changing". President Kennedy's assassination in November for one thing not to mention the ongoing nuclear threat. But we were young, optimistic and exhilarated by the music, colour and fashion - oh, and shared love of History.
John opted for Leeds instead of Oxford (too elitist for a working class boy). Leeds was the only University that agreed to accept me.....
We met at the department freshers party on Saturday 8th October but it was a mutual passing glance. However, we were placed in the same small sociology tutorial. John sat opposite me and "something" flitted across my mind, like, "he'll do for me!"
Profound shock. I was hell bent on a career and return after graduation to a family abroad - no time for men, well not much anyway.
Coffee houses were novel and de rigeur - he was so hilarious and refreshingly kind. Heaven knows what he saw in me but we bonded. Leeds was the best place to be, history lapsed into second place for me and we married on graduation in 1966. Three adult (middle-aged) children and two grandchildren later, we are still together...and researching care homes in Leeds!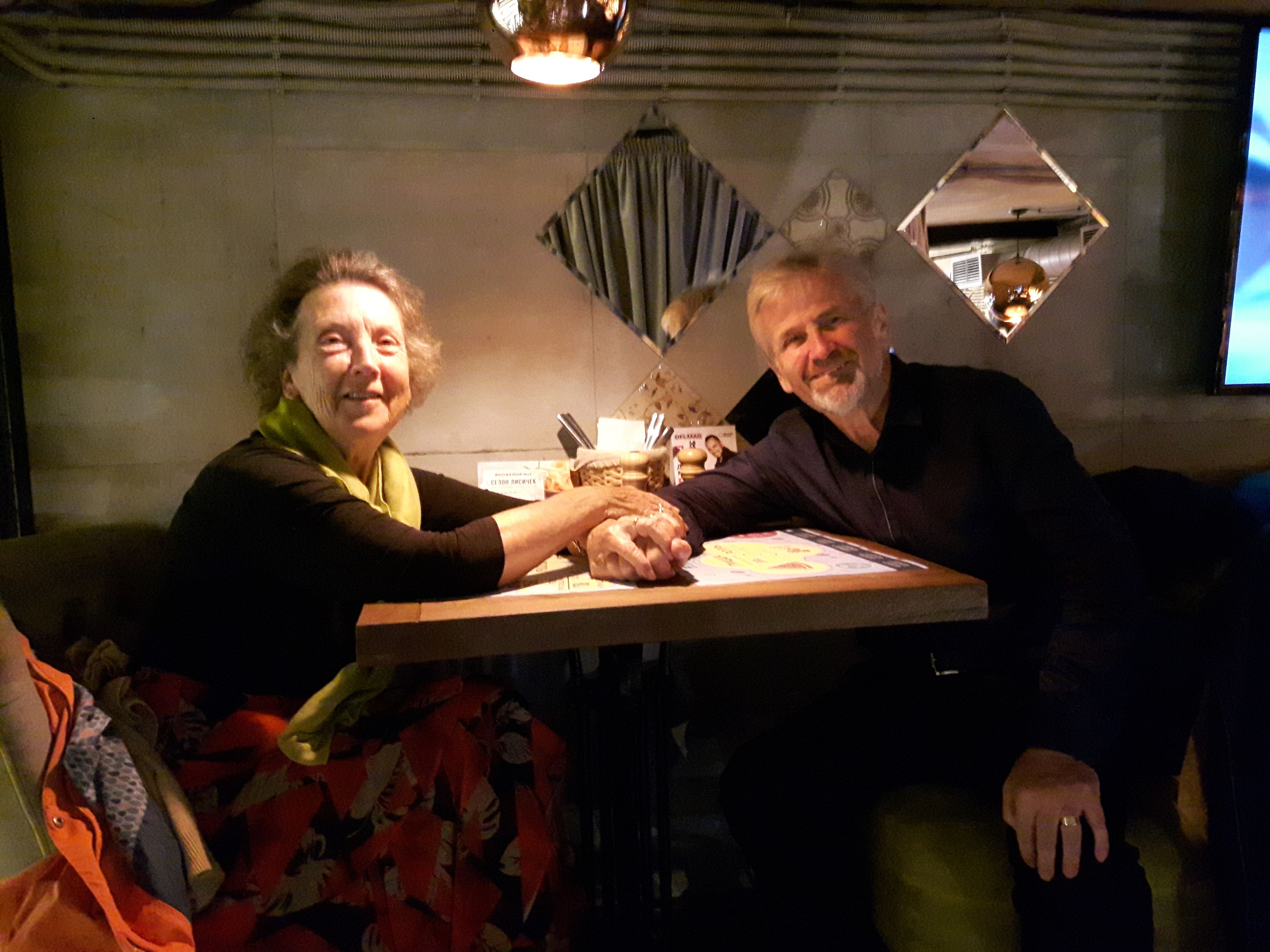 ---
Gordon Blount (Mechanical Engineering 1967)
In October of 1964 the Yorkshire Training College of Housecraft (known as the Pud School!) organised a 'hop' at Headingley Cricket pavilion. They posted notices in the common rooms of the Engineering Departments. I and several of my fellow students went that evening. There I met Gillian who was in her third year at the college. We married in July 1967 soon after I graduated.
We returned to Leeds in 1968 when I did a Masters degree in Tribology and again in 1970 (this time with our daughter Sarah) to do a PhD.
This year Gillian and I celebrate 55 years of marriage. We always look back with fondness to our times in Leeds. We visit the city occasionally to reminisce and are delighted to see how it has developed. The University has also of course made enormous strides and I am proud to be an alumnus of such a prestigious and respected university.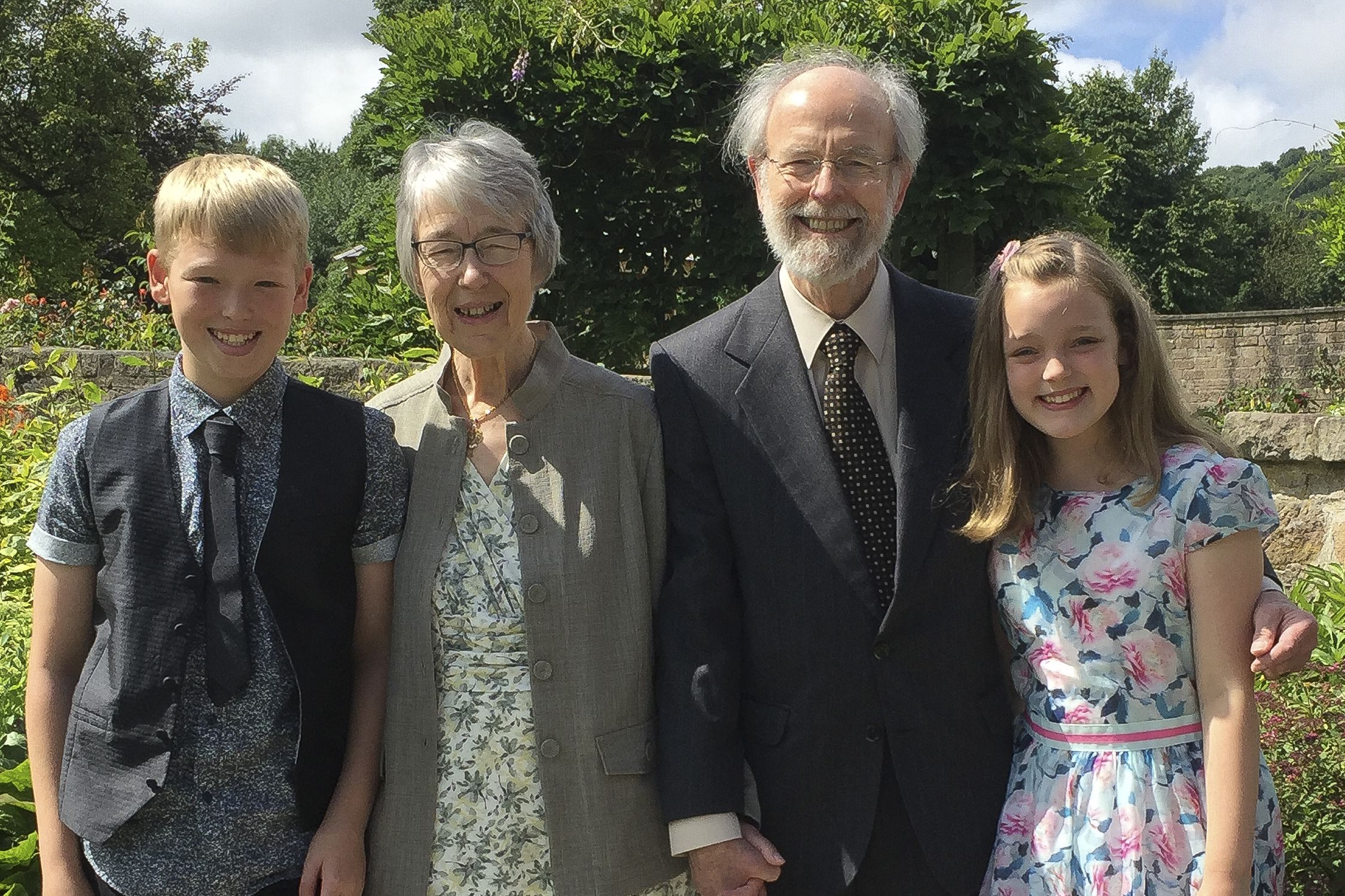 ---
Jim Talbot Chemical (Engineering 1967)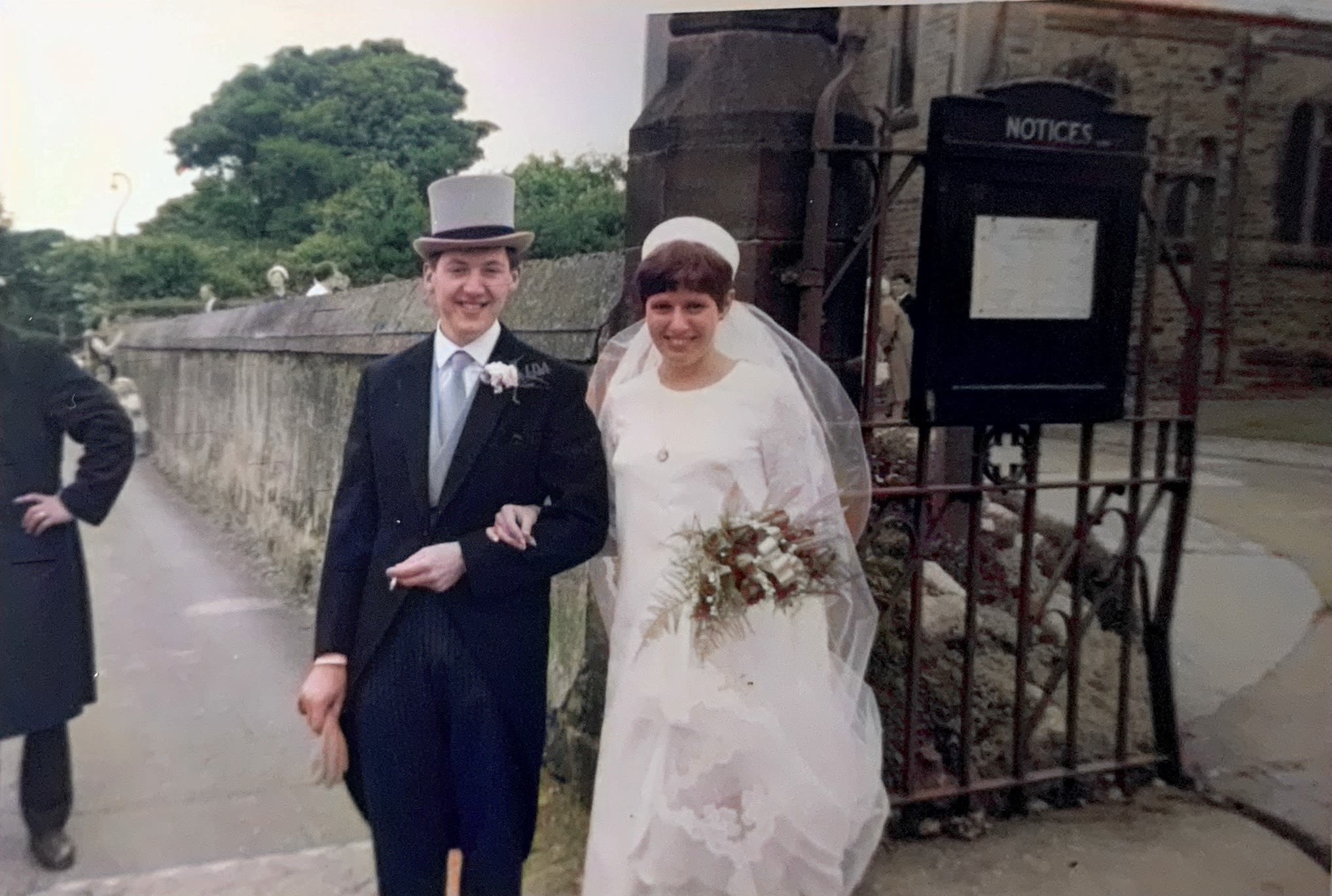 I went to a hop in late 1963, looking for a date to take to a Houldsworth Ball. I asked a young lady to dance, we connected on the dance floor and she agreed to go to the ball. We fell in love, got married in July 1965 and left to come to America in 1967. Still married in 2022 after 57 wonderful years. We have two wonderful children and four fantastic grandchildren who live nearby so we see them regularly.
---
Ann Leggett (Music 1968)
I was treasurer of the University Music Society when in about 1967 a handsome dental student came to join. He was a talented drummer & shortly afterwards I joined his percussion department of the LULOS (Leeds University Light Opera Society) orchestra. I then coached him how to pass Prof Denny's madrigal group audition & years of shared musicmaking began!
We married in 1970, had two sons, both pretty musical, & John worked as a dentist in Leeds then Hampshire & finally, for over 30 years, Salisbury. He was front of house manager for the chamber choir with which I sang for years until we moved in 2019 to near Oxford, & hardly missed a concert. In turn, I supported all the performances of the trad jazz band of which he was drummer.
We celebrated 50 years together in 2020 & sadly he has just died, but I have years of joint musical experiences to look back on, all begun at Leeds.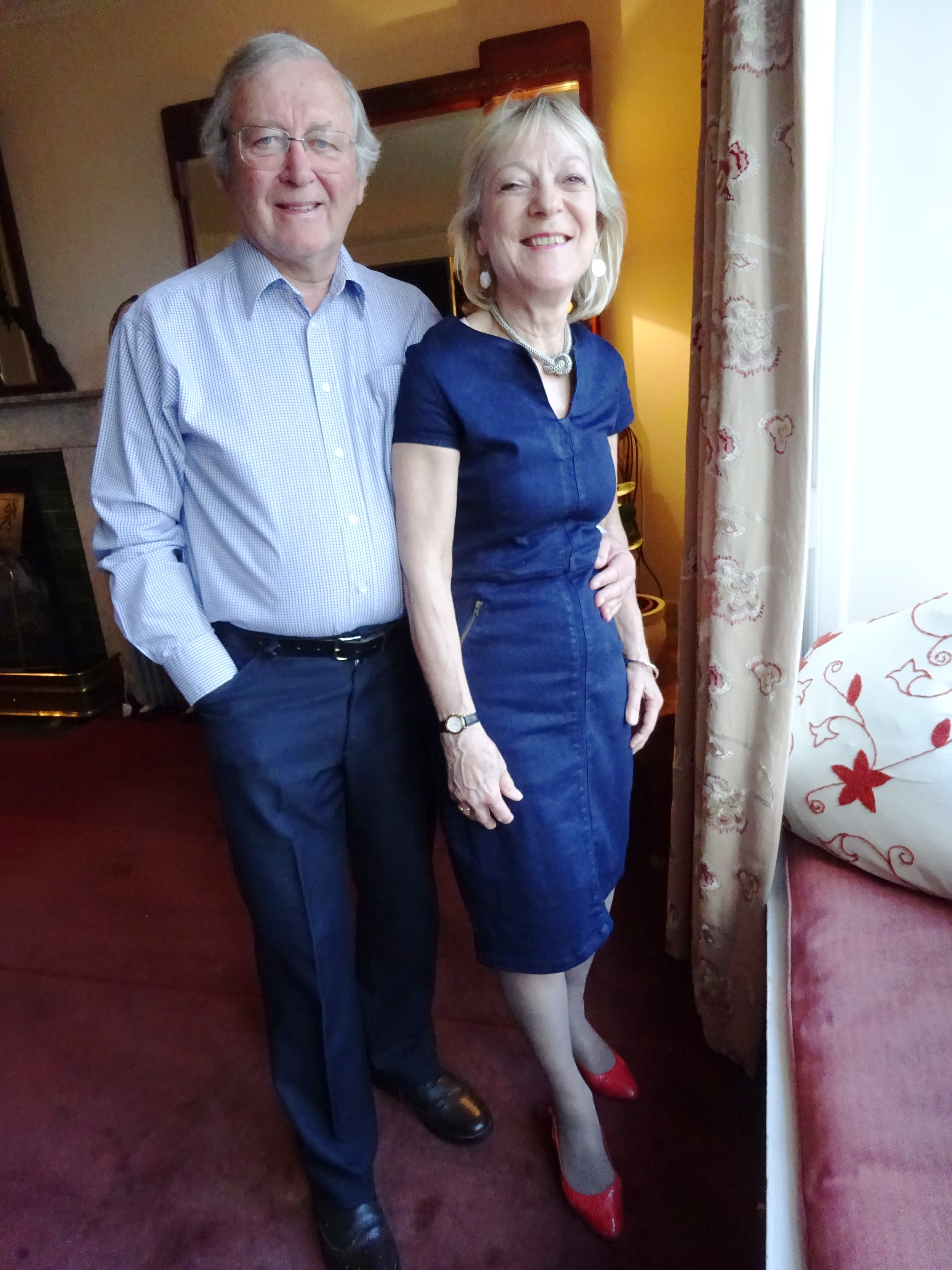 ---
John Down (Mechanical Engineering 1968)
On 9th October 1965 I met Pam Gregson (German 1968) at the Hop at the end of Freshers week. We became friends and joined a small choir at Boddington Hall. We graduated at the same ceremony in 1968 and married in July 1969. We're still singing  together!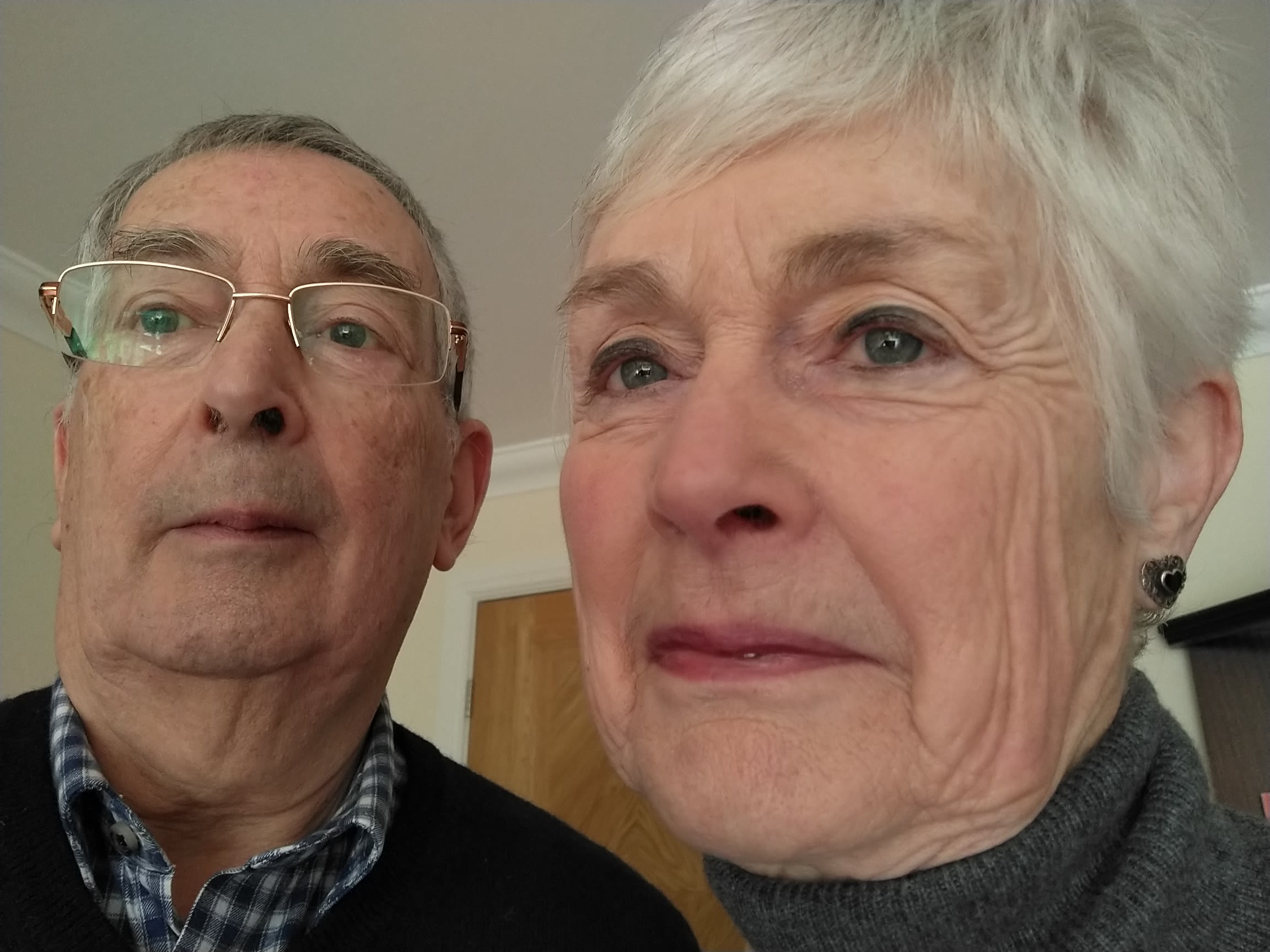 ---
Michael Morris (Law 1969)
I met wife who was a year behind me in law in the old law library. I plucked up the courage to talk to her and ascertained that she was attending the 1968 Law Society Annual Ball - not with me. I decided to attend and as one of my friends was on the organising committee I persuaded him to alter the seating. Hilary found herself next to me. The rest is history. Going out together from then until marriage in 1973. Now 49 years later we have 4 children 7 grandchildren. Thank you Leeds.
---
Simon Potter (English and History 1969)
Mary's mother in Devon said: "Make sure you go to the Catholic Chaplaincy the first opportunity you get." My mother said: "Don't forget to go to the Catholic Chaplaincy, darling." The Jesuit in charge had taught at my old school, Beaumont, so I thought I would.
At a start-of-term party there on 9th October 1966, Mary and I both turned up, met and found each other very sympathetic, with a similar sense of humour. She lived at Ellerslie and I had digs out at Horsforth. When I acquired an ancient van, I came in to take her shopping, and, when she moved into a flat in Springfield Mount, I became really useful as grocery collector.
The Engineer's Ball followed, Mary very glam in a long dress, me in a DJ, then lovely long evenings spent cuddling up listening to my LPs. Mary read English (and got a First!) and came to London when I started teaching there, did a stint in The City, then also taught. We are still teaching part-time and have been together, happily married, ever since that party at the Chaplaincy - 56 years on from when we realised that we had fallen in love on an October night in Leeds.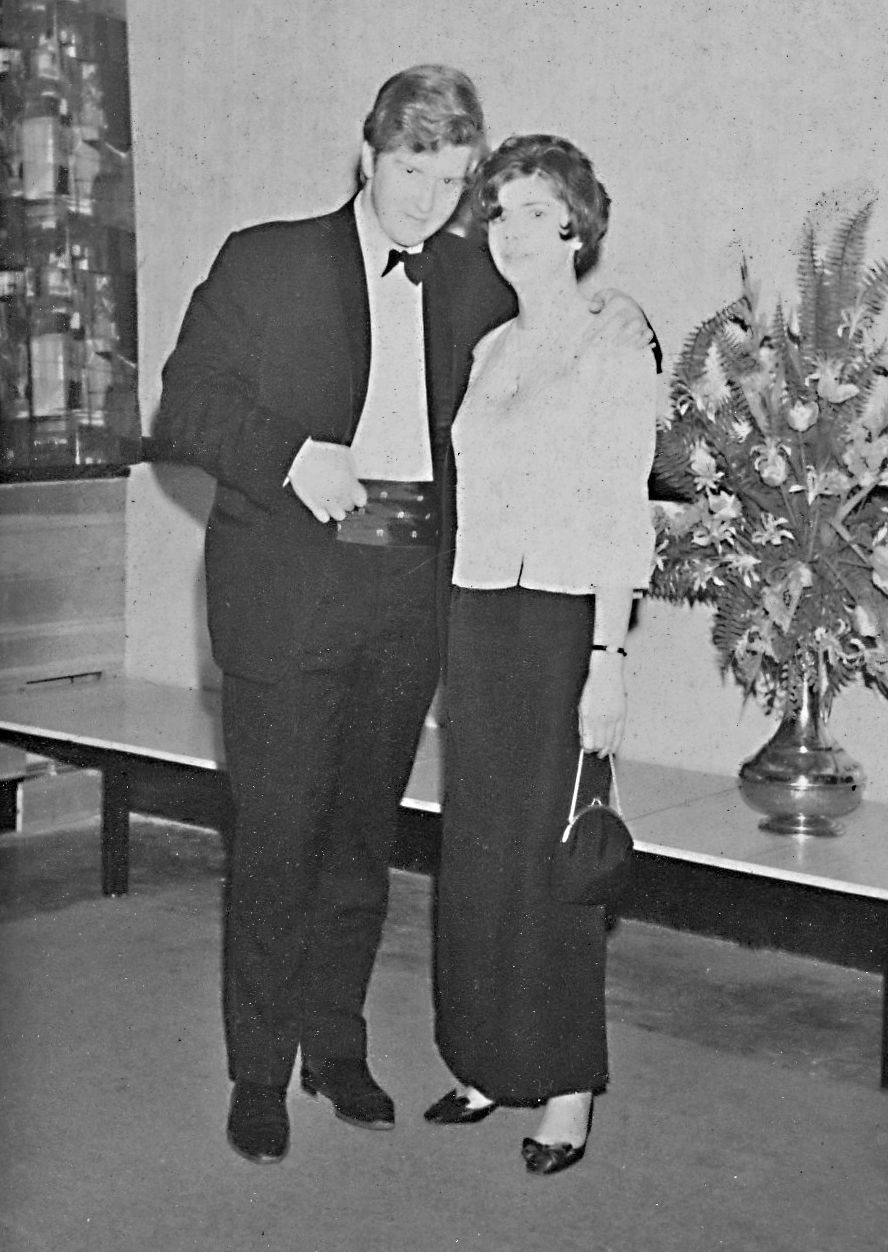 Viv Beeby (Politics 1970)
I met my future husband in September 1967.  I was walking from my digs on the Mount in Headingly down to the Sunday night film society.  Mick and his mates were walking up the road to the Packhorse.  They asked us to join them. We did. We married in our third year and have just had our 51st wedding anniversary!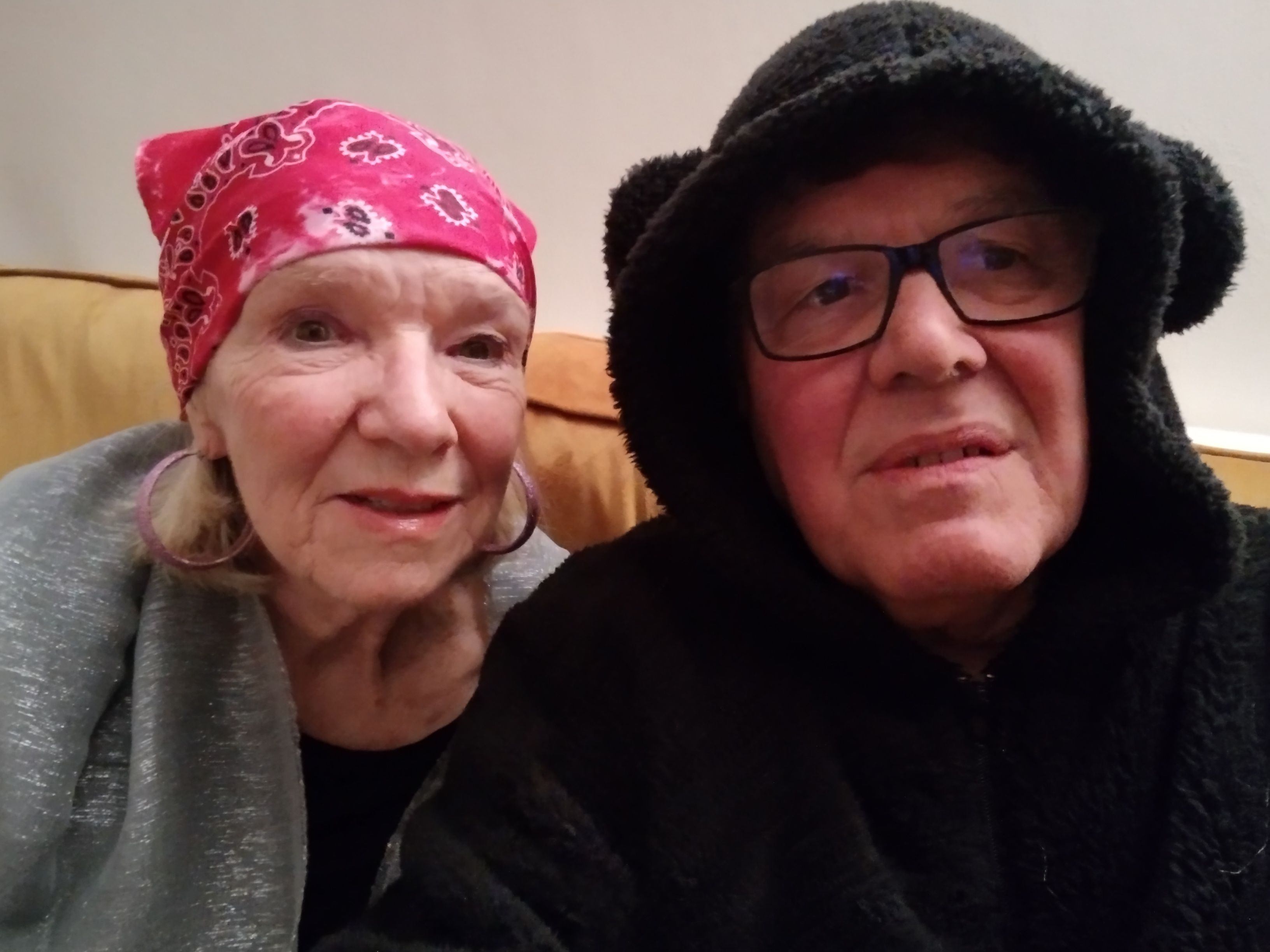 ---
Mary Hadley (Mimi Sawyer) (English 1970)
I met my ex husband, David Hadley, at a party in October 1968. I had gone with my roommate Chris King, and as we looked around the room, she asked me if there was anyone there that I might fancy dating. My eyes immediately found David, and Chris said "I bet you sixpence you can't pick him up!" I laughed and said "Watch me!"
I was wearing a very short silk mini dress and with my long blonde hair I thought I looked so cute. David and I chatted and very quickly he said "I'm going to America next summer." As I had always wanted to travel and especially to America, I thought to myself, "and I'm going with you!".
The following July we travelled to New York City, worked in Atlantic City for three weeks, and then rode a greyhound bus for $99 for one month unlimited travel all around the States and right across Canada from Vancouver to Toronto.
A year later I graduated and a year after that we got married. The marriage didn't work out but in 2017, amazingly, I met Dr. Trevor Little in Cary, North Carolina USA, where we both live.
He told me on our first date that he too had gone to Leeds University from 1967-1974! We learned, as we talked,  that not only had we joined Leeds on the same day but had lived in the same Brudenell neighbourhood.  He told me on that first date: "I'm going to Papua New Guinea next summer!" and I thought and "I'm going with you!". You can't make these coincidences up and it's a wonderful small world.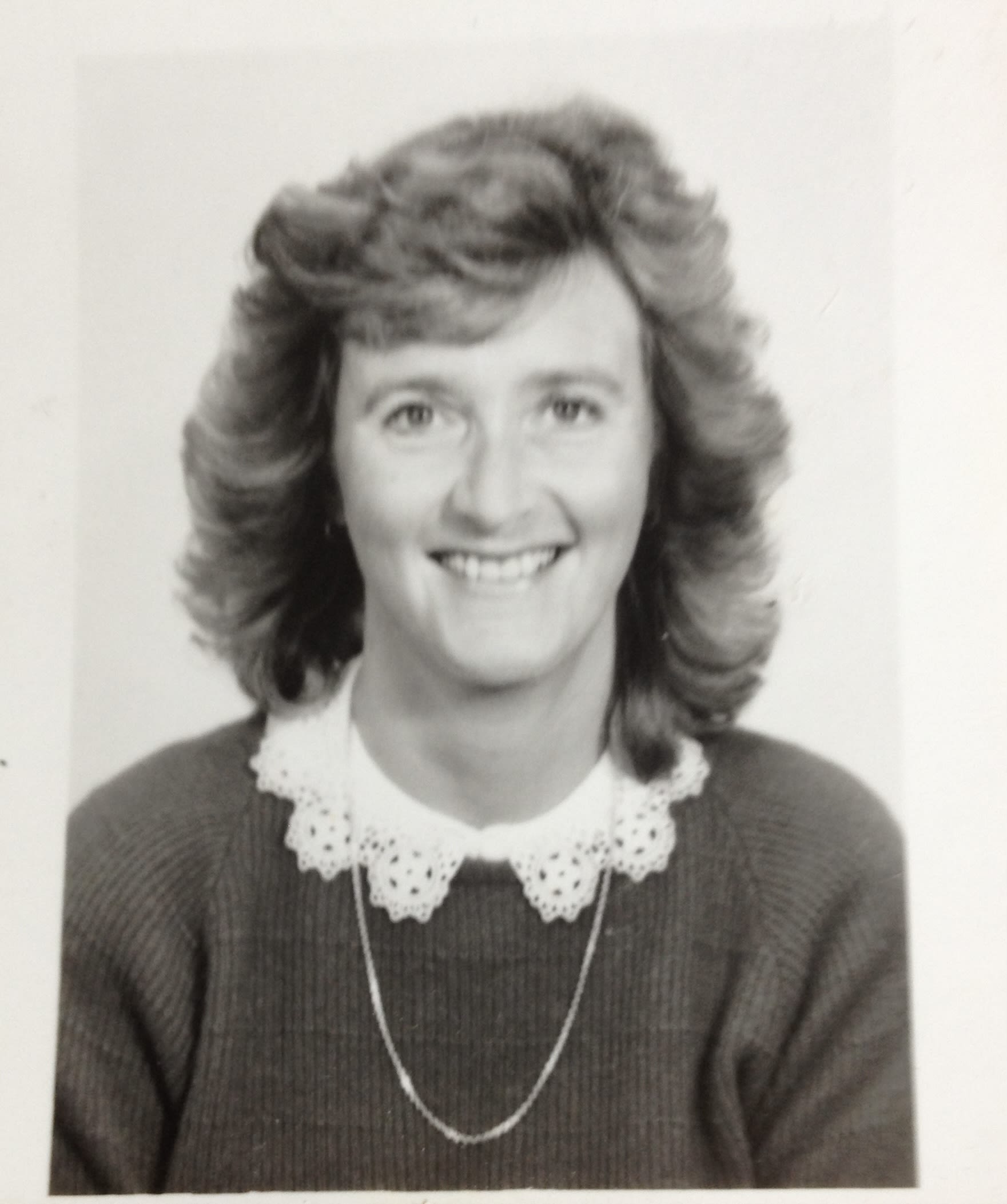 ---
John Moore (Textile Management 1970)
I met Lynda on Feb 23 1968 at a dance organised by Leeds Poly (as it was then) Arts School held at Mark Altmans. I was in my first year at Leeds Uni, Lynda was at the Leeds Poly. It wasn't love at first sight but we got married on June 1971 and last year had our Golden Wedding anniversary.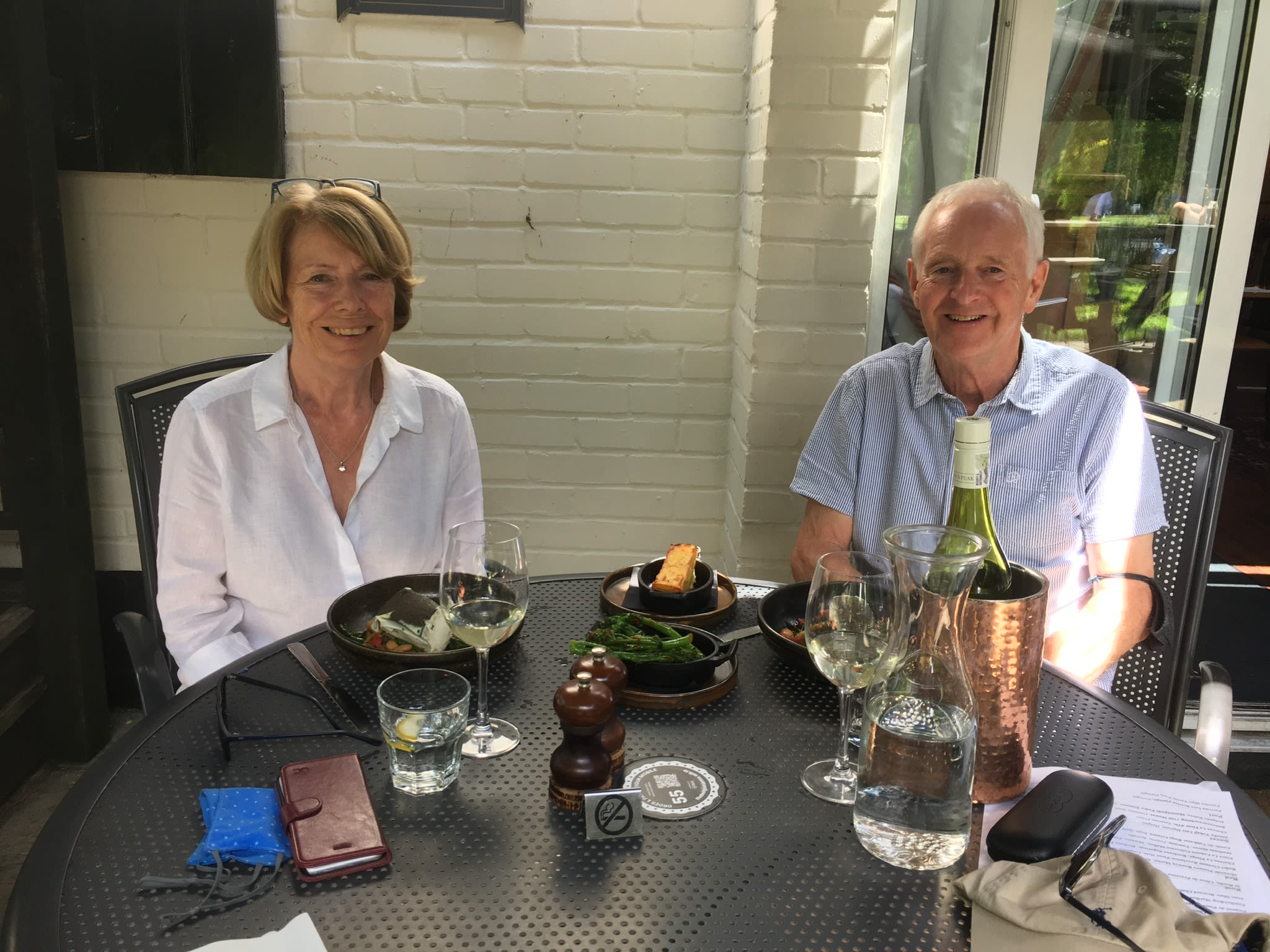 ---
Roger O'Brien (Metallurgy 1971, PhD 1975)
Sometimes these stories are very simple - We met in the Union bar, 'pings and stars', married in 1972 and celebrate our 50th Anniversary this year!!
Must have done something right.... we now live in NZ with two sons and four grandkids so we're happy with lots of new stimuli, fun and laughter.
---
Steve Maths (Computer Science 1971)
I graduated in 1971, in 1973 I was in the maths coffee bar playing bridge with some friends who were still at Leeds University and a mutual friend introduced me to a physics/chemistry student who was also in there. She was going to visit a friend in Bury that day and I was going to Bolton so i offered a lift which was accepted.
We later went on our first date back in Leeds to a pub in Pool and eventually decided to go and watch the sunrise at the Cow and Calf. It was cloudy so we baad at the sheep and came back to Leeds. After a summer break apart she came back to Leeds and the rest is history. We've been married now for 45 years with children and grandchildren. All thanks to the maths coffee bar.
---
Sue Welch (nee Jeffcoatt) (Maths 1971)
When I came to Leeds I joined the University basketball team, as I had previously helped my older brothers as scorer at their matches in Coventry.  We played our matches in the large wooden box situated where the new sports centre is. In my second year, a gentleman called Mel Welch arrived in Leeds as the new National Administrator of the English Basket Ball Association, as a Leeds University lecturer, Keith Mitchell was the honorary secretary at that time.
We met in the wooden box (alias sports centre!) on the occasion of a junior international between West Germany and England. He was organising the match, and as captain of the women's basketball team I was organising the sale of programmes. I was introduced to Mel by Keith Mitchell who said  "This is Mr Welch, he'll tell you what to do!"
I would say he has been doing that ever since - and he would say he is still trying!  Anyway - he took over as coach of our team, we married after I graduated and had two children. We both carried on with basketball until our mid 30s and are still involved in golf and tennis. He carried on with a sports administration career and I became a university lecturer (at the other university in Leeds!)
We celebrated our Golden Wedding Anniversary in September 2021.  A great 50 years after that inauspicious start on the basketball court in Leeds.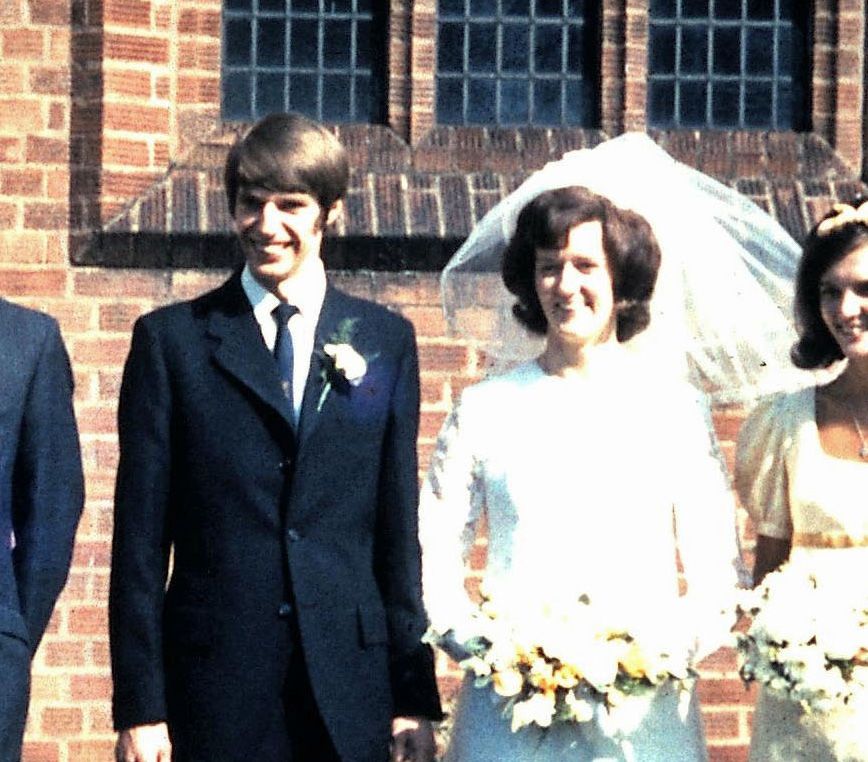 ---
Alex Heron (Agric-Econ 1971)
Saturday night hop - used to go with my mate Roger from Bodington Hall. He always got the pretty one. However on this occasion when I saw the little bombshell dancing round her handbag on the floor I told Roger he had to stand aside. I took her back to McCauley Hall at City of Leeds, tried to kiss her at the front door and she dodged - I kissed the doorknob.
Golden wedding next July.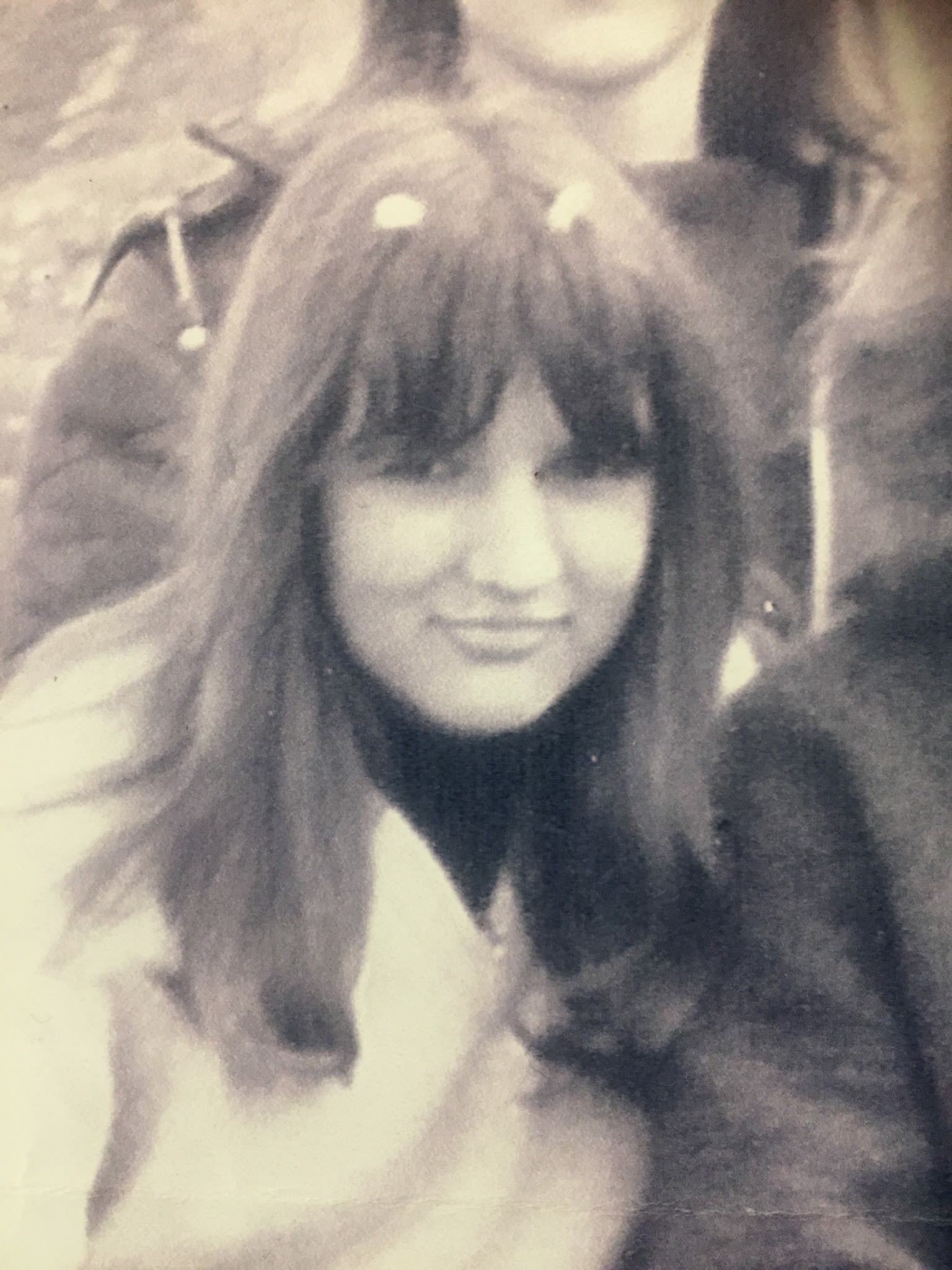 ---
Paul Goodman (Geography 1972)
I lived in a terraced house now no more. We didn't have a vacuum cleaner so borrowed one from a few doors along where some lady students lived. They had a party which we went to and I met a guest who was a Leeds Library School student, asked her out and we have just celebrated our 49th wedding anniversary.
---
Peter Gibbins (Metallurgy 1972)
I met Judith in the Houldsworth cafe bar. I was studying metallurgy, starting in 1968, and she was working in the Fuel Science Dept. I knew fairly soon that she was the one but there were lots of other men for her to chat to. That was until we met at a University Hop in the Spring of 1969. I was there with my friend Tom and she was there with Doreen and approaching from behind at the bar I tapped her with my University scarf and asked her to buy us a drink.
We danced together all night and the rest is history as they say. In those days couples like us didn't live together. We got engaged on Valentines Day 1970 when we went to see Romeo & Juliet at the cinema and married on 3rd July 1971. Incidentally my friend Tom and his girlfriend did the same. We have been married 50 years, have two daughters and two grandchildren and I still love her to bits!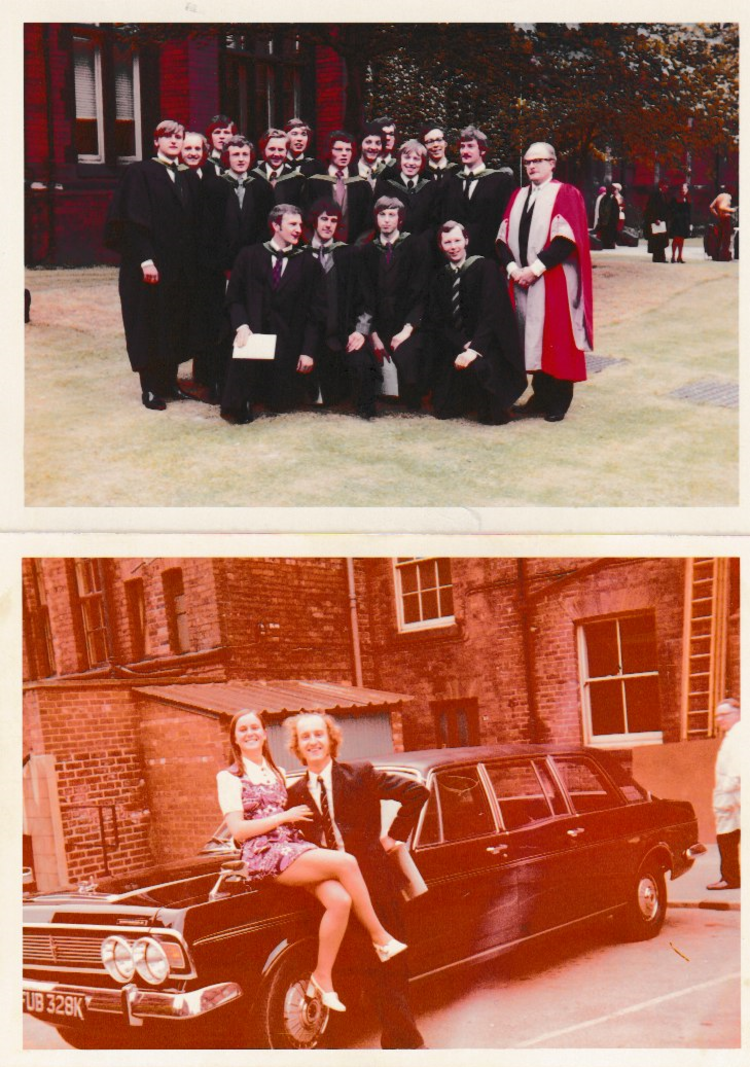 ---
Alison Smith (History and Theology 1972)
I met my husband Clive at Leeds when we were freshers in 1969. We were on the same course but I really got talking to him when I (accidentally) knocked him off a bus in Woodhouse Lane!  We were married in 1974 and we are still together with three sons and five grandchildren!  We often visit Leeds and met up with fellow students at Weetwood Hall to celebrate the 50th anniversary of starting at the University.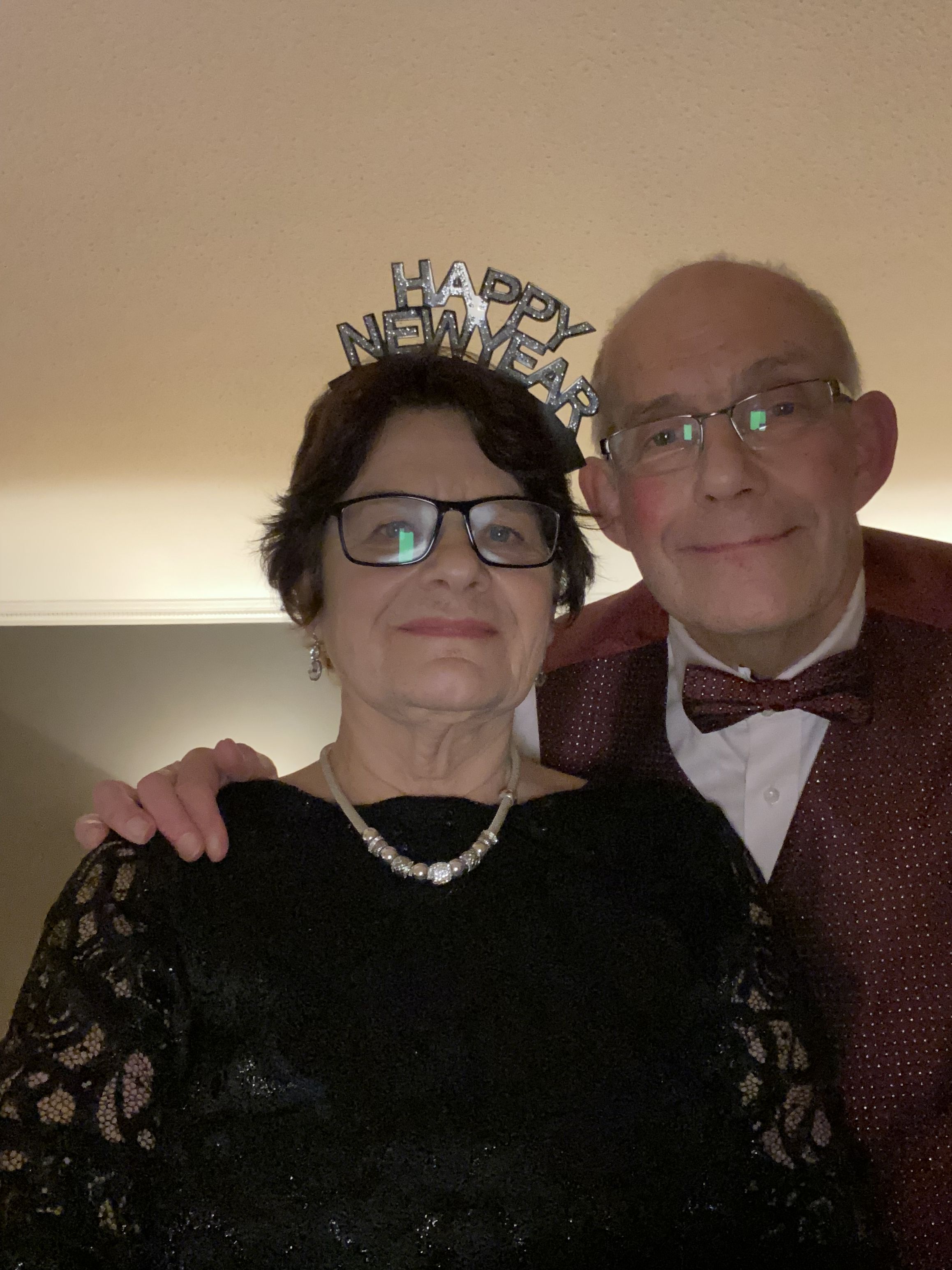 ---
Stephen Hardcastle (Medicine 1973)
I met my wife through a mutual friend in the med school.  The friend offered to cut my hair and, while doing so a young woman, her room-mate, entered,  I had seen, performing in a production at Boddington Hall.  I was smitten and we married, had a family, bought a French house and shared five days short of 49 years together.
---
Roy Norcliffe (Education 1974)
Already been in love for 16 years, and it lasted another 44. My inspiration after taking a leap into the unknown to become a teacher was inspired by my wife's commitment and total belief in me! The dancing and early romance was the fire beneath the decision.
---
Geoff Mizen (Music and Education 1974)
Having completed a degree at Bretton Hall (a constituent college of Leeds Uni), I taught for a year at Wombwell, near Barnsley, during which a fellow ex-student of Bretton introduced me to a student who was doing her PGCE course that following year. That young lady became my wife and we have been married for 45 years. We first met at a G & S performance of Lolanthe by students at Bretton in May 1975.
---
Chris (nee Turner) and Alan Jones (Sociology and Religious Studies 1974)
We had our first date on 13th February 1973. We walked from Hyde Park Corner down to the city centre and had a meal at the Peony Chinese restaurant. He walked me back to my house in Ash Grove! It was snowing! We got engaged in December and we married in 1974. We're still together and have had good careers and children and now two grandchildren. We look with great fondness of our days at Leeds!
---
Ann Christian (Medicine 1975)
During my first year i was going out with a fellow medical student but he failed his exams so i had to tell his housemates that he wouldn't be there the next year and one of them was Tony. Our first date was at sous le nez, and we married in July 1975. We are now grandparents retired, still in Leeds and still in love.
Peter Davies (Food Science 1975)
In the last year of my course I was in the University's accommodation of Lupton Flats in Headingley.
There were common amenities in a block including washing machines with a TV room above. I set my washing going and went to see the European match between Leeds Utd and Bayern Munich (although not really soccer fan, I am Rugby Union (Wales) supporter).
Whilst watching three people came in..two girls and a bloke. They looked for seats as it was packed, I shuffled up on my seat and one of the girls sat down (very snug !!) leaving the other two as a couple. I lost a lot of interest in the match!
When match ended (no idea if Leeds won!!) she stirred as the camera went around the stadium at the European Flags used that as pretext to ask "where are you from?" She replied "Greece" and I lied through my teeth and said "ohh, I'm going there for holidays when I finish my degree this summer."
She then left saying "you must come and see me". I gave her my flat number thinking nothing will come of this. Then, I got a knock on my door and said Greek girl came and left me her address in Greece!!
To cut a long story short: I went to Greece. After qualifying at Leeds (Maths & Computing 1976-77) Athanasia Evlampia Vasiliadou of Drama eventually became my wife and we have, so far, been together for 42 years with three kids and three grandchildren.
The only sad thing is that we have now agreed to separate to pursue our individual paths and will do so in 2022. Sorry it's not an idyllic ending but we will remain friends and have fantastic family with brilliant careers and kids to share for the future.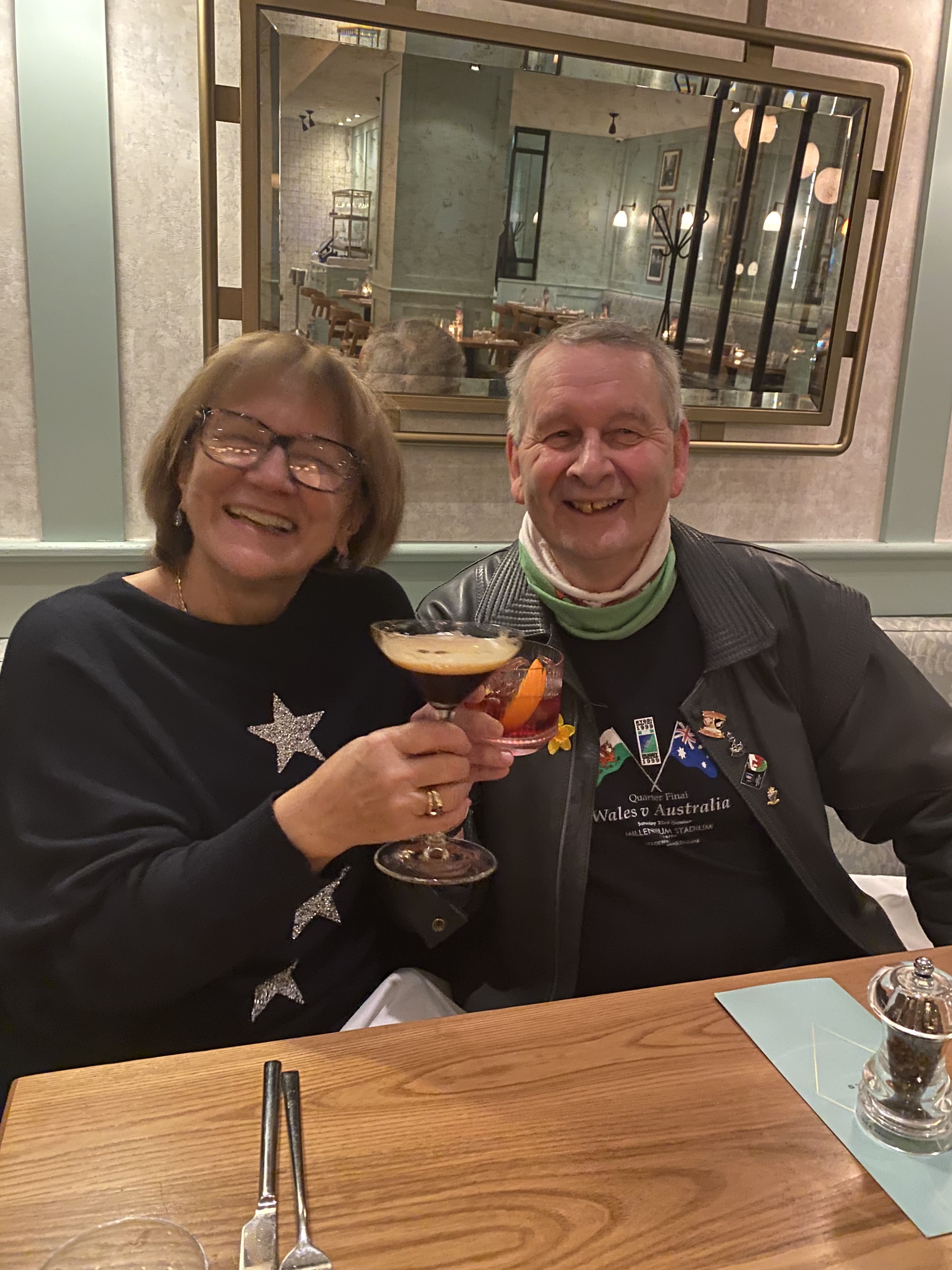 ---
John Davidson (Economics 1975)
I had already been at Leeds for a year when I met Kristine Sellars during her first term. We went together to see Greenslade at the Riley Smith Hall in January 1974 and shared our first kiss at the Valentine's Ball at Bodington Hall a few weeks later. 48 years, two children and two grandchildren later we are still living in the outskirts of Leeds. Thank you University of Leeds!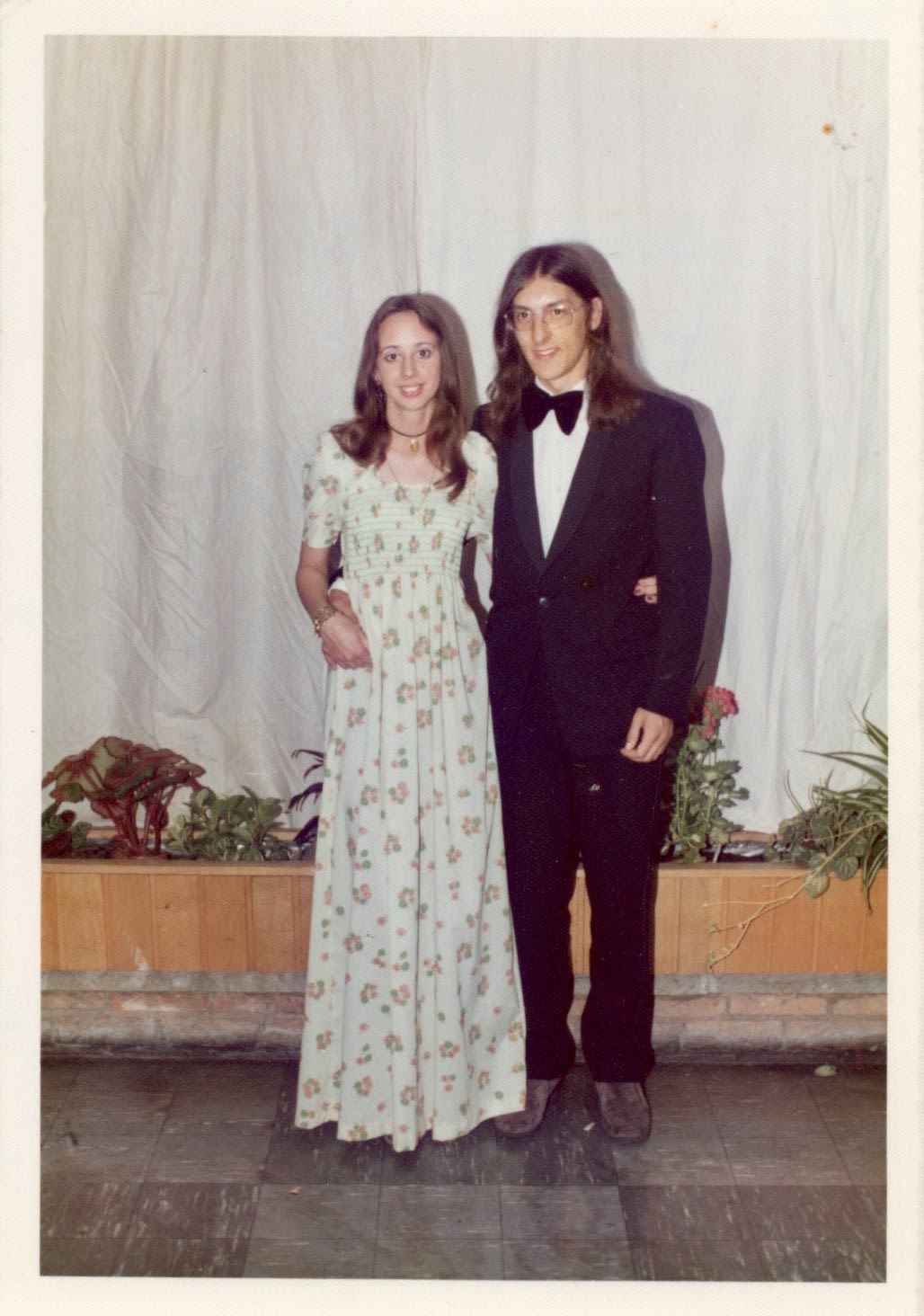 ---
Richard Savory (German and French 1976)
This is a story which began and continued in Leeds, but an important part being in Germany between times.
I started a degree in German and French in 1972. In October 1974 I began a year teaching English in Hamburg. In the year before I went to Leeds, I had spent seven months working in a department store in Cologne, and was keen to re-visit during my year abroad. In February 1975 the Carnival festival began in Cologne, and on an evening out in Hamburg with Julia, another Leeds student, in a mad moment I suggested that we hitch-hike to Cologne the next morning. Julia was always up for an adventure and agreed, so we went back to my flat on the outskirts of Hamburg with the intention of heading to the Autobahn early the next day.
As it happened, my flatmates and I had been looking for a new flatmate, and when we arrived back at the flat Beate was in the process of moving in. Julia and I chatted to her and told us of our plans for the next day. I was staggered when she said "I've no plans for the weekend, why don't you take my car?" This was on the basis of an acquaintance of all of 30 minutes.
The next morning, off we went. It was the first time I'd driven in Germany, and believe me the experience of driving a VW Beetle on the Autobahn was no joke in those days. Nevertheless, we arrived in Cologne and set off to see the sights; Julia for the first time, led by me revisiting my old haunts.
Evening came, and on a whim I decided to visit a bar called Funzel, quite a way out of the city centre, which I had known and liked two years earlier because it had a good jukebox. When we walked in, there in a corner was a group of people including two Leeds students, Jim and Linda, who both had a teaching job in the Cologne area. Neither had ever been to the Funzel bar before.
Linda had also started at Leeds in 1972, and we were on slightly than better nodding terms (but no more than that), mainly because in the first year we were both routinely late for 9am lectures and usually ended up sitting together in the front row of a Roger Stevens lecture theatre. The evening passed and we spent a lot of time talking to each other rather than the group at large. We left the bar and the group walked seven or eight abreast down the Hohenstaufenring to a tram stop, all holding hands and singing the Leeds theme tune for our year abroad, 'Bladon Races'. When we stopped singing, Linda and I continued holding hands.
Forty-seven years later, we're still holding hands.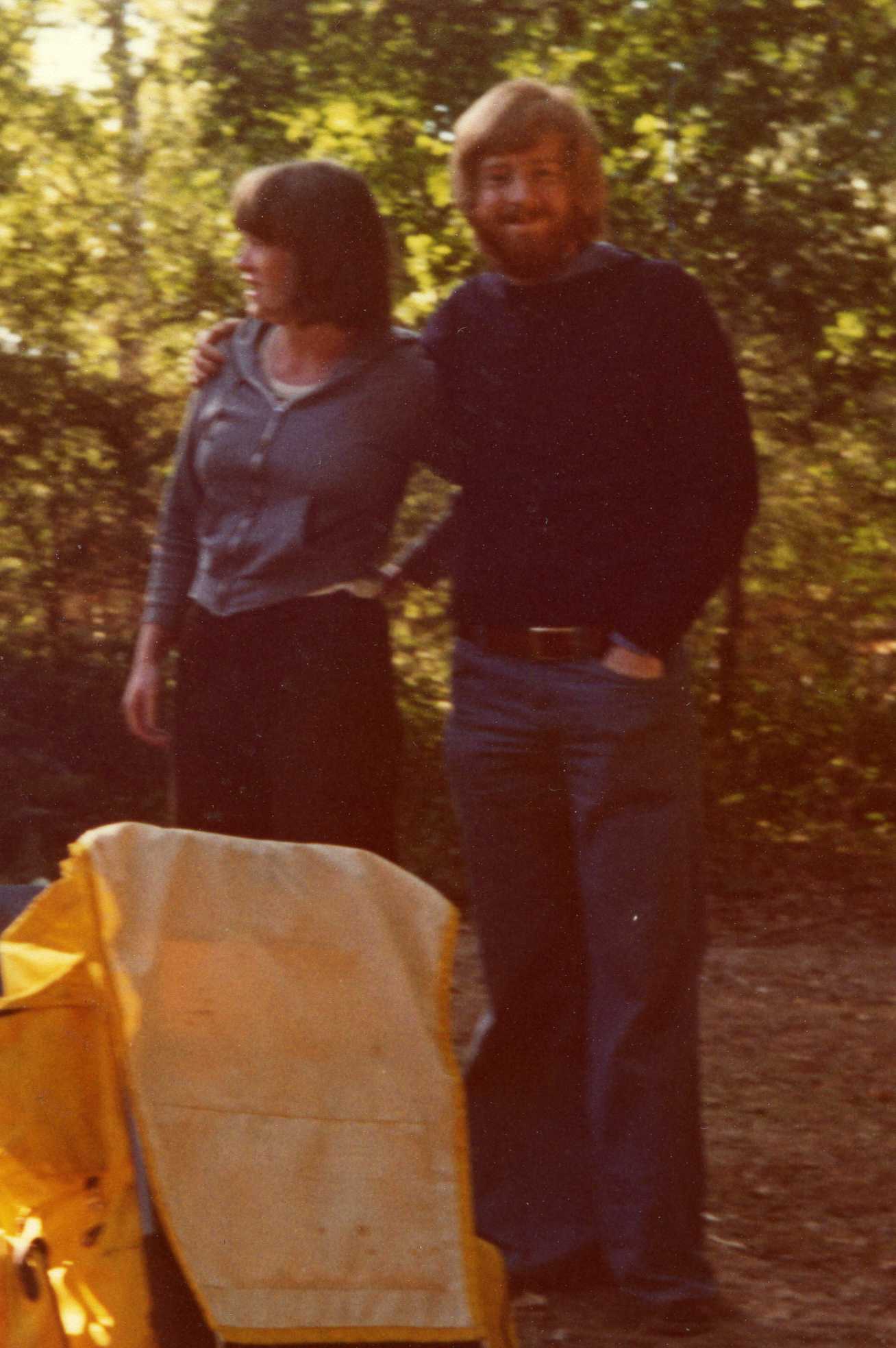 ---
John Gunton (Chemistry and Mineral Processing 1977)
I not only got a degree from Leeds but more importantly I met my wife there.
I first met Charlotte, who was studying Agricultural Sciences, at a disco (is that still the right term?) organised for students at Lupton Flats in Headingley. It was our second year at Leeds and the disco was held at the Cat's Whiskers Nightclub in Meanwood. Charlotte  surprisingly said 'yes' when I asked her for a dance and even accepted a drink from me. Well, that was the start of many dates which included trips to the Cottage Row cinema and nights out at the Skyrack and Original Oak in Headingley. You can tell how serious I was because I even bought fish and chips for us at Sweaty Betty's, just opposite the Parkinson Building. In our final year, we had great nights at the Boddington and Devonshire balls. Hope they are still annual events.
However, the course of true love never runs smooth and I was temporarily dumped, partly because of a letter I had published in the Leeds Student newspaper. Still all's well that ends well and I am very pleased to say that we are still going strong after 44 years. Marriage has been a brilliant and exciting journey for both us.
Recently, a friend went back to see if Cat's Whiskers nightclub was still there. It isn't and our 'place d'armour' (I hope that means what I think it means-French was never my strong point) is now a Waitrose car park. Well, at least it isn't a Poundland's car park. I knew we had class! Thank you Leeds.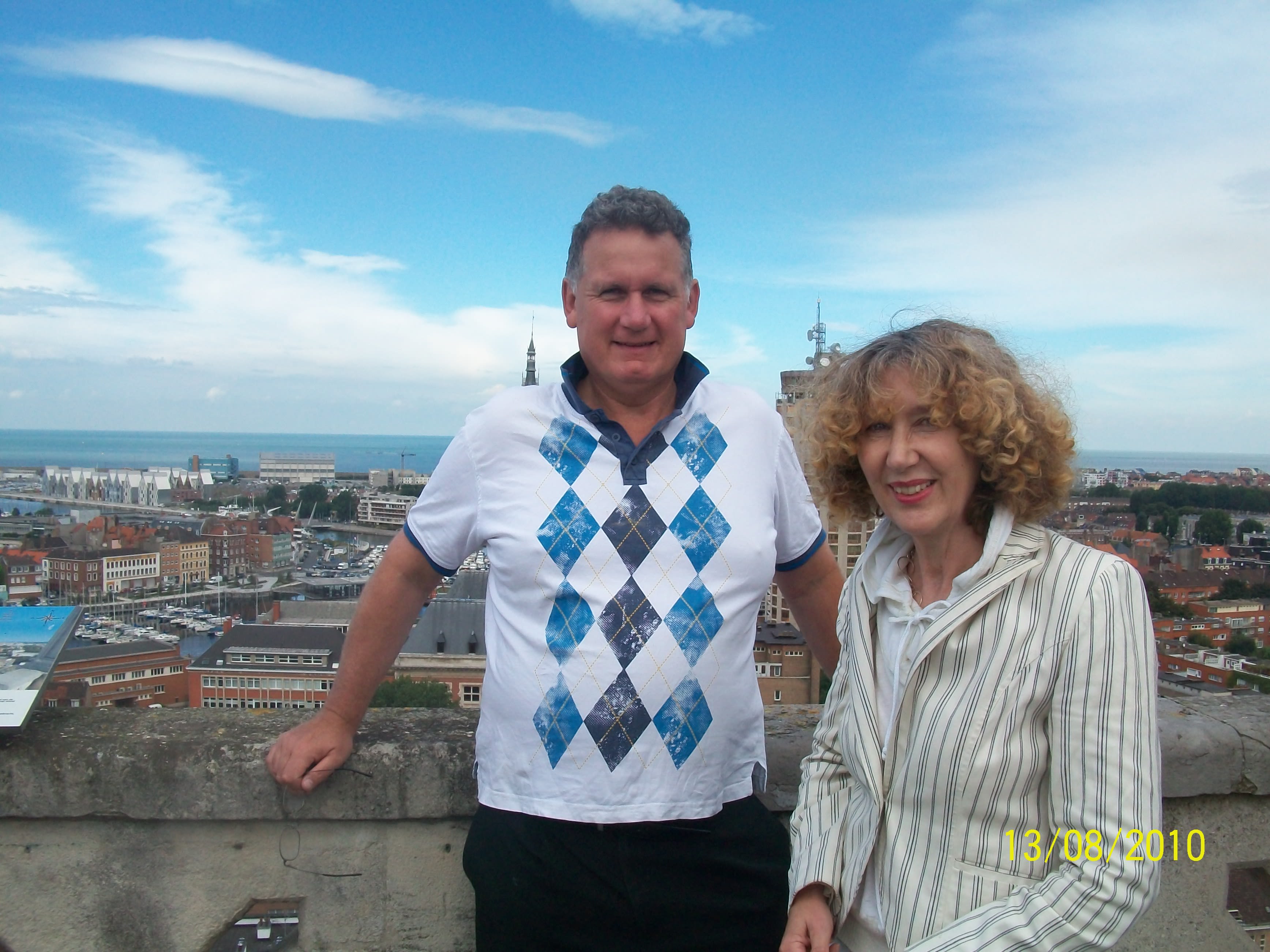 ---
Nick Sturley (Biophysics 1977)
We met at a student party in a dark and damp cellar in Leeds 6. She had the loveliest smile. It was the summer of 1974. We were still teenagers. I studied biophysics: she, politics & sociology. We agreed to meet again a couple of days later. It was somewhere much lighter, but thankfully we still liked the look of one another and, as they say: the rest is history.
Married in 1978 we have a son, a daughter and two beautiful granddaughters and... 47 years on I still get to see that lovely smile every day! But our family's encounters at the University of Leeds don't end there...
Last week our daughter gained her third degree from Leeds - a PhD. Last month on New Year's Day her boyfriend, another Leeds student, whom she met on their master's course, proposed to her. They plan to marry in September. Happy Valentine's Day!
---
Barry Oliver (Control Engineering 1978)
I met my future wife at Leeds in my final year. We met at a 21st birthday party ( complete with that new fangled Stranglers Music) at a nightclub in Leeds. She was working in music support for West Yorkshire.
She was brought along by her cousin who was studying agricultural science who was one of my "Leeds Mob" group - we drank together then - in the Original Oak and elsewhere.. and still do meet up when we can for the odd few days away.
During our time together she typed up my dissertation and provided great support when my mother died in February of finals year.
We are now both retired but still together - thanks to our meeting while I was a student and she was a new worker to the city.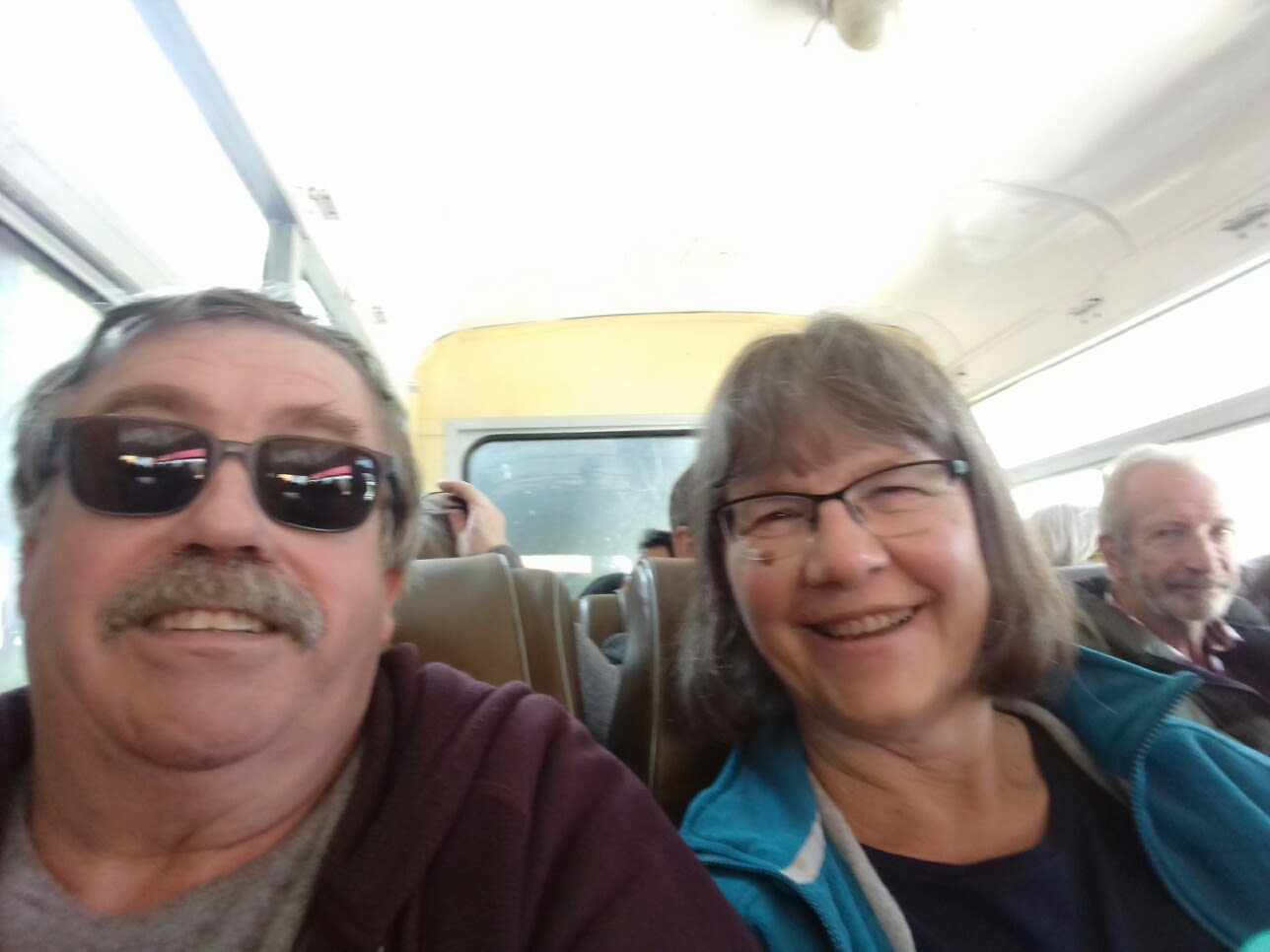 ---
Mark Stephen Ashley (Economics 1978)
I met my wife, Sara Shackleton, when we were both elected onto union council. Sara was studying medicine. For me it was love at first sight! She was Conservative, I was Labour but that didn't spoil anything. We first got together at the Bali Hai nightclub. I had to threaten my flat mate Nigel Roberts who was also on Sara's case to get lost. Nigel was our Best Man at the wedding in 1981! Forty fantastic years thanks to Leeds!!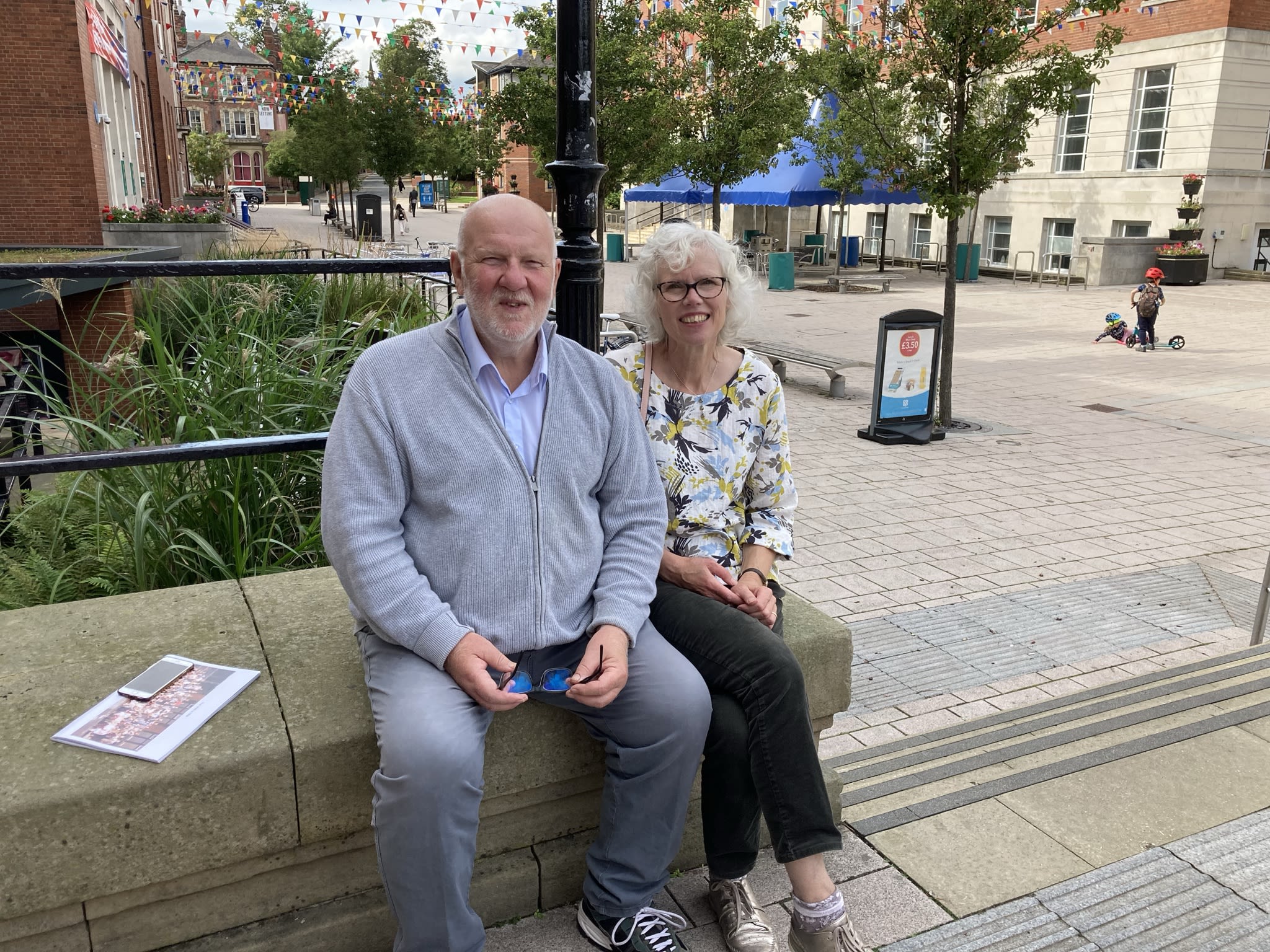 ---
Rob & Barbara Brighouse (Civil Engineering 1979)
I first set eyes on Barbara Beak across the drawing office in the civil engineering department in September 1976 when we were both first year undergrads. We graduated in civil engineering in 1979 and married in 1980.
For the last 42 years we have been using our Leeds based training to practice civil engineering in the UK, Australia, Hong Kong & Tanzania; me in railways & Barbara in water supply and sanitation.
45 years since that first encounter and four children & four grandchildren later, she is still the apple of my eye. The only downside of our university romance is it that I could never bring myself to display our degree certificates as they simply demonstrate that my 1st class wife is smarter than Upper 2nd me!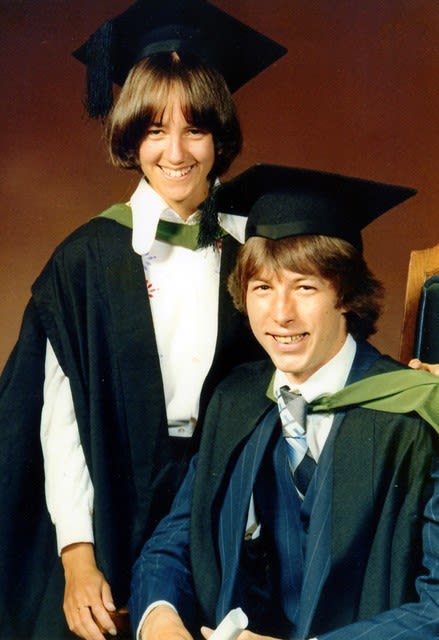 ---
Margaret Shelton (Theology and Religious Studies 1979)
My husband Glenn and I have been married for 40 years but we started going out together when I was studying at Leeds University and he was at Leeds Polytechnic. I was Margaret Smith before we got married in 1981.
We knew of each other because our parents went to the same amateur winemakers club; despite going to the same Sixth Form College, our paths never crossed till Leeds in 197! We met in the Highlander in the Merrion Centre and swapped addresses, though at the time he was seeing somebody else! We met up again in the summer of 1978 back home in Redcar and encouraged by mutual friends, ended up walking home together.
We saw each other a few times but it wasn't till we were back in Leeds that we started seeing each other properly. He lived in Chapeltown with friends and I shared a house in Headingley with my friends but we rarely spent a night apart. After graduating he got a job with Ferranti in Stockport and I studied for a PGCE at Manchester Polytechnic, Didsbury faculty. We married and had two sons and now have four grandchildren - so love really blossomed in the Merrion Centre!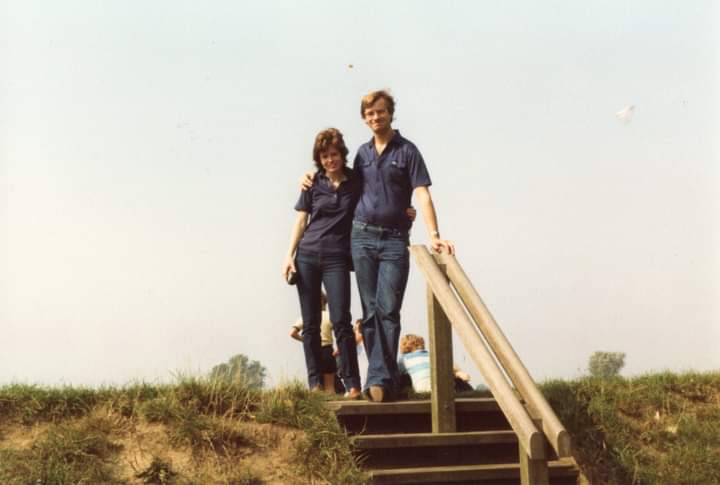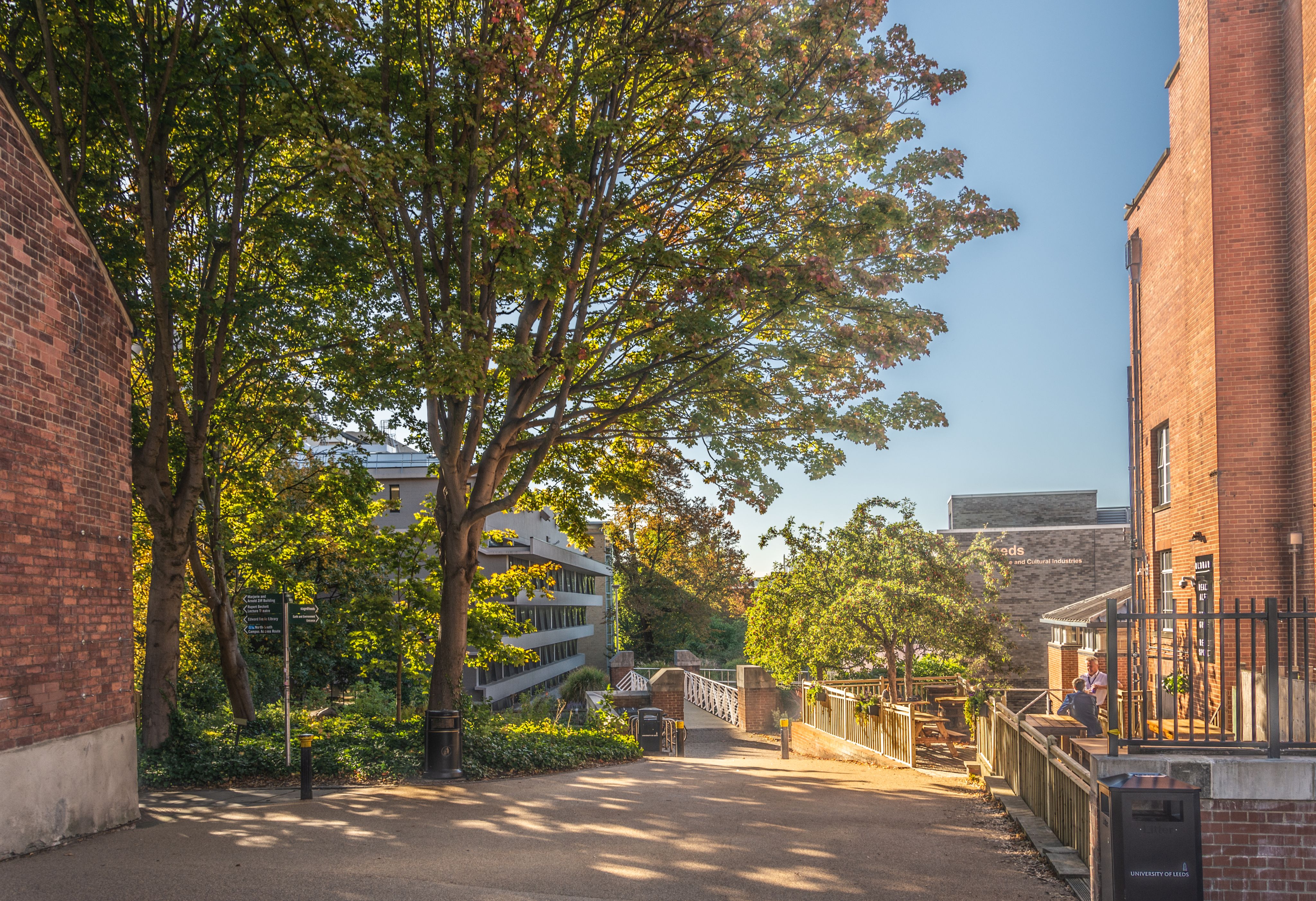 Juan de Dios (PhD Transport Planning and Engineering 1980)
Actually, my story is a mixture of love for my wife and children and love for Leeds.
It all started in 1973, when I arrived to study an MSc; my wife and first daughter (of only six months) arrived three months later to start our married life...it was wonderful, Margarita worked as an architect at the Merrion Centre, I studied at ITS and we met every day for lunch together in the Union; later, in the afternoon, we collected our baby at the nursery and went home. Although we had a small British Council scholarship, with her salary we could afford to live quite well and enjoyed all the beauty that WY had to offer.
We returned to Chile in 1974, and then - quite unexpectedly- came back in 1977 for my PhD as I was hired as Research Officer, and stayed until 1980 (this time with two children). I can say with no doubt that the 5 years we spent in Leeds were crucial in the success of our marriage (we will celebrate our 50th year in July 2022).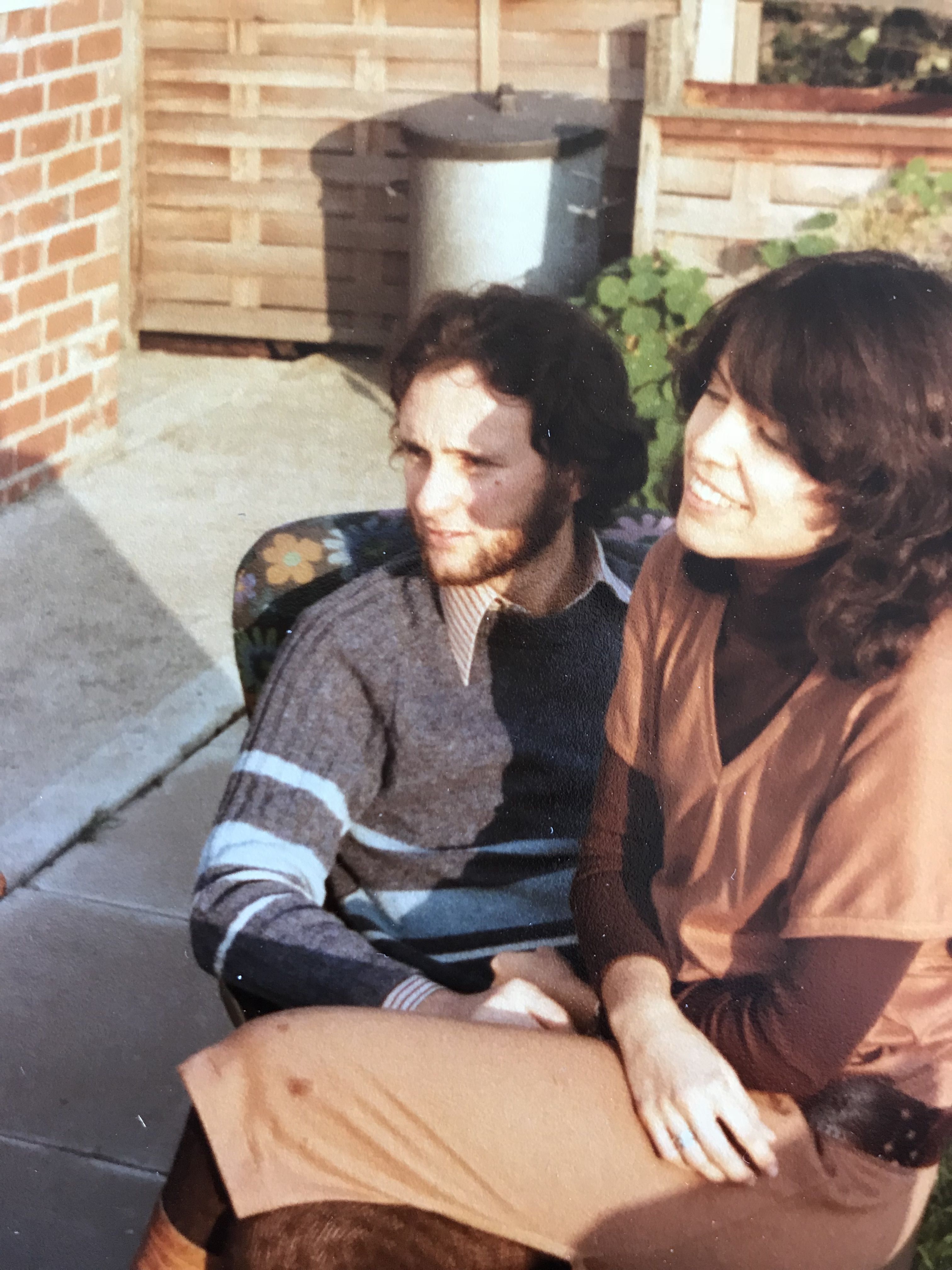 ---
Nigel Simpson (Civil Engineering 1980)
I met my wife who was a graduate of Leeds University in May 1978 at the Lipman Disco (Lipman bld being a bld down on the south end of campus near the medics/ dentist schools.) We have been together ever since -married in 1985 & celebrated our 36th wedding anniversary at the end of 2021.
The circumstances that brought us together were the fact in going out with male flat mates I was denied entry to a night club in Headingly because I wasn't wearing a tie. Ended up at Lipman & met my future wife.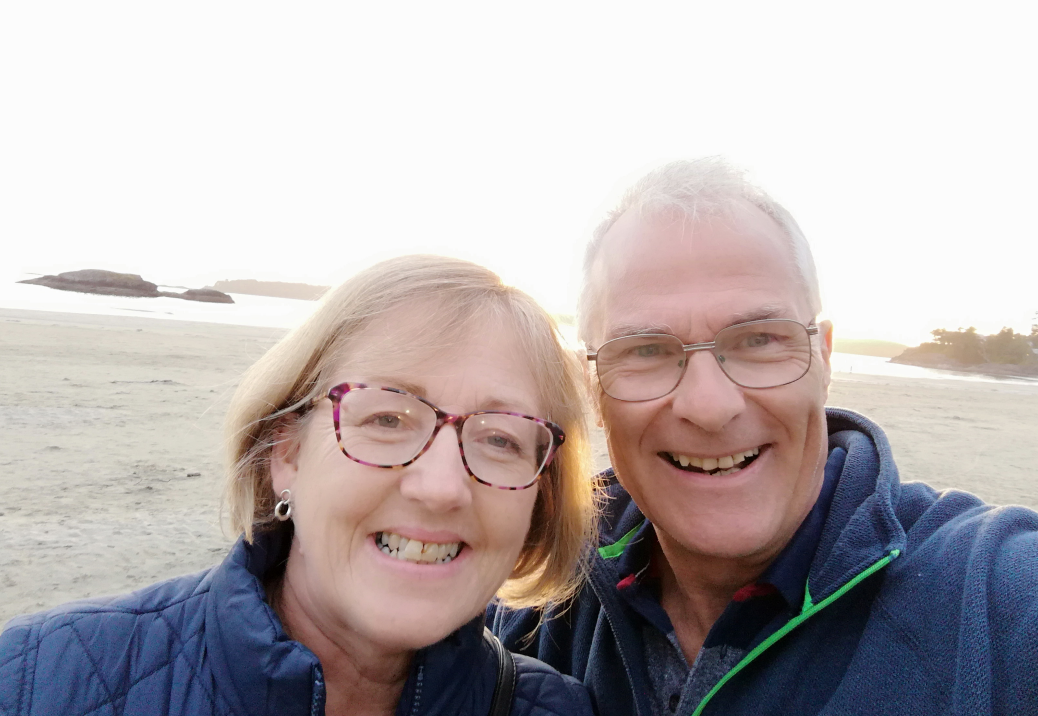 ---
Malcolm Richards (Architectural Engineering 1981)
Met my wife at Leeds Uni in 1978 and we are still married some 43 years later (married 1989). Used to sit on the steps of the Uni opposite Anysleys bakery most days and have a Lemon Bun and Vanilla Slice followed by a pint of Teyleys in the Union. Happy days!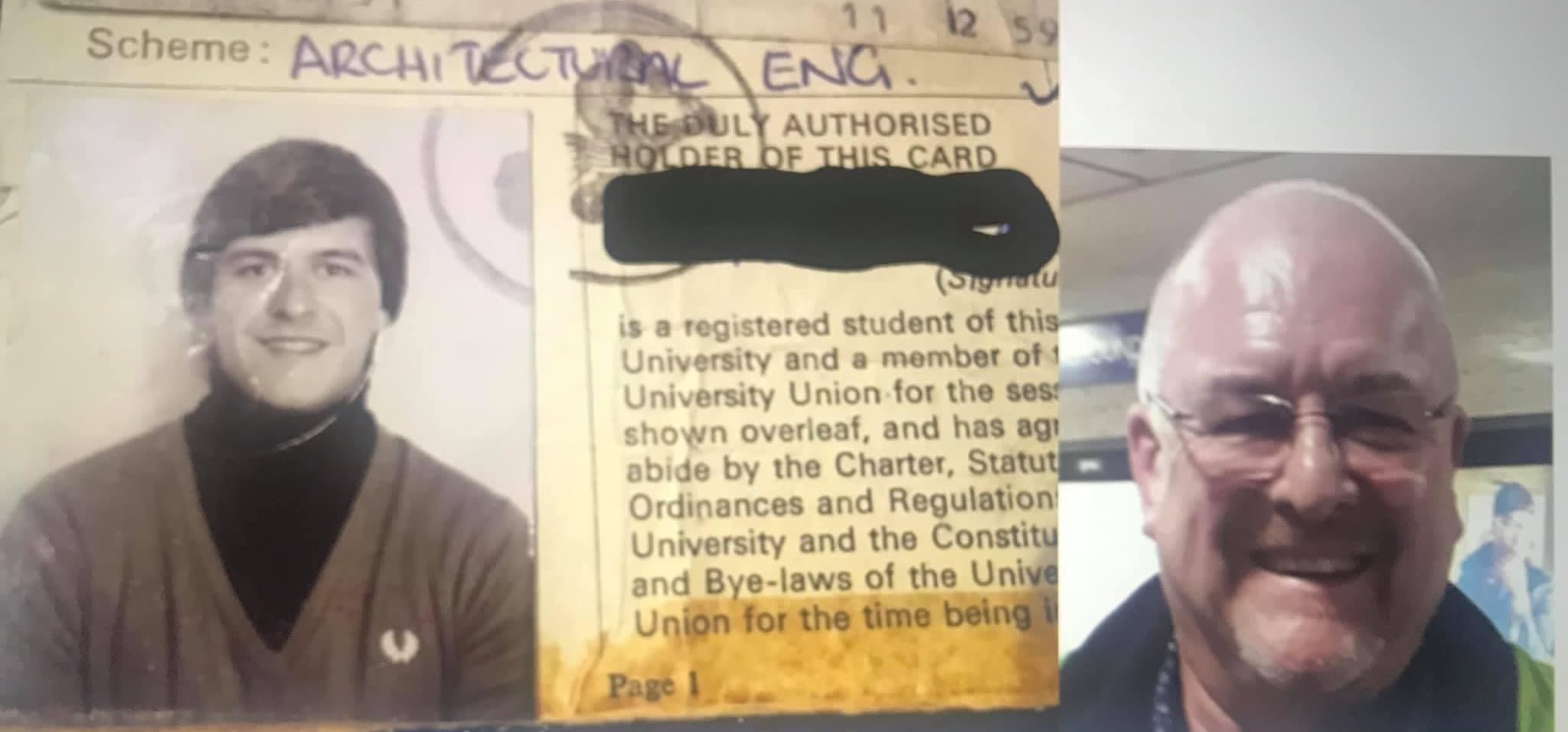 ---
Mark Dauban (Chemical Engineering 1981)
It was my first year and my 20th birthday party in mid-March at the Phonographic Nightclub in the Merrion Centre. My best mate who was studying English had gone around and handed out lots of invitations to all the girls he knew in the Arts & Social Sciences.....so the scene was set.
There was a great turn out and I noticed this really stunning blonde, with two beautiful friends, making great moves on the dance floor. At about midnight I plucked up the courage to ask her for a dance and found that she was a great dancer, loved sport and we talked a lot and her name was Julia....I had to have the last, slow dances with her and we had three lovely dances where we nestled together and had a soft kiss agreeing that we could maybe meet up again.
We went off for Easter (I was playing England hockey at the time), but still couldn't stop thinking about her. I knew she did Social Sciences and so decided I would do my exam revision in the library and 'accidentally' do it on the Social Science floor. Hey Presto - day 2 and Julia appeared - even more beautiful in the clear light of day. I nervously said 'hi' and she recognised me (thank god!!!), so I asked if maybe we could have lunch together in the Students Union....
That lunch then became regular and we would walk back partway to our houses (hers in Woodhouse and mine in Headingley). In early May, as we parted I asked if we could go out together and she said yes, but after the exams.....so I agreed, but asked if we could have a celebration drink that night in the pub, after which she invited me back for coffee with her housemates....and we have been together ever since!
One year later in the summer, I asked Julia to marry me. She graduated a year before me, but stayed in Leeds and worked, whilst living with me and my house mates in Headingley.
We pursued our careers (Julia's in schools careers, mine in business management) being together as much as possible, after two years we bought a house together in the North East and then moved around the UK with our jobs. After five years it was time to get married and have kids. My best man at our wedding was my best friend and housemate who asked Julia to come to my birthday party - and all my and Julia's housemates came to our wedding and they are also godparents to our children.
Our son, now 26 years old also went to Leeds Uni. studying Biochemistry and is now a teacher having finished his 'Teach First' and we have yearly get-togethers with our housemates from Leeds.
Now 43 years later, we have recently retired (my wife was Regional Director in charge of six primary schools and I was Senior Vice President of a Global Industrial and Medical Gas Company) and have three children - all graduates - from 26-34yrs, in US, Guatemala and UK and two grandchildren....Leeds started it all!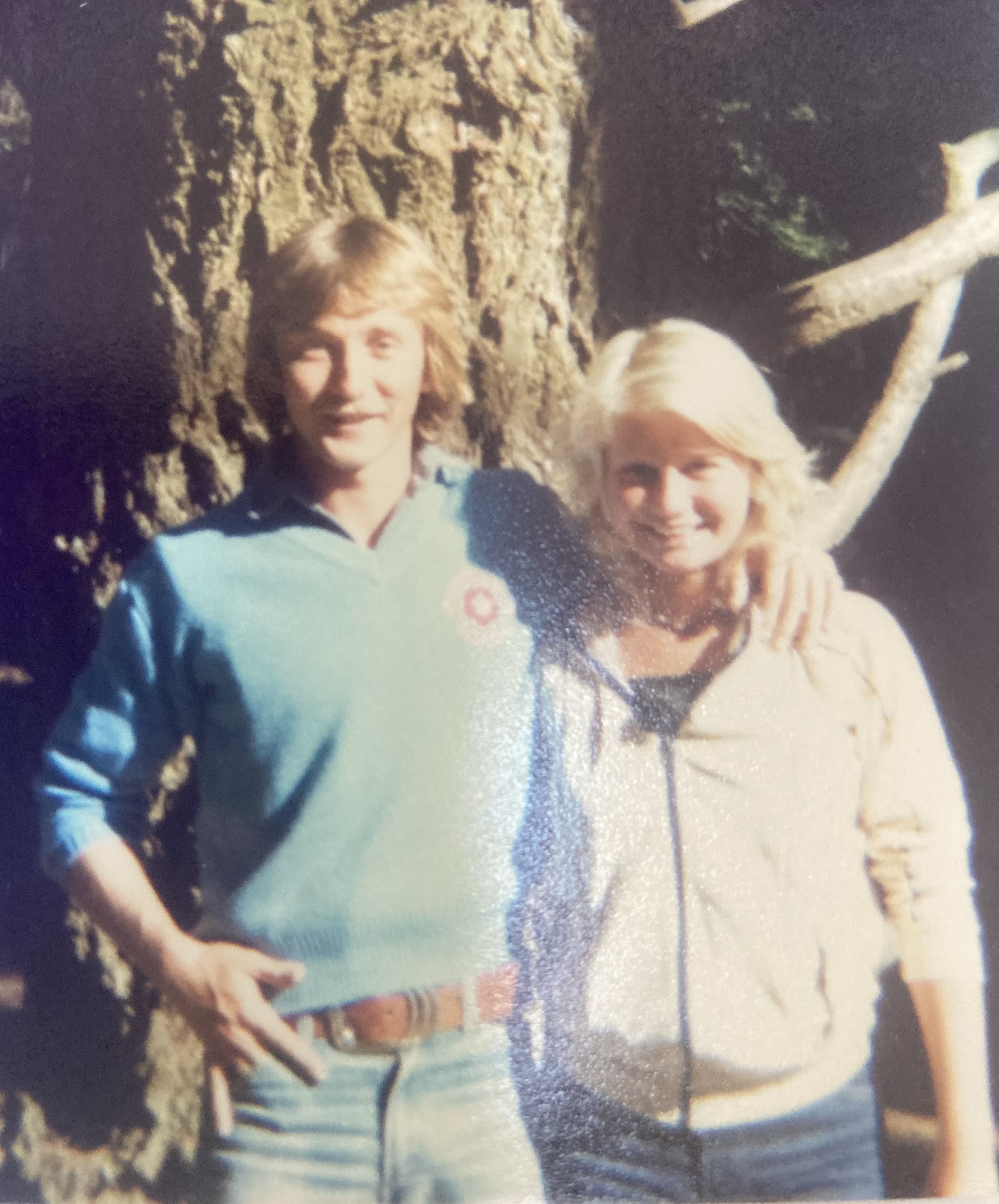 ---
Prof Olu Obafemi English (Drama 1981)
Actually, not a Valentine-like Romance. I got married at the Registry in Leeds to my fiancé of many years who came to join me in Leeds in August 1980 and we got married in October 1980.
---
Sara O'Keeffe (Geography 1982)
I left my boyfriend of a year, Andy, behind in Sussex when I started at Leeds Uni. During the first term, we realised we couldn't live without each other and he used to come up to visit me at weekends, always bringing his trusty banjo (he was an ace bluegrass player, self taught, and as a guitarist I would duet instrumentals with him).
I was in North Hill Court student accom, sharing a room with another girl, so we had to try to behave ourselves at night (Andy shared my single bed). As the weeks passed, we decided he should come up to Leeds permanently, so I found him a double room in a house in Headingly Mount, where I moved in with him for my 2nd Year.
It was a house of wonderful shared friendships of people who had lived there before and were living there then - I'm still great friends with people who lived there before we did. I had the best time at Leeds, partly because I was able to share the experience with the love of my life.
He found a job working as a groundsman at Leeds Poly, but used to sneak into lectures with me for pure interest's sake - not difficult in those days! As well as the usual trips to the Pack Horse, the Faversham, Swan With 2 Nicks, and the occasional meal out at Salvo's or the Boston Diner, we shared memorable walks with friends on the North York Moors, the Dales, etc., which has instilled in me a love of walking in the countryside to this day, plus a love of real ale, obviously!
In my 3rd year we took a flatlet in Kelso Road, a stone's throw from the Geography Dept, where we were extremely happy, just the two of us in our love nest! Andy was a bit of an artist and a great photographer. He drew the diagrams for my dissertation and even took my graduation photos which I treasure to this day.
We had a difficult time deciding whether to stay in Leeds after I graduated, but eventually decided to move back to Sussex, where, after a year or two, we sadly fell apart. I regret every day leaving him - the worst decision of my life, and very sadly he passed away far too young in 2012.
Although we were only in touch occasionally in more recent years, I knew the exact time of his death through a strange feeling I had. It was at 1am the day after my birthday. He died of cancer, and it seems he had held on so as not to pass away on my birthday. He will always live in my heart. He believed strongly in reincarnation, and I know we will meet again in the next life.
---
John Medley (Biotribology 1982)
I arrived at the University of Leeds in September 1978 from Canada to do a PhD under the supervision of Professor Duncan Dowson (Mechanical Engineering) and Professor Verna Wright (Rheumatology) on the topic of the Lubrication of Normal Human Ankle Joints. Soon I found myself in a meeting of the Bioengineering Group for the Study of Human Joints listening to the presentation by Judith Dowling who was a Postdoctoral Fellow under the supervision of Professor Dowson and Dr. John Atkinson (Metallurgy). Although still a little shell-shocked after my hasty exit from Canada, I was very impressed by Judith but she was quite unapproachable as I was only a lowly PhD student (who might never complete his degree).

However, after much effort, including taking pictures of the Dowling Hotel in Canada (where we used to drink under-age when I was in High School) to impress Judith, I got on her radar screen. Things progressed and we moved in together to a flat with an accessible roof overlooking Headingley Cricket Grounds (with a view of the pitch). I even had time to attend a craft fair with Jude (as I now called her) and purchase a wooden sword. Thus, like my Viking ancestors (see photo), I was able to capture a Celtic bride.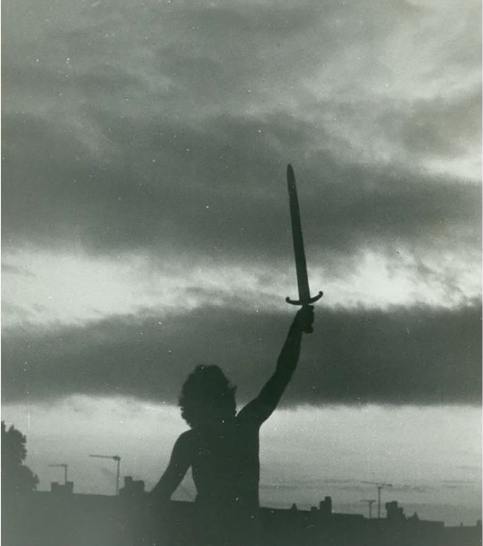 In September 1981, we were married at the Leeds Registry Office (near the M1 motorway) with immediate family present and went to the Oriental Express in Headingley to celebrate. I took the afternoon off and then continued writing up my PhD thesis. Professor Dowson was very surprised - I don't think that two people under his supervision had ever got married before or since. However, Professor Jack Nutting (Head of Metallurgy) and Dr. John Atkinson said that they approved, although I am not so sure that Professor Nutting really approved of an upstart Canadian like me.

We lived happily ever after and now have a 30 year old daughter working as a Bioengineer in Montreal. Over the years, Leeds Lyon Symposia had provided a good reason to visit Leeds and Leeds University as a family and sometimes we stayed with Professors John Fisher and Eileen Ingham. And when we visited with Professor Dowson (and his wife Mabel), he became less surprised.
---
Phyllis Wicks (Philiosophy and Psychology 1983)
I met my beloved during my first term at Leeds because he was on the same course as friends from my hall at Oxley Croft. I used to see him walking across campus on Wednesday afternoons on his way back from labs when I was leaving the labs too, and we would wave hello. At our Christmas party, held just after John Lennon was shot, we became a couple. We got engaged at Bodington Ball in February 1982 to the music of The Specials and married in October 1983. This year will be our 39th wedding anniversary.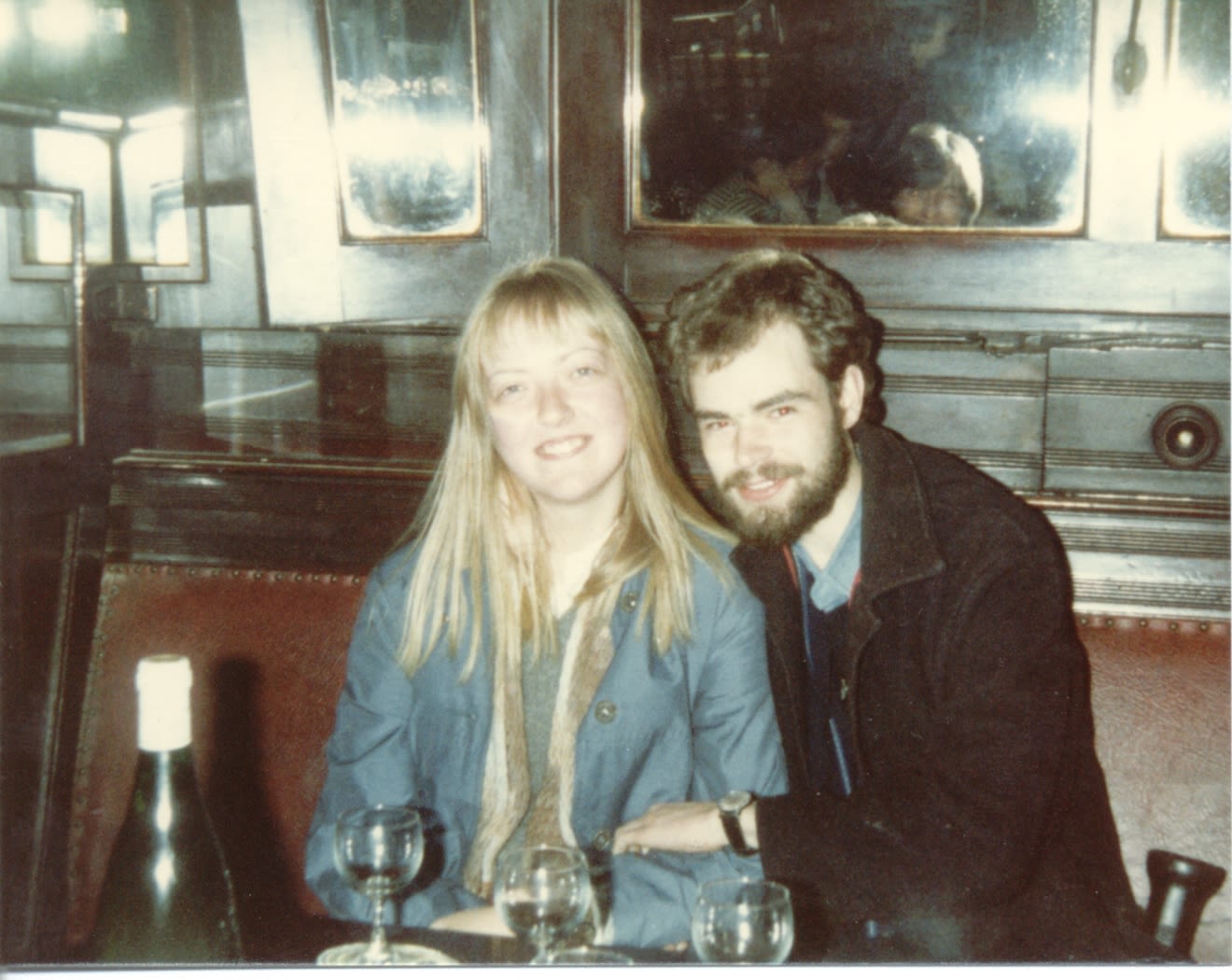 ---
Hans Raj Bance (Medicine 1983)
I first came to Leeds in 1978 to study Medicine. I made many friends and loved the atmosphere on the campus and the excitement of the city centre, with restaurants and clubs.
I met my future wife, Nira, who was studying English & French by chance opposite the Student's Union building in 1979. "Turned a different corner and we never would have met". We shared our first Valentine's day in 1980 and have never looked back. Unusually, we both graduated on the same day on the 21st July 1983. Another sign that it was all meant to be.
We have a lovely family of three children and three grandchildren (so far)! We do not live far from Leeds and love to go there to share our happy fun-filled memories of meeting at Leeds University. Thank you.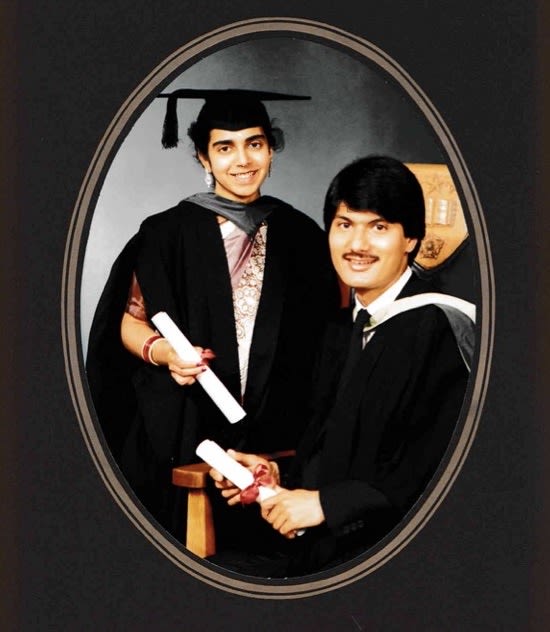 ---
Tim David (Mathematics 1983)
I had got my PhD in Applied Maths in 1987 and
was a new lecturer. My mentor Dr Mike Savage had asked me to be part of the teacher training course for school maths teachers called "Mechanics in Action". I was going to give the talk on how the Tacoma Narrows bridge had eventually failed and how we could model this as a school project.
I walked into the lecture theatre and got to the front desk. Looking up at the crowd of teachers eagerly waiting for me to start. I saw only one person. She was beautiful. I couldn't speak.
This had never happened to me before. I was normally so confident in front of students. I eventually got the lecture done , but it was difficult.  That evening there was a gathering of some of the teachers at the Faversham pub. She was there. We talked and talked and talked. There was no doubt , this was my partner.
We have been together now for over 30 years. She is my soulmate, my confident, my lover and the mother of two older boys and our youngest son, Josh ( he's 29!). We fell in love that day. Our relationship is as strong now as it was that day in the lecture theatre . Without her I am nothing . Thankyou Leeds for allowing me to meet her.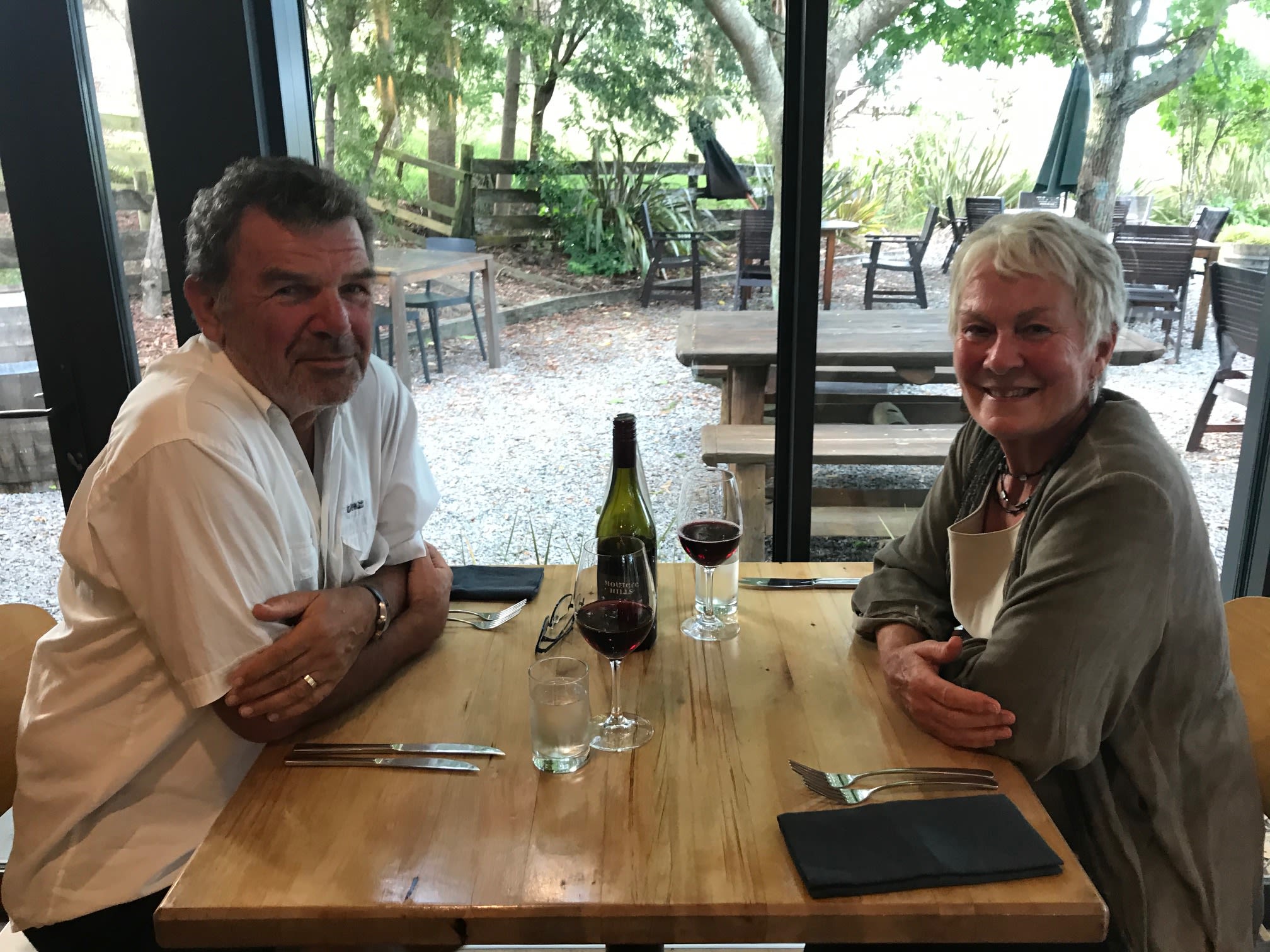 ---
Jackie Berry (Animal Physiology and Nutrition 1984)
I met my husband Ian Berry (a second year Food Scientist) the first week of Freshers (1980) in the Old Bar at the wonderful Student Union. We danced the night away at the disco in the Tartan Bar.
Many years later, I returned to work as a Director at LUU who employ many student staff. Part of my job was to help welcome these students back to LUU each year as part of their induction. I enjoyed reminding them to be very careful who they met during their first weeks (still happily married all those years later, and running our own self catering business together in the North York Moors).
Martin Attwood (Chemistry 1984, PhD 1987)
Liz Johnson and Martin Attwood first met at Lupton Flats in the final year of their respective undergraduate degrees in 1983. Liz was studying French and Management Studies and Martin doing a Chemistry degree.  Liz recalls being in the stairwell on the public phone and frequently seeing Martin heading out for the evening. There was a definite attraction but no romance as yet.
On Liz's very last day at Leeds, Martin finally plucked up the courage to ask for her number and home address.  He wrote to her over the summer (no email and no mobiles back in the day!)  They finally went on a date in January 1985 meeting in Manchester, and romance blossomed with Martin remaining at Leeds to do a PhD and Liz starting her career in Cheshire. 
Not even supporting rival football teams (Liz City and Martin United) could get in the way of their love. Nor could Martin's 18 month post-doctorate at the University of Virginia in the US.  It was meant to be, and Martin proposed to Liz in Washington DC in June 1988. They have been very happily married since 1989, and have two lovely daughters aged 26 and 28 one of whom also went to Leeds University.  They have returned many times to Leeds for nostalgic trips to where it all began.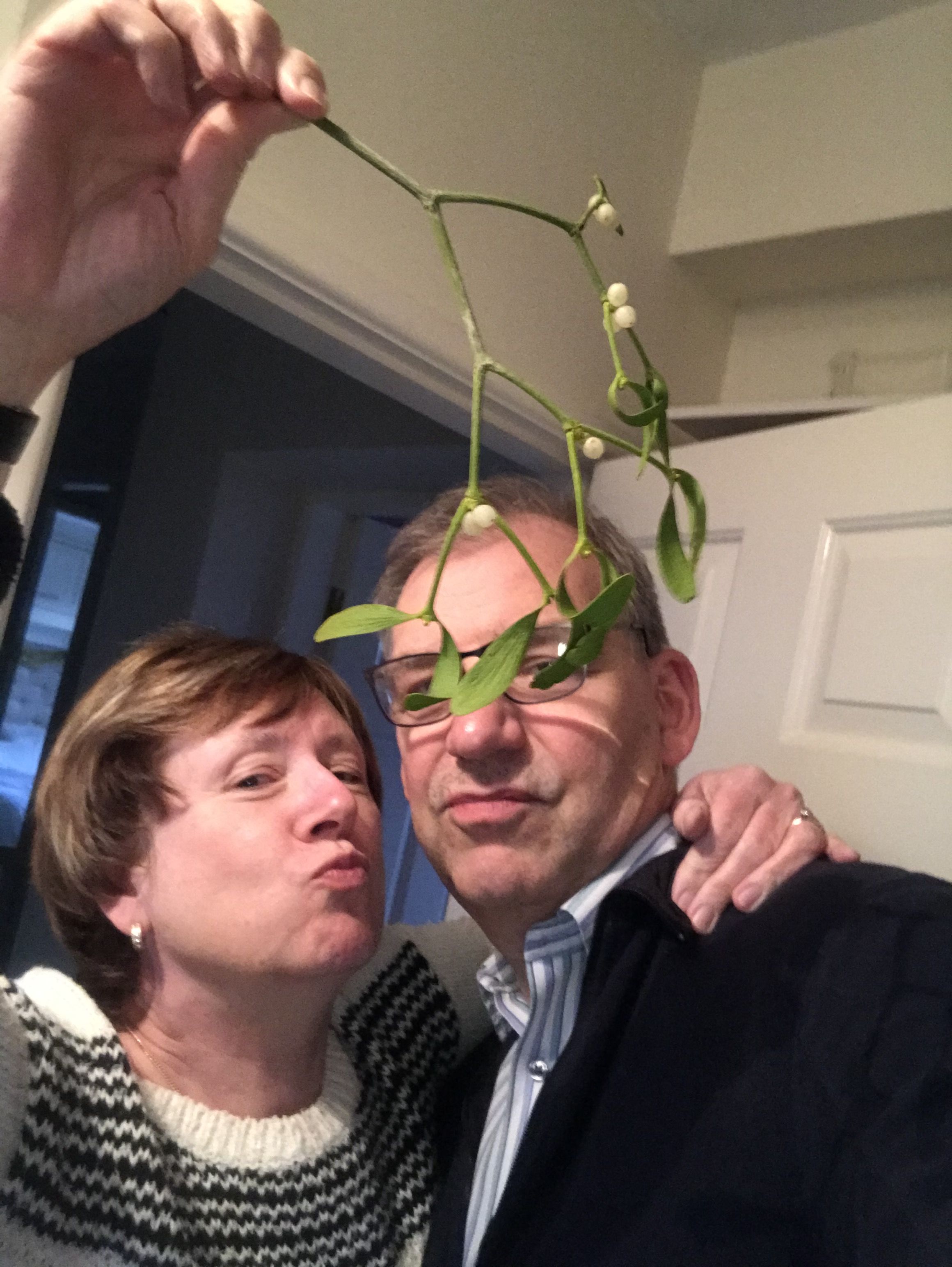 ---
Gill Allen (Colour Chemistry 1985)
I met my husband Ian on the stage of the Riley Smith Hall in LUULOS (Light Opera Soc.). I joined the society as a fresher and knew of Ian but he was the year above me. It wasn't until we were partnered together in 'The Gondoliers' in my 2nd year that we really got to know each other (and also realised he'd taken my subscription, as society treasurer, at the freshers' fair).
We always had such a laugh together, especially in the Tetley bar or at the Kaghan Valley after rehearsals. We married in 1986 and three children & 36 years later we're still together making each other laugh. I will always have such happy memories of Leeds.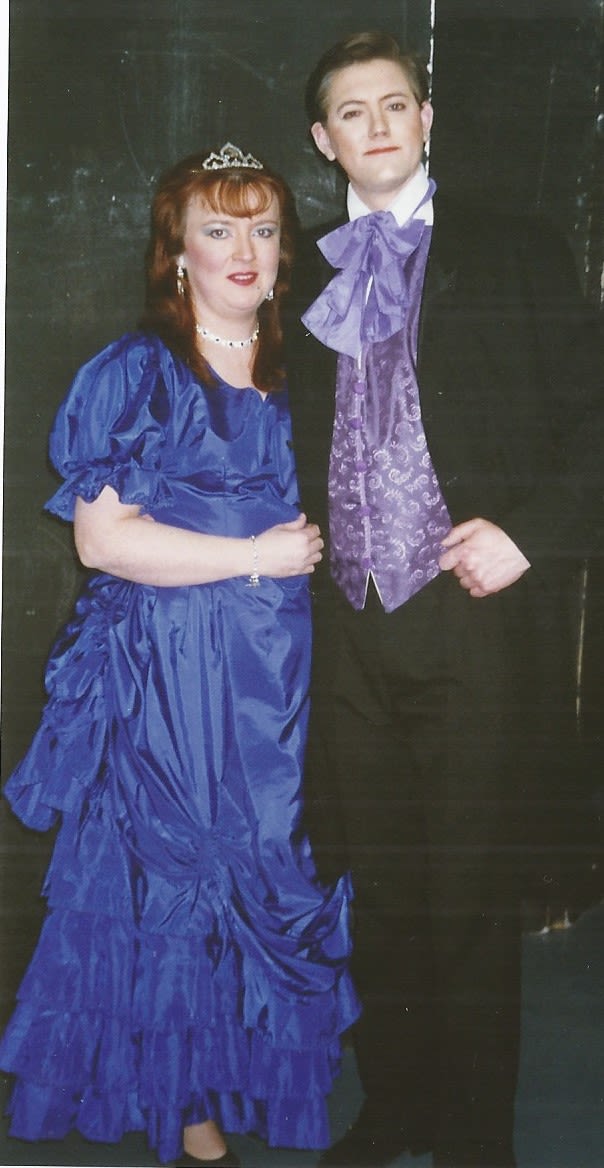 ---
Keneward Hill (German & Spanish 1985)
In more ways than one Leeds played a part in my love (and life) story.
As I was studying German, I spent a year in Saarbruecken, on the border with France. It was there that I met - and fell in love with a Bulgarian girl. We were together for only three months - from April till the end of the academic year. During that time I learnt the Cyrillic alphabet from her, as well as some important expressions, like "I love you", which I didn't quite pronounce correctly, so it came out more like "I insult you"!
When I returned to England, I really wanted to see her again, which was seemingly out of the question, with Bulgaria being part of the Communist bloc and the local law stating that it was illegal for her to even communicate with someone from the West. However, I wanted to learn more Bulgarian, so I contacted the Bulgarian embassy to find out if this was at all possible. It turned out that, in our country of about 55 million people, there were only two places where this could happen: the University of Canterbury... and the University of Leeds... in the Modern Languages Department... in the building where I was every day!!!
In my final year I joined a group in the Russian department who were doing Bulgarian as a subsidiary subject - but very quickly fell behind and realised that I could not understand what they were doing. I told the Bulgarian teacher that I would have to stop. He saw things differently: he suggested giving me private lessons. I said I couldn't afford them, as I had about enough money to feed myself, to which his response was that he didn't want any payment.
For the rest of this year - and the next, as I did my P.G.C.E. in Leeds as well - he gave me private lessons for free. I visited Bulgaria for the first time for New Year 1985 and then the same Bulgarian teacher suggested that I attend an all-expenses-paid course to learn Bulgarian in the summer of that year, as he had the right to propose one student for a place on this course.
It was during this course that I proposed to the girl I had met, then on returning to England I broke the news to my family, who, after asking me if I was sure this was what I really wanted, assured me of their support.
A year later I came to Bulgaria to teach English and to marry this same girl. The authorities gave their permission for this and we got married in October 1986, with my Bulgarian teacher as a special guest.
Now, more than 35 years later, I write this as my wife and I are looking after our granddaughter for a few days while her parents are on a romantic visit to Rome. I really ought to finish the story now, so that I can share some quality time with my wife and our granddaughter.
---
Andrew Davison (Medicine 1985)
I was an Anatomy demonstrator in 1986/87 when the most beautiful girl in the dental school (Gaenor Evans) acted as a model for the students I was examining on surface anatomy of the upper limb.
Among her numerous physical attributes Gaenor had very well-defined biceps, probably due to her part-time work as a barmaid at the Chemic pub near Hyde park (where many dental students were employed over the years) and where coincidentally (or maybe not) my Sunday league football team would refuel after training and matches.
During the exam I asked one of the male students (whose first language was not English) how he would demonstrate pronation of the forearm. He replied "I would give her a good screw". Well I got the gist of what he meant and it caused a great chuckle so he passed!
I enlisted friends and colleagues, in particular my fellow demonstrator and Leeds graduate Jacky, to engineer a meeting with Gaenor - but without success. I eventually plucked up the courage to ask her out when I saw her at a desk (she had fallen asleep!) in the medical and dental library.
We were engaged within a year and married in Gaenor's home city of Cardiff the following year; the best day of my life bar none. Now almost 33 years and several dogs later we are still very much in love. Thank you Leeds for so many happy memories and a life-changing encounter in the library.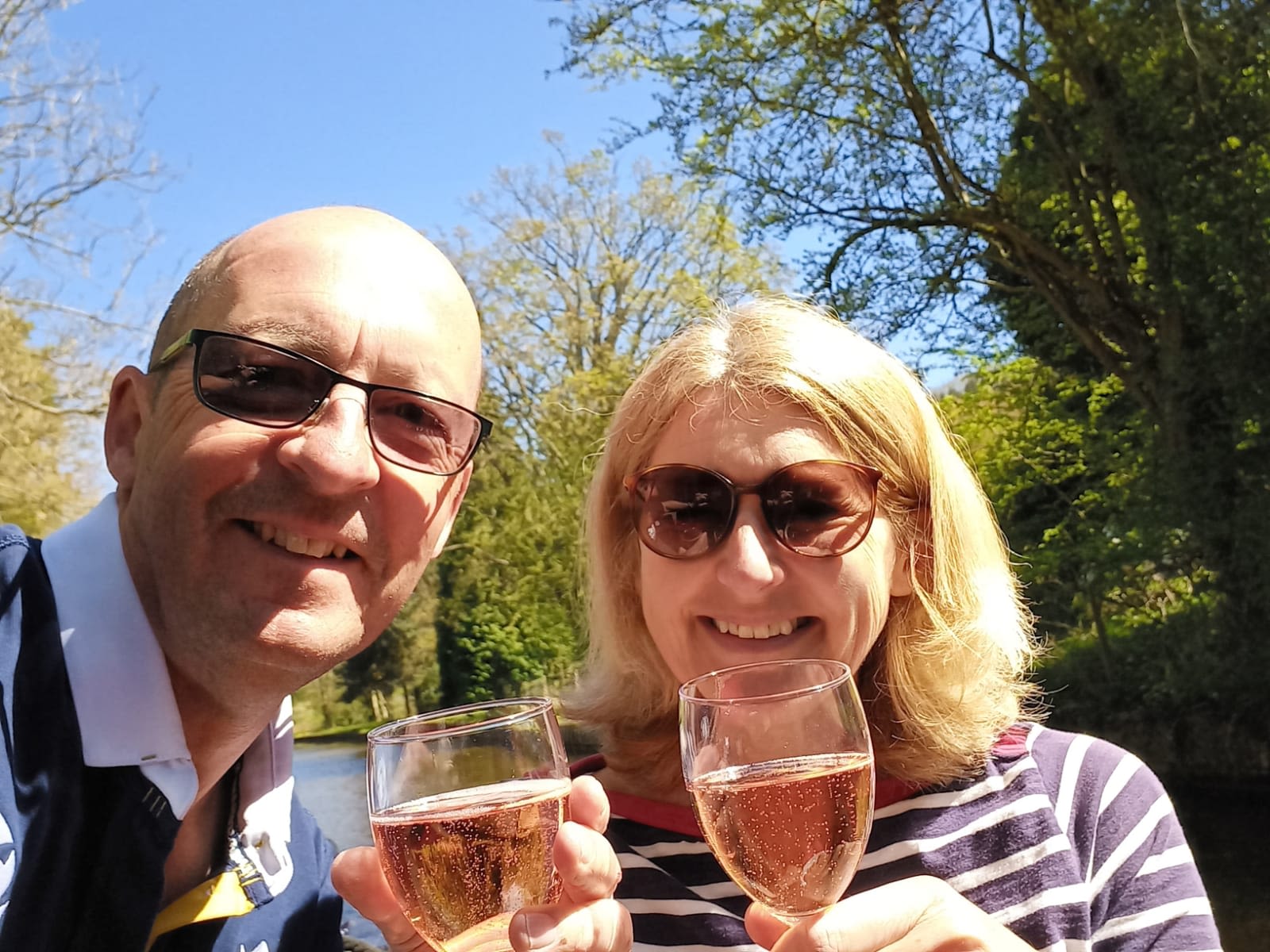 ---
Andrew Lund (PGCE 1986)
Our story is a little absurdly base around a hedge outside a student house on Headingley Avenue back in the summer of 1986.
Gail and I studied for our PGCE together at Leeds in 1985-86 but were in separate cohorts on the course so only spent limited time together during the week. I was therefore an admirer from afar and to be frank thought Gail was "too good" for me and seemed to have many admirers anyway.
By the summer of 86, I'd done nothing definite to let Gail know how I felt and we got round to the end of term parties and time was running out. By chance, I bumped into a mutual friend in Leeds city centre on a summer afternoon...early June 86...who invited me to the party on Headingley Avenue that evening.
The rest, as they say...is history. I still couldn't pluck up the courage to make my feelings felt so at the party, I got a friend to ask Gail if she'd meet me outside...by the hedge!! She did come out (later telling me she did so because she thought I might be ill!) and in the warmth of a June evening in Leeds I confessed my love for her!
A few nights later we went on a first date to Otley. By 1987 we'd got a house together in Headingley. We got married in Leeds in 1989 and our son was born at the LGI in 1992....our daughter in Harrogate five years later.
We are now in our 33rd year of marriage and will become grandparents in the next few days as our son and his partner have a little boy on the way. He too will be born in West Yorkshire.
Hope you like our story. Leeds & love will always be in our hearts!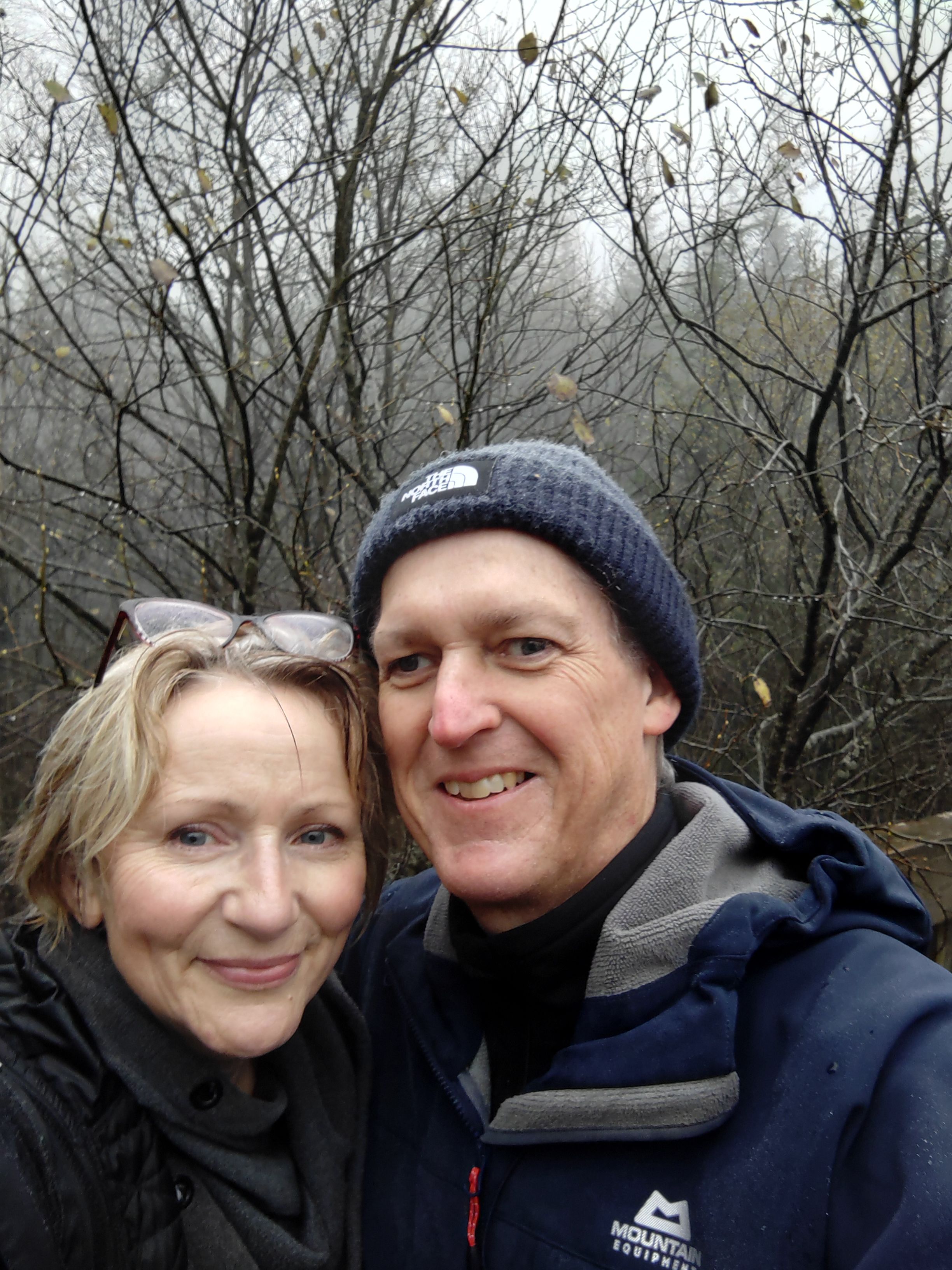 ---
Annie Green (English 1986)
The first medieval lit tutorial, six of us grouped around the desk and I was immediately drawn to his shoes, a fine pair of polished brogues.  Not bad for 1983. Two years later, there he was again in Commonwealth literature (different shoes).  All these years later, he still wears great shoes.  Reader, I married him.
---
Helen Disley (Colour Chemistry 1987)
I had first heard about Nigel through my brother, who was a PhD student in the dept of Colour Chemistry and Nigel was in his tutorial group. Then I went to Leeds in 1984 to study colour chemistry and I saw Nigel while watching my brother play 5-a-side. Then at the annual department dinner in Nov 1984 Nigel and I were on the same table and we got chatting.
A couple of weeks later he rang me and we had our first date. We were both in Henry Price flats and spent a lot of time together that year. The following year he was on industrial placement but we did our final year together and both went to work for same company, Courtaulds Research, in Derby.
We have been together now for over 37 years, all thanks to the Colour Chemistry dept at Leeds University!
---
Rob Colebrook (Medicine 1987)
My wife and I met within a few days of her arriving as a fresher. I had realised very quickly that if I didn't act fast, our future together could disappear in a puff of smoke.
I had shown some fresher medical students around the medical school because I was a third year student at the the time. One of the freshers I showed round invited me back for coffee and my future wife turned out to be a co-resident of the flat as well. Our eyes met over a tin of biscuits, and the rest, as they say, is history.
We spent three very happy years at Leeds wandering around the campus together. We became engaged in our final year. We will be celebrating our 34th wedding anniversary this year.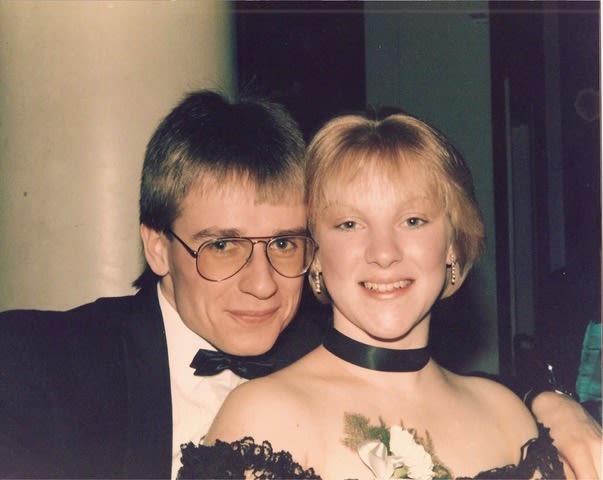 ---
Arabella (Psychology 1987)
I met my husband of nearly 30 years on a Leeds uni ski trip!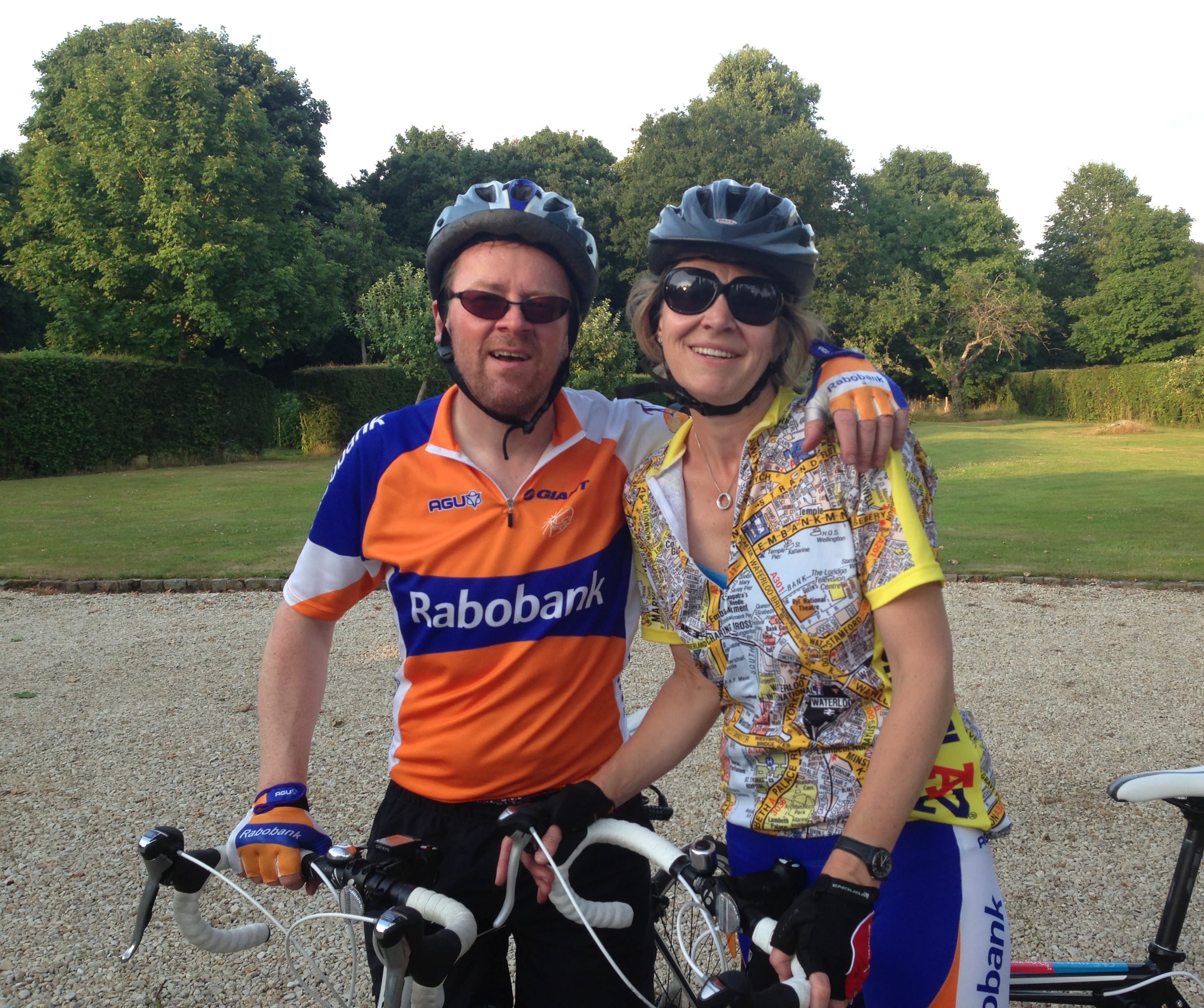 ---
Ivan Croxford (Political Studies 1988)
A night down the Phono in 1987 was all it took to meet the love of my life and my wife, Jayne who was doing her MA in English at the time. I have a lot to thank Leeds Uni and the Twins for!
---
Helen Matthews (Geography 1989)
We met at Cromer Terrace Gym in our first week at Uni in 1986 while waiting for our vaccinations. We have been together 34 years and our daughter is now studying at Leeds and trains for rowing at the very same gym.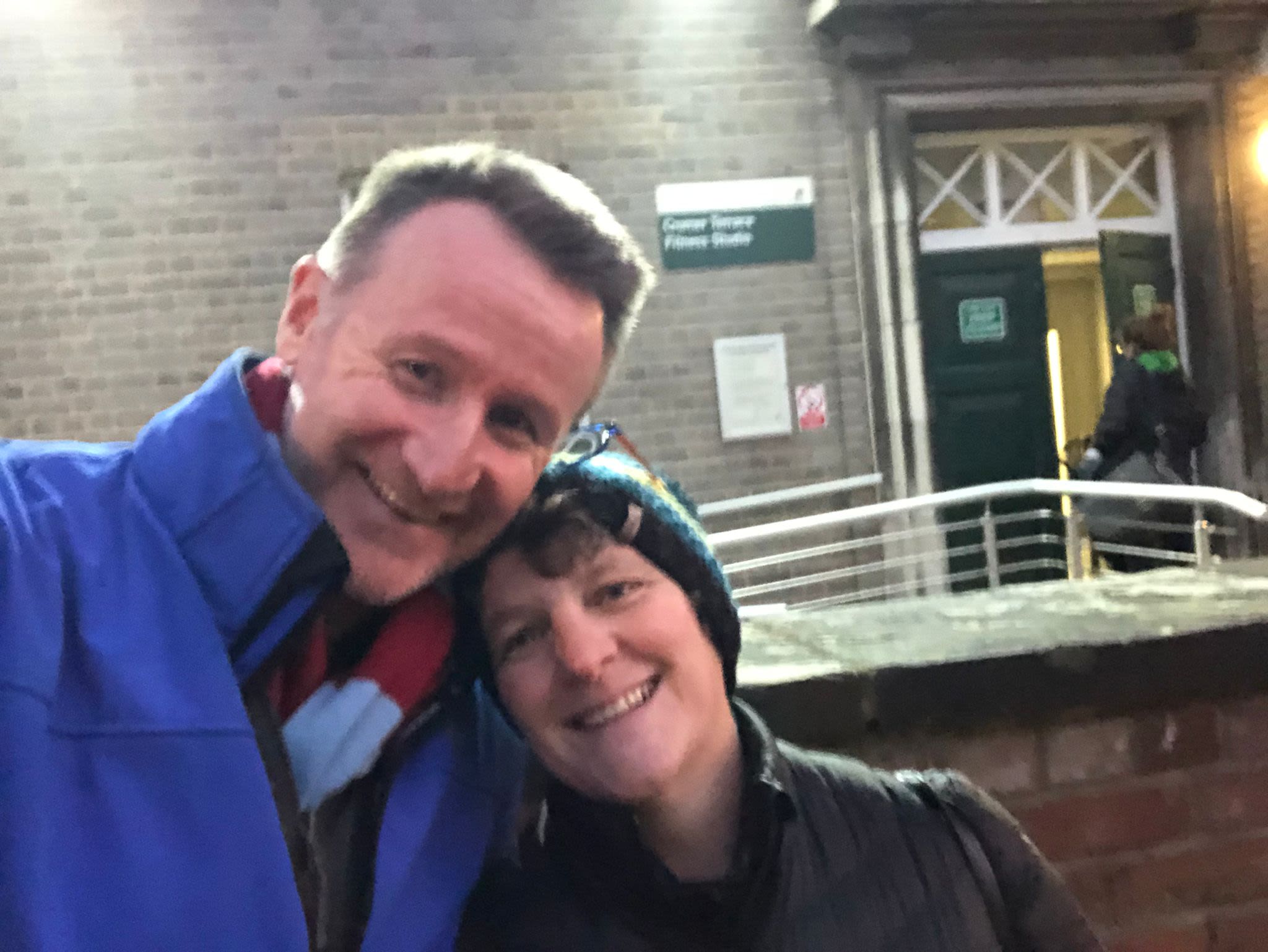 And John Matthews (Geography 1989)
In September 1986 I arrived wide-eyed at Leeds ready for the Uni Freshers Week. A key date in that first exciting week was to head to head to the Cromer Terrace Gym to get a jab (how little things have changed!). It was there that I struck up an enjoyable conversation with Helen - also studying Geography - who'd just arrived from the North East.
Field trips happened, love blossomed and we've now been together for over 35 years. In a wonderful twist our daughter Kate - currently studying at Leeds (English Lit. and Theatre Studies) - now trains with Leeds Uni Rowing Club in the same Cromer Terrace Fitness Suite where her Mum and Dad met for the first time all those years ago!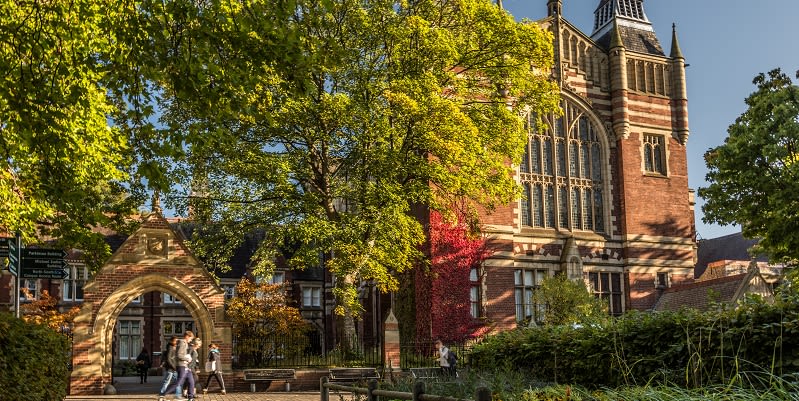 Maz Brook (International History and Politics 1990)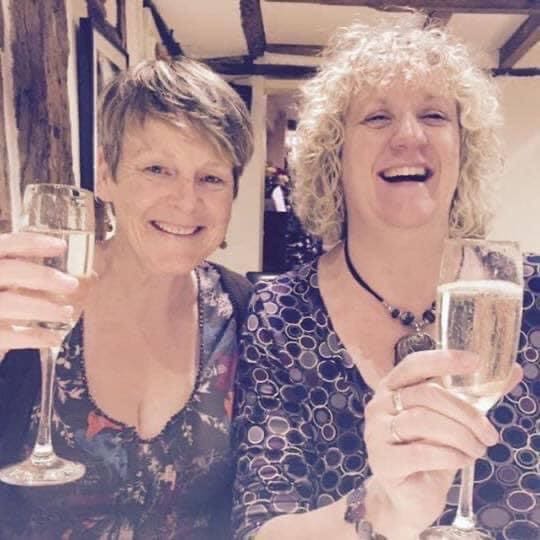 Freshers Week October 1990: I get a panicked phone call from the then captain of the newly formed Leeds Uni Ladies Football Club, who was embarking on her PGCE and was overwhelmed by the workload so wasn't going to be able to do stall duties at Freshers Week and could I please help her out and step in?
My time at Leeds to that point had been spent learning, laughing and partying but not loving because I was far too busy having fun to bother with all that and I was still unsure of my sexuality. I'd stayed on in Leeds after graduation because I loved the city (it is my birthplace) and the Uni and I wanted to work and live there (having failed to get onto the MA course I had originally wanted to do) but this being the beginning of the 90s and a recession, jobs were hard to come by, even with a degree.
Stepping in to help out a friend was an easy thing to do and was clearly what fate had in mind, as that was the day I met Gail, newly arrived in Leeds to study her PGCE and signing up to football because years playing her first love of hockey had left her with dodgy knees.
She noticed me immediately (my eyes and because apparently I look like Janet McTeer, I still disagree on that one!). I, being the eternal dope that I am and still not paying any attention to all of that nonsense, was simply delighted to finally sign up someone that afternoon who had actually played football before and would be able to drive the minibus!
But over the course of the next four months whilst playing football (she at centre forward, me as captain and goalkeeper) and socialising together, we steadily grew closer and I gradually came to realise that the feelings I had for her were more than just friendship. Much, much more.
Of course, I refused to believe she felt the same way (despite her subtle flirting with me), so she finally had to resort to putting her feelings in a card to me, opening herself up and taking a massive risk that I would not feel the same way. We shared our first kiss the day after and we moved in together five months later!
 
31 years later, we are still together, still in love and still the very best of friends. She has been an award winning teacher for all of those 31 years and for the first 15 of of them had to hide our relationship for fear of losing her job.
We also had to navigate me gradually coming out to friends then family, not an easy situation and full of risk in those days. We made our partnership legal in 2006, a month after the law had changed. It took place at the hotel at the University where I worked and we were the second same sex partnership ceremony there, a week after the first and thereby narrowly missing out on front page in the local paper, much to our chagrin!
We left Leeds in 1993 and have lived since 1997 in Wivenhoe, a beautiful place on the North Essex coast populated by artists, students and academics and described by locals as "a drinking village with a small fishing problem"!!
 
What has kept us together all these years? Having more in common than we don't - we did a speech at our partnership ceremony about our favourite things where red wine and shopping were dominant! But most of all our mutual love of sport has endured, especially the football which brought us together in the first place.
Although, as I support Liverpool and she is a Gooner, at least twice a year we are required to sit at opposite ends of the sofa from each other!
---
Shaun Tunstall (Medicine 1990)
I met my future wife in the canteen at Jimmy's hospital. Her first words to me: "You've got dog s*** on your shoe."
33 years later we are still happily married. Apparently I make her laugh everyday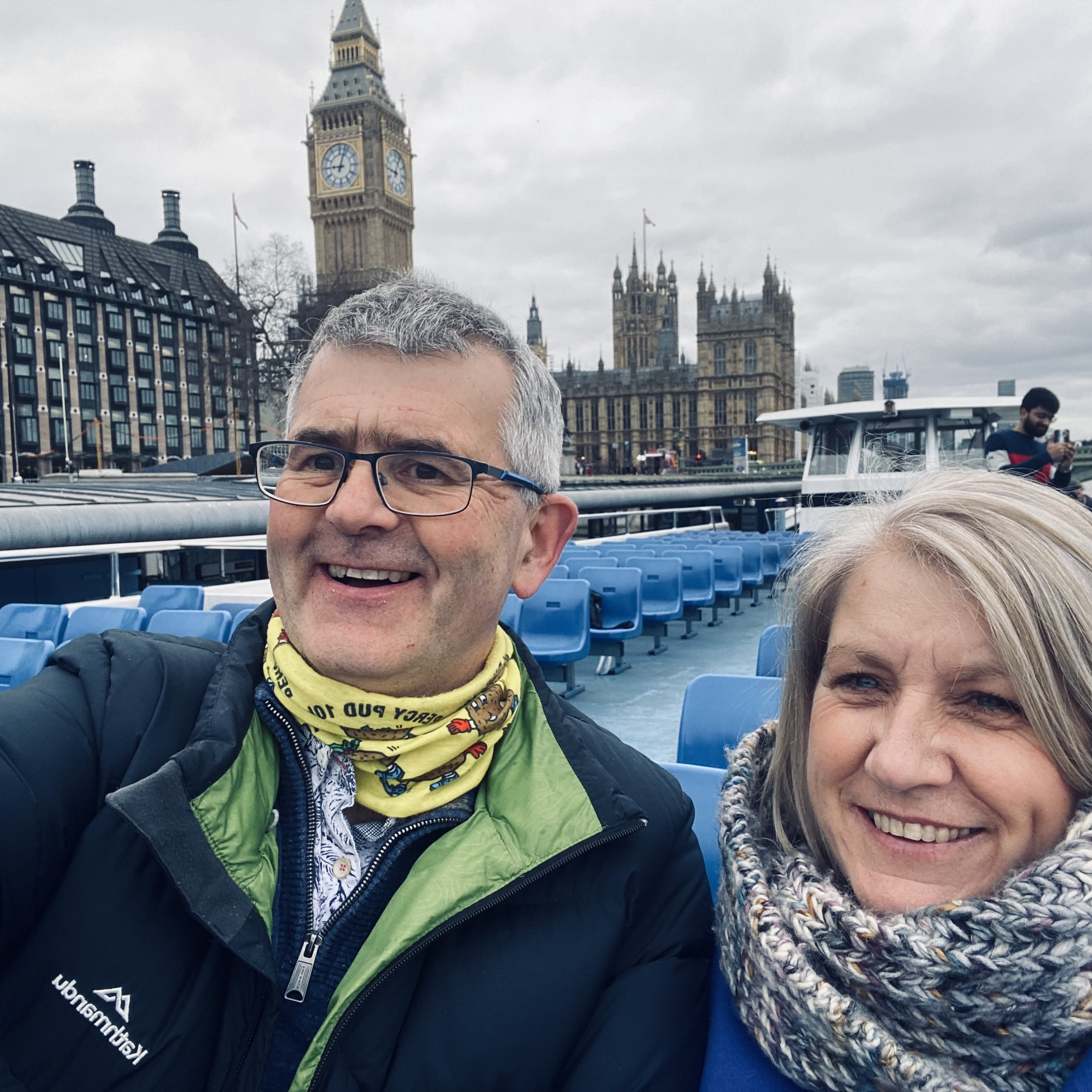 ---
Louise Singleton (English 1990)
It was the beginning of my second year. Two girl friends and i had moved into a rented house on Victoria Road, one of whom was studying History. She had invited her course mates over for dinner, to which I wasn't  invited, but gate crashed the pudding!
It was there that i met Tim. The rest as they say is history...Following coffees in the union and nights out at 'The Warehouse' and another eight years together, just to make sure, we were married in 1997.
We have two fantastic children, one of whom has just completed her first year at Leeds University, doing the same course as Tim. I've told her to watch out for any dinner invitations - she too has a sweet tooth!
---
Tom Van Vuren (Transport Studies 1990)
I met my wife Louise (who was a student at the Polytechnic) when giving blood in the Great Hall on 13 March 1986. We married on 13 August 1989 and still prefer the 13th of March rather than the 13th of August as our special day.
---
Paula O'Malley (Geography 1991)
I was a member of Leeds officer training corps and did a sailing course. I was paired up with one of the soldiers brothers, and we had an instant attraction. I didn't see him again for a year and then met up again at Carlton Barracks. I moved in with him six weeks later and we have been married now for 30 years and have two children!!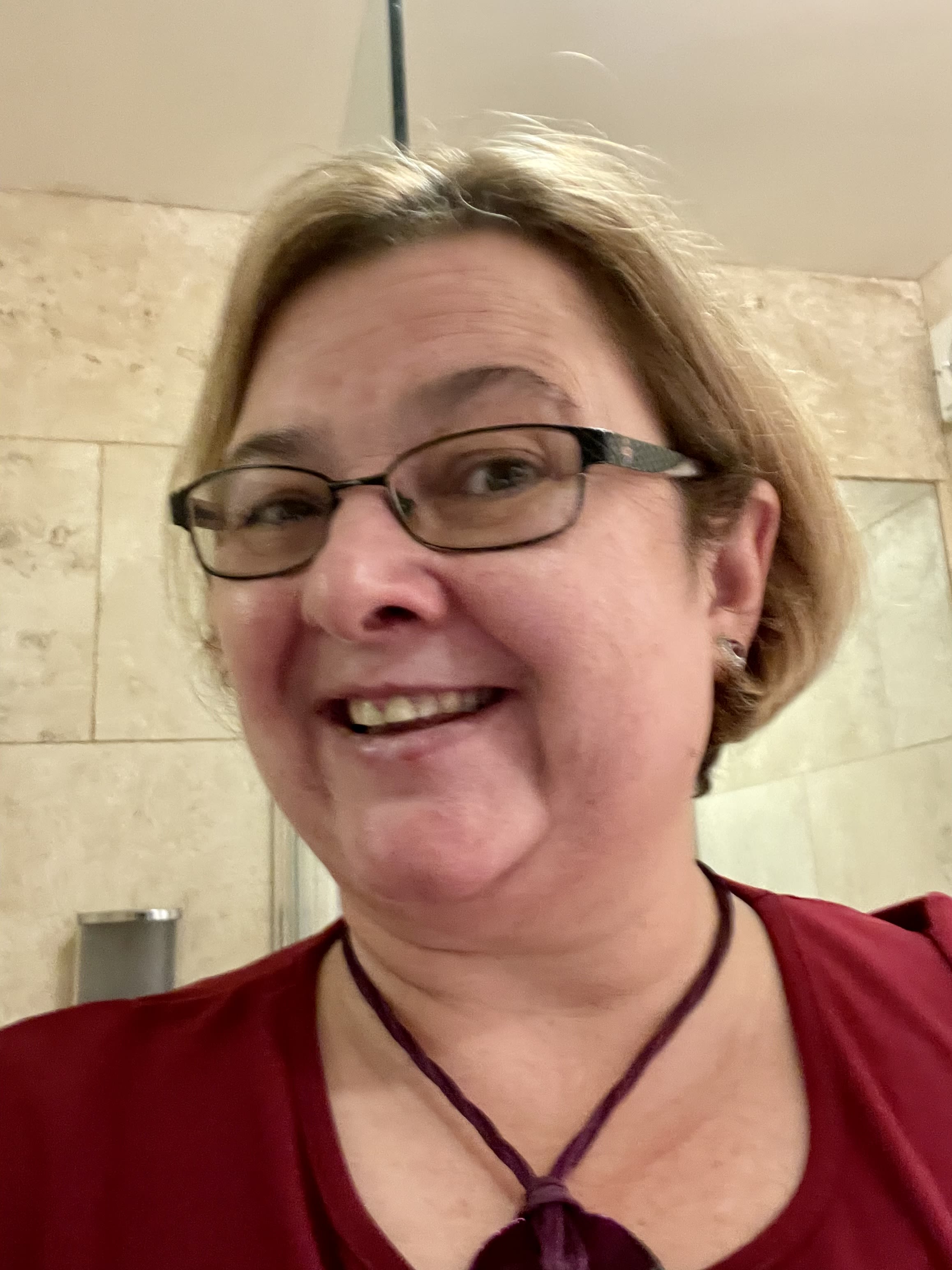 ---
Peter Moss (Music 1991)
In my first year studying music I was learning alongside a group of second year students from North Riding College, Scarborough, who were there to study their specialist area as part of their teaching degree. I particularly got to know a couple of them through the music department Christian Union and - unbeknown to me - they decided that I would be a suitable man for their single friend, Aileen, whose specialism was Religious Studies.
They cunningly engineered an introduction at church and, having lit the blue touch paper, subsequently retired and let us get on with it. We met close to Aileen's 21st birthday on 14th February(!) and my present to her was Vivaldi's Four Seasons - on cassette! We still have it!
There were many happy times that we shared together at Leeds. In fact, my parents were incredulous that I had actually found someone who wanted to visit museums with me.
Particularly notable were trips out to Kirkstall Abbey and an Ashes Test Match at Headingley. Following a further two years of shuttling between Scarborough and Leeds at weekends, Aileen and I were married shortly after graduating in 1991.
So, last year, where did we go for our 30th Wedding Anniversary? We had a couple of very happy days wandering around Leeds, of course!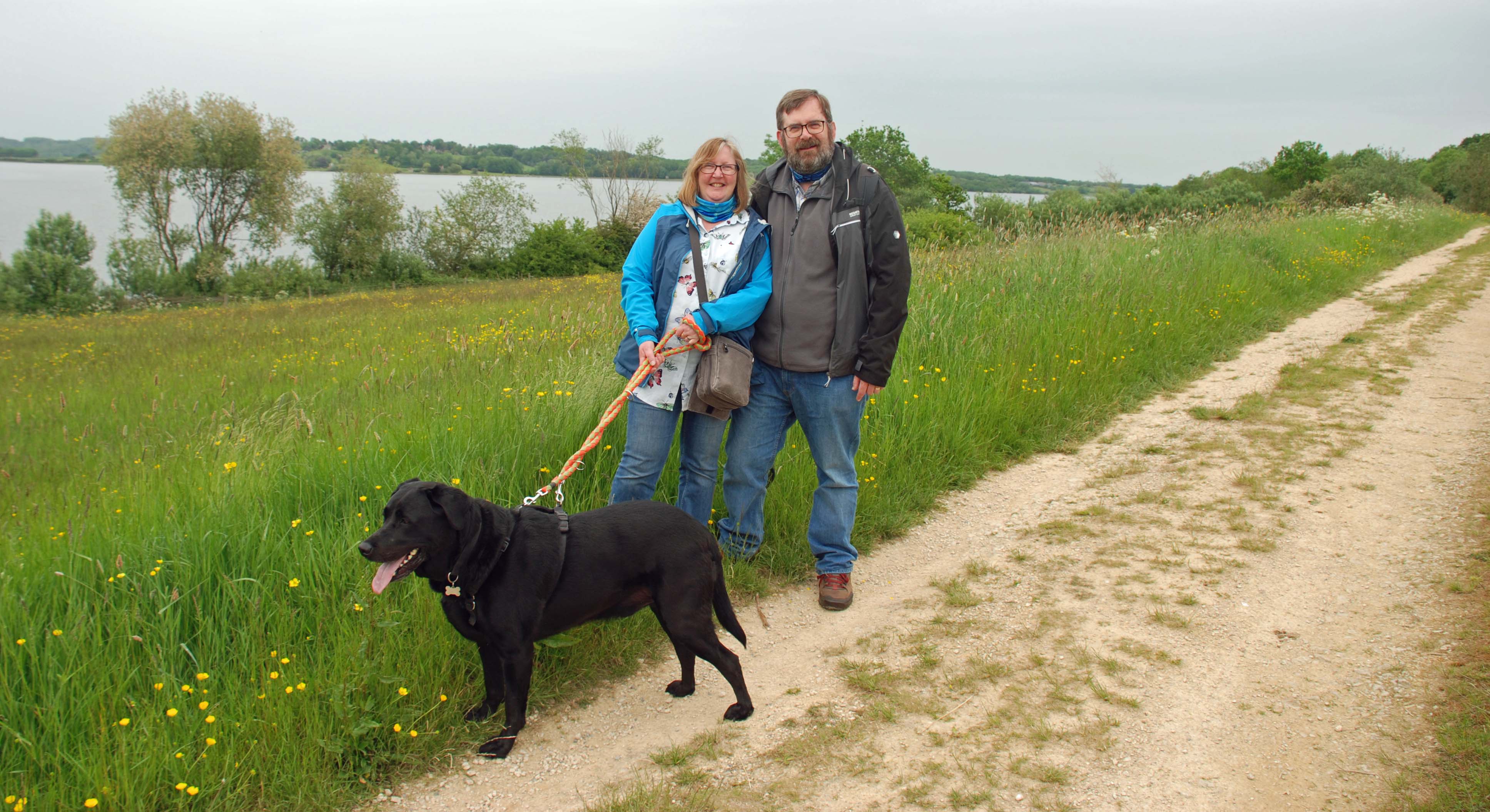 ---
Maria Martin (Molecular Biophysics 1991)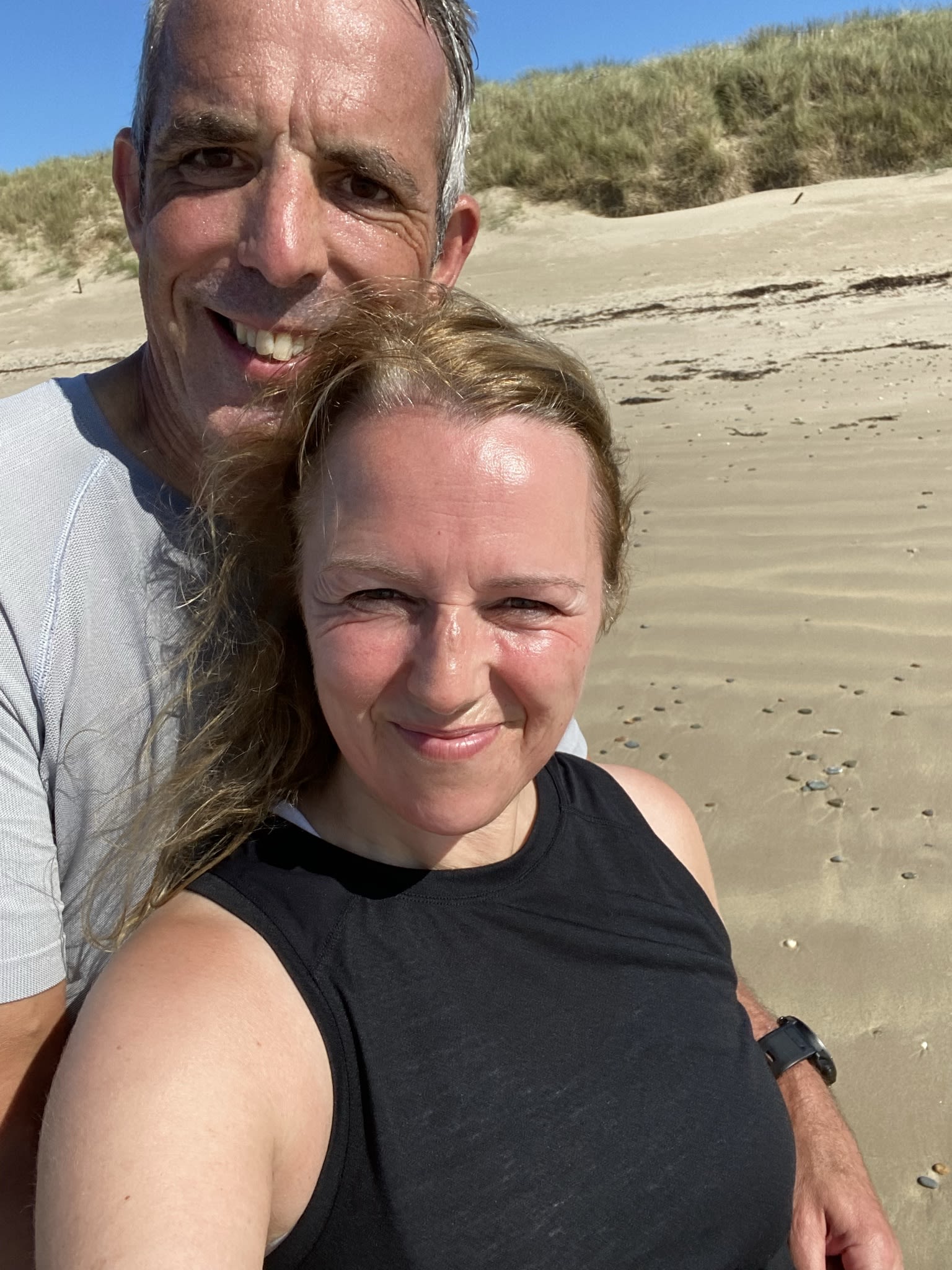 I married the boy who lived next door (in our final year). We met at Leeds, we were boyfriend and girlfriend for 7 years, travelling around the country for our various jobs until we both moved to Manchester and soon after we were engaged and married. We now have two sons, our youngest has just applied to study law at Leeds. Who knows - he may meet his future partner there too!
---
Lucy Bates (Dentistry 1992)
I met my husband of 25 years during our time at Leeds University. He a medic, me a dentist. Our eyes locked whilst on a clinical placement in the very romantic Huddersfield Hospital. Now 29 years later our eldest son has an offer of a place at Leeds University. Happy times.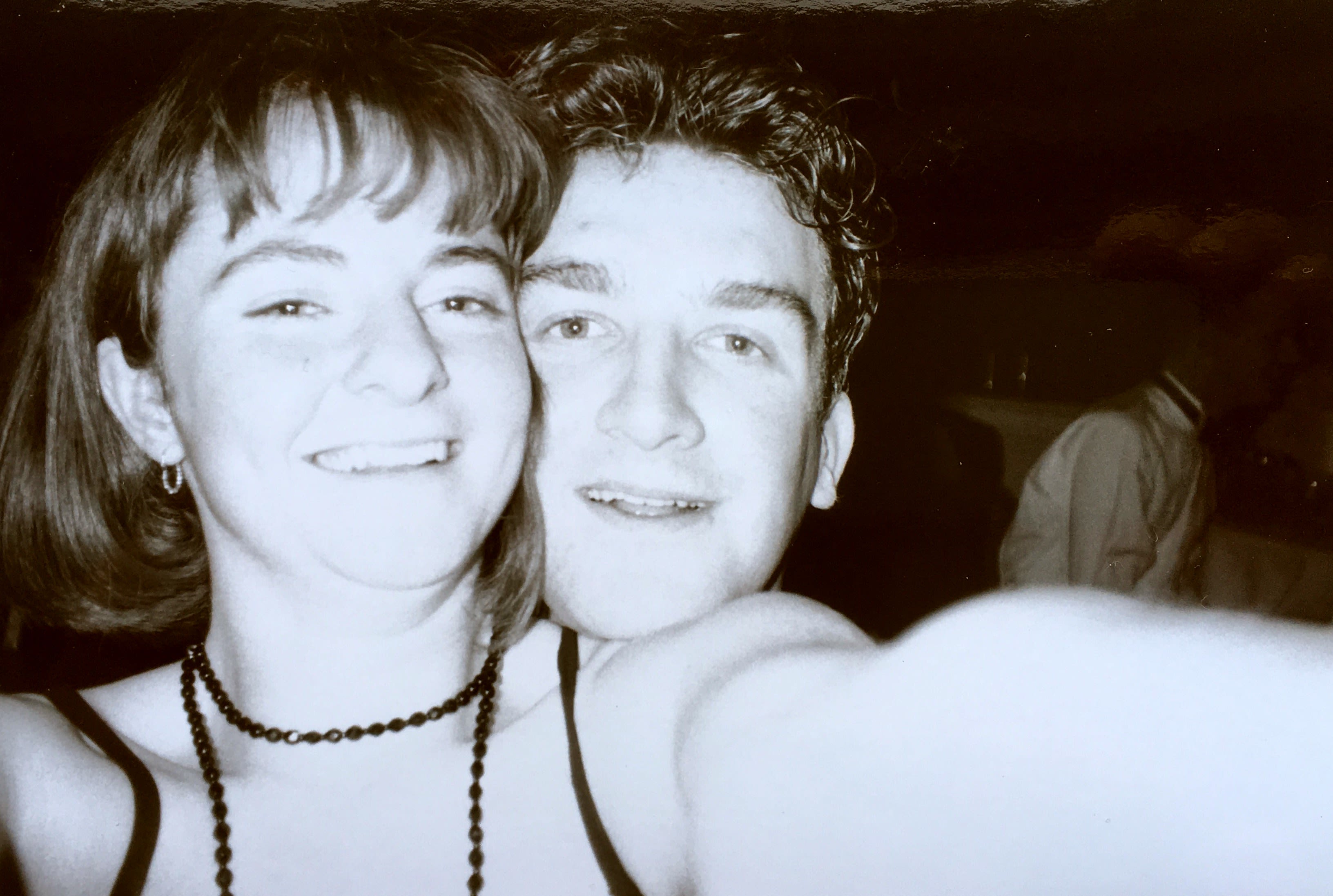 ---
Christian Winter (Pharmacology 1994)
I met my girlfriend in Headingley in 1997 after i decided to stay on in Leeds after graduating. I left Leeds in 1998 for work and we sadly went our separate ways, lost touch and had separate lives.
By chance, through a social media post, we met again in 2018 and rekindled our relationship. I will be moving back to Leeds next year to finally settle down with my 1997 sweetheart. Would never have happened if I hadn't chosen to come to Leeds.
---
Carla Tomlinson (Sociology & Politics 1994)
My husband of 10 years Adam and I met in 1992 at Leeds when he went out with a girl I lived with. There was always a spark and when they went their separate ways soon after we spent the next two years flirting on nights out at the Faversham and Back to Basics.
We didn't keep in touch after graduation and it was a chance meeting at a bar in Manchester 12 years later that brought us back together. We exchanged numbers and 16 years later we are very happily married with two daughters. We often think about how crazy it is and how we would never have believed it if someone had told us at Leeds this was where we would be almost 30 years later!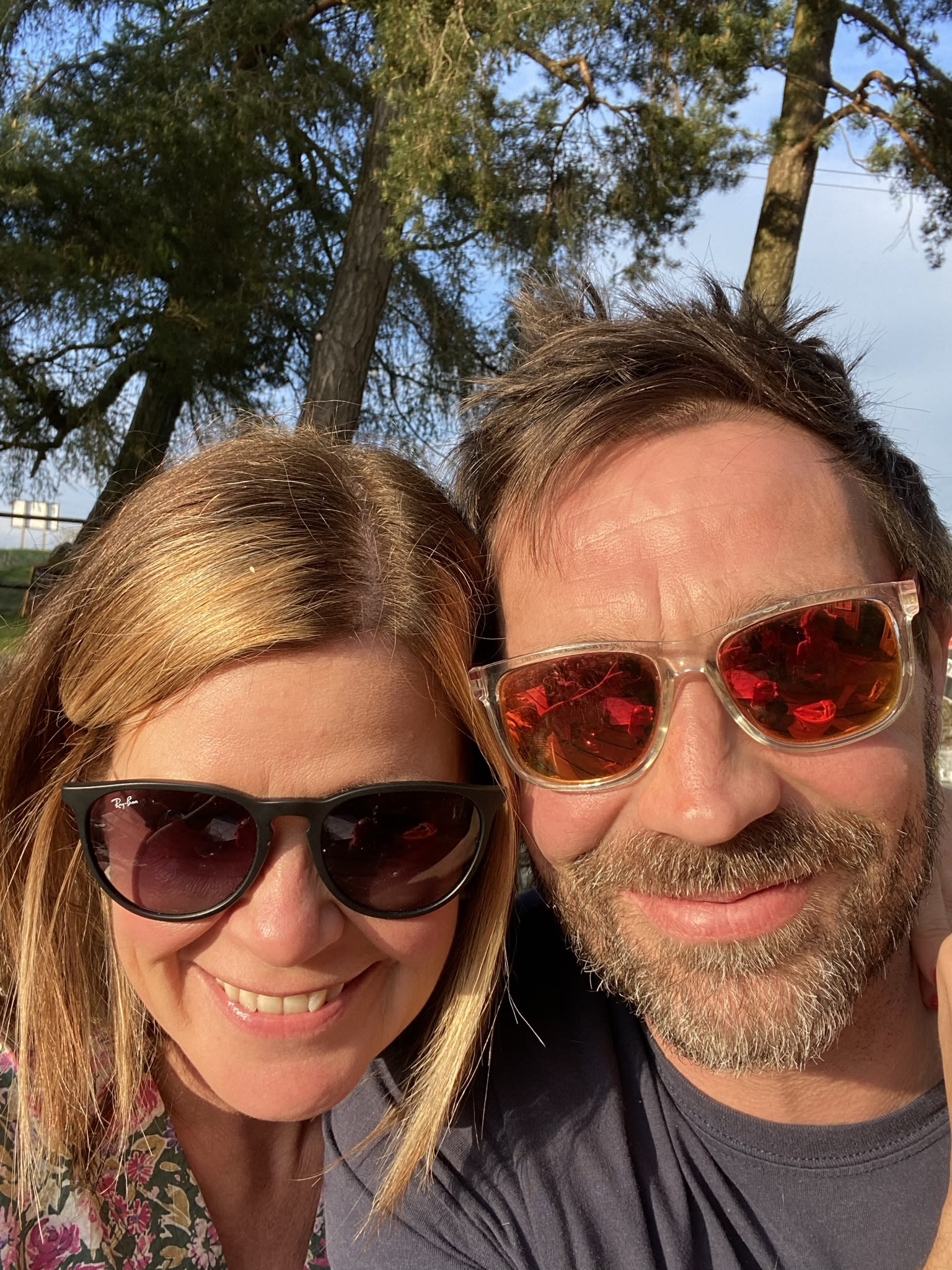 ---
Jo Southgate (Maths and Statistics 1994)
Jonathan and I were in the same halls in first year (Oxley) and shared part of our courses (maths). We lived together with others for years two and three then got together in the Feb of the last year.
We'll have been married 20 years in July and together 28 years on Sunday. We've got 15 year old twins.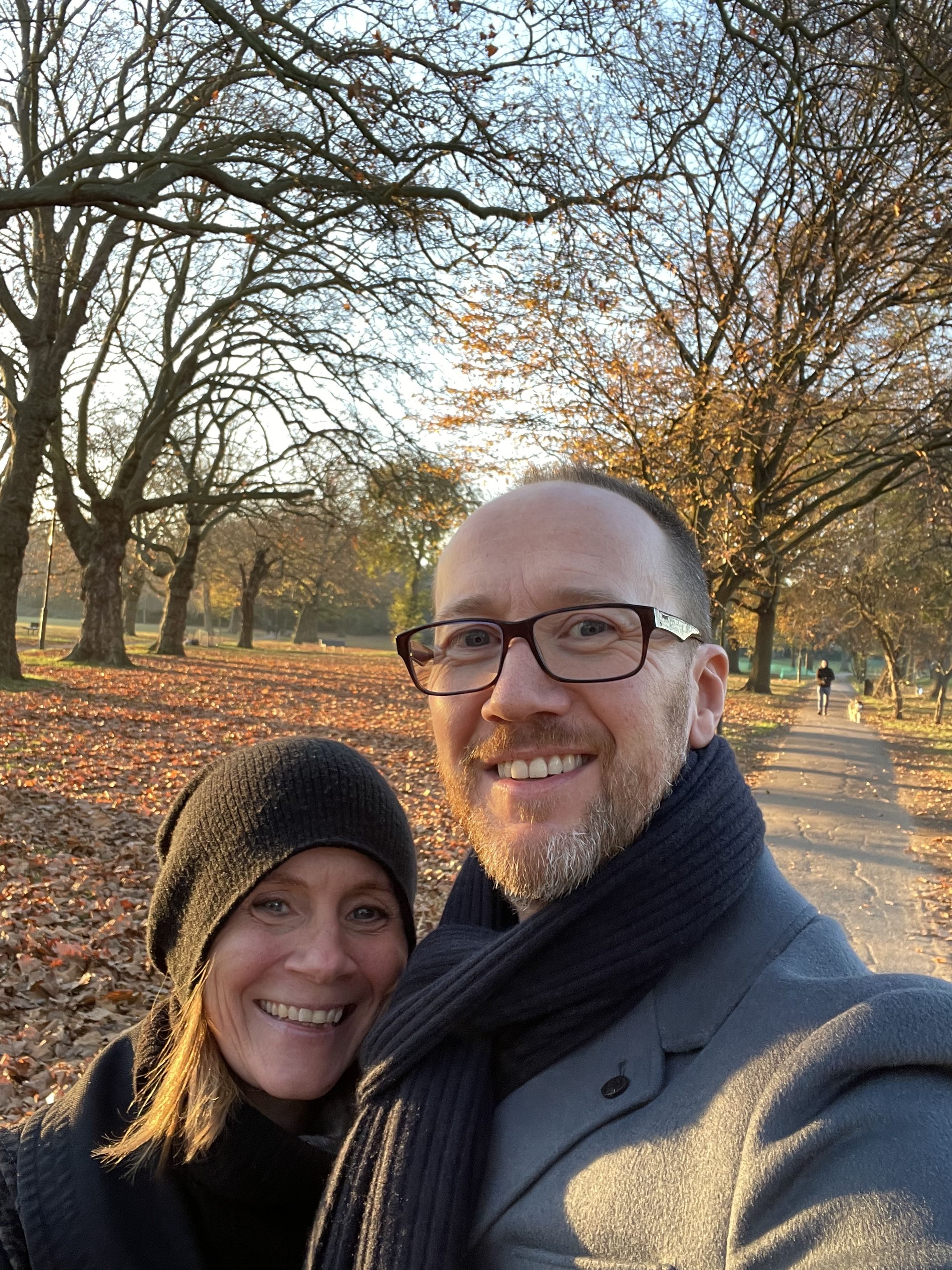 ---
Jane McArdle (Classics 1994)
I met my husband, Paul, at a party at Henry Price on Sat 18 May 1991. We were all watching the FA cup final between Spurs & Nottingham Forest. He was wearing cowboy boots and a checked shirt probably bought by his mum from Milletts.
We were both 19. We ended the night at SU bar and Paul walked me home! Our first date was at the Hyde Park Cinema and we've been together ever since.
We took our teenage children back to Leeds in July 2020 to see all the places we remember so fondly. It will always remain a special place for us both!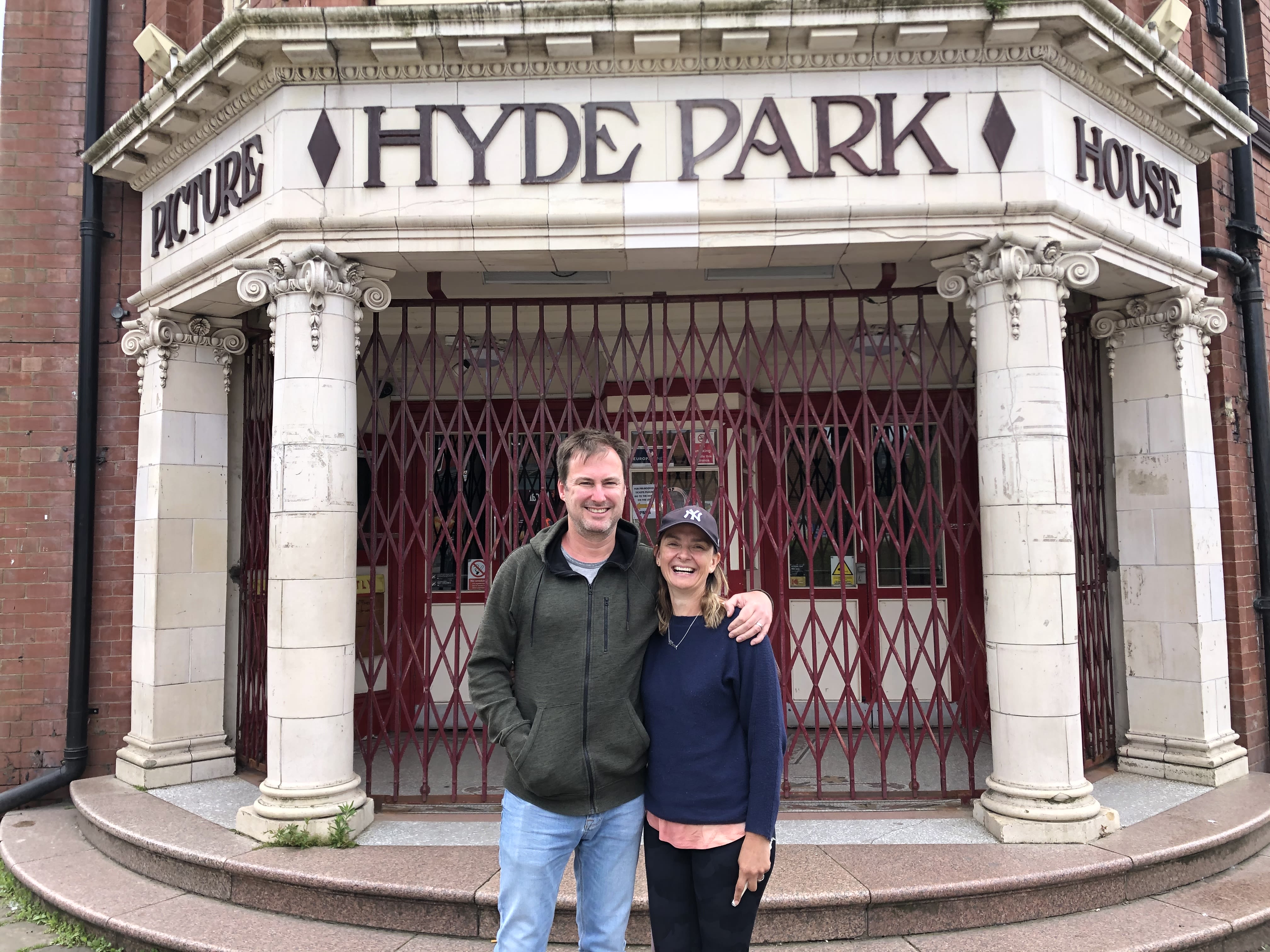 ---
Lorna Perkins (German with Italian 1994)
Whilst sat at the bar at Madison Avenue, a boy stumbled into my eyeline, pushed over by his mates, who then asked me if my housemate had mentioned him... all this whilst he tried to pull a stool over to sit down on, despite not realising that it was screwed to the floor!
Our first proper date was a week or so later at the Devonshire Ball at the end of third term in our first year. We stayed in touch over the summer holidays - he lived in Kent and my parents lived near Blackpool. We then dated during first and second term of our second year, but then I went to live in Florence for my third term.
I then spent third year living and teaching in Germany, whilst Matt completed the third and final year of his Economics degree. When I came back for my fourth year, he had graduated and was back in Kent looking for jobs in London. However, we carried on seeing each other when we could, writing to each other and having long-distance phone calls - all in the pre-mobile and email age!
We finally got together properly when I graduated and we moved in together in London. It's now 2022 - we live in Warwickshire and have two children; one of whom is in his second year at Durham and our daughter is in year 12. Leeds is a very special place for us both and we'll always think of it fondly.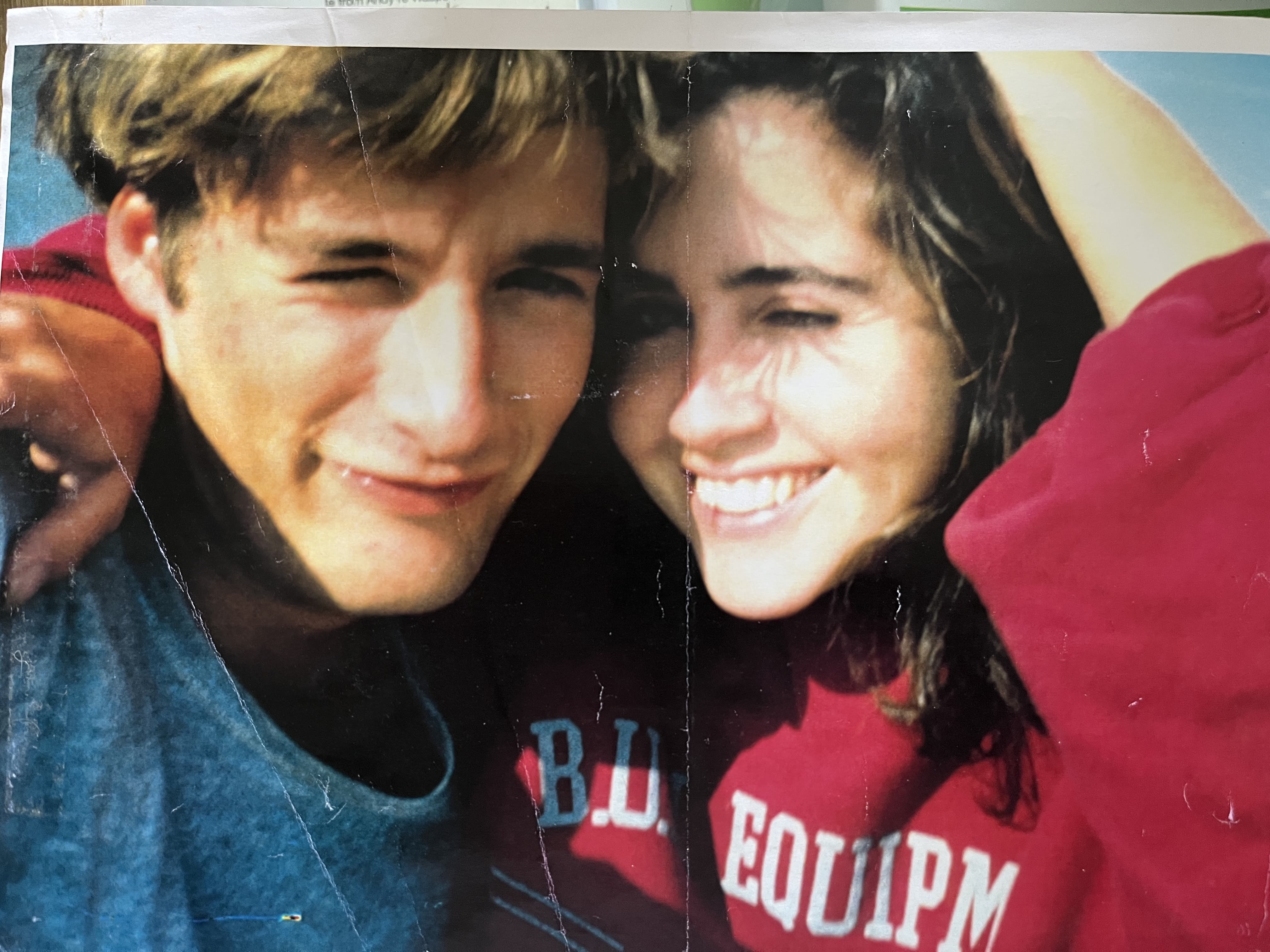 ---
Matt Spring (History 1994, PhD 1997, 2001, 2005)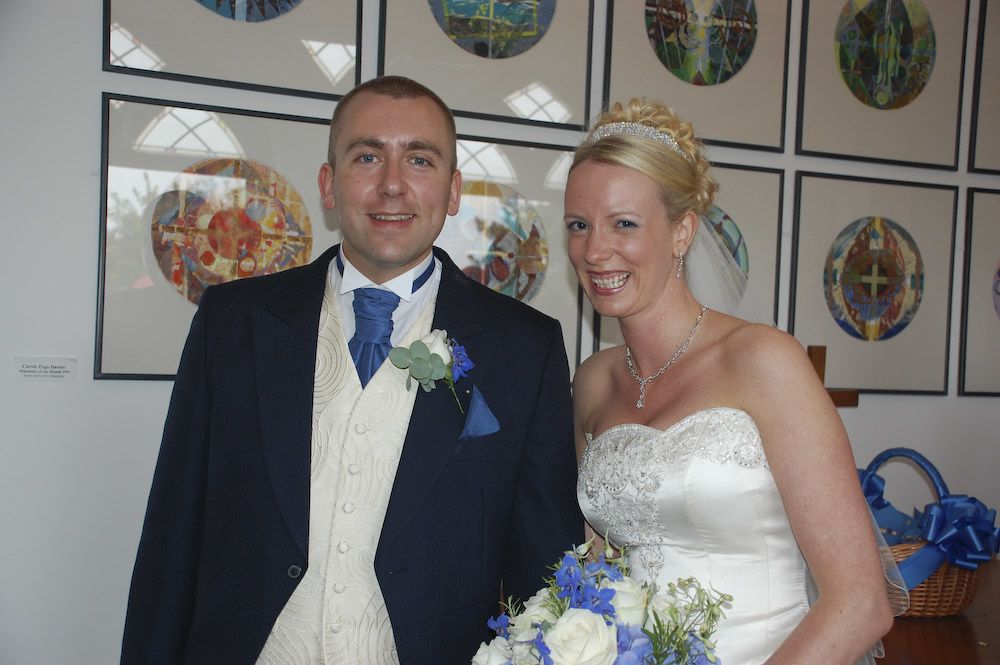 Met my wife in my favourite club, Planet Earth (or was it already the Bondai Beach Bar by then?), in 1999. She was about to start second Year. I was doing my PhD. We have been together ever since. Married in 2008. Now have two children, 10 and 8.
---
Emma Henderson (History 1995)
During my second year at Leeds I joined the Yorkshire Universities Air Squadron where I learned to fly eventually going on to become one of fewer than 500 female airline captains in the world.
The squadron was at RAF Finningley (now a Doncaster Robin Hood), and met at weekends and started with a lecture on a Friday night, before which we would go to Happy Hour in the Officers Mess.
On my first weekend I met some friends in the bar and was introduced to some Nav students who all had names like Taff, Smash, Magoo, Turkey etc., but one was named Jim and had also studied at Leeds.
We spoke for a few minutes and as I left the group to rejoin my squadron buddies, I thought "I'm going to marry that man" and at the same time, he thought "I'm going to marry that girl."
We started dating, got engaged six months later and married 11 days after I graduated. That was 26 years ago, we are still together and have three gorgeous (and now grown up) children. Leeds was where it all began and if I hadn't gone there we would never have met.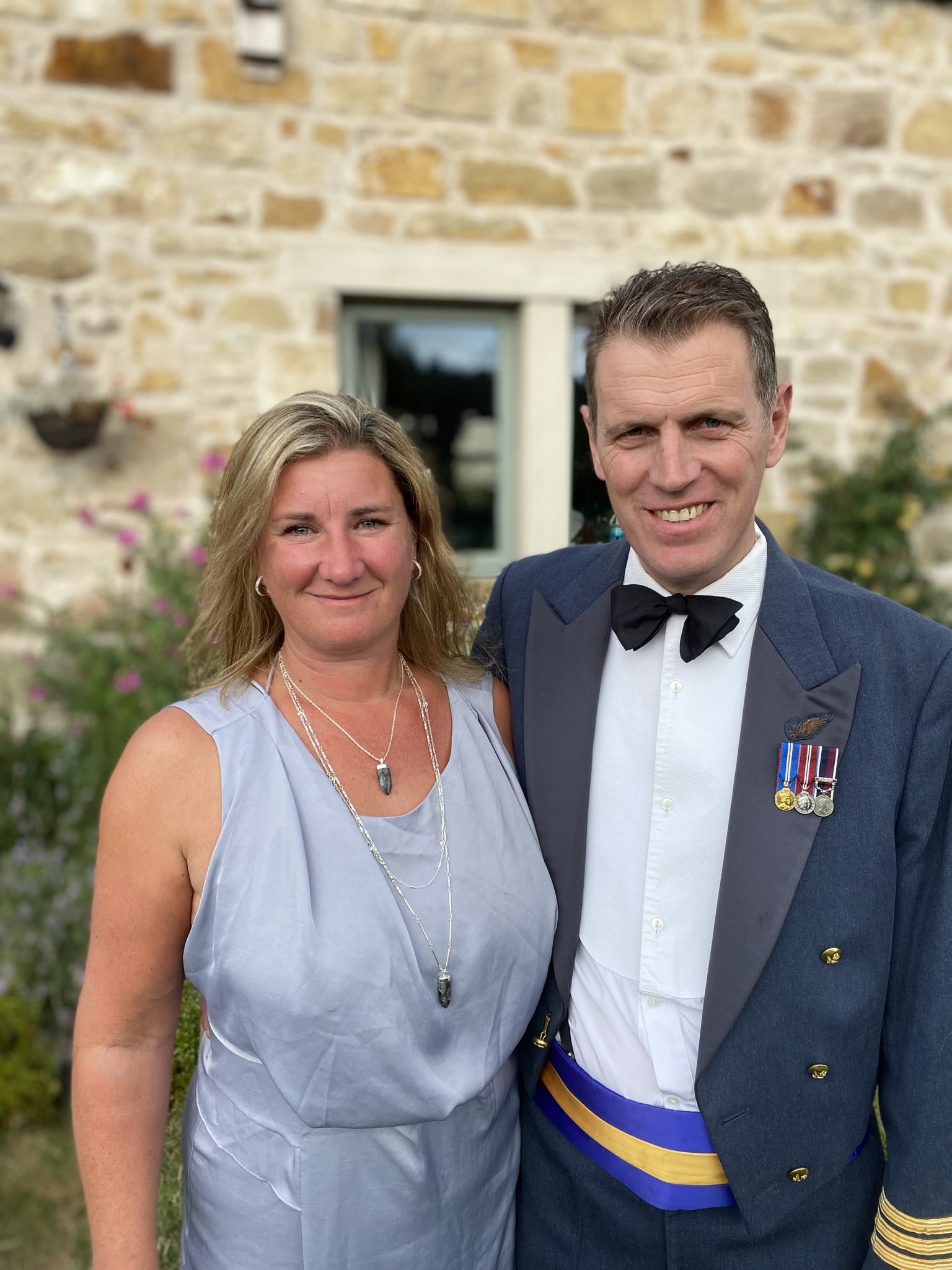 Emma Brown (Pharmacology 1996)
A coincidence that I received the Leeds Love Story email on 4th February, exactly 27 years ago today (1995) that I met my husband at the legendary Leeds "Poly Bop".
He was studying law at Leeds Met. I shouldn't have even been out that Saturday night, as I was still in the middle of exams, but my housemate convinced me. I'd just had my nose pierced that day and he commented on it as we stood waiting at the bar. He waited while I went off to dance to Whigfield's Saturday night and we've been inseparable ever since. We got married in 2005 and now are parents to two teenagers.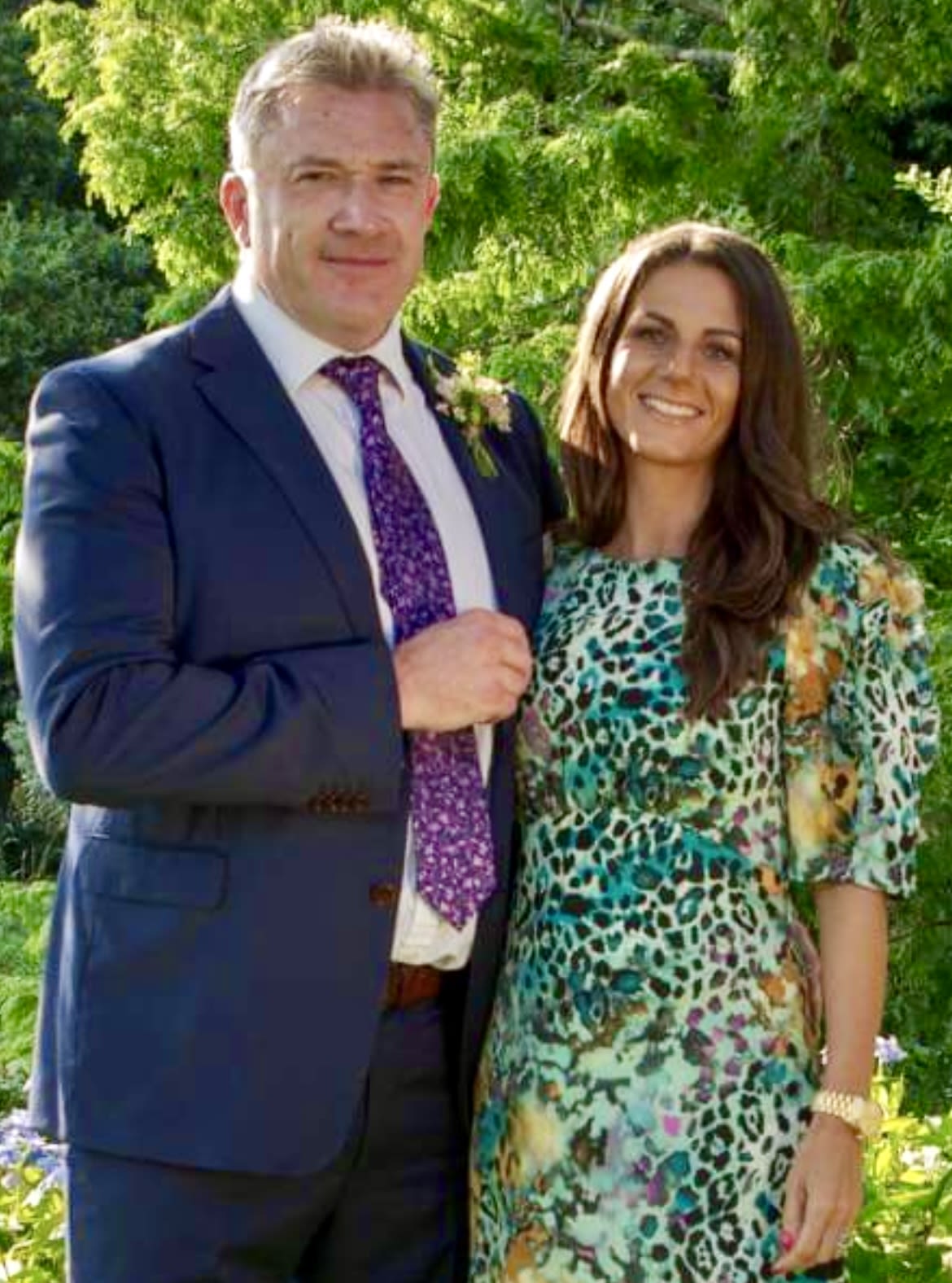 ---
Justin Young (Chinese and French 1996)
She was my classmate. Two years older than me. She wore turtle necks and a line skirts, always flawless in the age of grunge. I thought she was beyond my reach, out of my league.
And then in the final year it happened. Slowly and gently and beautifully. Sharing meals. Sharing time. I was lost in absolute adoration. It ended at that time with a shattered heart. Avoidance. Occasional awkward events. Then many years later a reconciliation. Too late for romance but warm and happy friendship to last forever.  That was my love gift from Leeds. City of my first great romance.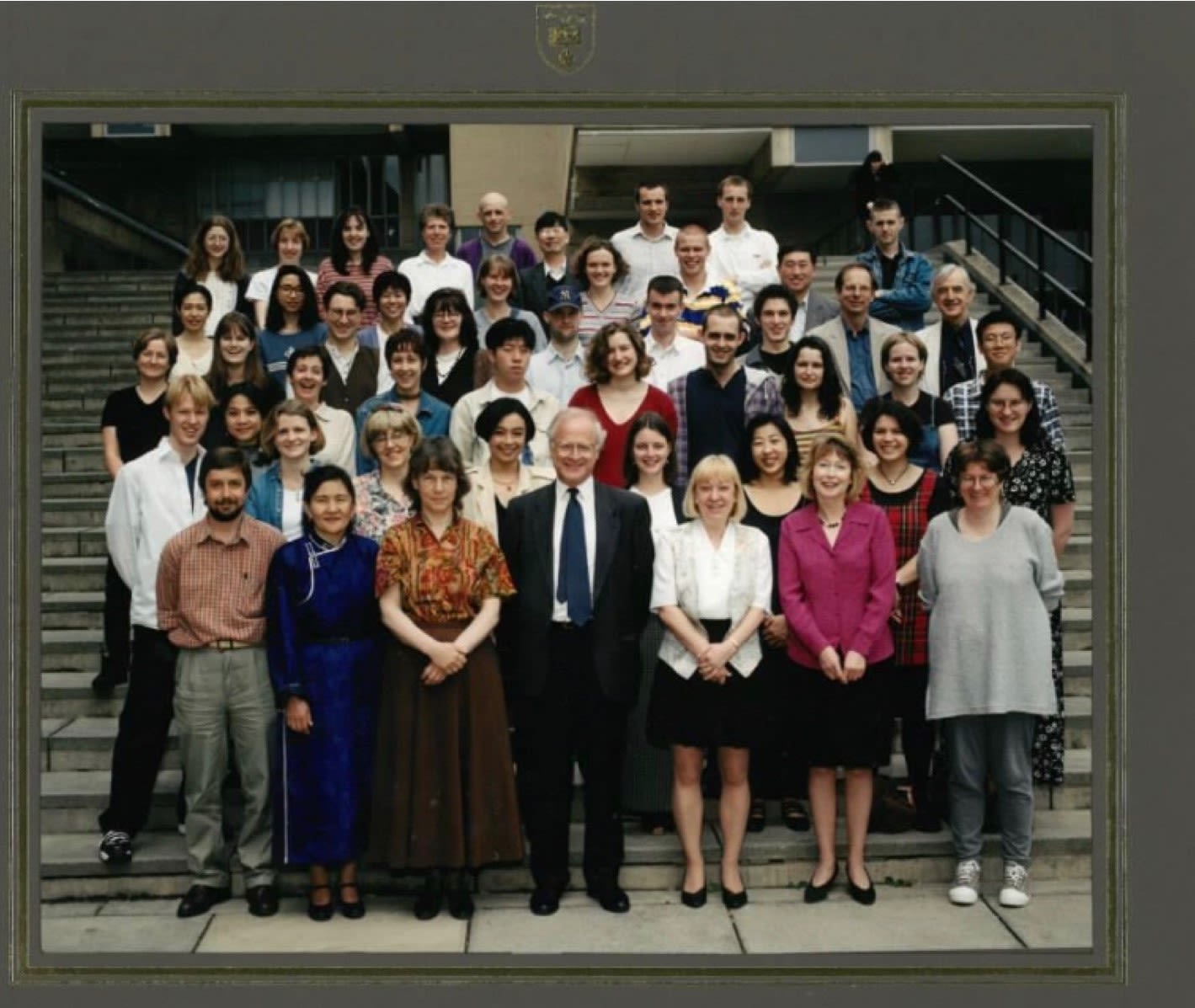 ---
Stephan Ziegert (Civil Engineering 1997)
Fully immersed in my research study, working more nights than days to use the departments (1997) computer power, I just finally had ended a rather negative relationship and was looking forward to finalise my thesis and to enjoy single life - however, the last part of the plan turned out very differently.
A friend of mine, living in the same international student home as I did, had a friend over from Germany for a one week holiday. I did not meet her until the fourth day of her stay but fell in love instantly. She was (and is!) clever, funny, wonderful to be around and amazingly beautiful and she grabbed my heart.
We were meant for each other and before her holiday ended we were a couple going then directly into a long distance relationship. The rest of my study money was therefore spent on phone bills and I could not wait to meet her again.
Today we have been married for 25 years, have four wonderful children and are in love as ever. Quite often we remember our start in Leeds and will always keep Leeds in mind not only as a wonderful place to study and to live but also to find lasting love!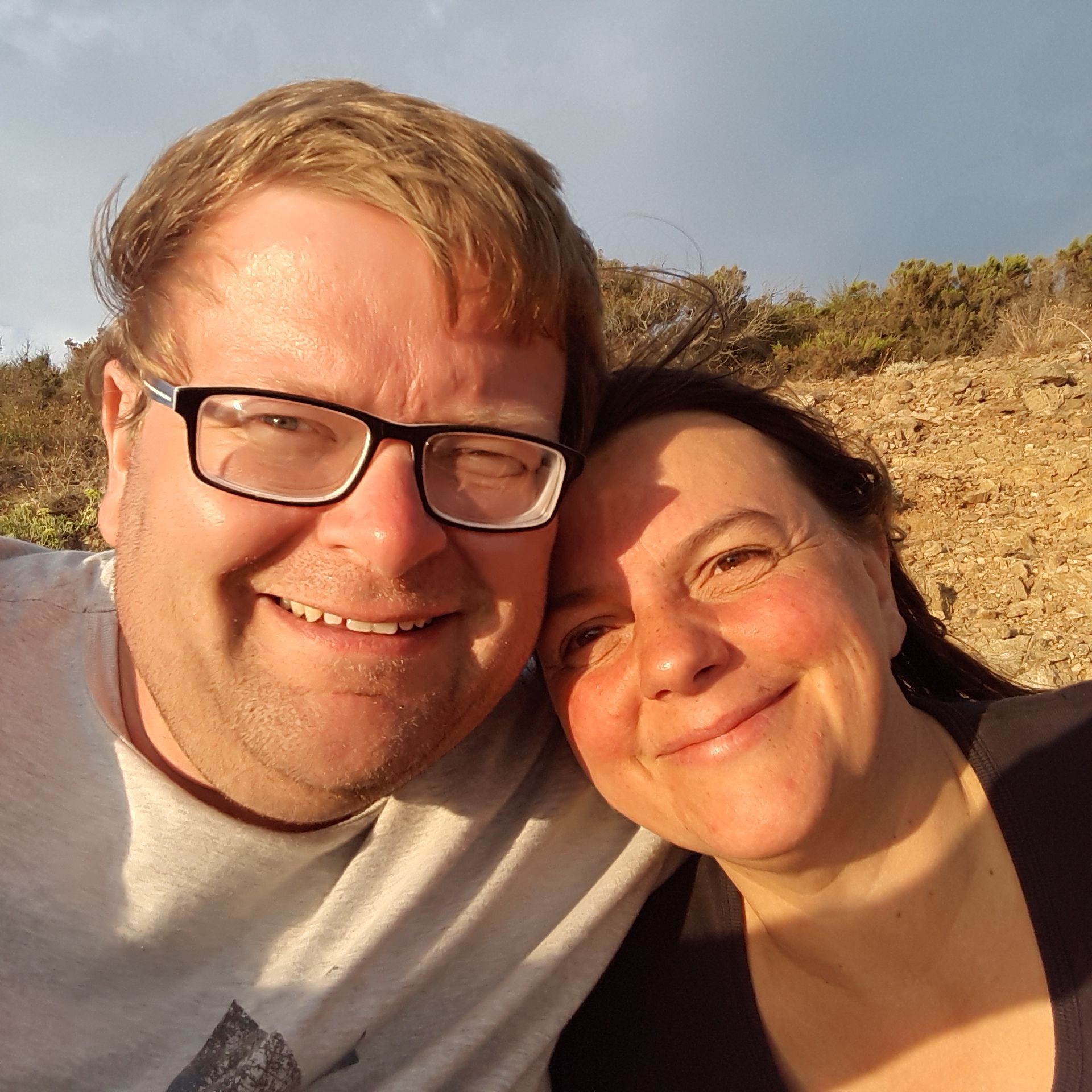 ---
Nina Soloway (Theology & Religious Studies 1997)
Whilst getting ready for the annual J-Soc Ball in February 1996, one of my flat mates said to me, I've got a feeling you're going to meet your husband tonight. How could she have known?
But a kiss on the dance floor a few hours later led to a cautious start to our romance as we'd already signed up to houseshare for the next academic year and if things didn't work out it would have been a mess for everyone.
But after two successful years of living together, we left Leeds behind us, still together, and went back to London to live with our parents again! We seemed to be doing everything backwards!
We moved in together properly in early 2000, got engaged in New York a few months later and married in June 2001. We have now been married 20 years and have two children (16 & 11) and recently took them to Leeds for the weekend where we showed them all our old haunts, including the Queens Hotel, the site of our first kiss (cue much squirming from the kids!). Thank you Leeds for the life we have today!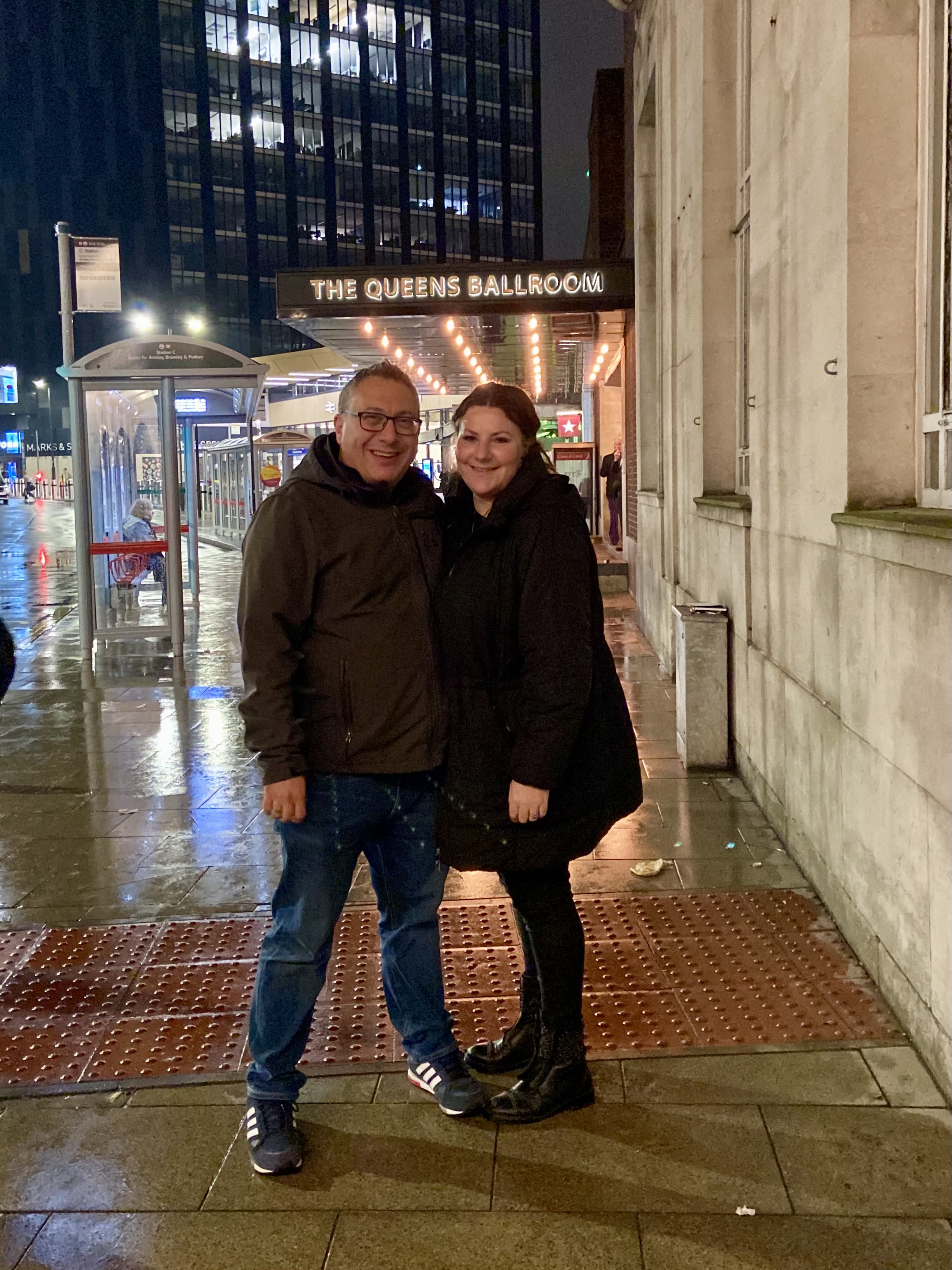 ---
Jo Hurst & Dan Katz (History Of Art 1997)
I met my husband Dan at The Old Bar on the first day of freshers week. We nearly didn't make it. We split up after the first year and didn't see each other for four years. Weirdly we bumped into each other whilst travelling- we randomly sat next to each other on a 7km beach in Bali - which kept the flame alive! Neither of us knew the other one was also in Indonesia!
We rekindled our love story at a mutual Leeds Uni friends birthday party in London. 25 years after leaving Leeds we have been married for 18 years and have two sons. Surely we win those mugs!!!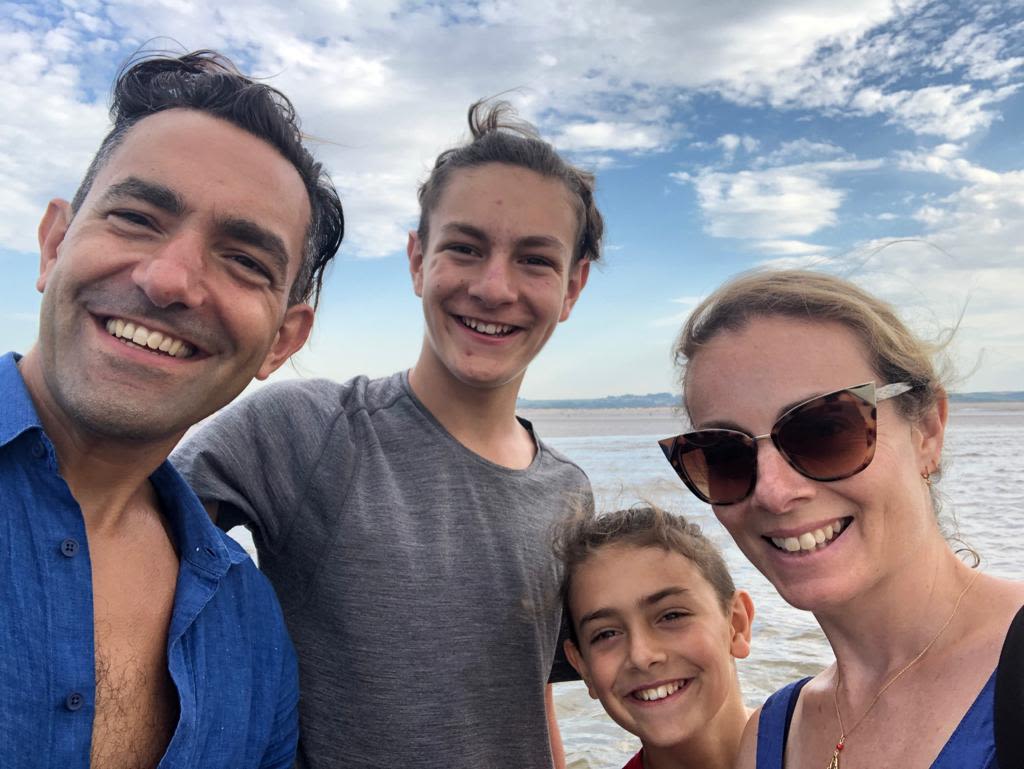 ---
Sally Weber (English and Music 1997)
I met the love of my life through singing with the Uni of Leeds Chamber Choir in 1997.
Sam had already graduated from Leeds but returned each year to sing with an off-shoot choir, The North Leeds Singers, with whom I also sang.
We met each other briefly over a pint or three of Timothy Taylors Landlord at the Bricklayers Arms a couple of times before singing together one weekend with the Uni Chamber Choir in Ely Cathedral. Singing "Faire is the Heaven" under the central stained glass window with Sam and the rest of the choir was a highlight of my life, and the rest, as they say, is history!
The Leeds Uni Chamber Choir of 1997 all came and sang at our wedding in 1998 and we all still meet nearly 25 years on, to sing for a weekend in one of our country's most beautiful cathedrals each year. Our eldest son studied music at Leeds Conservatoire, graduating just last year, and he still lives in the city so our love affair in Leeds, and indeed with Leeds, lives on!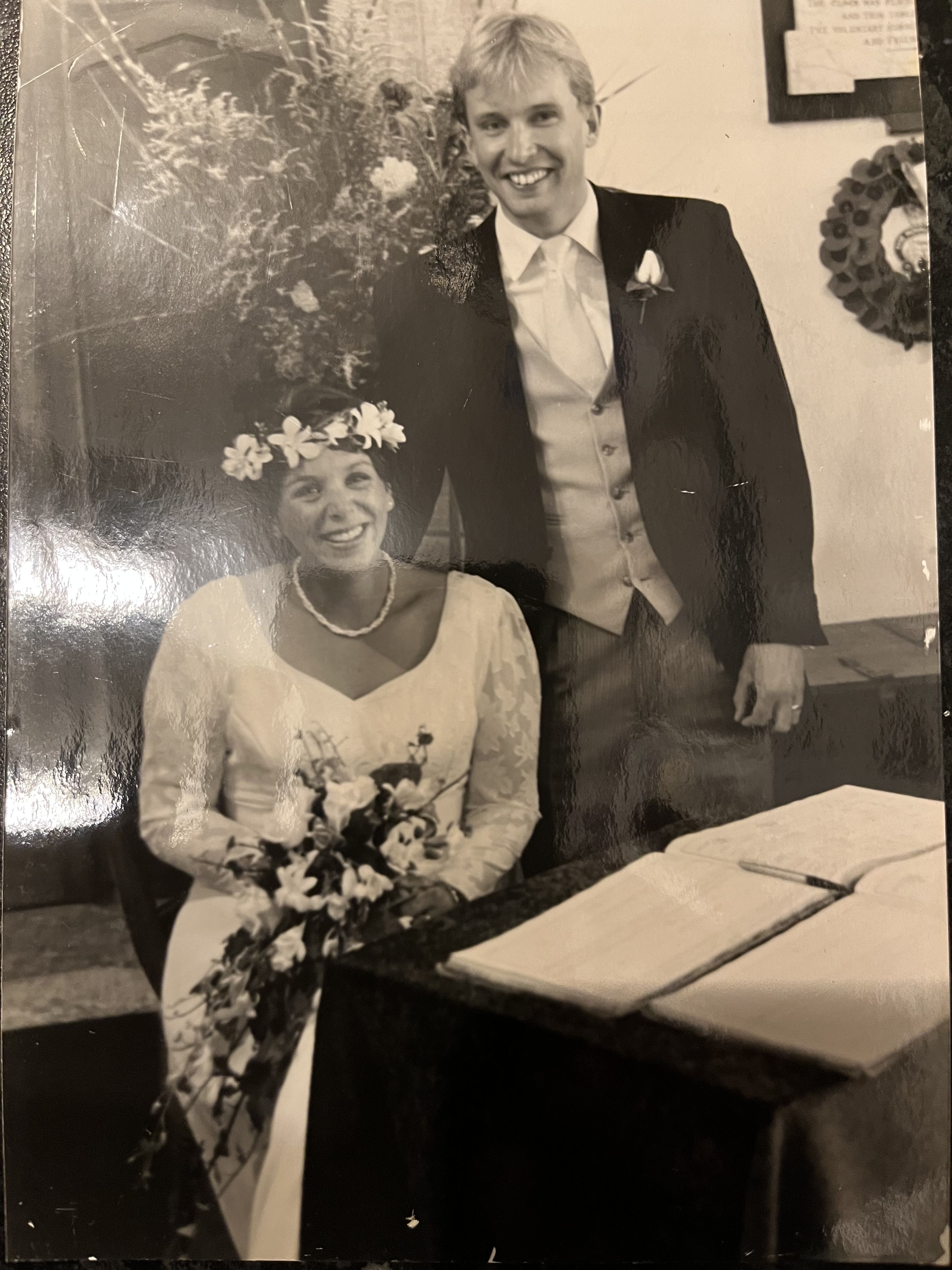 ---
Steve Slade (Music 1997)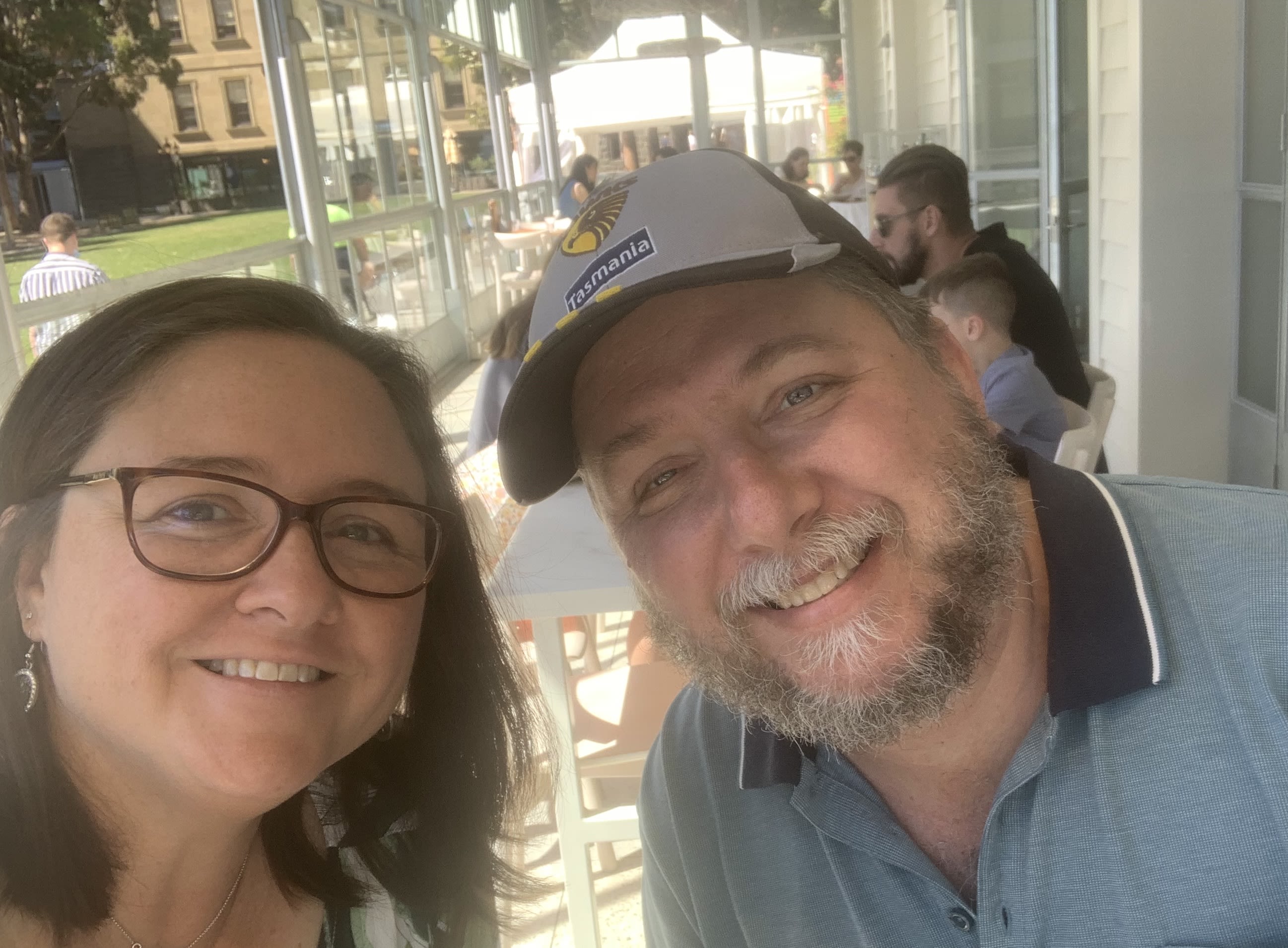 Somehow my bedraggled foggy postgrad mind stayed awake enough so I could stumble through the front door of the new rental house I was sharing in LS16 with a bunch of other UoL students, some I knew, some I didn't.

The first place I walked through to was the kitchen, at which was this stunning lass who I didn't know. We said hi, and from that day onwards we were best friends and inseperable.

That was nearly 30 years ago, and we are still very happily married all these years later. A Leeds love story!
---
Natalie Stone (Broadcasting Studies and English 1998)
On the Greek island of Los in the summer of '97 I met Jeff Israel. I said 'I bet you're one of those Londoners who's never been north of Watford'. He said 'Actually I study at Leeds.' I said 'Oh, so do I!'
We spent our final year together in my Brudenell Mount rental and have now been married for 20 years with three children. Our eldest had just applied for Leeds Uni!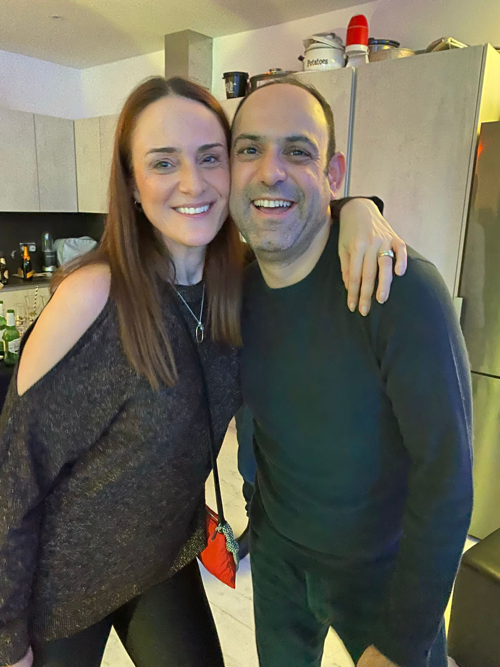 ---
Sherean Isherwood (Physics 1998)
My degree course included an Erasmus year in France. I chose to study in Grenoble to compliment my passion for skiing. When we first arrived, we took part in an intensive French language course where there were students of every nationality: Swedish, Italian, Dutch, Korean...
The rest of the year was spent studying physics alongside 'sexy' Frenchmen. But my heart was stolen by a man from Leeds! The rest is history and 25 years later, we still live in Leeds. The photo is celebrating our 21st birthdays in the Chorus Cafe, Grenoble.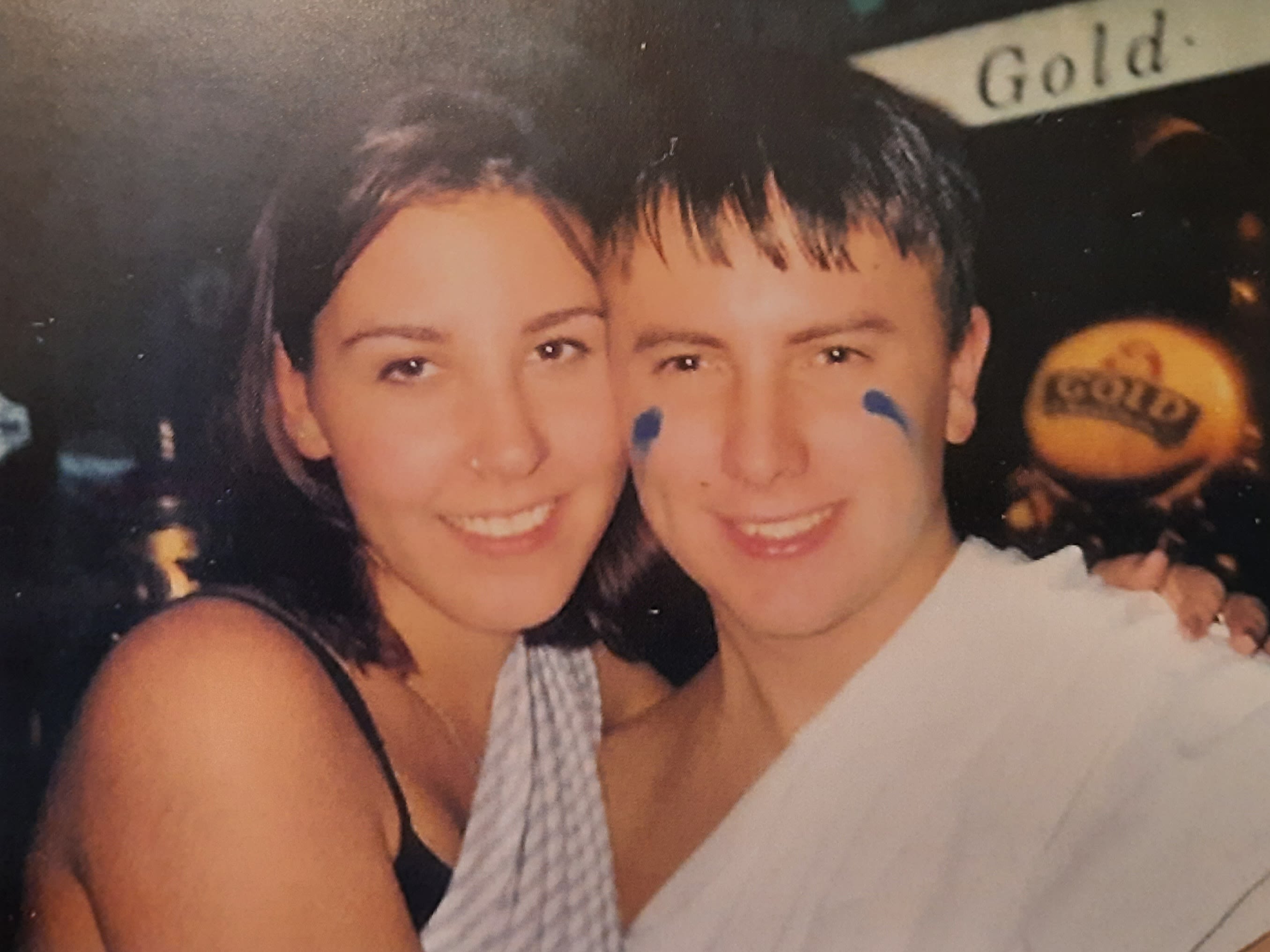 ---
Sharon Laifer (Communication Studies 1998)
A few weeks into my first year, I was walking with friends across the car park, on the way to a JSOC social, when we bumped into a few second years that my friend had met earlier that day.
Fast forward 27 years and one of those second years and I have racked up 21 years of marriage and three children, the eldest of which just received her offer to study at the University of Leeds next year.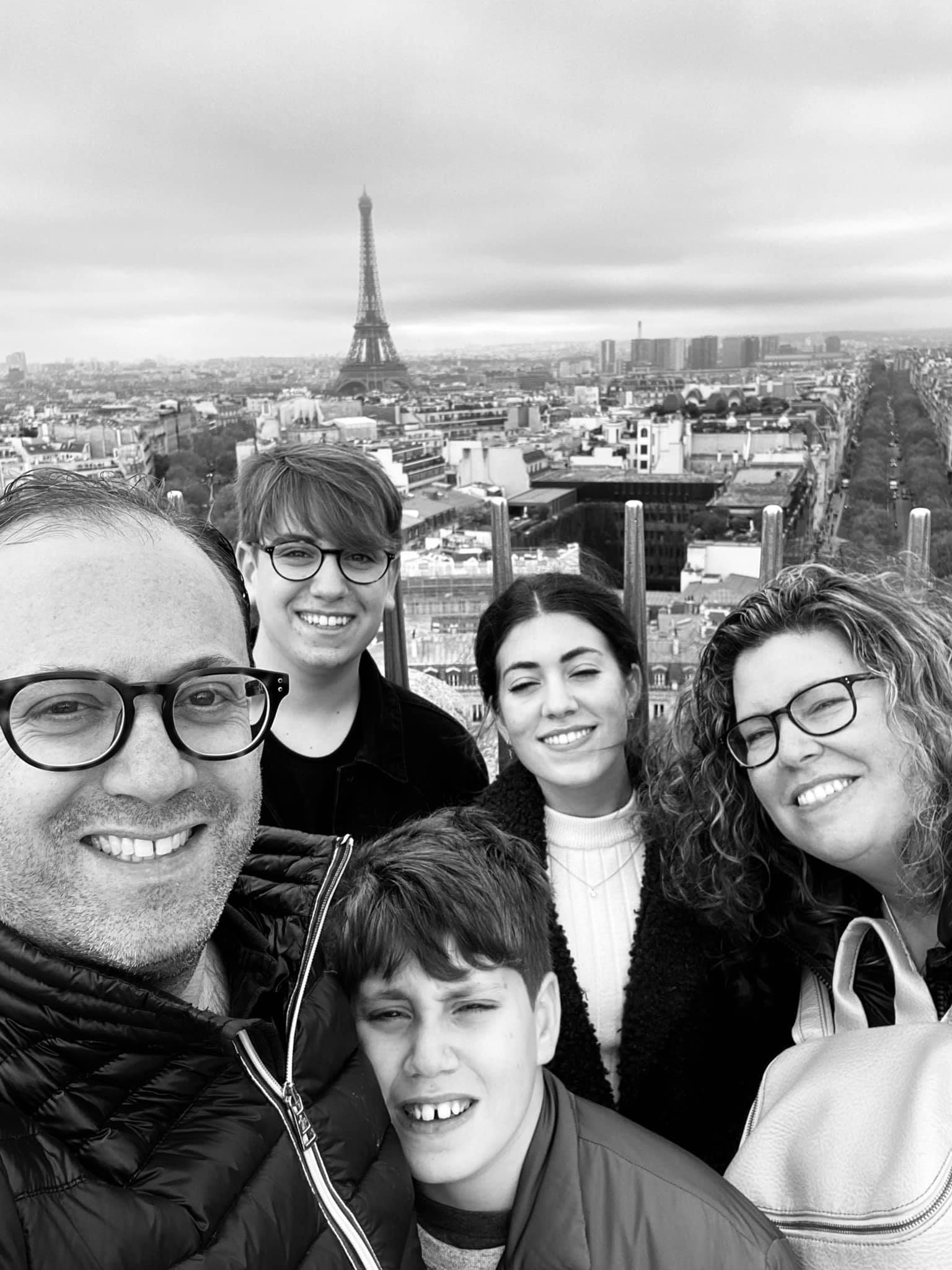 ---
Jennifer Vazeille (French & Management Studies 1999)
I came to France for my placement year in 1997 at Pau business school. There I met a group of friends and amongst them a guy called Denis, who I started dating.
After the wonderful year was over, I returned to complete my final year and though we carried on dating it fizzled out around the year 2000 (actually the year he came to study in Leeds too). We stayed in touch however and after a chance meet up in 2006 again, we got back together , I moved to France  and married in 2009. 12 years and three kids later, we are happily settled in Lyon, France.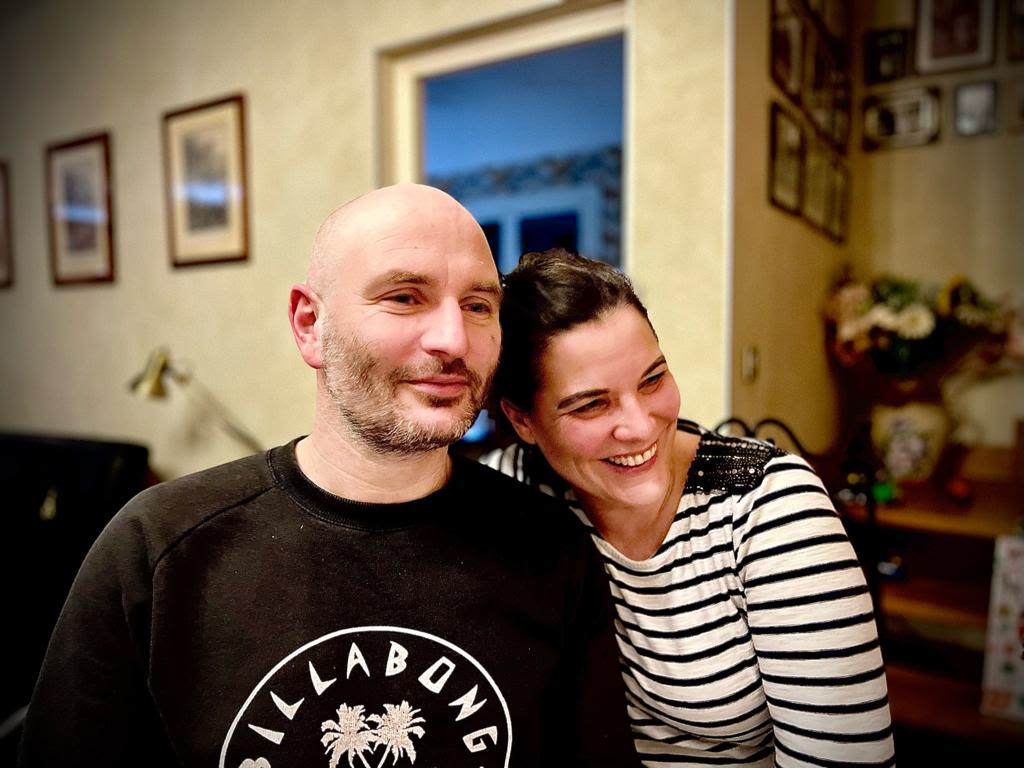 ---
Louise (Economic & Social History and Sociology 1999)
In the October of 1996 I got out of my parents car to unpack at the James Bailey Halls. The first person I saw was a boy moving into the ground floor flat. Soon enough our parents were talking and realising our families lived only 40 minutes apart. My thoughts were, this is not why I came to uni - to meet people from home!
Nevertheless, by Christmas we'd had our first kiss at the James Bailey Ball. And by 1998 we were living together in a shared house and firmly a couple.
1999 saw graduation and me moving to teach in Japan and Rich staying in Leeds to do his MA in HR and business management. We stayed together and then embarked on an 18 month round the world trip before moving back to the UK and to London.
Fast forward to 2005 when we finally got engaged and then married in 2006, surrounded by Leeds alumni friends. Today we have two children and live in the small Hertfordshire town of Tring, both working in field related directly to our studies at Leeds - I'm an assistant headteacher, teaching sociology and Rich works in HR at the University of Bedfordshire.
We miss Leeds greatly and have (unsurprisingly) incredible memories of the city, university and our time there, which shaped our entire lives! Thank you Leeds!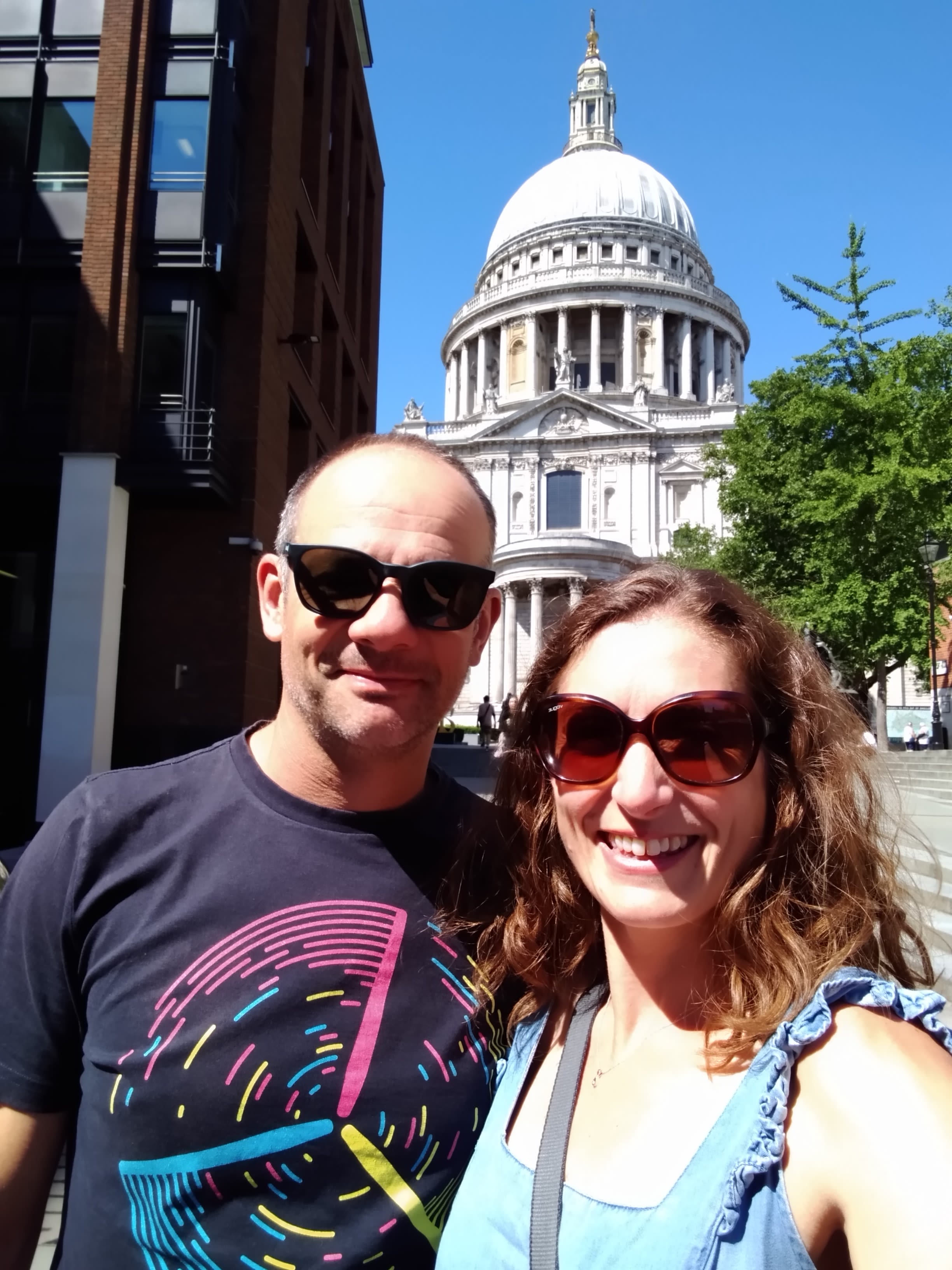 ---
Tom Halton (Economics & French 1999)
We met at Henry Price, 1996 - Maria a Spanish student, and myself an economics student from London. We had our first date at the Dry Dock playing giant Jenga - and, although the boat didn't move, the earth did! We became regulars at the Poly Bop and ate BOGOF curries at the Kashmir (thanks to the vouchers in the Leeds Student paper).
After that year, we were in different countries for the next two years but kept the romance alive thanks to long distance calls and visits paid for by my job at the Old Bar!
We tied the knot in Spain in 2001 and our t children contributed to the 1 million born through (the now defunct) ERASMUS.
Fast forward to 2022, and our son has started his degree at Leeds, in an upgraded Henry Price, and   enjoying the life as we did. The beginning of a new love for Leeds?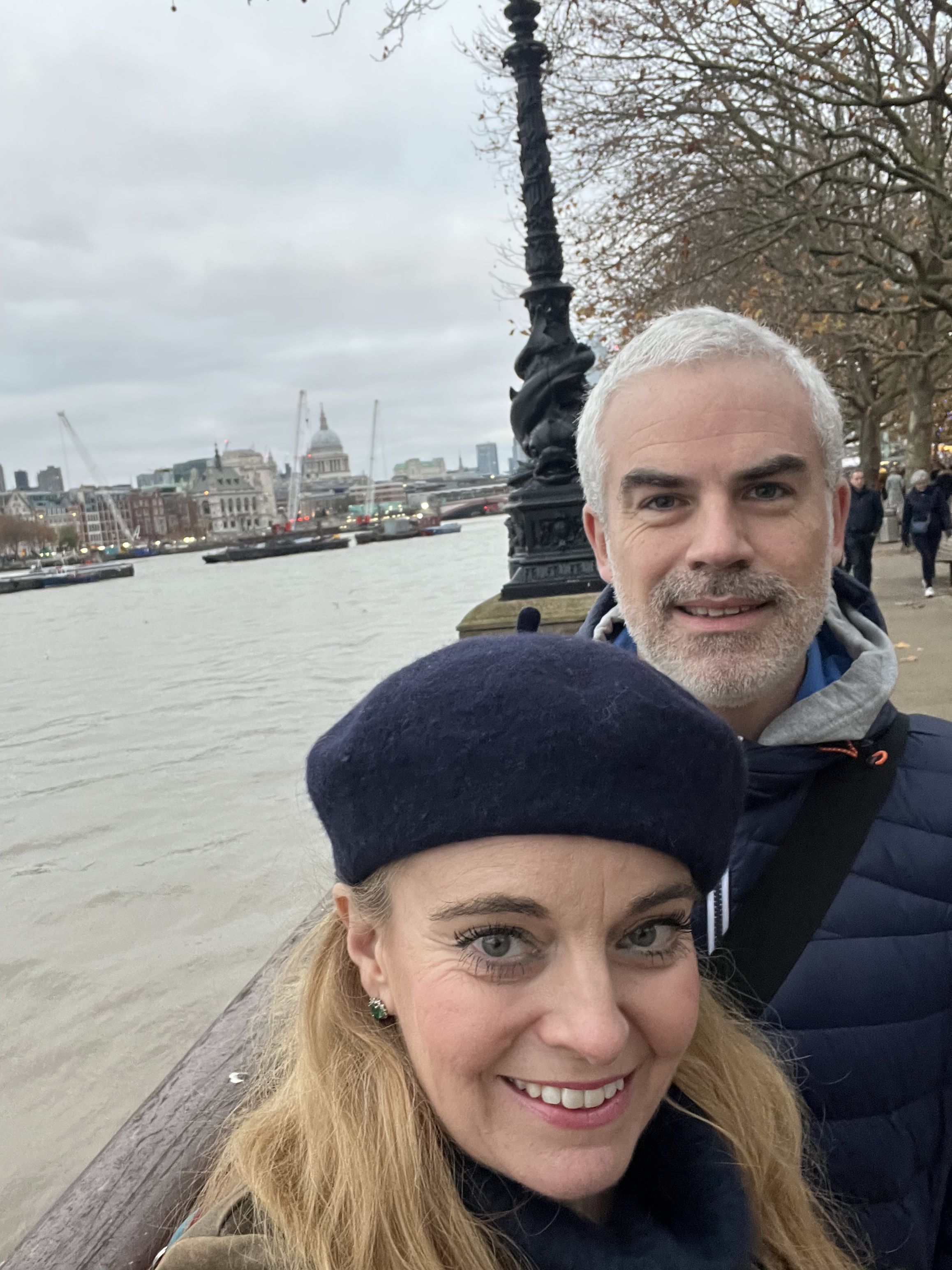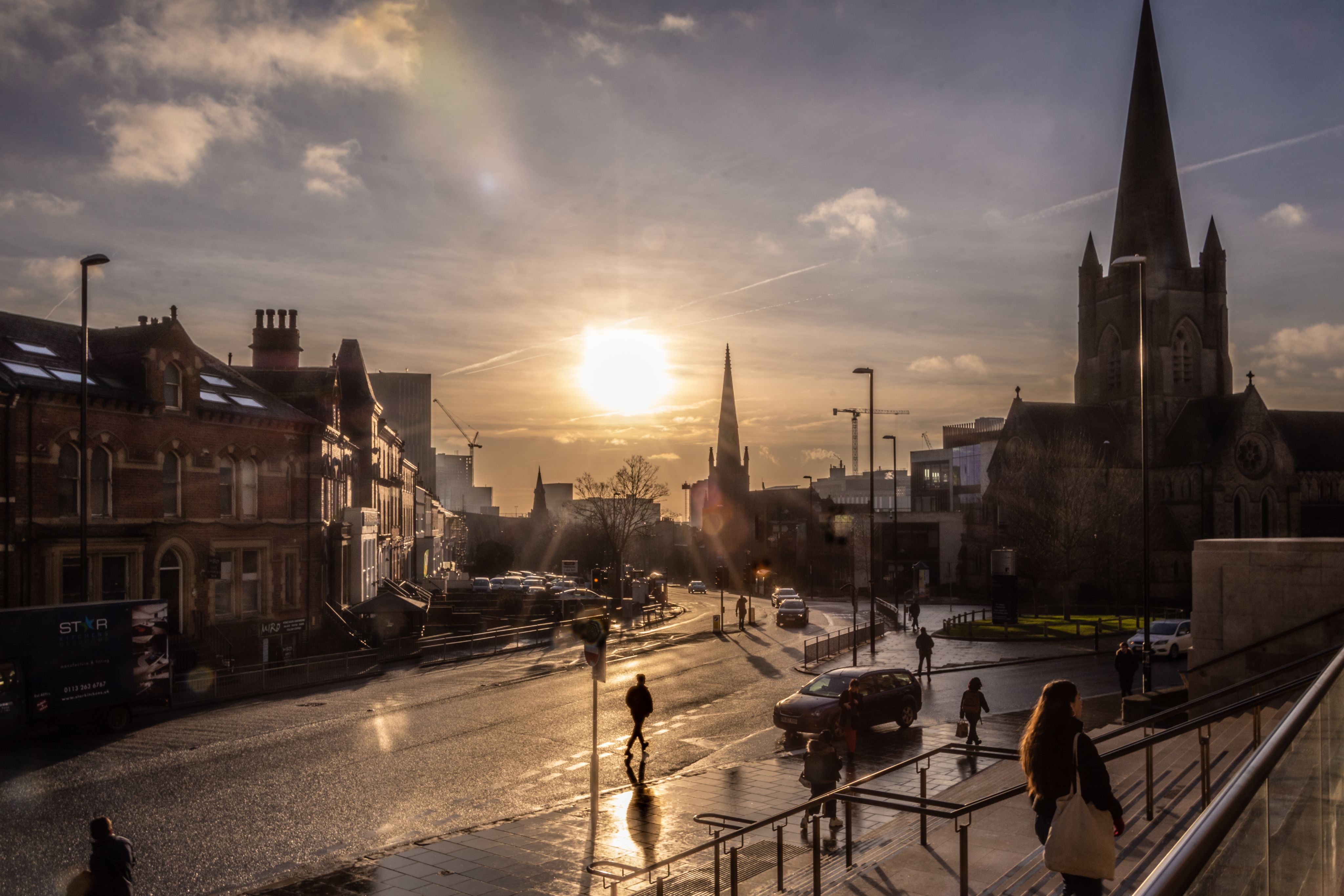 Christoph Ernst (Microwave Engineering PhD 2000)
I remember my time in Leeds very fondly as it was the best student life I have had during my studies. In Leeds I also met my wife.
It all started with ballroom dancing lessons. There were more girls than boys and reluctantly I accepted to dance with my (now) wife as a favour to a friend who insisted I should dance with my (now) wife as otherwise she would not find a partner. So it goes, and one thing led to another with us getting married a few years later in Leeds.
Until today we still have a very special connection to this great town and University.
---
Stephen Barr (Chemistry 2000)
I met Nicola who would become my wife during my first few days of starting at the university.  We were both living at Devonshire halls of residence and met through friends that I had from the secondary school I left in the summer of that year.

We stared our studies at Leeds in 1996.  Nicola a degree in music and me chemistry. Although Nicola decided music wasn't for her and started a new course in environmental science the following September.

We didn't start dating 'til the Easter of '97 after a night at Majestic nightclub on City Square.  We enjoyed so many great nights out in Leeds during the four years we were there including The Skyrack, Original Oak, The Underground, The Old Bar at the Union, The Poly Bop at Leeds Met.. and of course Planet Earth to name but a few.

Following our graduations in 2000 we continued to visit Leeds and the University.  So many great times and memories.  In the summer of 2007 we got married and shortly after started a family.  We have two children and were together for more than 24 years before losing her after an illness in the summer of 2021.  I'll always be grateful to the University for the opportunity to meet my beautiful wife and create such wonderful memories.  The people we met and times had at he University continue to shape our lives and with the loss of my wife have become even more important.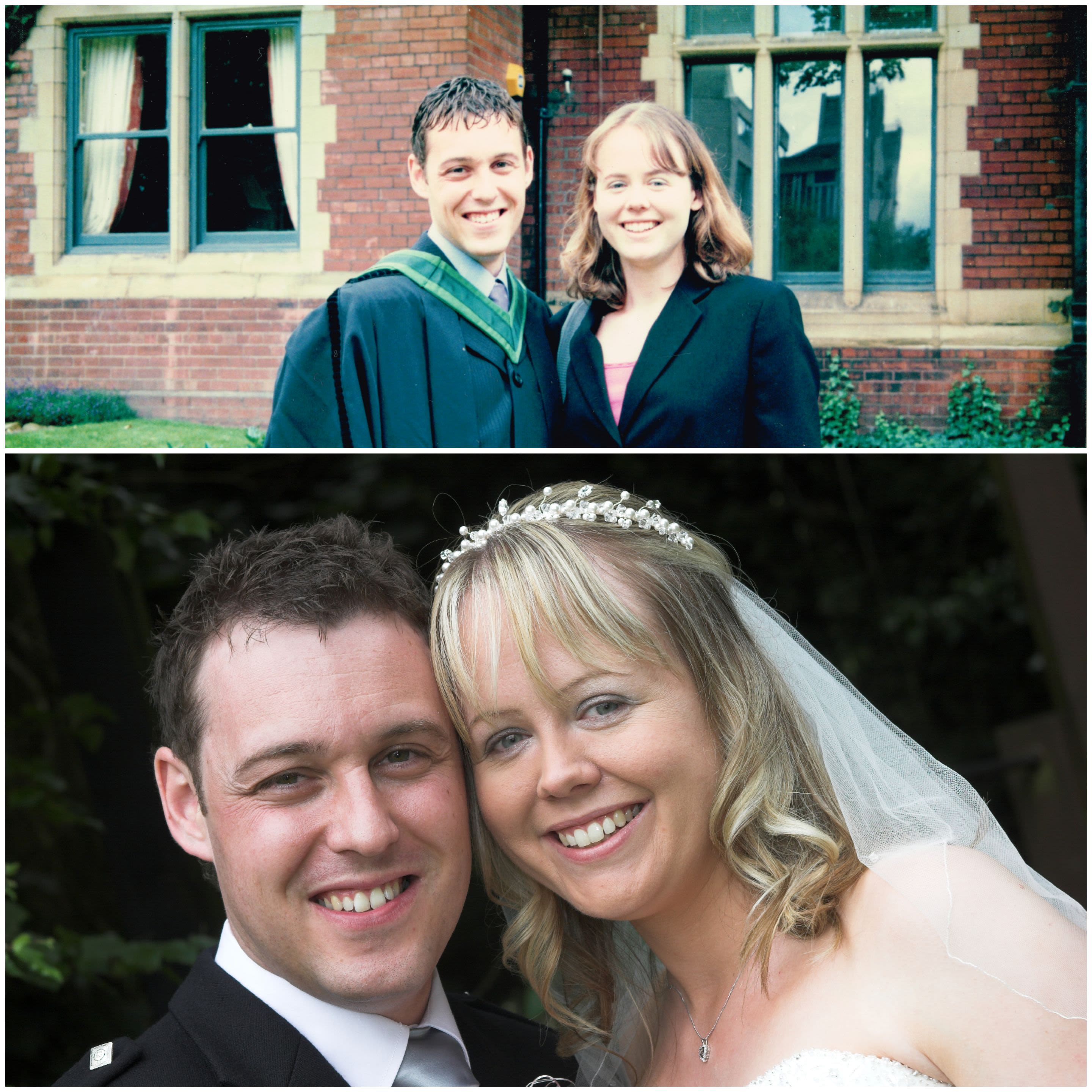 ---
Chris (Geography 2000)
Perhaps not the classiest story you'll come across, but certainly authentic.
I met the love of my life and now wife on the Devonshire Hall Freshers Week Crazy Golf Pub Crawl.
Both of us scored maximum points with 9/4.5 pints downed, on a course that started at The Original Oak and finished in The Old Bar. Bonus points were on offer for a quick snog on the 9th and that's where we met (or was it Luckys? Much debated over the years, perhaps we'll never know!).
There was a little gap in our relationship from midway through our second year until after I graduated, but love found a way, and we've been together ever since. So many adventures and stories since. Katie, I love you!!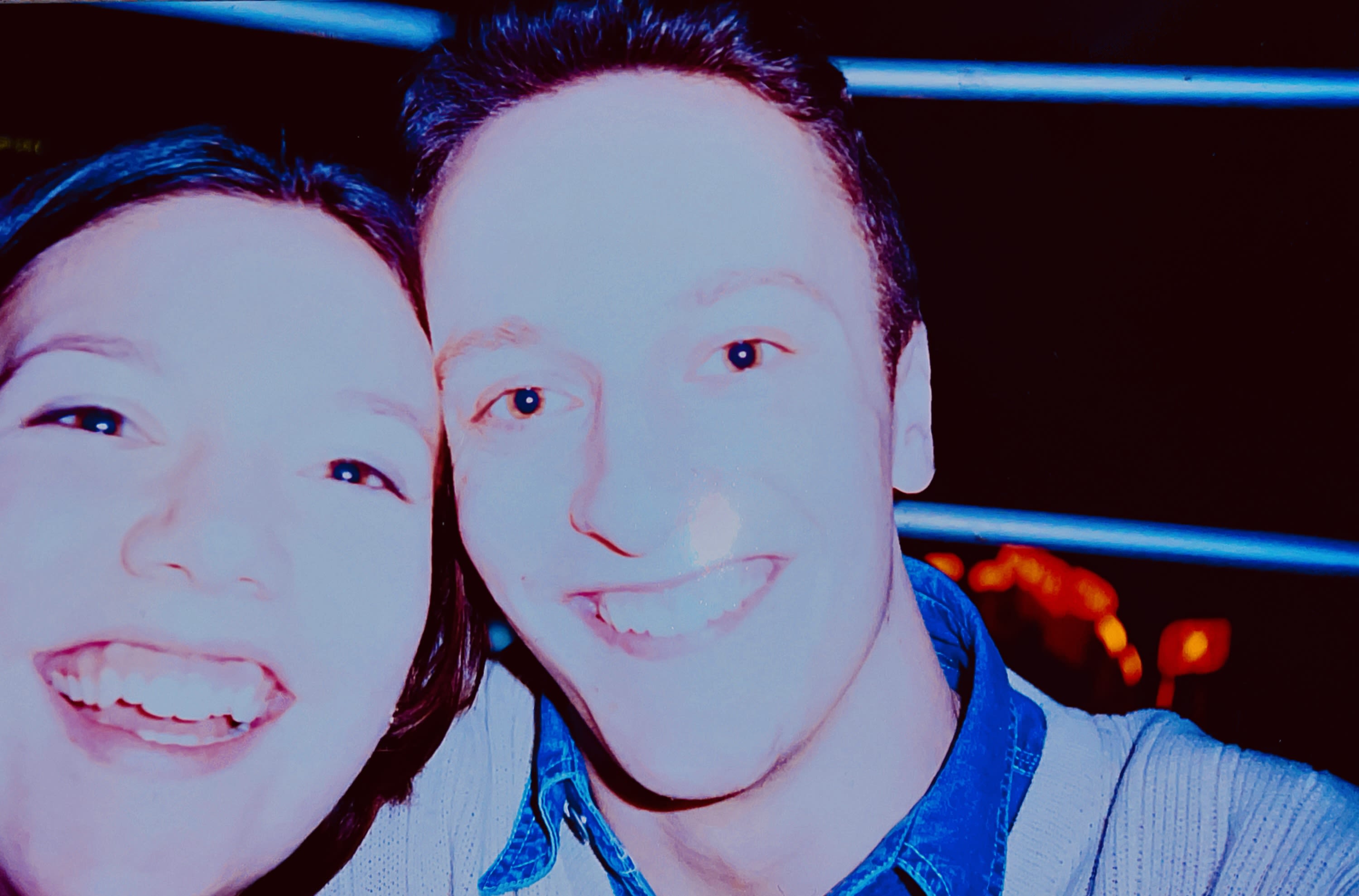 ---
Anonymous (Medical Sciences 2001)
I met my future husband in my second year at Leeds. We met at the sports fair at the start of the year - he was trying to recruit new people to the University's Ultimate Frisbee team and he signed me up. We were friends for a year and it wasn't until a frisbee team Otley Run in my third year that we shared a kiss at the end of the night.
We met again the next day at Chichini's (I may have spelt that wrong!) in Hyde Park Corner to nurse our hangovers. 22 years later, we have been married for 16 years and have two lovely daughters. We will always love Leeds!
---
Louise (Communications and Management 2000)
December 5th 1997, Marc made his move on the dance floor at the Devonshire Hall Christmas Ball. A first date to see The Full Monty followed by drinks at the Skyrack made our coupledom official and we spent the rest of our uni days together.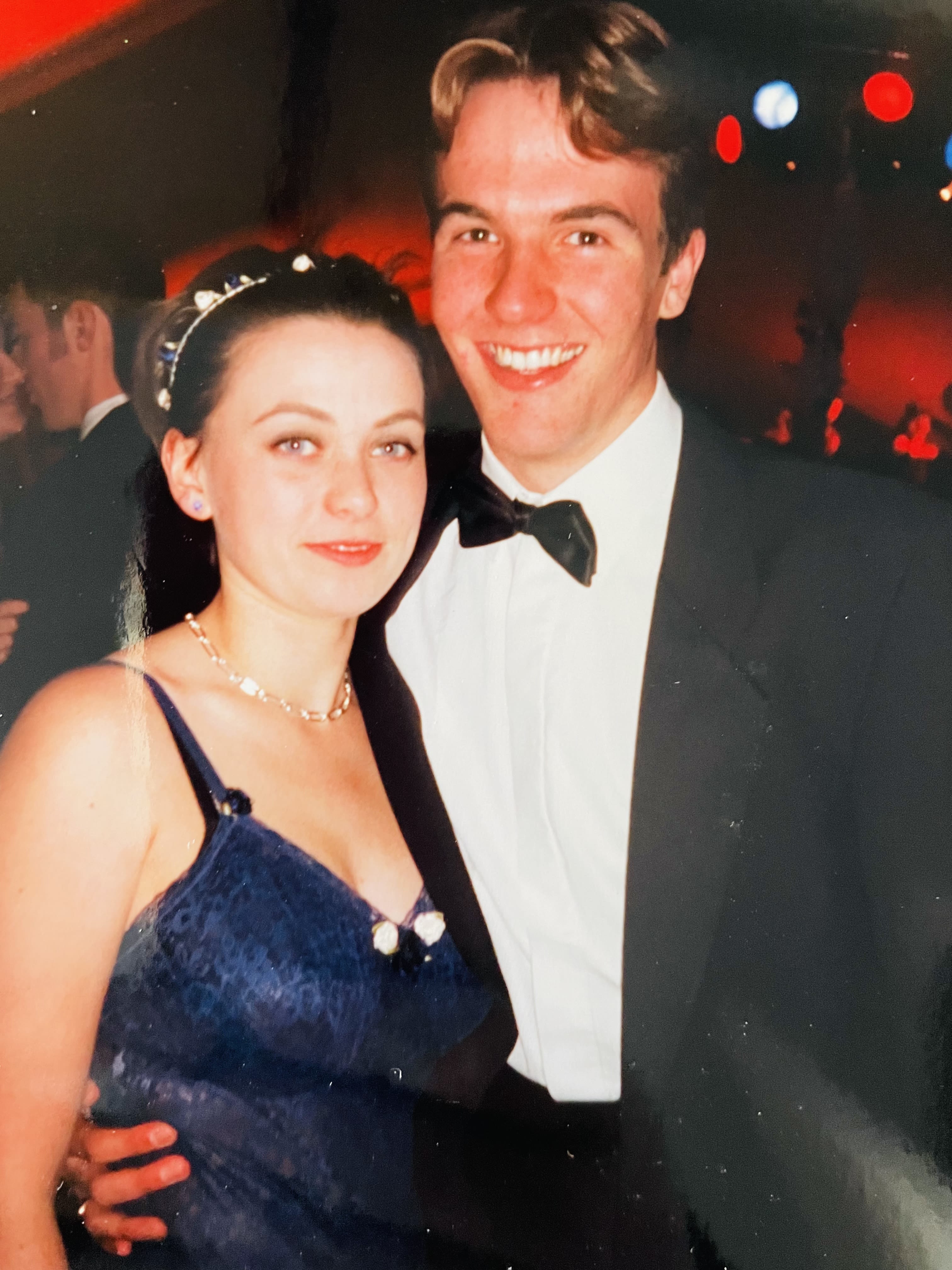 ---
Phil Dorman (Modern Chinese Studies and Linguistics 2001)
My wife, Bettina, and I met at Leeds way back in 1999. She was the year above me on the same course. We met through a mutual friend and the three of us ended up as a bit of a team. At first that was purely platonic, the two of them even tried to set me up with one of her mates at one point. But something was bubbling away under the surface.
It came to a head on Valentine's Day 2000. We were out with a big group of mates, doing our best to avoid the Traffic Light parties around town and just have a good time. It must have been around midnight that we made it to the Townhouse. After a couple of Sambucas we ended up sat next to each other on a sofa and before either of us really knew what was going on we were making out passionately...
Twenty two years and two kids down the line we're still pretty into each other.
---
Caroline Maston (Human Genetics 2001)
I met my husband in second year at uni - he was a physics student and friends with my flat mates, we were encouraged to date and love blossomed. We're still together more than 20 years later, he's my first love.
---
Dr Matt Blackamore (Medicine 2001)
As a first year medical student (last century!), I volunteered to show prospective medical students around Leeds. Trying to be cool, I didn't pay attention to where I was walking and I fell backwards down the stairs in the Worsley Building causing much amusement!
The next year I was tapped on the shoulder at a medics party by a lady whom I had shown around that day! She remembered me (and my "Only Fools and Horses" moment) and we began chatting. We have been together ever since and have been married for 18 years this year! You could say I fell for my wife at Leeds University both literally and metaphorically!
---
Ben Rouncefield-Swales (Chemical Process Technology 2001)
My wife and I met in freshers week in 1998 and partied together as friends all the way through university. Then, one July day in 2002, when I was studying for my Masters, we went in to town to buy a birthday present for a friend. On our way home we stopped for a drink and the rest is history! 20 years later we're still together,  stronger than ever, with three beautiful children and a cocker spaniel in tow!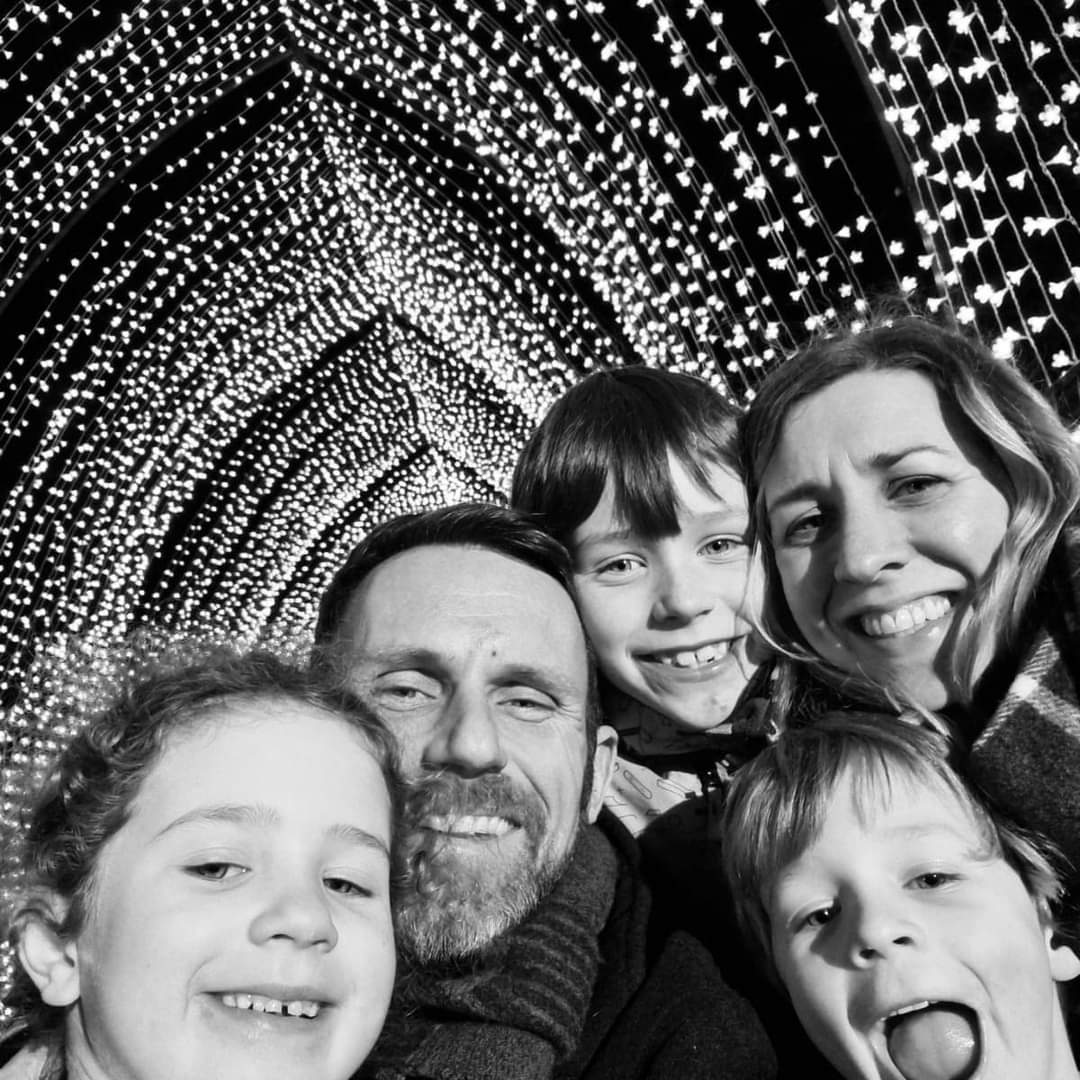 ---
Theo Potouroglou (MA Marketing & Advertising 2002)
I met Joanna in my BA course in London and by chance, we decided to do our Masters at Leeds Uni. We end up living in the same house for financial reasons. That helped us come closer, know each other better, help us better live in the area, and out of a sudden, a huuuuge love story started, against all odds!
In 2006 we got married and today we have a charming nine year old daughter Melina who has stolen our hearts and souls.
---
Ryan (Information Systems & Management 2002)
Very much a relationship of convenience, I went out with a girl I met in freshers week who lived directly above me in Lupton Flats. Just a stone's throw from where the body of the Yorkshire Ripper's last victim was found, the omens weren't great. 22 years together, seven married and two kids later, I think I might like her.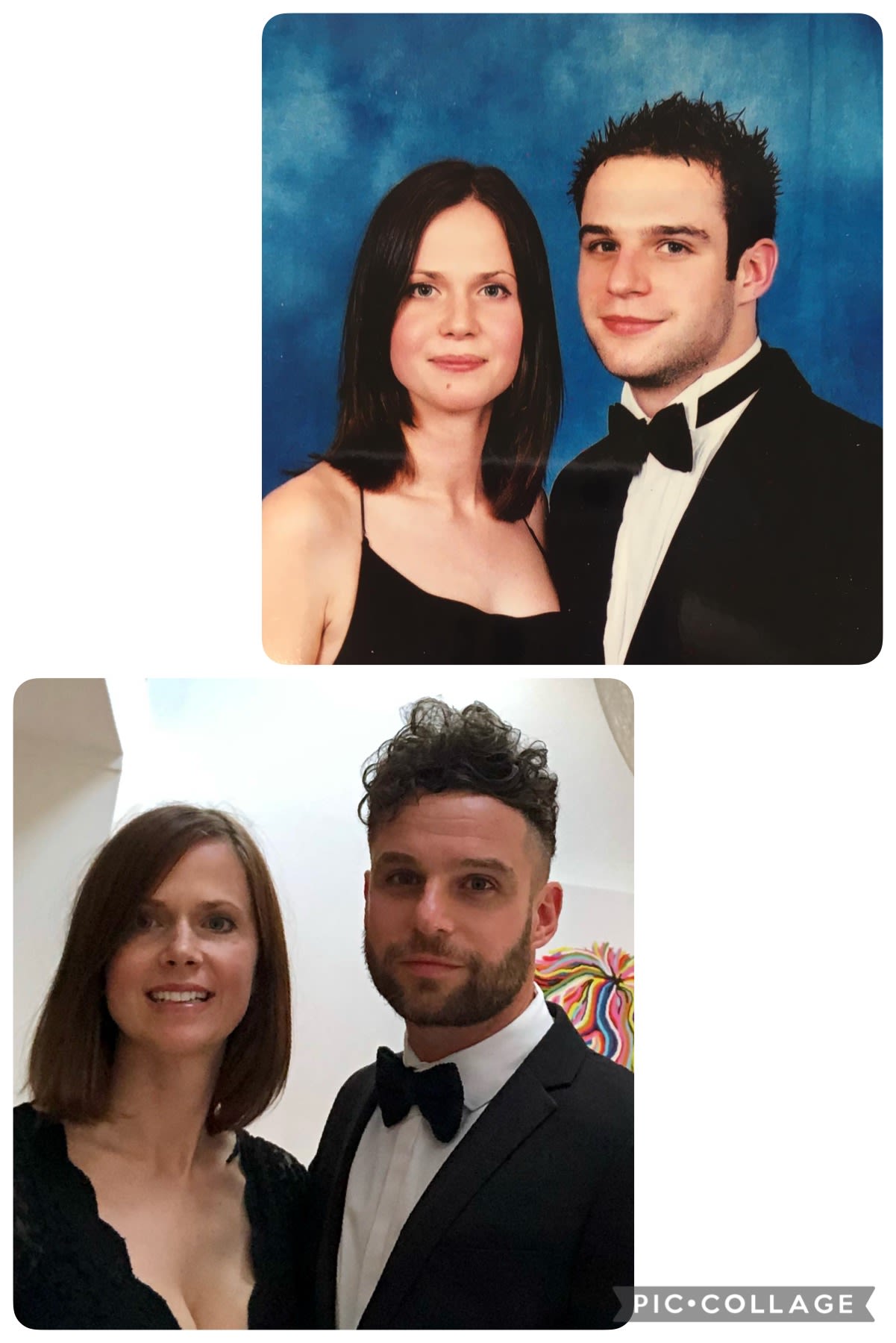 ---
Helen Harcus (Diagnostic Radiography 2002)
Upon deciding to opt for a course in Diagnostic Radiography for my degree, i started to look around at Universities. My first interview was at Liverpool University, and whilst there i met a fellow 17 year old waiting for his interview, James. My dad and his mum got talking and kept each other company whilst we had out interviews. After a lot of decision making and other university interviews I finally opted for Leeds as my first choice.
The first day of lectures loomed and i was incredibly nervous. I made it to the lecture theatre in the Baines wing, proud of myself. As other students started to arrive and file in, low and behold, so did the boy i had met at Liverpool a year earlier! We exchanged hellos and became friends.
Throughout our three years on the same course at Leeds we had fun, went out in groups of friends, but never romantically! Although James did ask me to date once in our third year and I insisted i had too much work on.
However, we both graduated and qualified and got jobs in the Leeds Teaching Hospitals Trust and moved into a large shared house together. We spent more time together, got to know each other and became a couple.
Fast forward many years, we married in 2006 and had a daughter in 2009, with many old friends from the course attending the wedding, with one of them our daughter's god-mother.
We both developed from radiography into the education side. I started lecturing on the Diagnostic Radiography programme at the University of Leeds in 2006, whilst James went to Sheffield Hallam. In 2018 a post came up in our team and this was swiftly filled by James.
We now work side by side on the campus where we met, undertaking teaching on the course where we developed as friends. You couldn't get a better outcome from a degree at Leeds University-our careers and our love!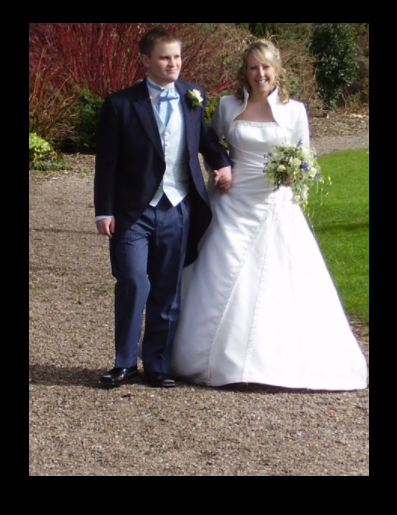 ---
Bertrand (Modern Chinese 2003)
In our third year in Modern Chinese, a new girl joined our course, she was French like me so I guess that was a starting point. We became very good friends, almost failed our Japanese option as we kept missing it to have coffee together, and I've lost count of the number of hours we spent on the Parkinson steps!
We stayed best friends until graduation. The following Christmas I invited her over to my place in France, and we've been together since! We recently moved back to Leeds after 18 years away, it brought back a lot of memories, like a second honeymoon!
---
Pierre MSc (Environmental Engineering and Project Management 2003)
In short, I came to Leeds for a degree and came back with a degree and a wife! That says it all! In love with the beautiful city of Leeds and I loved my best days there!
---
Katarina Turnova Hubackova (Music 2003)
I came to Leeds with my boyfriend for educational stay and Leeds with all the streets, all the corners of campus, our practising playing the piano, our common trips with hiking society, our evening walks, our sore throats, common cooking, watching films, visiting library, knowing new people, learning to survive in a foreign country, unknown town - that all made our relationship stronger, deeper and maybe is the reason that two years later we've been married. That is our love story which continues until now.
---
Clare Laycock (Pharmacology 2003)
I met my husband Kevin through a house share when we were both studying at Leeds Uni 2000-2003. We've now been together for 19 years married for 16 and we have a four year old son.
We still live and work in the Leeds area and moving to this fantastic city was the best decision of my life.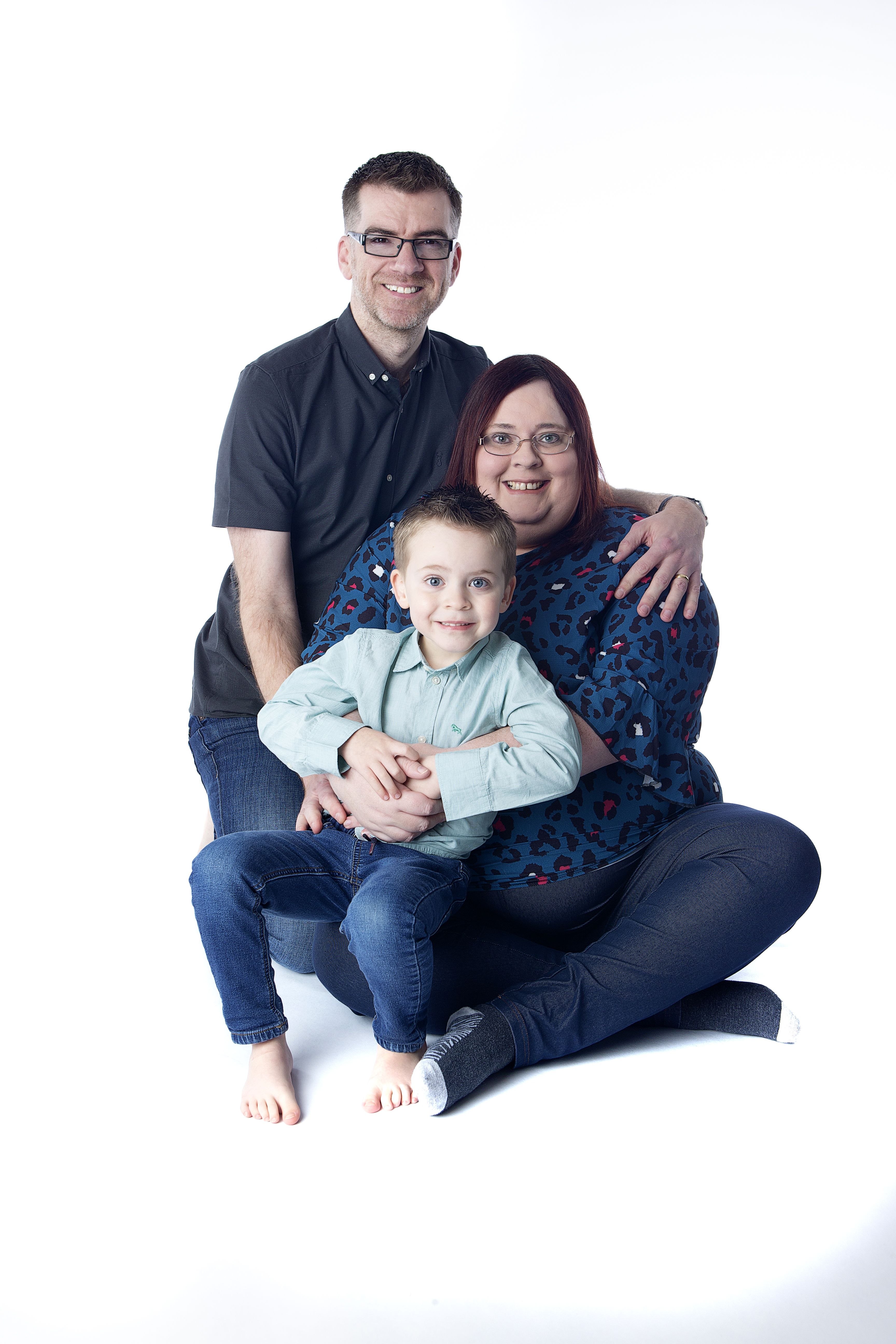 ---
Christopher Frost (Broadcasting 2004)
Jo was in the year above me (Psychology 2003), so when I asked her out after a date at Creation nightclub, and she said yes, I was proper chuffed!
We've now been married 17 years and have 2 kids. I'm now doing my Masters at Leeds and lots of memories are flooding back.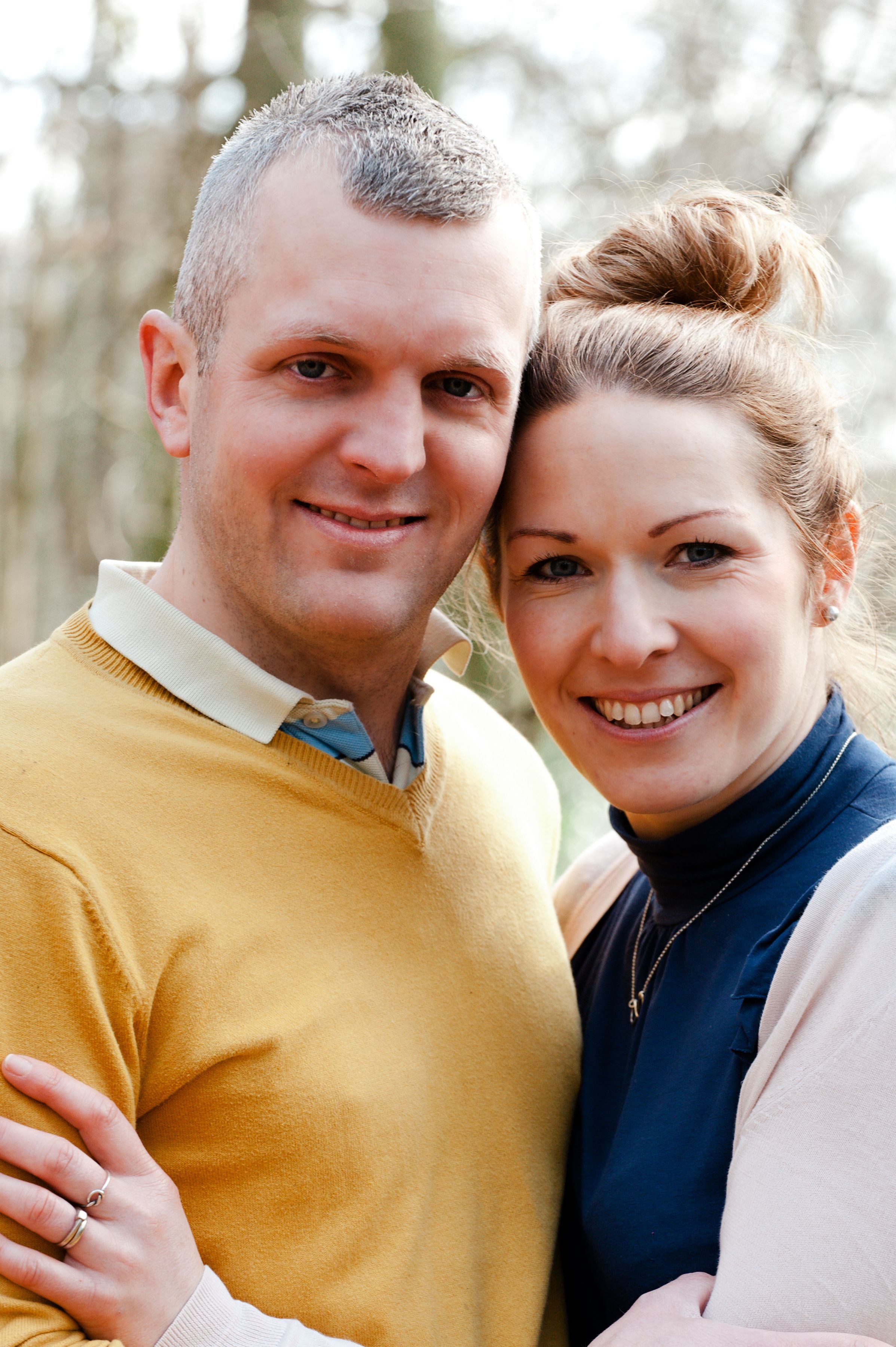 Laura Faulkenberry (Geology 2004)
I met my husband, Robert, at the Cardigan Arms on Kirkstall Rd in 2001. At the time, he was the younger brother of my fellow PhD colleague and office mate. He said to me before the pub that his brother was shy so don't expect much chatting. That was a challenge.
So at the Cardigan Arms I order a beer and he orders a Smirnoff Ice or something similar and we started talking. Three years later, I saw him again at his brother's wedding and we flirted. Three years later I saw him again when Robert, his brother and SIL visited me in Calgary Canada for a skiing holiday.
I started emailing Robert and we started meeting every few months in Europe or North America. Three years later, we were living in Houston and got married. 12 years of marriage and two kids later - I guess it must be love. I love sharing this story. Thanks.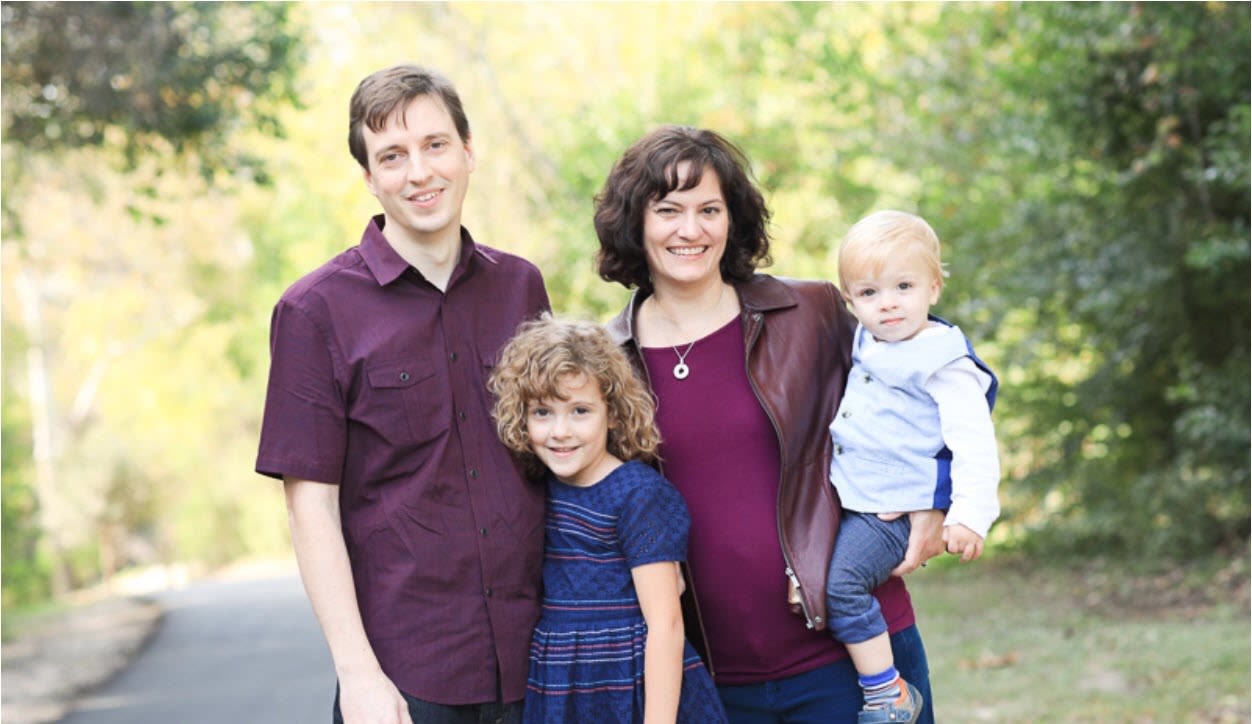 ---
Alex Buchan (Electronic & Electrical Engineering 2004)
Towards the end of our 2nd year at Leeds, my housemates and I were celebrating by doing the Otley Run. My twin brother was also at Leeds and his then girlfriend (now wife) brought her housemates out to meet us.
That's where I first saw Faye who I instantly fell in love with. Thanks to the numerous pints I was able to speak to her and we hit it off and by the Eldon were getting on like a house on fire. This was 2001, we were married in 2008 and now have 2 children, Alfie and Agnes. My wife likes to say we met in the Library at Leeds so that is semi true being the pub name also.
---
John-Paul Bell (Economics 2004)
As a skint student, I was always on the look out for a way to make a bit of extra cash. One such way was when the business school asked for people to give tours and show prospective students and their parents around the University, sell it to them and answer any questions.
I got paired up with a blonde (and pink!) haired studded belt wearing "rock chick" on one of these and we really got on well.
Nothing really progressed until the final tour when she offered me a lift home. I declined as I needed to pop to get some milk, however she managed to entice me to her car as her housemate had left some in there earlier!
At the end of the 30 second lift (I lived at the bottom of Royal Park Road, she was parked at the top), we shared a tender moment, looking in to each others eyes...then she asked me why I was looking at her like that, I said goodbye, got out of her car and that was it!
After I got back in to my house, I asked my housemate to slap me a few times around the face as I couldn't believe I'd probably never see her again - this was the pre-Facebook era.
However, I decided to be bold and asked the chap at the Business School organising the tours to pass on her email address (pre GDPR as well!)...after promising I wouldn't stalk her, I sent her an email, she thankfully replied and here we are 18 years later, married for nine years and with two children!
---
Sarah (Spanish and Linguistics 2005) and Phil Smith (Theology 2005)
Phil and I got together in Feb 2002, I can't believe it was 20 years ago! We were in first and second year, and I was studying Spanish and he was studying Theology. After some funny near misses where we could have met but didn't, love brought us together while dancing the night away at hi fi club, and being distracted by one another in the CU!
Despite the fact we grew up 40 mins apart from each other in Scotland as young kids, it was Leeds Uni where our paths crossed! So we had many dates and adventures around Leeds and the Uni, and even a long distance year while I studied abroad in Peru. 
Our time at the uni ended in 2005, but with a beautiful proposal at the time of our graduation it was really just the beginning. We've been married now for 15 years and enjoyed living in different places but are back in Leeds now. We still enjoy coming up to the Uni for a coffee and a reminisce and showing our two wonderful children where it all began!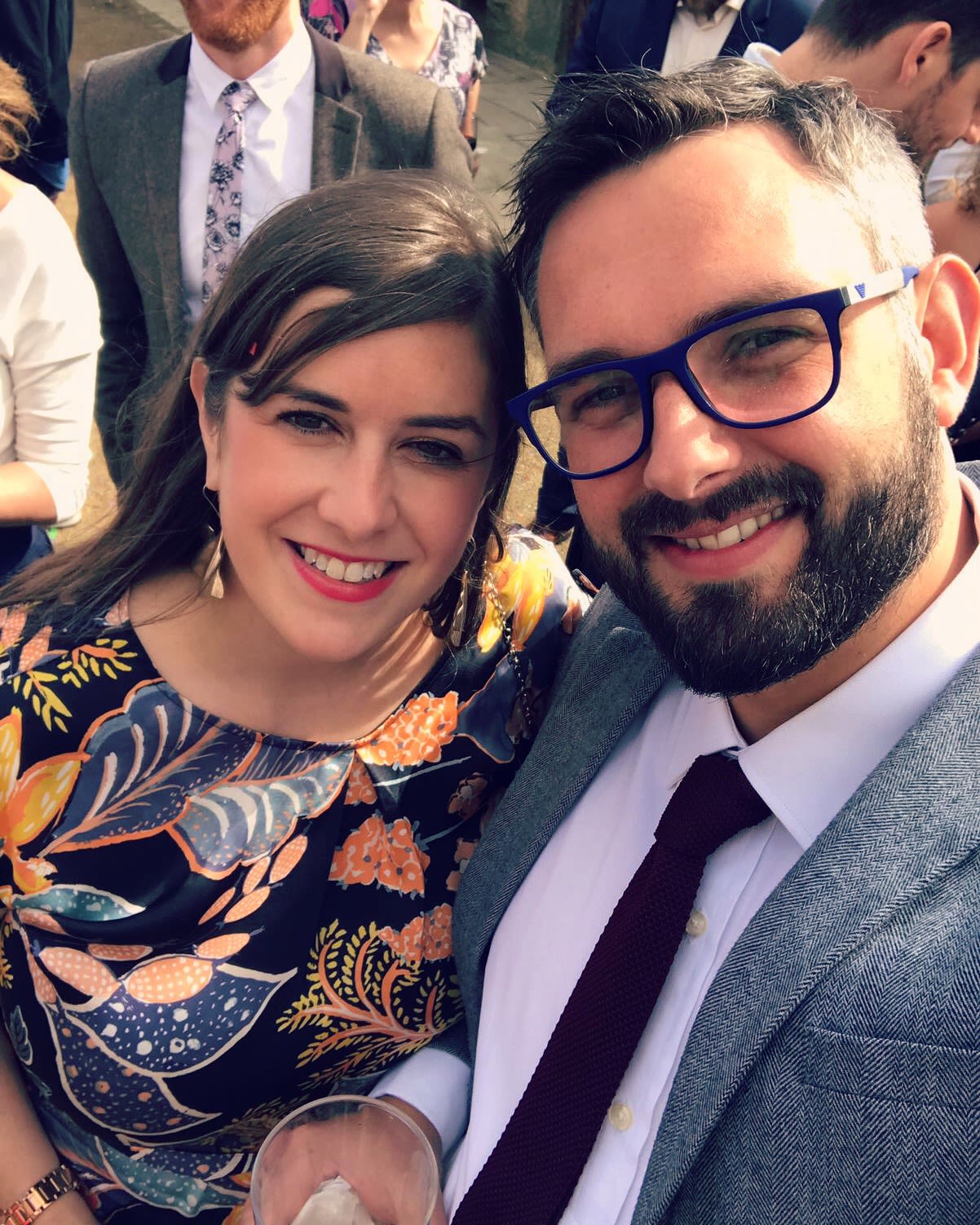 ---
Mishbahuddin (Hospital Management 2005)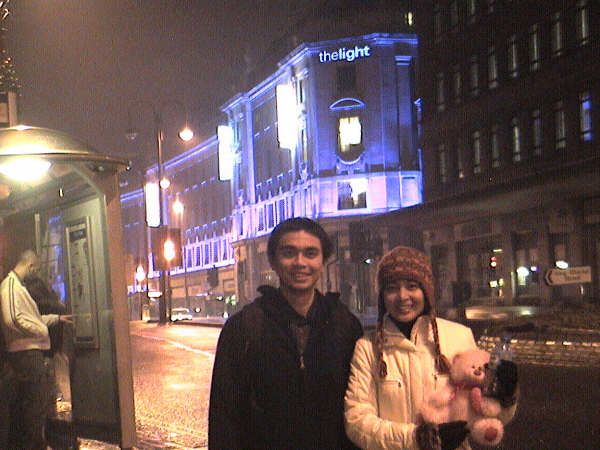 I asked my wife to visit Leeds city to accompany me when I studied Master's Degree at the University of Leeds. We were living together, shopping at Morrisons, watching the movies at The Light, and looking around at the City Centre.
---
Femi Daodu (MSc Fire and Explosion Engineering 2005)
I got married in January 2004. In September. The same year, I was admitted to Leeds for my Master Degree in Fire and Explosion Engineering.
This was challenging on the young marriage. Against common sense, I eventually did the responsible thing by asking my wife to join me in Leeds for the winter.
A typical winter day went like this: She was bored and wanted to watch TV. I was studying. We arrived at a solution. Get earplugs for her to use with the TV. That worked for a bit - the problem was: she was laughing sporadically- she has a loud laughter - and I was distracted - it turned out every time she laughed at something funny on TV, I needed to find out what it was about.
We discovered the gender of our upcoming child on a dark winter day in Leeds: When she went into labour in London, I was neck deep in my projects and had to take permissions - took the  four hour, £1 bus journey from Leeds to London. I was lucky to experience the delivery- I scarcely knew my way around London but boy did I try? - walking, running, bussing, mapping..!
It all worked out: I graduated with a distinction, we are still married and our daughter turns 17 this February. We have a son - who was not born in Leeds - therefore, his will be a story for another day.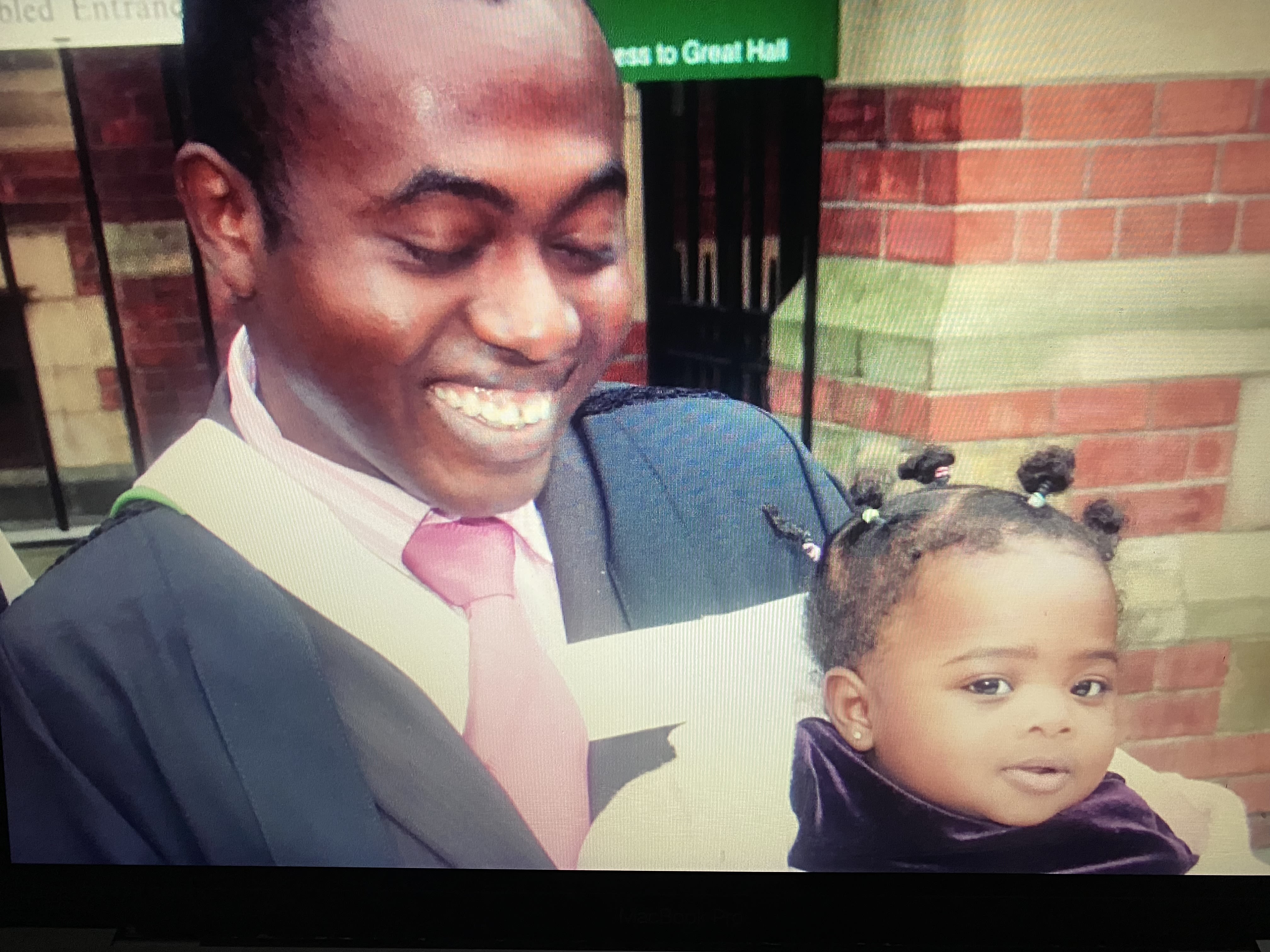 ---
Simon Hawkins (Chinese and Asia Pacific Studies 2005)
I met my wife Sophie in the first week of our first year at Leeds in 2001.
We were classmates, studying Chinese, and while it was love at first sight for me, it took a few months to convince Sophie to give me a shot.
We stayed together (mostly) throughout our four year degree course, during which time we ate countless delicious sandwiches from Bakery 164, had too many late nights studying in the Brotherton Library and spent many happy evenings dancing at HiFi Club. We also made an amazing group of friends for life.
After graduation in 2005, we both had stints in Shanghai, London and eventually Hong Kong, which has now been our home for more than 13 years.
After getting married in 2012, we had two kids, Natalia and Hugo (both of whom are more reluctant students of Mandarin than their parents!).
We have such wonderful memories of Leeds and our time there was truly life changing.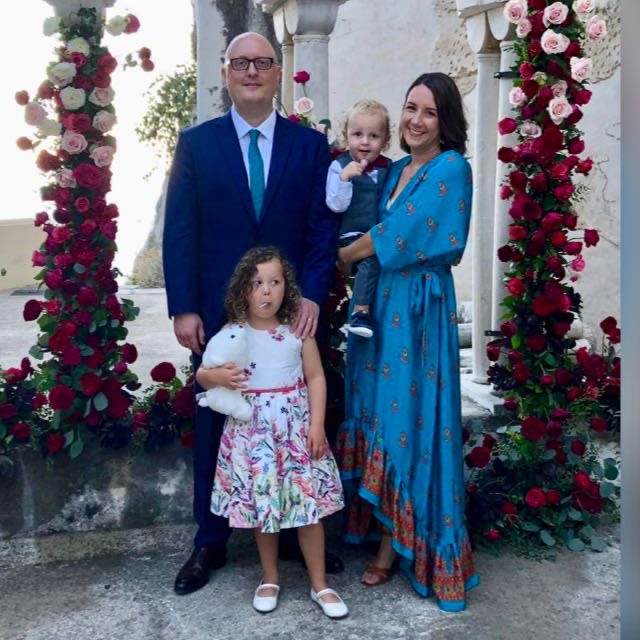 ---
Kat (Spanish 2006)
Met my now husband through a mutual friend on Briggate, in 2005. We bonded over a love of music and the punk rock scene in Leeds. We've moved away from Leeds to other UK cities, and even lived abroad, but the city has drawn us back this time with our little one in tow. Leeds holds a very important place in our hearts, and we are so happy to see our child loves the city too.
---
Daniel Strosnider (Sustainable Development 2007)
It was autumn term 2006. I had started my Master's course in the School of Earth and Environment, and had a joint seminar with the Religion and Development Department.
On the first day of the seminar, I saw the most beautiful girl I had ever seen. She was on a completely different course, from the UK (I was an international student) - the smallest of chances we would ever meet - but we did and I fell in love that day. Two weeks later she(!) asked me if I wanted to grab lunch and a coffee, and we sat on Parkinson steps. 
We've never been apart since. Engaged in 2007, married in 2008, children in 2013 and 2015, and still best friends - all thanks to our time at Leeds.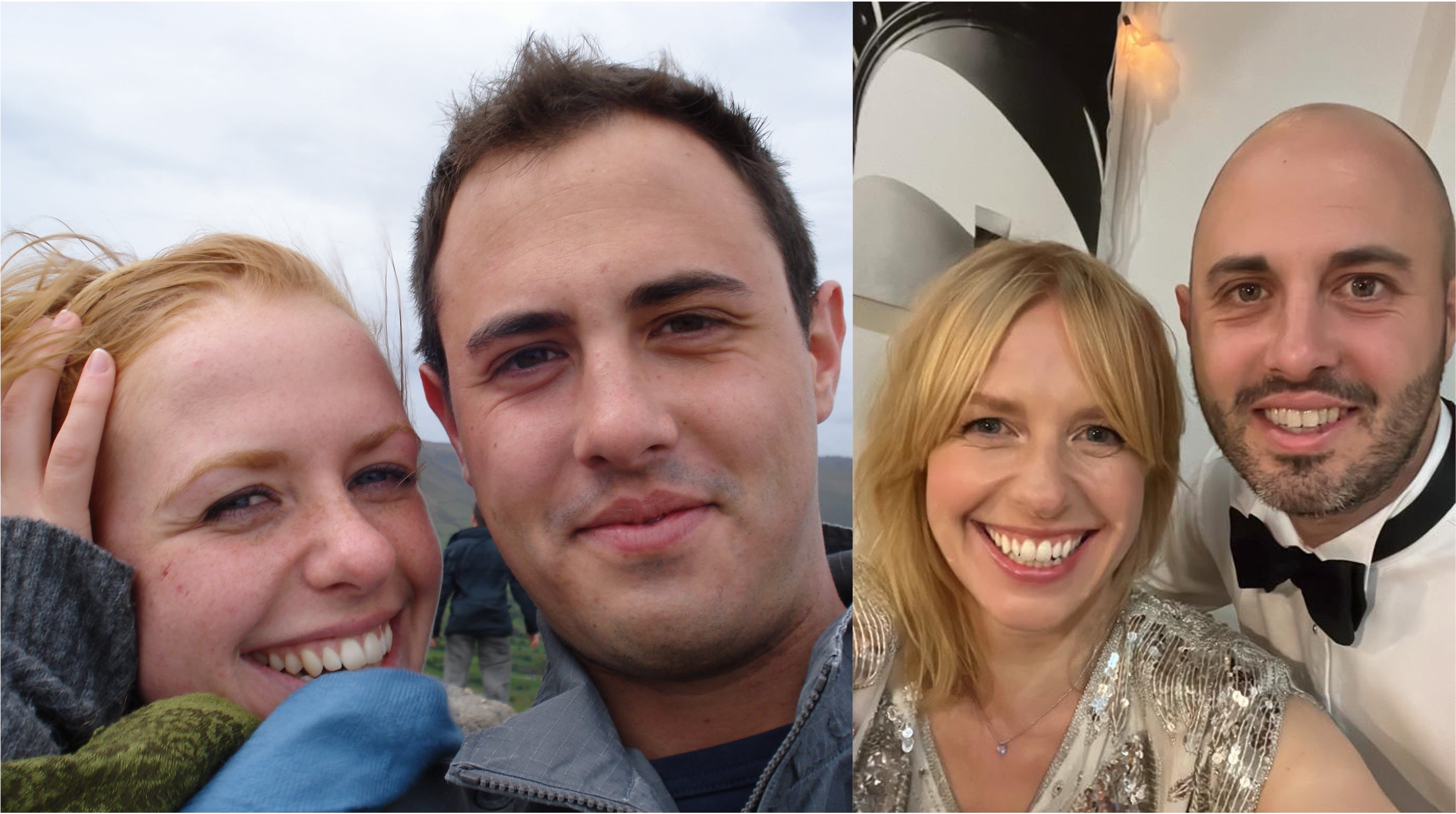 ---
Tacita Croucher (Biochemistry & Microbiology 2008)
Adam and I were in the same joint honours programme. When we first met in our first orientation seminar I was pretty sure he was still merry from the night before.

We became good friends, but it wasn't until a mutual friend gave us a kick in second year that Adam made his move. We then spent a year apart as Adam did an international year in California & I did an industry year. But our love grew and we first moved to Sheffield to do PhDs & then Cambridge for work.

We married in 2017 & now have two beautiful boys keeping us on our toes.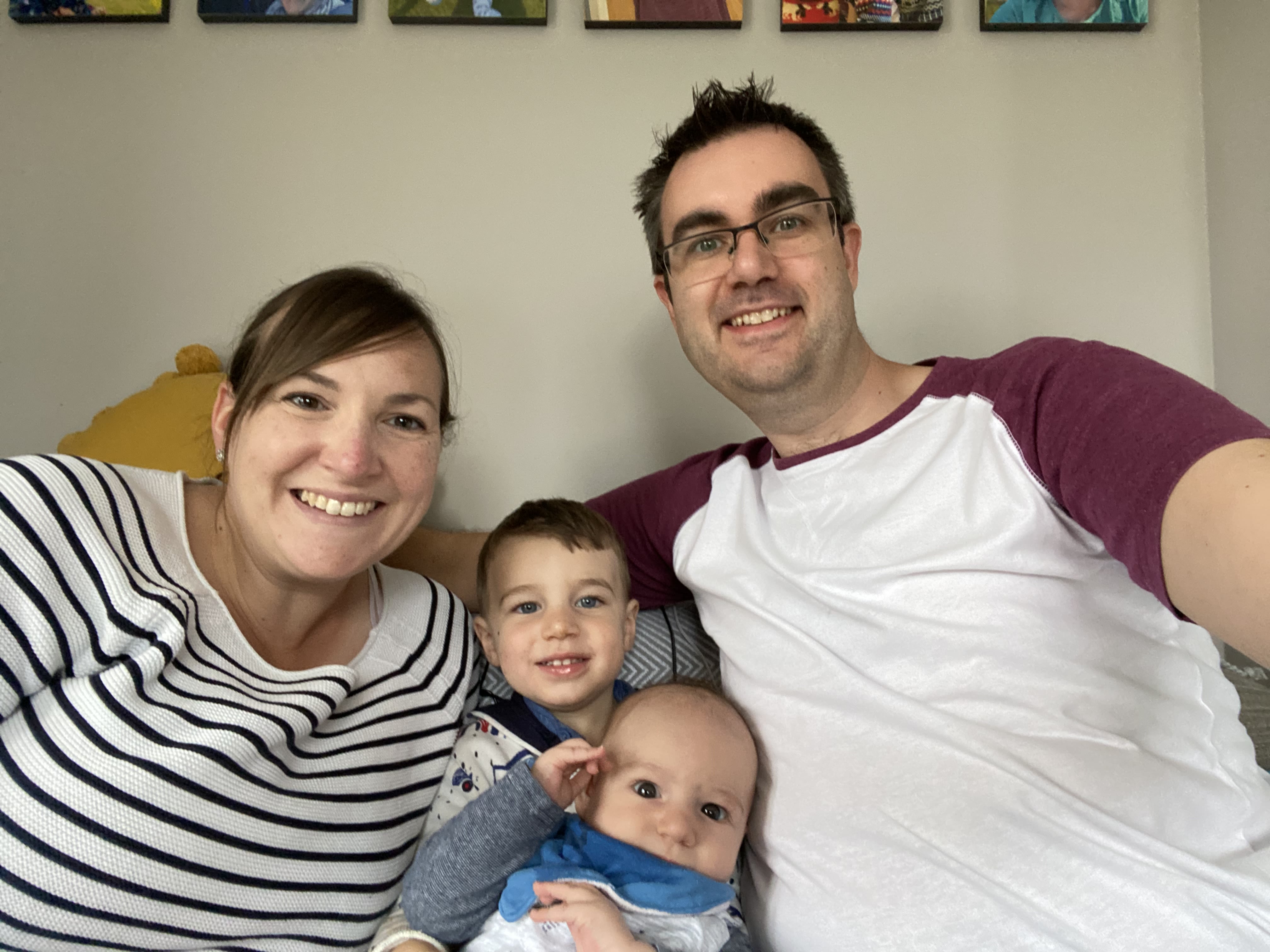 ---
Karan Kumar (MSc International Marketing and Management 2009)
Leeds is the place where I met the love of my life and we are happily married now for over a decade with a six year old boy as well.
It all started when i first saw her back in 2008 October and we got a genuine hatred vibe from one another. Yes, we were not even friends but genuine enemies and dared to come between each others way didn't like each others habits, way of going about things.
We had a serious hate relationship until Feb 2009 when life took a spin with various series of events happening too fast and we finally became friends and by Valentines Day 2009 we had confessed to one other how madly we had fallen in love for each other.
This is the place where you become independent and realize how unpredictable life can be. From hating someone to the core to falling head over heels for the same person within a span of months this is life. For all the years I have lived so much in my life the one year at Leeds University is greater than all the other years. I wish i could re-live that one year again. Happy Valentines Day. Hope you too find the love of your life here at Leeds.
---
Laxmi Keerthana Ramasamy (Food Science and Nutrition 2009)
I'm from southern part of India. Joined the course in 2008 September. I was planning to send gifts to my mum for Mother's Day and hence was trying to find out if anyone is leaving to India for spring vacation. Through a mutual friend I met my love of life, my husband, Calvin.
He was pursuing embedded systems in the same uni. He visited my home to get the things. Unforgettable moments. This first meet was so special and magical. He felt this in the same way. After graduation we were working at different locations and yet felt the connect was so special and realised we couldn't stay apart forever.
We got married in India in 2012. Blessed with two children, Nithin and Nikita and happily settled in Somerset.
Leeds University and the city is always to close to our heart , number of beautiful memories. In fact for our first anniversary we visited University and the city as we would like to rewind the past and feel those moments.
St. Marks accommodation, Hyde park, library, food science dept, engineering dept, takeaway shops in front of the Uni, and lot more.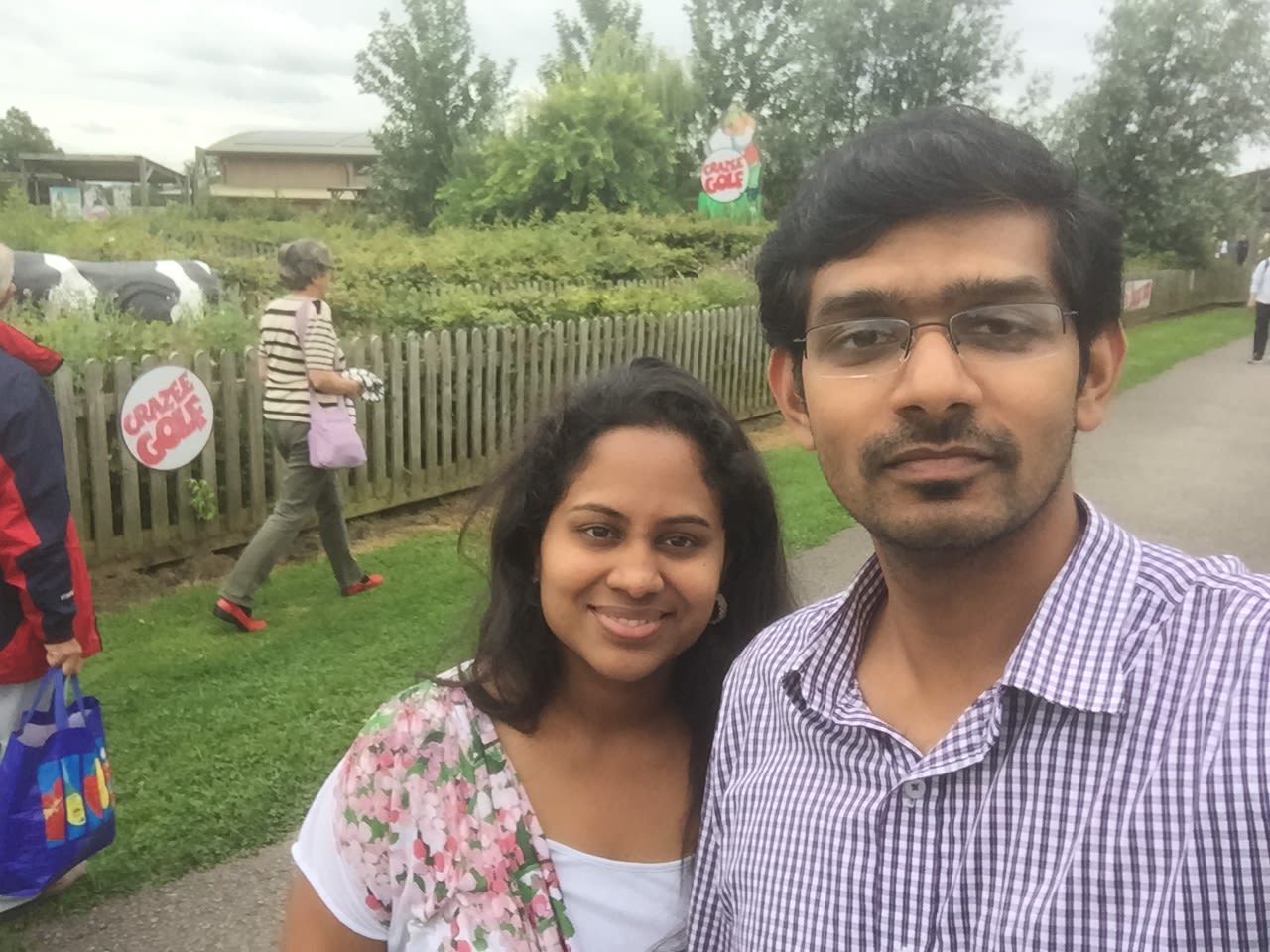 ---
James Todd (Product Design 2009)
We met on the first day of freshers in the Bod bar in 2006, we have been together ever since, married in 2019. Leeds will always feel very special for us.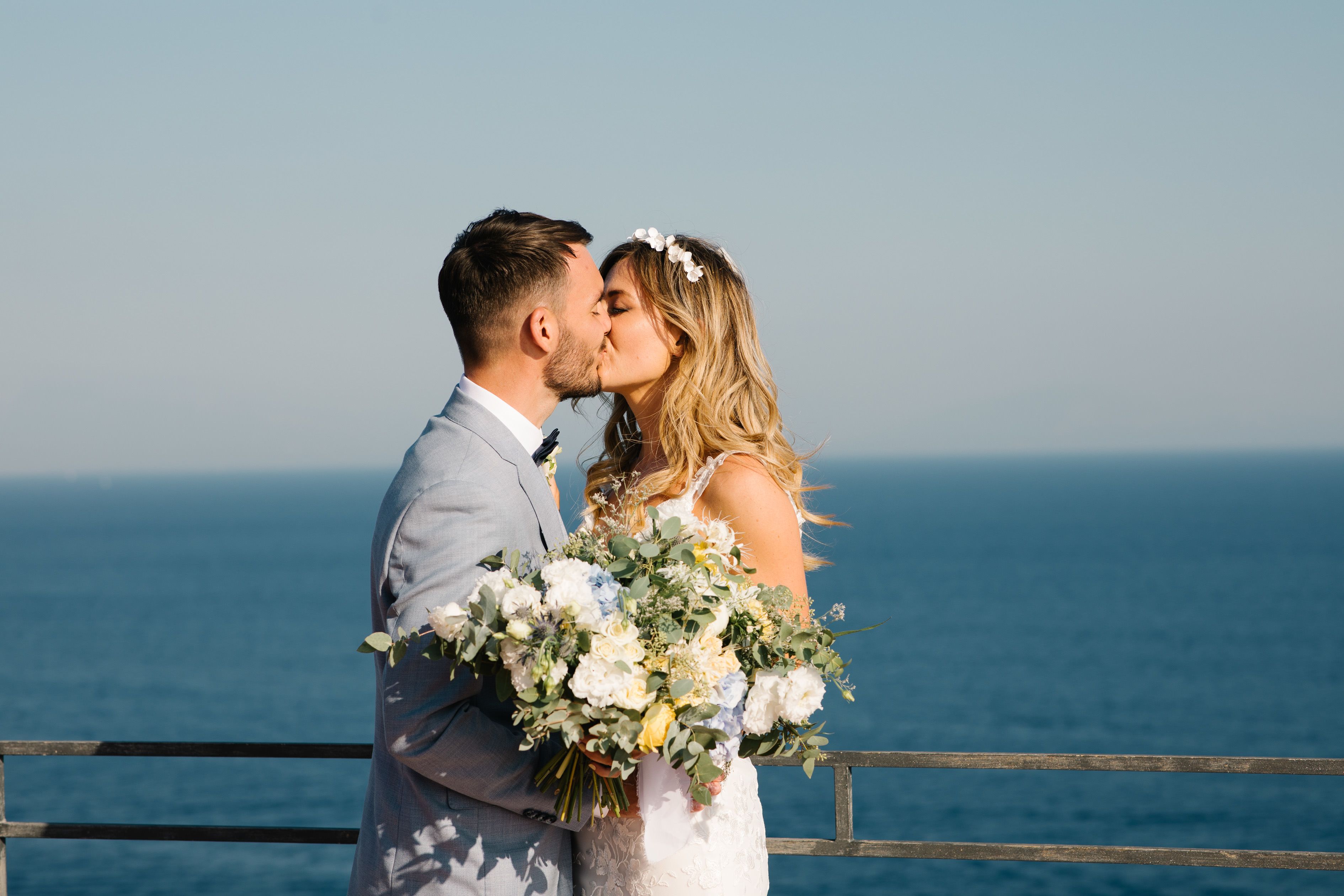 ---
Lauren (Cultural Studies 2009)
My husband & I first met in 2008 at the student haunt the Dry Dock. I worked there whilst I was a student at Leeds. It was the pub where we all congregated & it was there that we fell for one another over a terrible sounding karaoke rendition of Like a Virgin by Madonna!
Fast forward to 2022 & we've been married for almost 12 years, have two boys & a dog!
---
Laura James (English 2009)
Gerard and I met through one of my best friends at their house party in Burnley. It was a charity shop-outfit party, and it was love at first sight with Gerard wearing women's mock croc leather trousers and me wearing an 80s floral dress. We've been together ever since but sadly no longer own those outfits.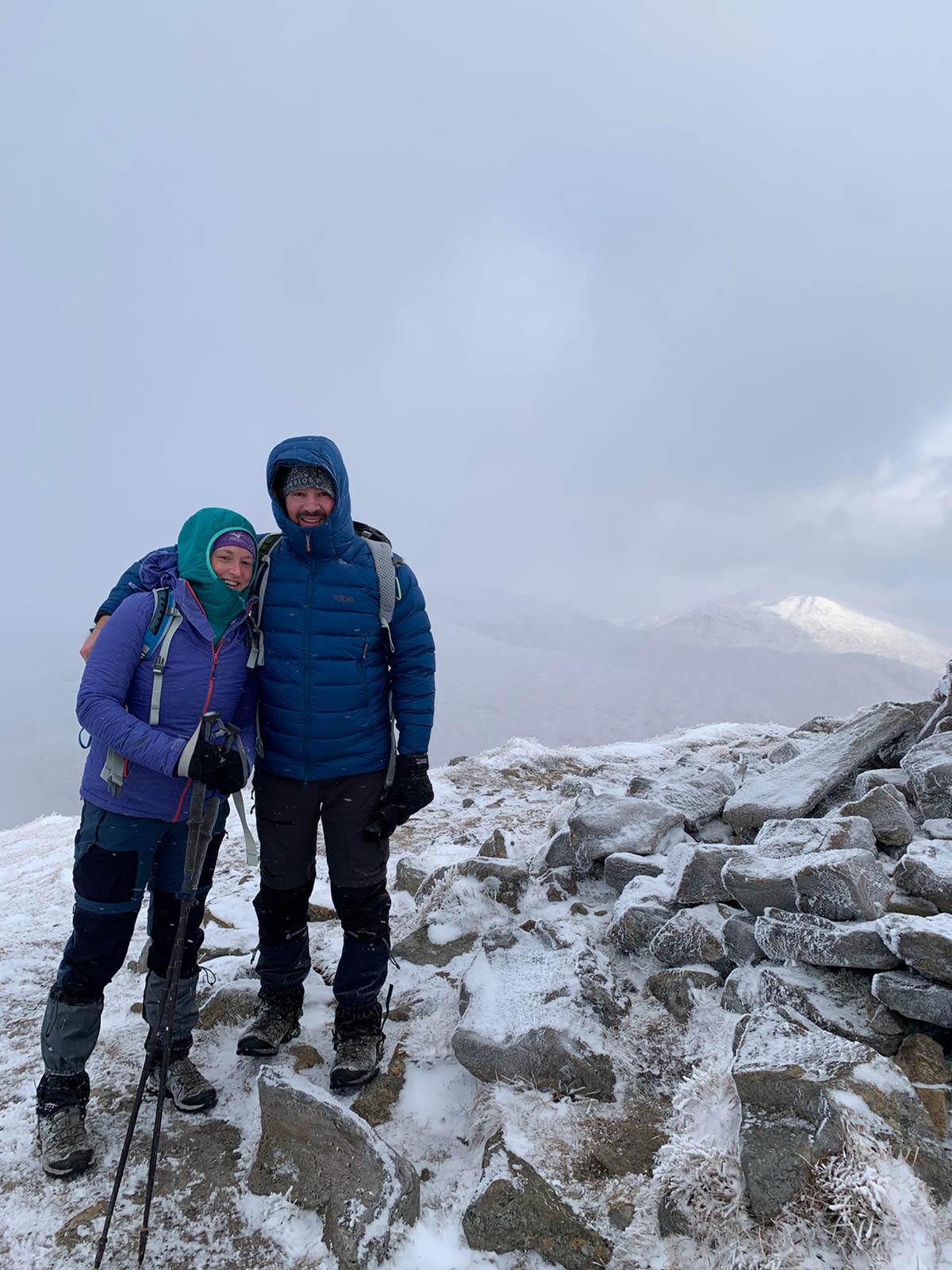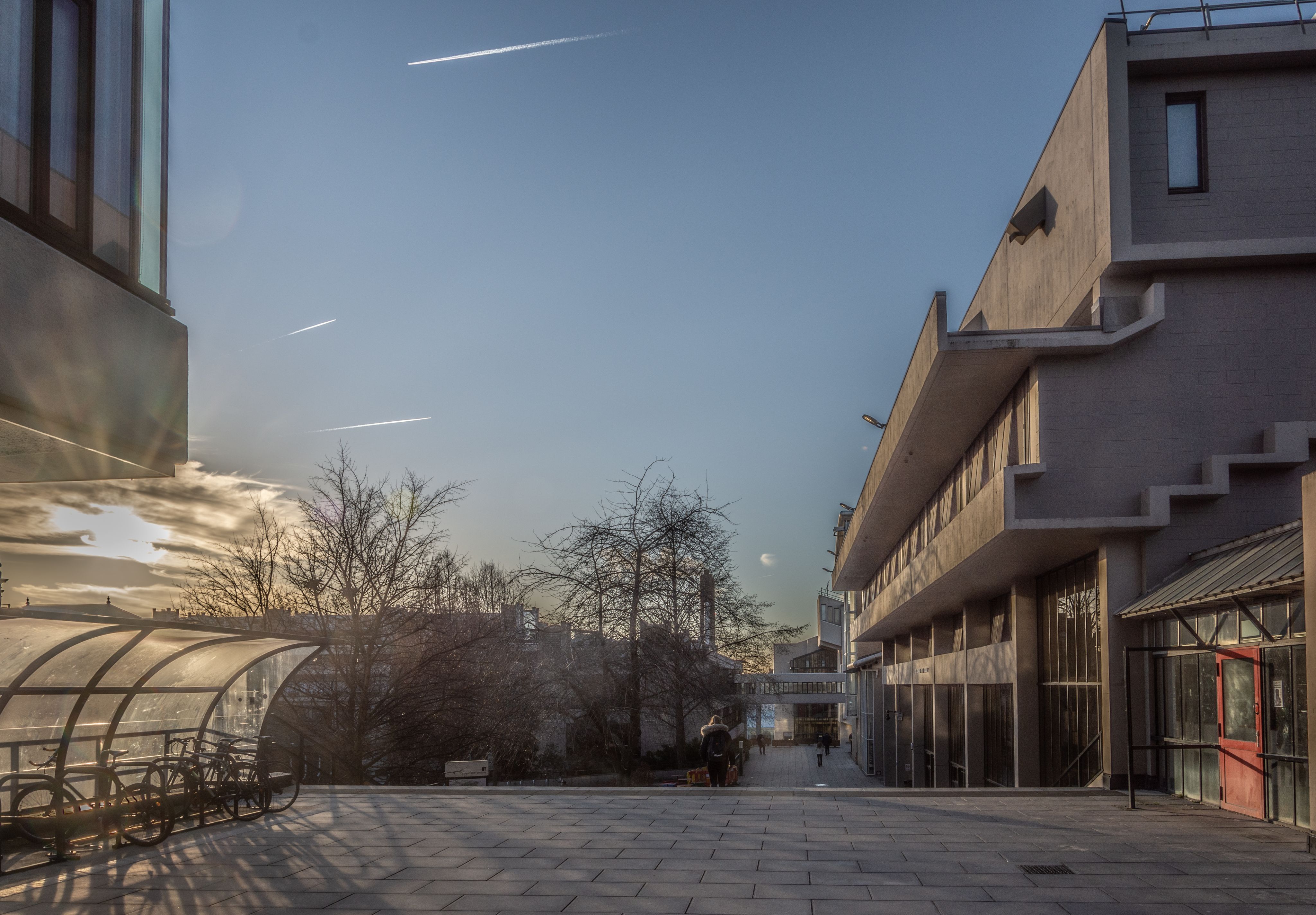 Irial Eno (Biology 2011)
Leon and I met at an anti-racist demonstration opposing the English Defence League, in 2009. We linked arms together to form a barrier to prevent the racist group marching. 13 years later our son has just turned one.
---
Laura Hui (English and German 2011)
I first met Jonny towards the end of first year, through mutual friends. We soon realised we'd actually met briefly right at the start of the year on an online platform for new Leeds University students, which at the time was a funny coincidence. We'd never imagined we would meet again.
Fast forward a few months, and again our paths crossed. We ended up sharing a house in second year through the same mutual friends, so the seven of us moved in together in Headingley. Our friendship developed throughout this time, although there was no romantic attraction at this point, at least not on my side! But I considered Jonny to be a good friend, I remember he once stayed up with me into the small hours to help me get my head around a new referencing system for a particular module. Jonny was a particularly studious chemistry undergrad with a packed schedule, and I have since been told this was a sign of his affection towards me!
Third year came and I went to Germany, he to Canada on our year abroad. We remained in touch, although infrequently. Fourth year came and we were both living at home as locals to the University. We continued our friendship, but again it became nothing more than this for some time. Graduation came and went, and we both settled into long term relationships with other people, new jobs and everything else that comes with the transition from student to graduate!
We remained in touch and would meet a few times a year for a good catch up. Then, we went on holiday with mutual friends a couple of years later. We were, for the first time in the course of our friendship, both single. We spent the majority of that holiday together, sharing a car to get there which in hindsight I think Jonny had engineered to be the case!
Anyway, it worked and we both realised there could be more to our enduring friendship - he invited me out one evening not long after the holiday ended. Three months later, we were living together and two years in, we became engaged. We got married last year and we are now looking forward to the rest of our futures together as husband and wife.
An unexpected romance for sure, but I wouldn't have it any other way. The definition of a slow burner, and over a decade in the making, but our time at Leeds University led us to each other and for that I am so grateful.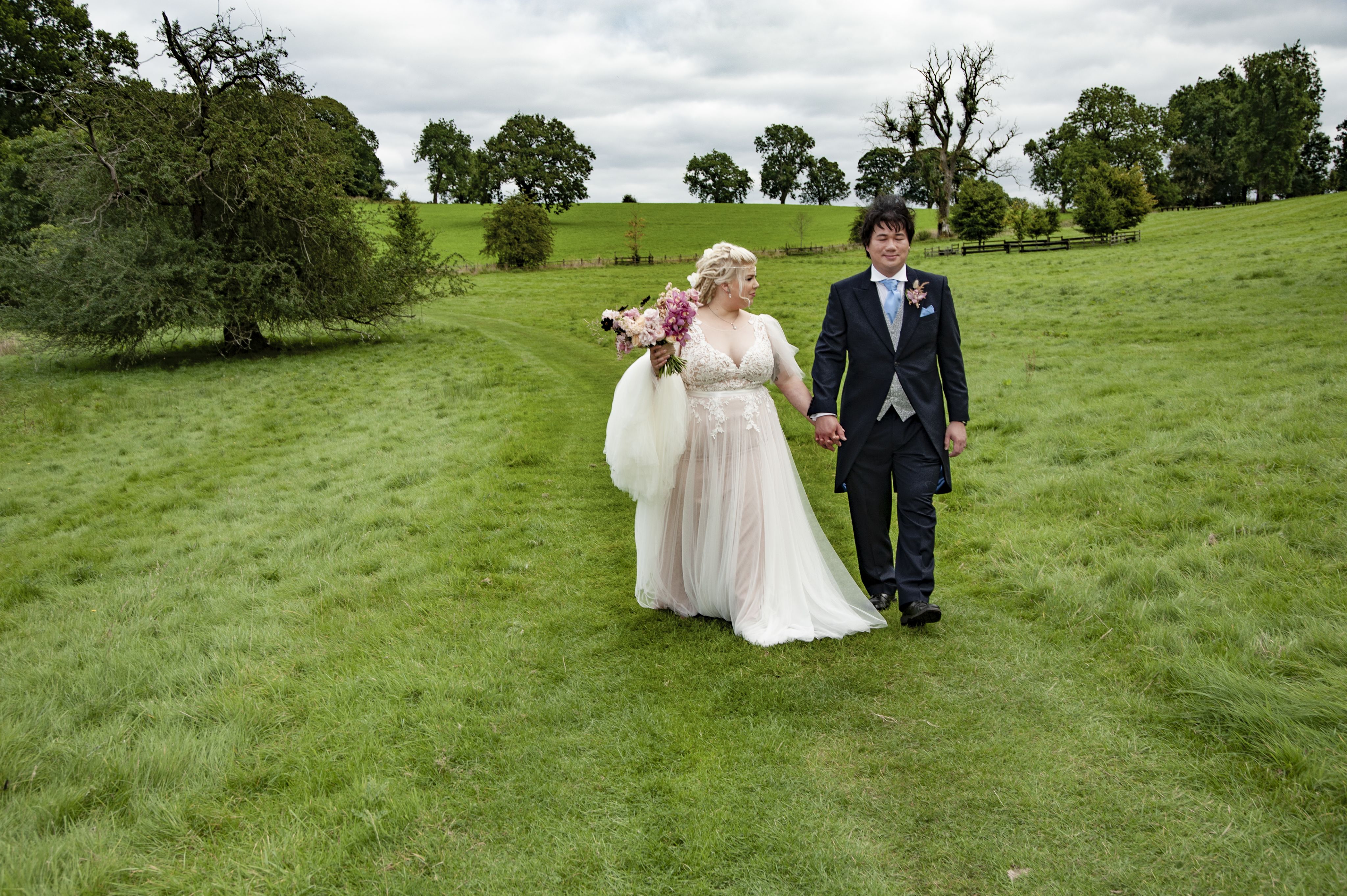 ---
Andrew Lynch (Economics 2011)
My wife and I met on the very first day we were at Leeds.
My parents dropped me off for the first time on a Sunday in mid-September 2007. I got to know my new flat mates in our dorm in Bodington Hall, we had a few drinks, and later that evening, we (and about 1000 other Bodington residents) jumped on the 95 bus and headed to Fruity at the student union.
Some time later that night, I was waiting at the bar when I spotted a girl who I thought was beautiful. I sidled over to her, introduced myself, and asked her if I could buy her a double vodka and lemonade. She smiled, and accepted my offer.
Long story short, we became a couple at the end of our first year. We've been together ever since, and we got married in September 2018. And even better, two of those Bodington flat mates were ushers at our wedding.
Thanks Leeds!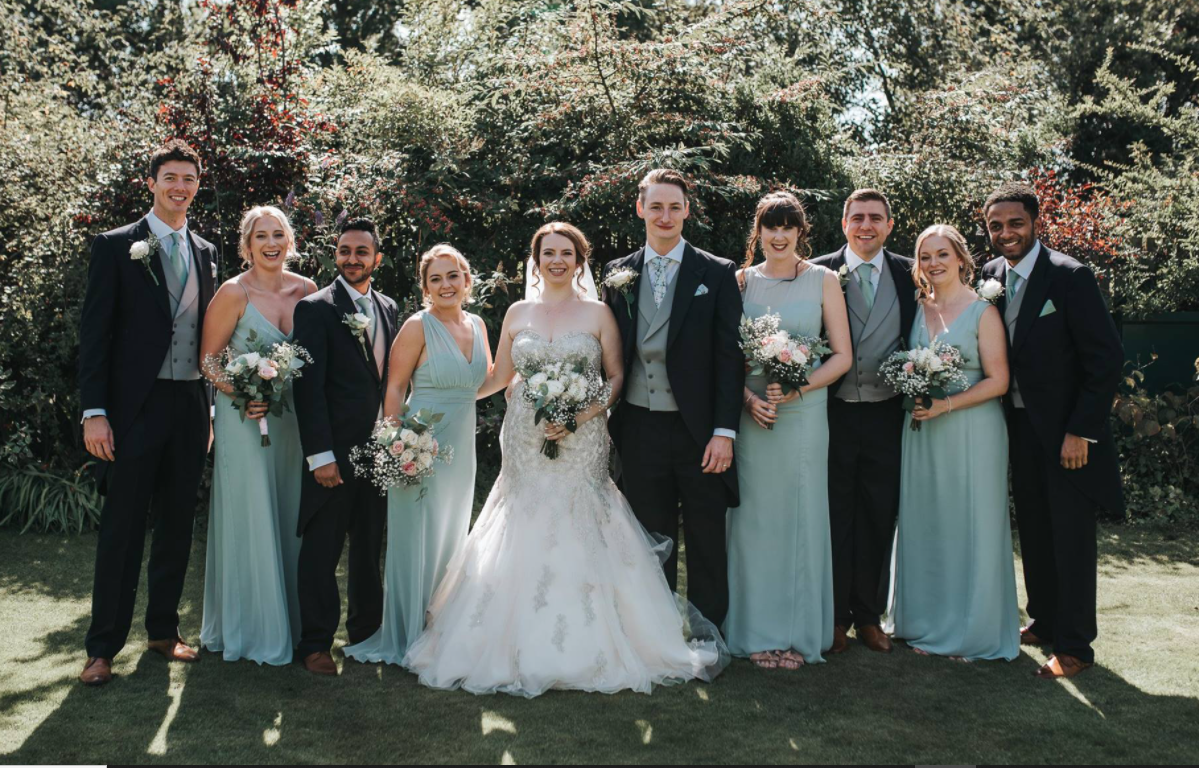 ---
Karn (MSc Management 2011)
The year was 2010 when my then-girlfriend, Beau, and I decided to further our study in Leeds. We both went to the business school where I studied management and she studied advertising and marketing.
We didn't know what was in store for us but it was those special times in Leeds that really put our love and relationship to the test - all those late night studies at the Brotherton, the jacket potatoes in the refectory and the bus rides to the business school.
On top of our study, we also worked part time at a Thai restaurant in Headingley. It was different when you just knew someone compared to when you had to live with someone and it made me realize how much I wanted to spend the rest of my life with her despite our arguments and our differences. A year after we came back to Thailand, we tied the knot. We even had our honeymoon in Leeds and now eight years later, we have two lovely children, a girl named Lego and a boy named Broadway, named after our hobbies and passion.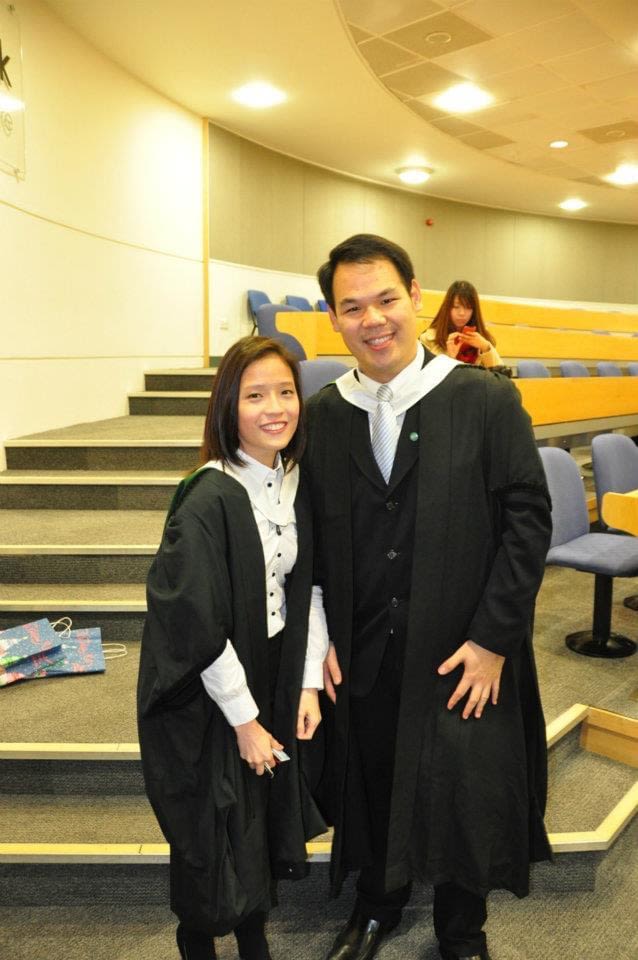 ---
Louise Bennett (Graphic Design 2011)
After completing a year in industry, in London, I returned to Leeds for my final year. During the September, I reconnected with friends, who were also in their fourth years. This included Erasmus, Masters and other year in industry students.
Me and another friend, arrived at our friends' house in Headingley and this is where I met my partner. He was a housemate living there. Strangely, we had had the same circle of friends all the way through university but had never met each other. There were even pictures of us at the same parties and nights out!
Fast forward to 2022, we are married and have just celebrated the 1st birthday of our daughter.
---
Craig Elliott (MEng Civil & Structural Engineering 2011)
The first time I set eyes upon my wife of three years (and the mother of our nine month old little girl) she was dressed as a leprechaun including red-haired face wig and full green regalia. She was having pre drinks in my Carr Mills halls with the netball Social Sec. And it's then I realised it was love at first sight.
After going our separate ways from university, but staying in touch periodically, we finally came back together in 2015 before tying the knot in 2019.
We always look back fondly on our time in Leeds and love to get back there.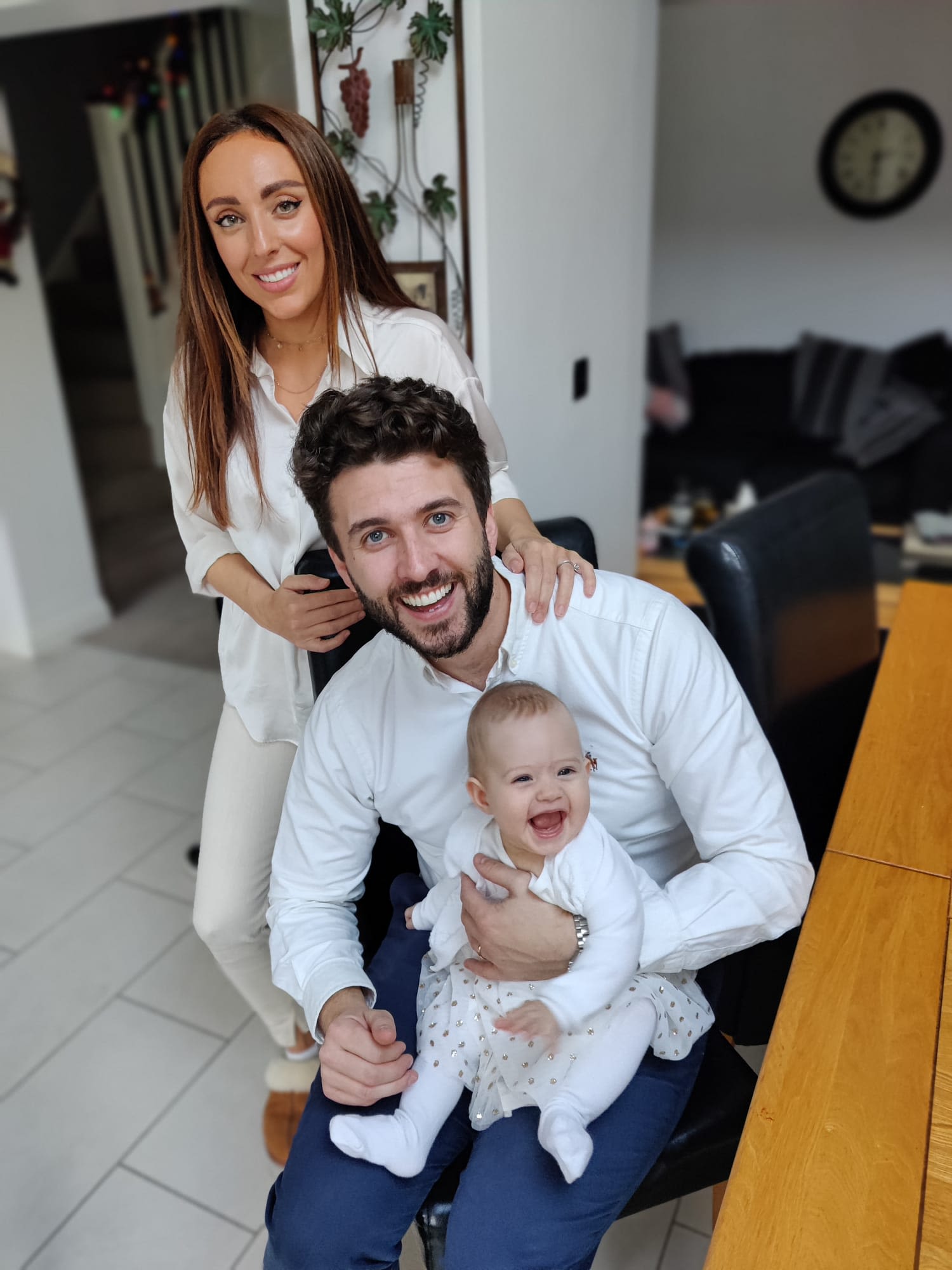 ---
Amber (Human Physiology 2012)
We met on a St John Ambulance Otley Run dressed as "you wouldn't start a night like this" (I.e. looking rather worse for wear) - a few (or twenty) drinks down and 10 years later the rest is history. We now own a house together and recently had our first child. Thank you Leeds.
---
Hayley Alcock (Geography 2012)
Me and my other half met whilst I was in my final year at Leeds. I was working at the refectory and so was he. We started out as friends and after a few nights out and a few drinks watching the football we had our first real date. We just clicked and knew we were perfect for each other. We're still living in Leeds, have recently got married and have a one year old daughter. Got to love Leeds as this wouldn't have happened if not for the Refectory!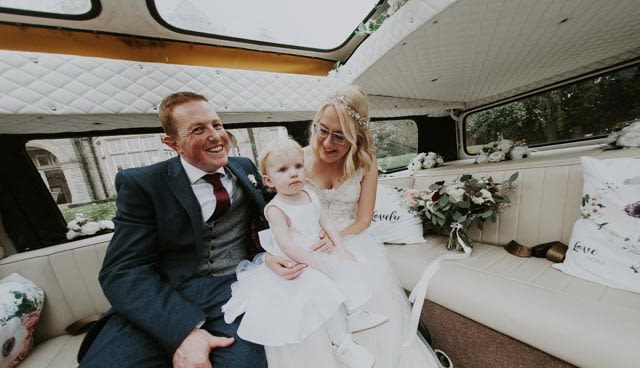 ---
Francesca Baronchelli 2012
I got pregnant on Valentine's Day in 2009, in Leeds. I was an exchange student from Italy and I met my daughter's father at Leeds. We are not together anymore but we are still in touch of course.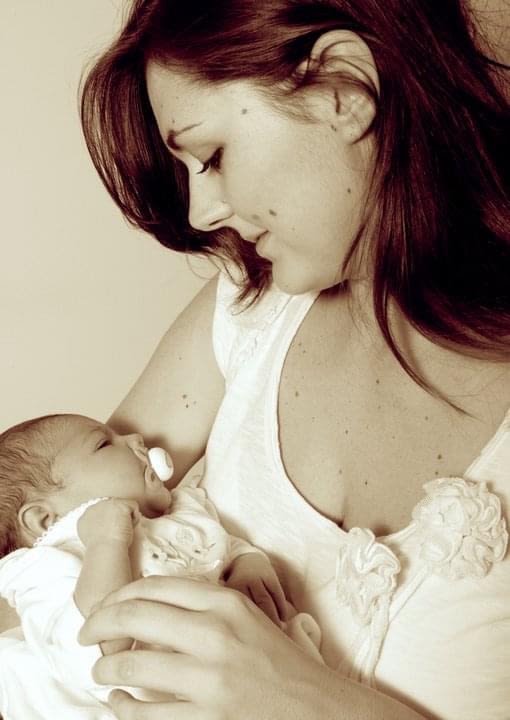 ---
Jasmine Virtue (Fashion Design 2012)
We met on the dance floor.. no literally. He was in one dance society, I was in another, the space in the Union was double booked so we had to get on and rehearse in the same space.
This year we are celebrating 10 years together, and we still continue to tell people we met on the dance floor! Thanks LUU for double booking what was then "The Lounge" that fateful day!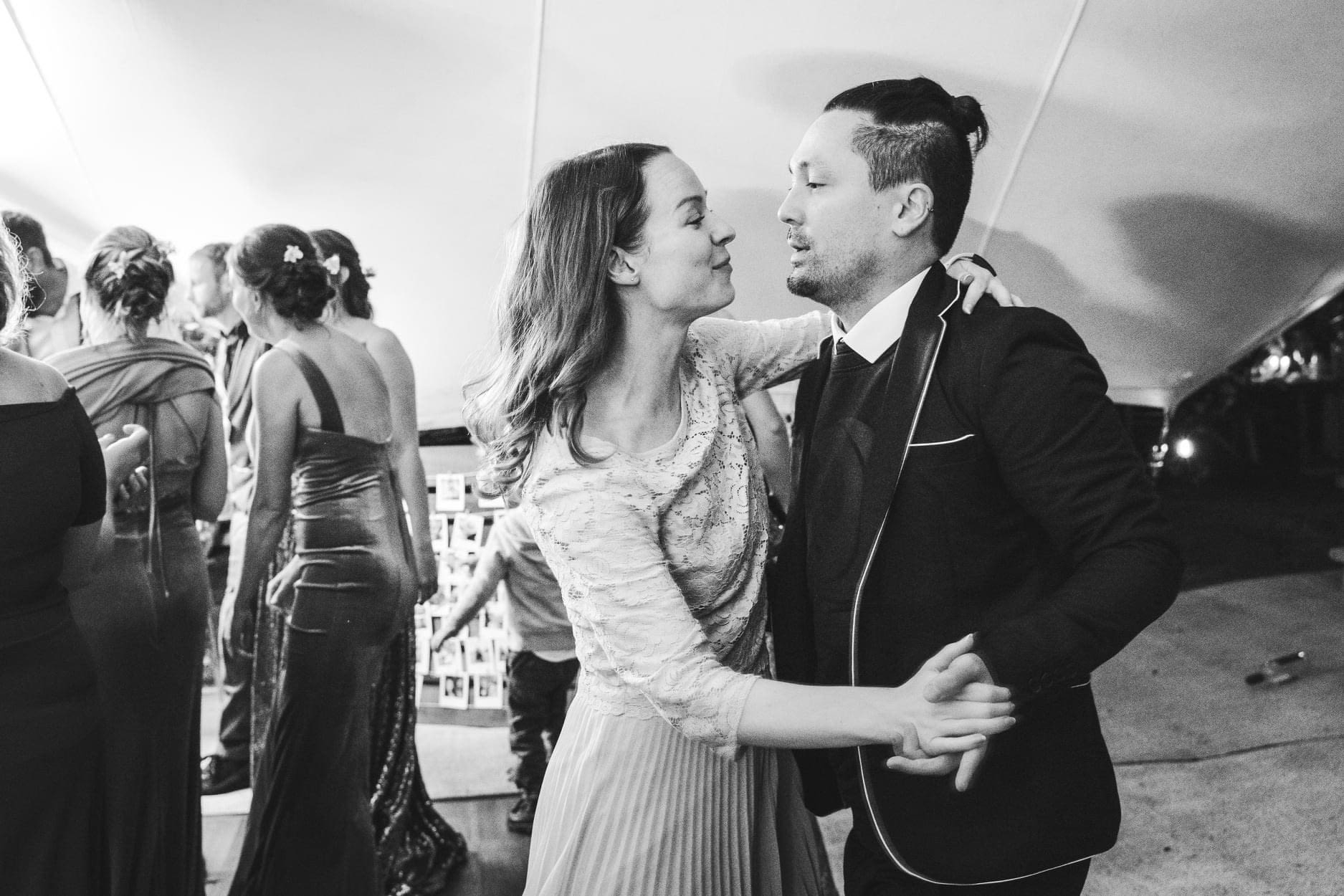 ---
Vic Mills (Psychology & Philosophy 2012)
I met my boyfriend Stef in 2008 when chance bought us together as flatmates in Concept Place student accommodation. 13 years and one daughter later, we now live happily in Tadcaster, North Yorkshire. Still just boyfriend and girlfriend as he has somehow escaped from proposing even after all this time!!!!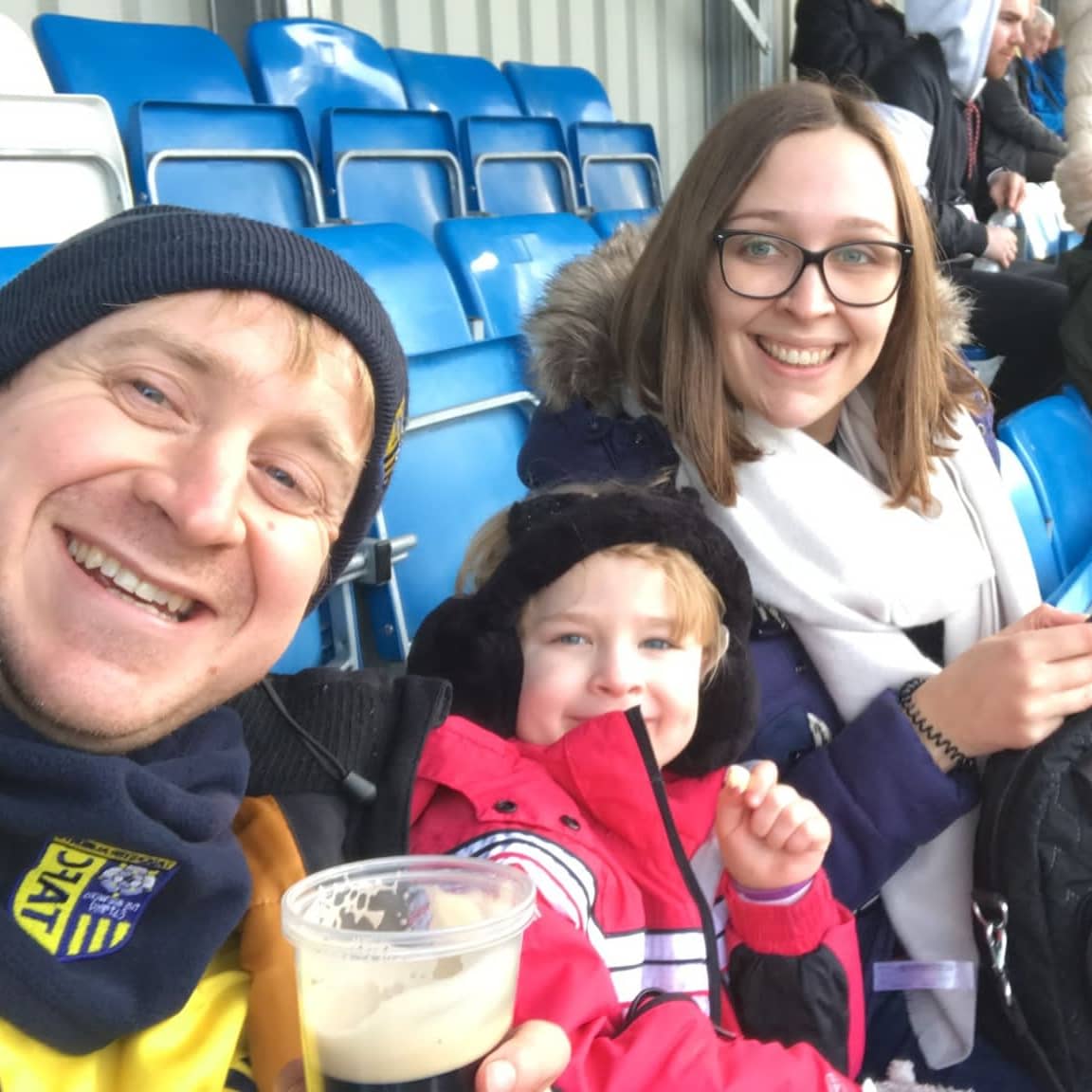 ---
Michelle Iyalla-Harry Petroleum Engineering 2012
My husband and I met via mutual friends at Leeds while we were both studying - he chemical engineering and I petroleum engineering. I lived on Lyddon Terrace and he in Broadcasting Towers so it was quite easy to see each other. Our friendship blossomed  and 11 years, thousands of miles later said I do - 27/01/22 . Our wedding hashtag was #LoveLeedsMetoYou.
I'll always have fond memories of Leeds as it's where i met my soulmate. We had a traditional Nigerian wedding ceremony.