Caitlin and Paul
Bragg Edition, 2019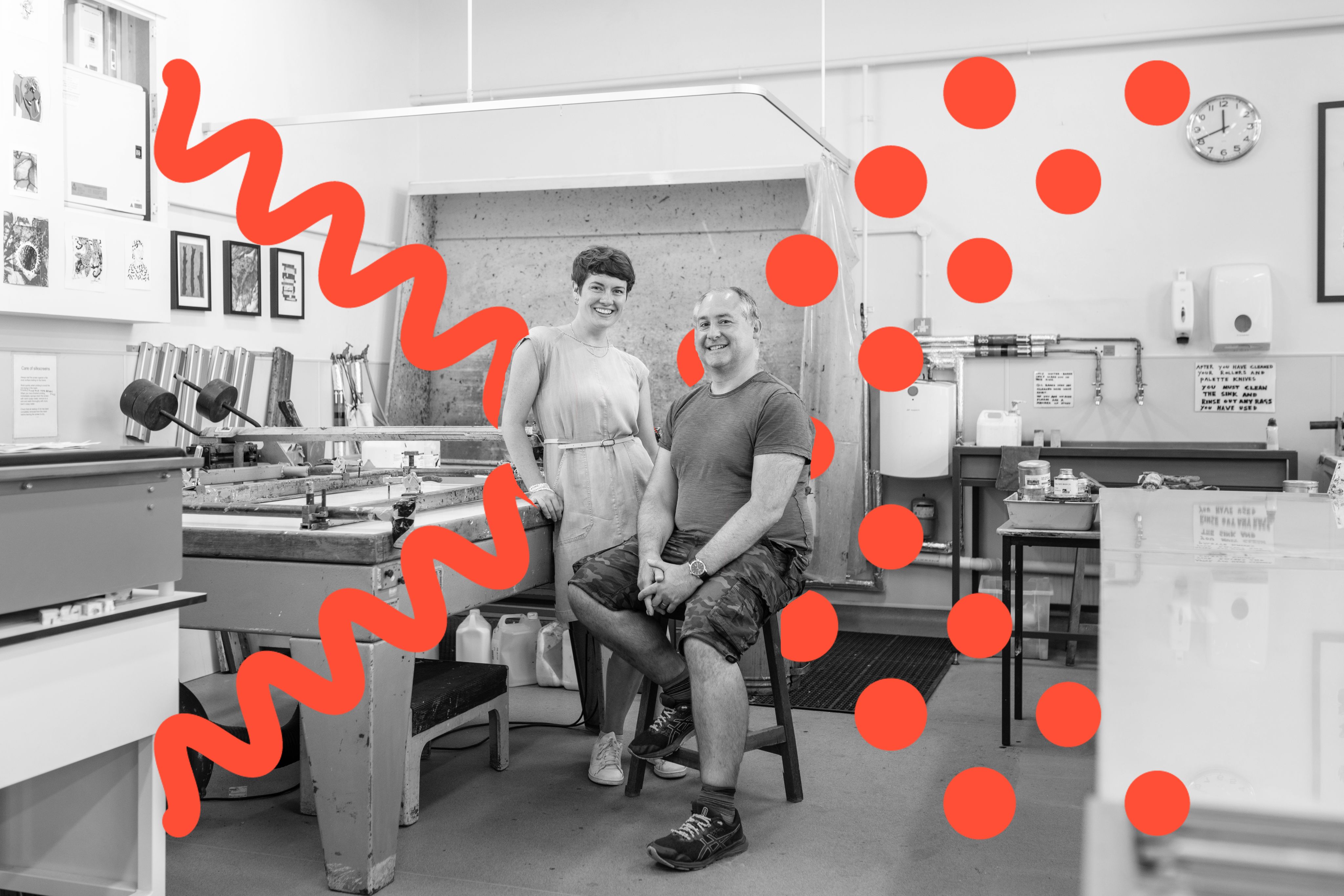 Paul Beales, Professor of Soft Matter and Biophysics, collaborated with Caitlin Stobie, artist and Lecturer in Creative Writing, on the Leeds Creative Labs: Bragg Centre Edition in 2020. The pair used their collaboration to look at the contrast between the physical materiality of materials science research and the fundamental immateriality of words from Caitlin's creative practise. Following Leeds Creative Labs, Paul and Caitlin received funding and took part in public engagement programmes such as Light Night and Be Curious. The pair also co-authored an academic article. We interviewed the pair to ask them a few questions about their experience.
What encouraged you to apply to Leeds Creative Labs?
Caitlin: The callout for the Bragg Centre edition of the Leeds Creative Labs mentioned several areas in materials science that I'd encountered during my PhD in English Literature, but had never formally studied.
I found it unusual that there was no expectation of an output – participants were encouraged simply to experiment with their ideas together – and thought this would be a unique space for exploring new concepts in a collaborative environment.
Paul: I'm a strong advocate of interdisciplinarity and the benefits of bringing together perspectives from different backgrounds.
Scientific research requires creative thinking, so there are potential benefits to the generation of new ideas by engaging with academics in the creative arts, where creative thinking is more instinctive and less constrained. The creative arts are also a very accessible medium for engaging the wider public with concepts in scientific research.
What was your experience of collaborating?
Caitlin: Working with the Beales Research Group has been an excellent experience. Every member of the team was welcoming and happy to explain their (quite complicated!) research to me. We found that even a quick meeting over coffee could turn into a philosophical discussion about anything from animal testing to the ethics of creating artificial cells.
Paul: I found it to be an enjoyable and relaxed engagement with a two-way exchange of ideas.
We would explain our work on soft materials for artificial cells and biomedical technologies, and Caitlin explained her academic interests in the philosophy of New Materialisms that resonated as one potential intellectual framework for considering the ethics of artificial cells.
The equality in the collaborative relationship of Leeds Creative Labs then made it easier to explore potential creative outputs and directions that we were both interested in.
What changed and what did you produce?
Caitlin: We quickly had to move from in-person lab visits to online working due to the pandemic. However, the shift from physical presence to conversations through Zoom and cloud software was actually crucial for thinking through im/materiality. Our outputs include poems written over research images and videos, and a short story interspersed with research images.
Paul: One perspective that chimed with us from early in the collaboration was the contrast between the physical materiality of materials science research and the fundamental immateriality of words from Caitlin's creative practise. We aimed to use this to our advantage, using unadulterated images from the scientific research superimposed with Caitlin's poems and short stories. Both elements of the scientific data and the creative writing could be combined in their original form with the aim that their combination enhanced and complemented each other for the audience.
What was the impact of participating on your research and creative practice?
Caitlin: I've found myself being more experimental in my writing, particularly when considering the formal elements of my poetry. Even some poems that weren't written 'for' the Labs have taken on a more scientific feel. A couple of poems and photographs from our collaboration have found their way into my debut collection, Thin Slices – in fact, the cover is a research image by Zexi Xu!
Paul: It has been refreshing to get some new perspectives on our research from a completely independent viewpoint. In particular the discussion related to philosophy and ethics are important to how the wider public might receive the science of artificial cells in the future and the importance of having these conversations within the sciences in the early stages of a field's development.
What's unique about the Leeds Creative Labs?
Caitlin: What I appreciated about the callout for applications was that practice-based researchers were encouraged to apply alongside more 'traditional' artistic partners. The Cultural Institute is respectful of all creatives' time, and clearly understands how creativity is best fostered by not implementing too many rules about outputs or processes.
Paul: The freedom of the project with no pressure for specific outputs or deliverables and the equality of the engagement between the scientists and the creatives are important features of the labs that allow ideas to be explored freely without being constrained to a specific goal that may have been contrived at the outset. I think this enhanced both the enjoyment of the collaboration and the quality of the eventual outcomes!
What did you do after Leeds Creative Labs?
Caitlin: Paul and I applied for follow-on funding from the Cultural Institute and the Centre for Practice Research in the Arts (CePRA) to continue our collaboration and work towards more public-facing activities including Be Curious and Leeds Light Night. We also co-authored an academic article which develops the idea of the bilayer that emerges in several of our outputs.
Paul: Follow-on funding allowed us to continue to collaborate, although much of this was online during the COVID-19 pandemic. It allowed us to continue our discussions, generate further creative outputs and the highlight for me was to have some of our outputs projected onto The Leeds Library for Light Night 2021. It also gave us time to reflect on our collaboration and co-author an academic article that explored some of these themes.
What's next?
Caitlin: Our article about our creative practice is forthcoming in Leonardo.
Paul: At present we are not actively working together on anything new. However I'd like to work with Caitlin again in the future. The collaboration would likely need to evolve in terms of the outputs and activities but there's lots of scope for engaging with ethics and the wider public through creative mediums on the developing science of artificial cells. In the meantime, we await the publication of our article in a forthcoming issue of Leonardo. One additional thing I have learnt is the publication timelines in the sciences and the arts are very different!
About the Bragg Edition
Sparking innovation in materials research through creative collaborations., eight researchers from the Bragg Centre for Materials Research at the University of Leeds collaborated with 8 professional artists to explore what it means to be creative in 2019. Visit the Creative Materials website for more information.