Managing invasive species to help tackle the global water crisis
For World Water Week, we explore the impacts of invasive species on water systems and how we're playing our part in managing this global challenge.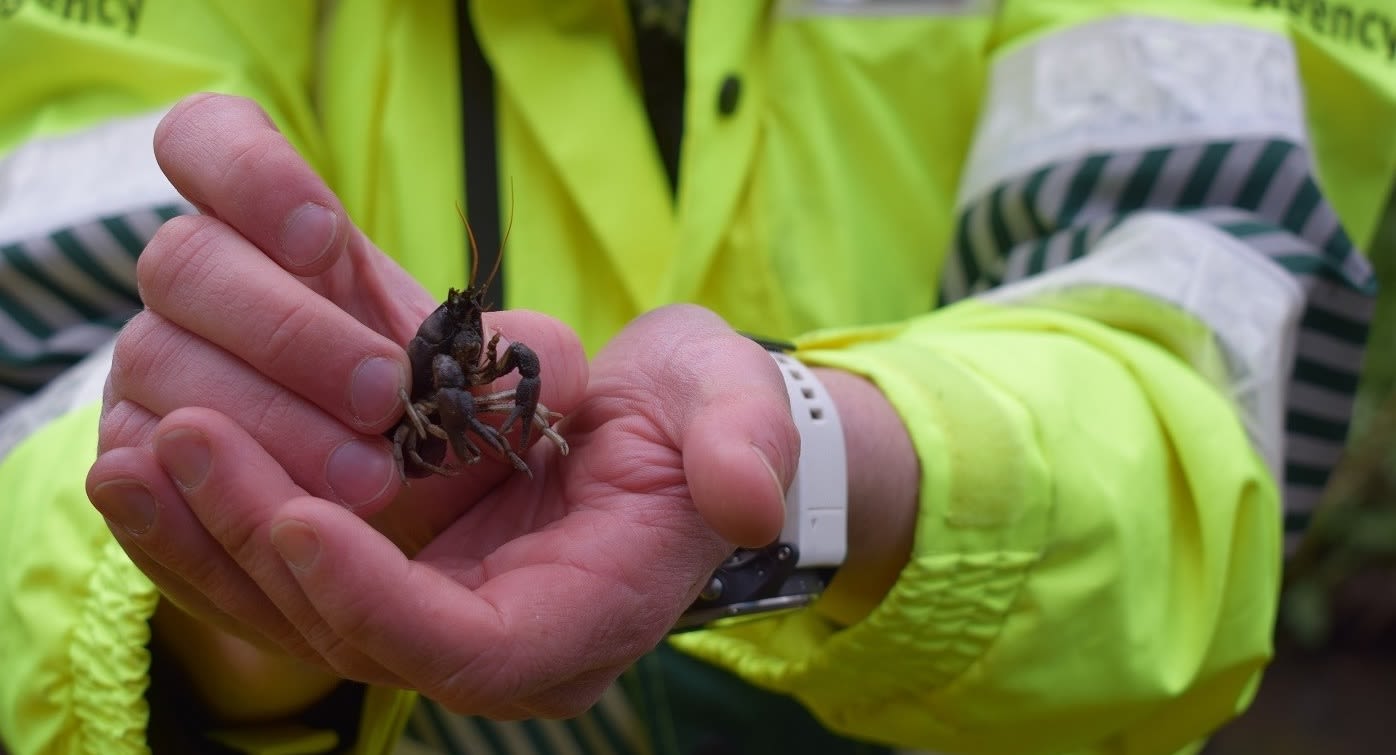 Photo: Environment Agency
Photo: Environment Agency
Invasive species are a major environmental, economic, and societal threat to our planet.
They can negatively alter the ecology of our waters, affect factors such as nutrients and sedimentation and change the physical characteristics of an ecosystem. They can also feed on native species, compete for food and habitat and spread disease.
This imbalance can have devastating consequences, such as loss of biodiversity, and extinction of native species.
Invasive species can also impact the economy, as many of our agricultural, tourism and recreational activities rely on healthy ecosystems.
A scientific paper published in Nature reported that, globally, species invasions have an annual mean cost of US$26.8 billion.
It's estimated that the annual cost to the UK economy is over £4 billion.
Our waterways are particularly vulnerable to invasive non-native species (INNS), as just a fragment of a plant, a tiny animal or seed can be accidentally moved to new watercourses where they can form new infestations.
Environment Agency estimates that more than 70% of lakes, rivers and ponds in England are at risk of deterioration because of INNS.
Signal crayfish in the UK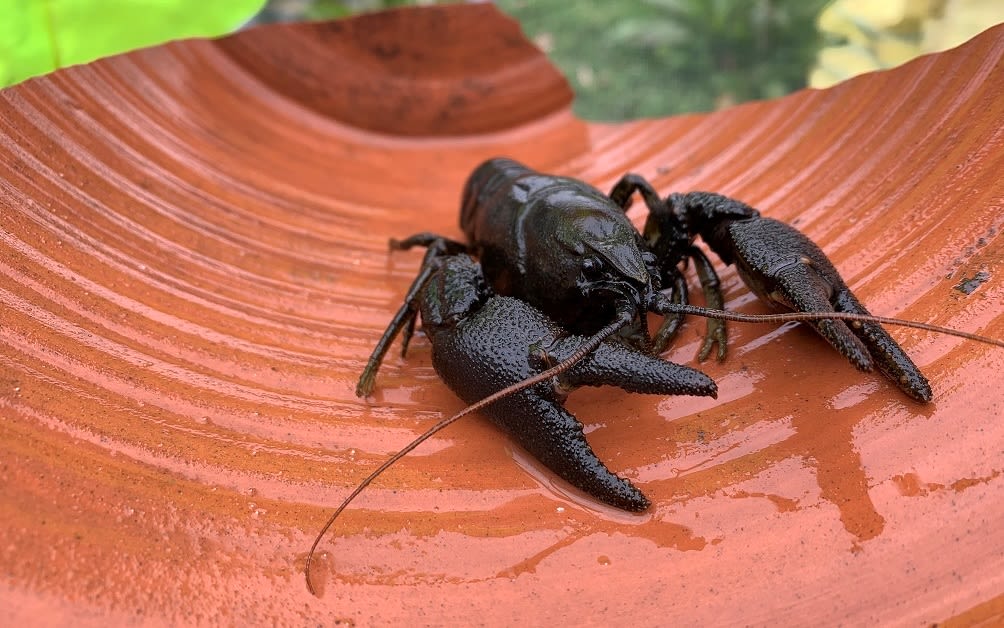 Photo: Environment Agency
Photo: Environment Agency
Signal crayfish, which are native to North America, were introduced to Europe in the 1970s, mainly to supply the food industry. They have since put endangered populations of the white-clawed crayfish - the UK's only native crayfish - seriously at risk, as they spread a crayfish plague that is deadly to the native white-clawed species.
Historically, white-clawed crayfish were common in Yorkshire as they are perfectly adapted to its clean stony-bedded rivers and streams. In return, they help to keep waterways clean and are a source of food for other native species, such as otters and large fish.
However, they have been deeply impacted by expanding signal crayfish populations.
In April 2023, Environment Agency biodiversity specialists and University of Leeds researchers rescued a population of white-clawed crayfish from Meanwood Beck in Leeds, after crayfish plague was detected during water sampling.
Those rescued, which included females carrying eggs, were kept in quarantine at York Gate Garden and the University before passing health checks to ensure they were plague free.
Most of the crayfish have now been released into the University's Bodington Pond to thrive and breed.
Watch Alison Dunn, Professor of Ecology in the School of Biology at the University of Leeds, talk about the crayfish rescue on YouTube:
Video transcript: Rescued crayfish released into Bodington Pond (opens in a new window).
As part of a wider operation to safeguard the future of native crayfish in the River Aire catchment, rescued crayfish from Pudsey Beck have also been released at a site in North Yorkshire in partnership with Yorkshire Water and Environment Agency.
Native crayfish populations will continue to be monitored across the River Aire catchment as early intervention is critical in slowing the spread of disease.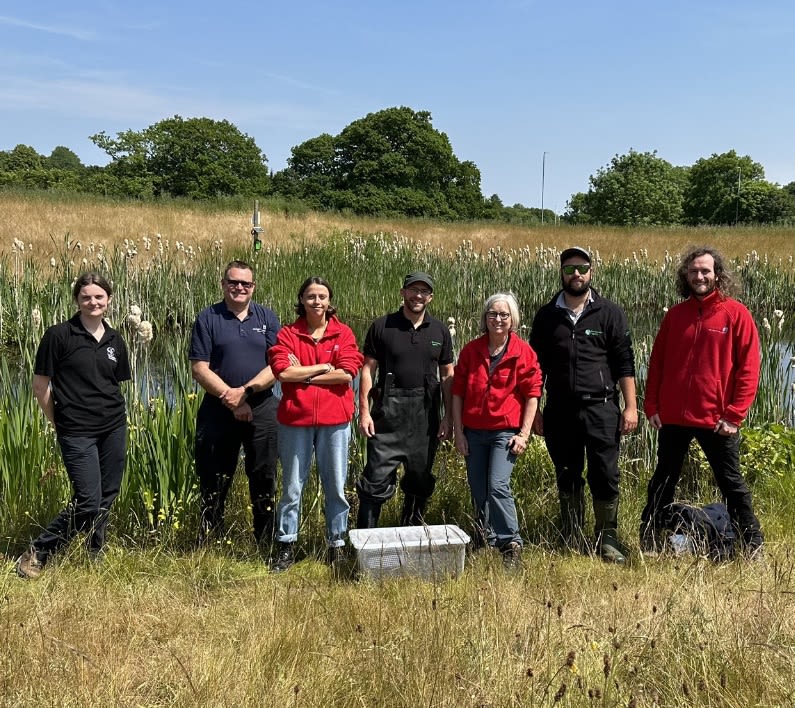 Redclaw crayfish in Africa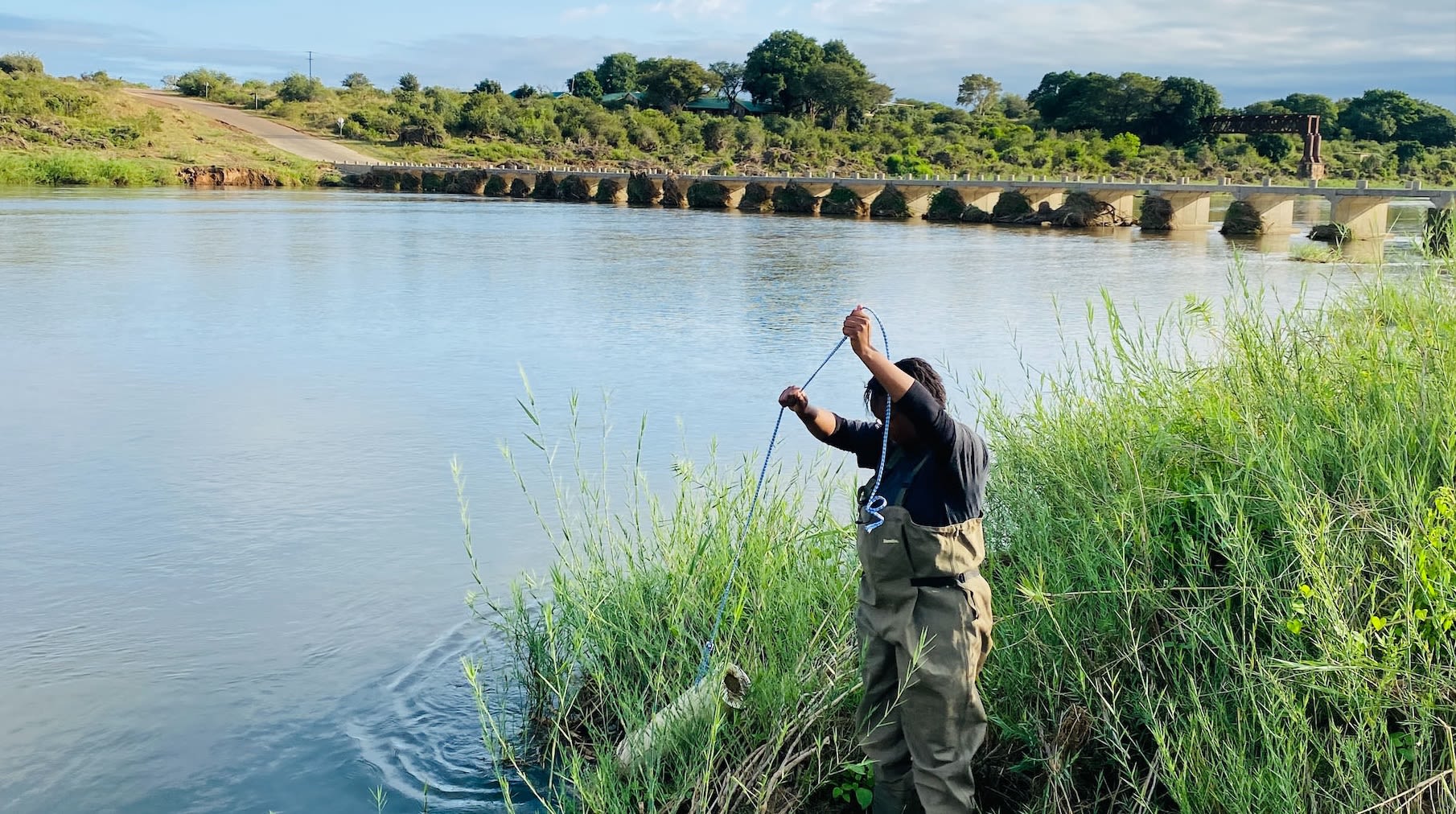 Continental Africa has no native crayfish species.
The redclaw crayfish, a species native to Northern Australia and Papua New Guinea, has been introduced around the world for fish farming and the aquarium trade, and has since been detected across southern Africa, including South Africa, Namibia, Zambia, Zimbabwe and Mozambique.
Redclaw crayfish can consume high numbers of juvenile fish and plant material, resulting in less food for native crab and fish species.
This has already occurred in Lake Kariba, the world's largest artificial lake and reservoir by volume, which is located in Zambia and Zimbabwe.
There, invasive crayfish have caused huge losses to the Zimbabwean fishery which is already impacting jobs and livelihoods. The best estimates total losses of around $512,000 a year – the equivalent of 212 tonnes of produce – but the actual costs are likely to be much higher.
Redclaw crayfish on the move in South Africa
The first record of crayfish in the Kruger National Park in South Africa was in February 2016, just below Van Graan Dam reservoir. Following this discovery, the annual river monitoring programme identified crayfish invasion as one of the major threats to the functioning of its rivers.
In May 2023, Dr Josie South in the School of Biology worked with conservationists at the national park to set crayfish traps and established that the crayfish are spreading downstream at a rate of about 7km a year.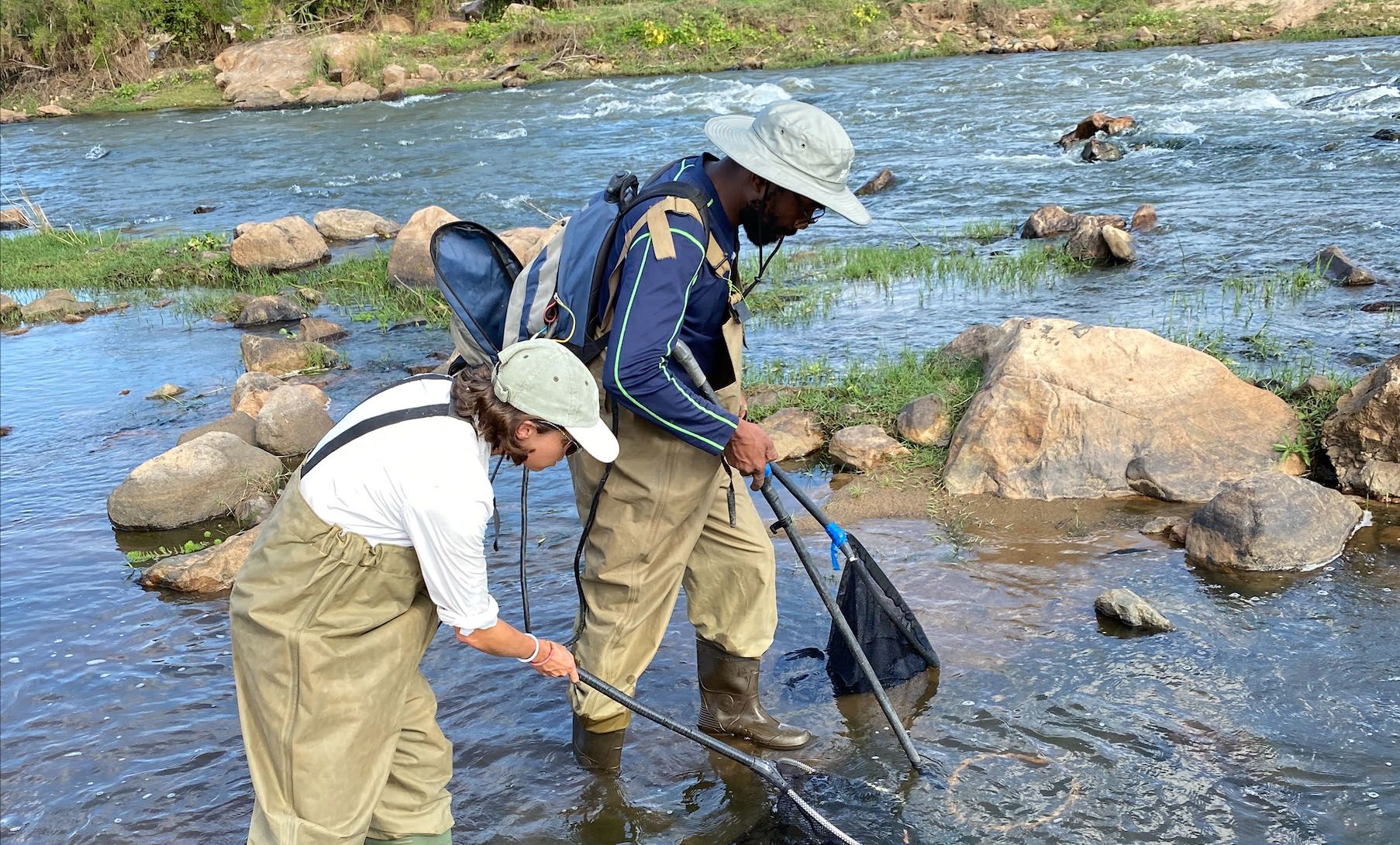 Slowing the spread
Removal from a system is highly unlikely once the species is established, however the population can be managed by ensuring that the flow rate of the river remains high, as crayfish prefer slower moving water. This helps to conserve healthy populations of predatory fish.
Raising awareness among local communities can also help to reduce risk as INNS are typically spread by human activities such as by clothing, vehicles and equipment.
Invasive species and flood risk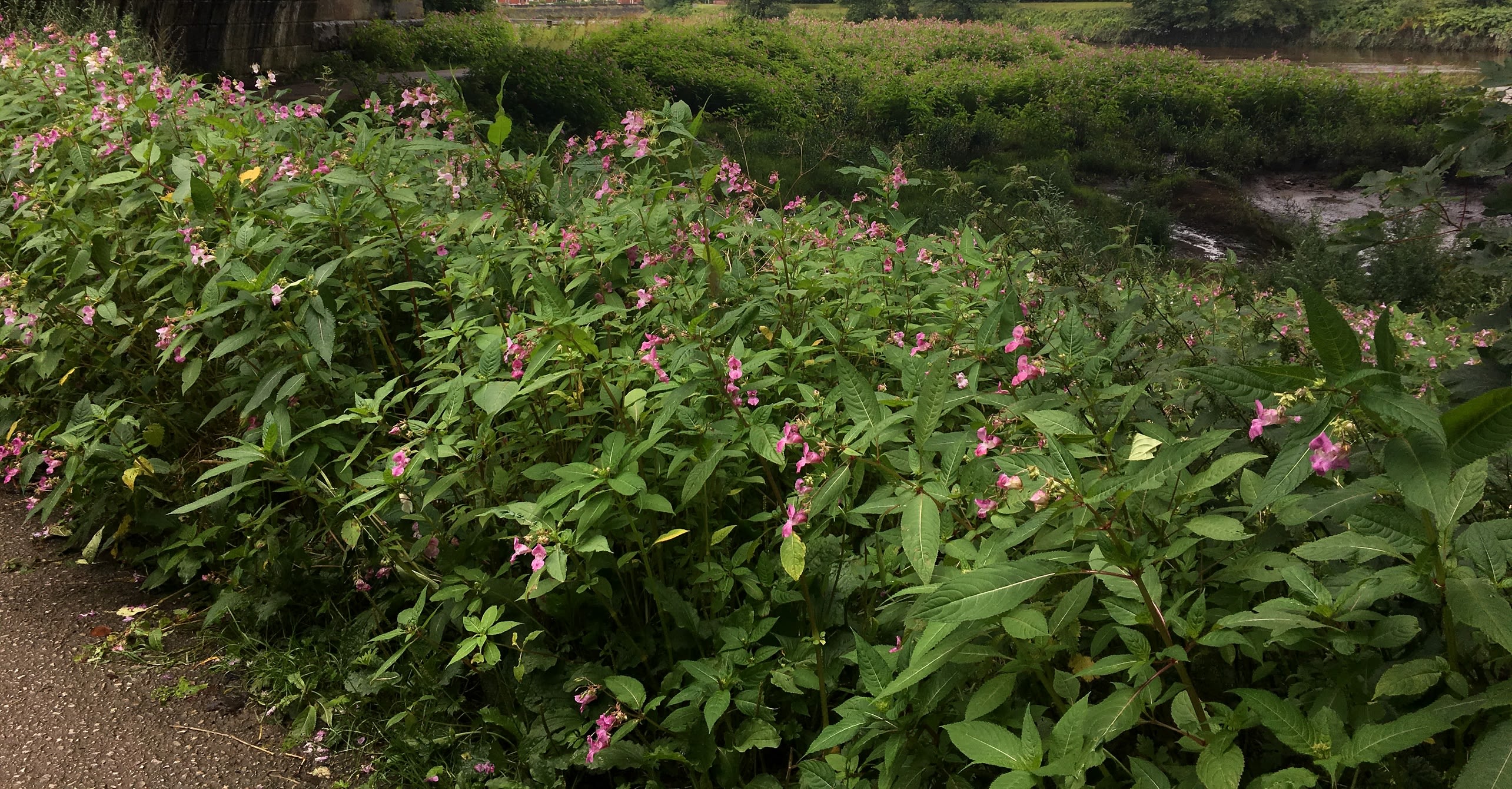 Himalayan Balsam, an invasive non-native plant species that contributes to riverbank soil erosion. Photo: Steph Bradbeer
Himalayan Balsam, an invasive non-native plant species that contributes to riverbank soil erosion. Photo: Steph Bradbeer
Not only do INNS impact health, ecosystems, and water supplies, they can also increase flood risk. Plants such as Himalayan Balsam and Knotweed thrive in damp conditions and frequently dominate a habitat.
When these plants die back in the winter, they leave large areas of bare soil which allows rapid runoff of water during rainstorms as there is no vegetation to slow down and soak up the water.
This causes the rainwater to reach streams and rivers more quickly – overwhelming them and causing flooding. Bare ground is also very vulnerable to erosion during storms, leading to increased management costs to remove sediment from water treatment facilities.
Dr Megan Klaar and PhD researcher Elizabeth Townsend are working with Yorkshire Water to explore the effect of invasive species and their management on patterns of erosion.
Rolling out biosecurity training
As INNS are typically spread by human activity, the most cost-effective management option is instilling good biosecurity practices in activities at most risk of introducing or spreading INNS.
Yorkshire Integrated Catchment Solution Programme (iCASP), part of water@leeds, worked with partners to develop a project focusing on strategies to slow the spread of aquatic INNS through river catchments in Yorkshire. The result was easy-to-use, evidence-based biosecurity guides tailored to local authorities, their landowners and contractors and information sheets that outline how to slow the spread of INNS particularly problematic in Yorkshire.
Professor Alison Dunn led the iCASP INNS project and also worked with the GB Non Native Species Secretariat (GB NNSS) and the Centre for Environment, Fisheries and Aquaculture Science to develop e-learning biosecurity training aimed at researchers and training providers.
Currently, this training resource is available only within the University, however, the GB NNSS has offered to make this training resource available online to a range of government, non-government organisations and training providers.
Simple steps, such as checking, cleaning and drying your equipment and boots, make a big difference to native species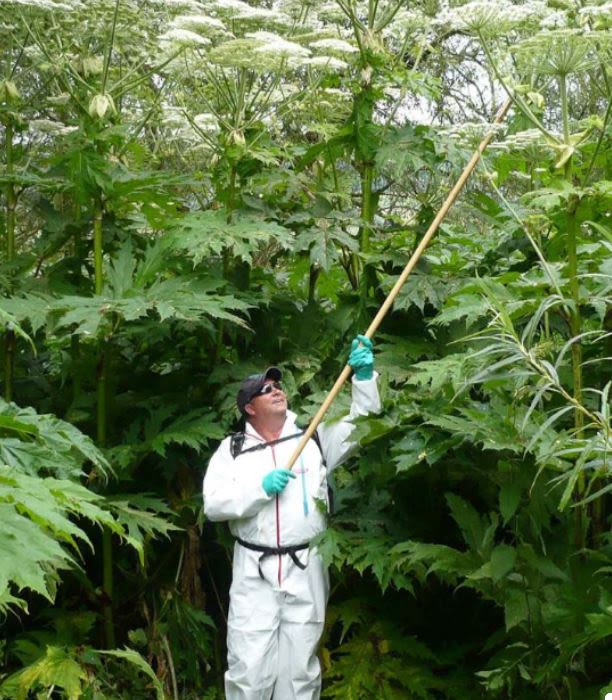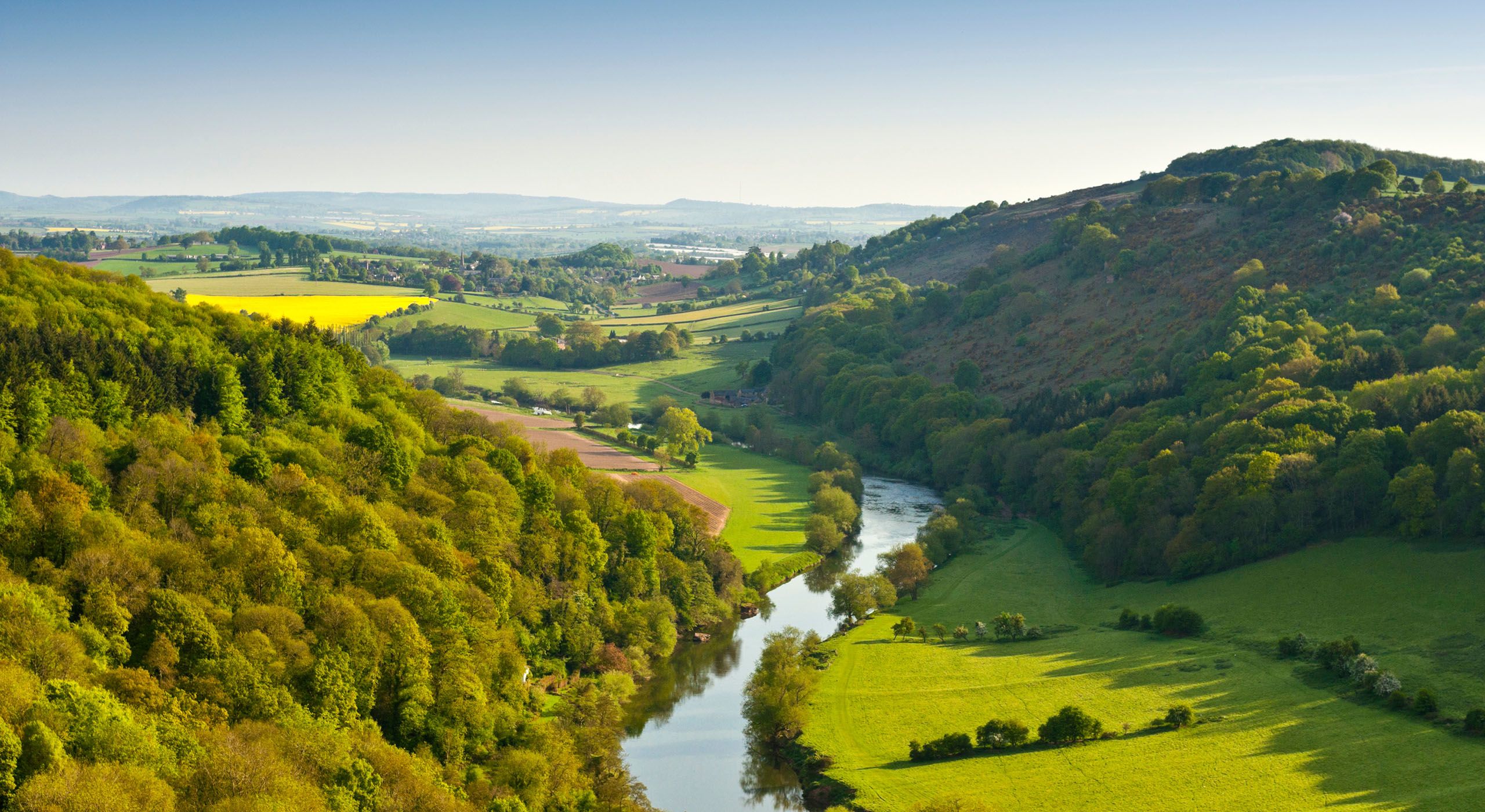 As climate change threatens water security and places increasing demands on water companies, the transfer of raw water across river and catchment basins is ever more crucial to ensure sustainable, safe water supplies.
INNS can block water pipes and impede water supply and drainage, so it is important to ensure that INNS are not accidentally spread as a result of these water transfers.
Professor Alison Dunn and Zoe Cole are working with Yorkshire Water to assess the risk these transfers pose and develop ways to help reduce that risk of the spread of INNS when water transfers take place.
MPs urged to take more action against INNS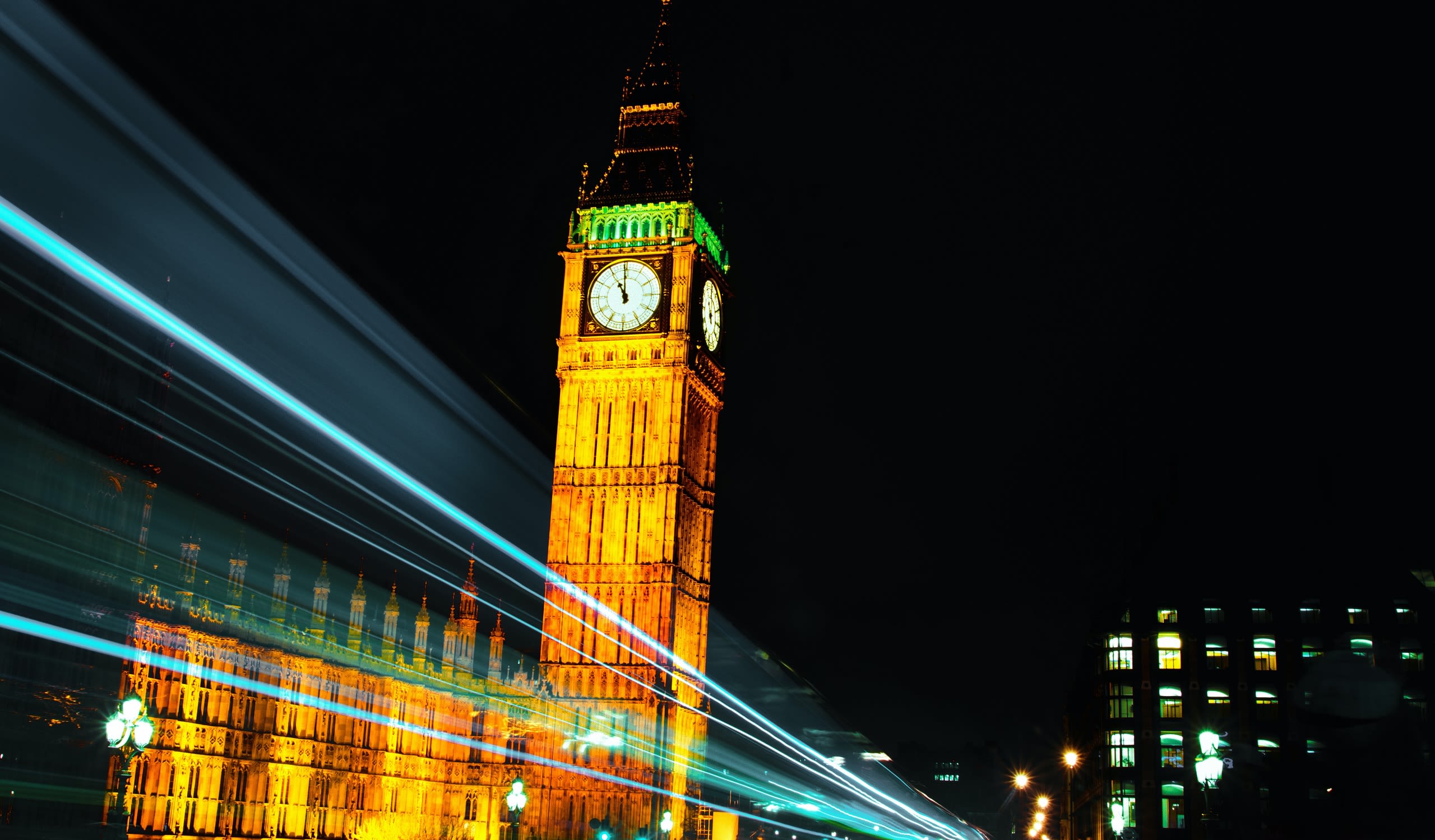 Professor Dunn and iCASP co-ordinator Finn Barlow joined other academics and non-government organisations to contribute to a parliamentary research briefing that summarises the drivers and impacts of INNS and the measures needed to meet national and international environmental targets .
It is hoped that, by increasing biosecurity awareness and improving biosecurity practice across the country, we can reduce the spread of invasive non-native species.