Inside Future Fashion Factory
Researchers at the University of Leeds are working closely with industry to transform the UK's luxury fashion and textiles sector. New ideas and technologies are on show as Future Fashion Factory celebrates its first anniversary.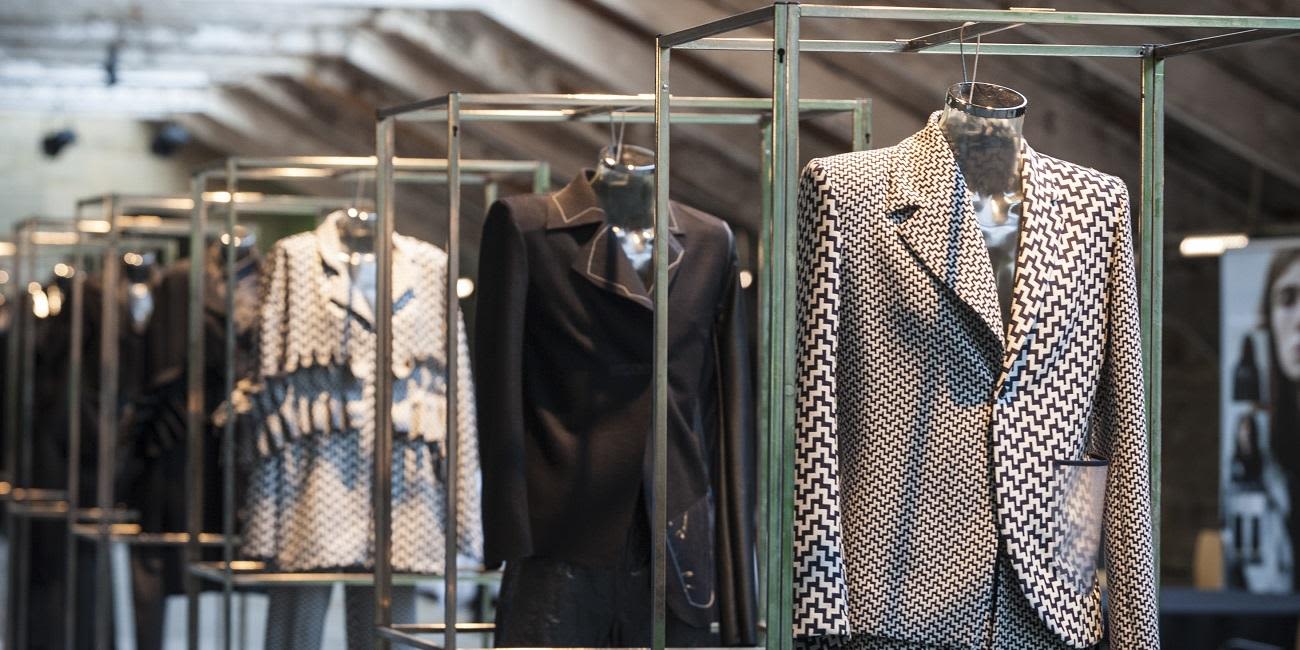 Dr Sahar Arshi stands by a large screen with images of bubbles floating upwards and a simple black pad equipped with a motion sensor. As guests walk by, she asks them to put their hand over the pad and 'feel' the bubbles popping against their skin.
Dr Arshi and her supervisor Professor Ningtao Mao are developing technology to allow buyers to 'feel' a fabric digitally. It's a development which could reduce the environmental impact of sending multiple fabric samples around the world and shorten product lead times. For online consumers, it could help them to choose the right product, reducing the huge number of garments returned every year - around a fifth of all online purchases.
The technology was on display at a showcase event for Future Fashion Factory, a £5.4 million research and development (R&D) programme that, after one year in operation, has plenty to celebrate. It is tasked with transforming the capacity for innovation within the UK fashion and textile industry. Shorter lead times, reduced waste, and more sustainable business models will be among the outcomes, enabling businesses to become more profitable and ultimately supporting the sector's continued growth. The programme is funded by the Creative Industries Cluster Programme, managed by the Arts & Humanities Research Council as part of the Industrial Strategy.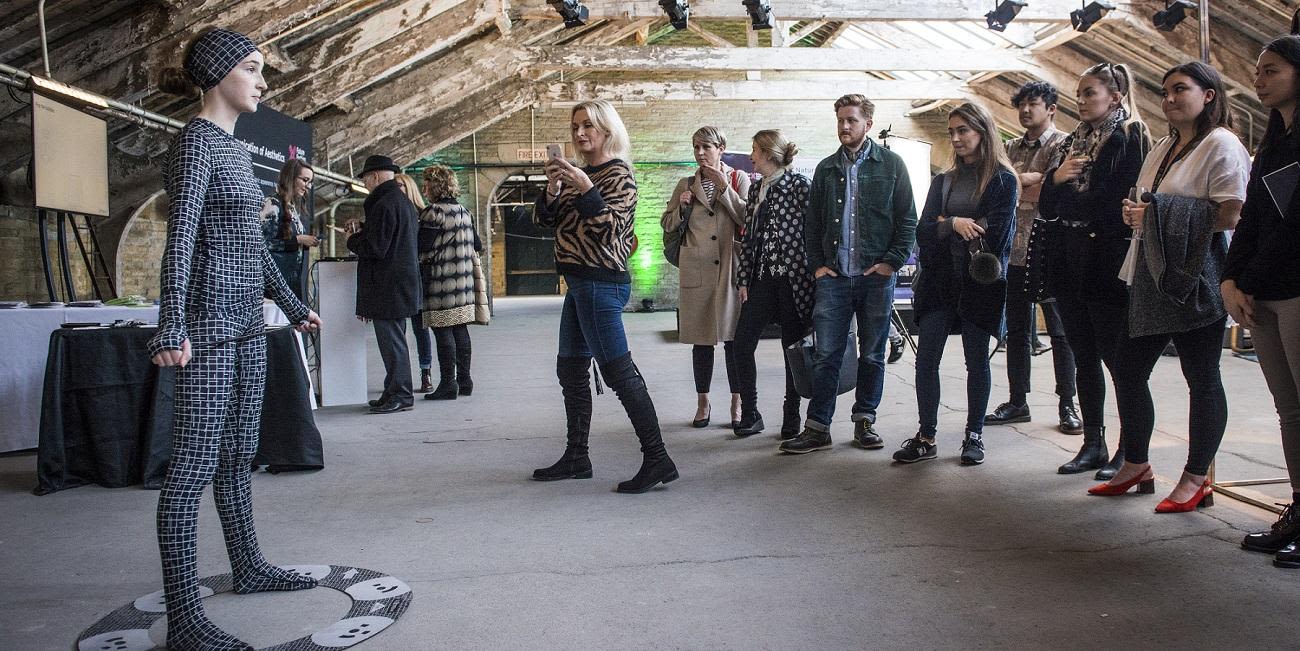 Industry partner SizeStream demonstrated their new 3D body scanning mobile app which enables accurate personalisation for garments.
Industry partner SizeStream demonstrated their new 3D body scanning mobile app which enables accurate personalisation for garments.
The programme's rapidly growing network of designers, industry partners, technology providers and researchers came together for the showcase event in October. Held in the stunning setting of Salts Mill in Saltaire – once the world's largest textile mill and now a UNESCO World Heritage Site – the event highlighted exciting new projects that have emerged so far, alongside future opportunities for business.
Peter Ackroyd, chief operating officer of Campaign for Wool was guest speaker for the evening and welcomed the guests:
"This is a great privilege to be here in Salts Mill – everybody gathered to celebrate innovation."
Research themes
Five themes underpin Future Fashion Factory's research, to tackle major challenges businesses face:
Late-stage customisation, enabling designers to create more personalised products.
Sustainability and circular economies to keep materials and products in use, reduce waste and benefit the environment.
Equipping tomorrow's designers to meet emerging skills shortages.
Using AI and big data analytics to develop digital tools for designers.
Digitally communicating the look and handle of fabric, reducing the need for physical sampling.
The themes have been shaped by extensive consultation with partners across the industry.
Solving industry problems through collaboration
New technologies and ideas will emerge from the programme's ongoing research to create new opportunities for businesses.
Industry partners can also apply to Future Fashion Factory's R&D funding calls, collaborating with researchers to meet current business needs.
One of the collaborations on display at the showcase was from Leeds textile mill AW Hainsworth and Yorkshire Textiles, who launched their 'New Heritage' cloth project.
Digitising designs taken from historic jacquard loom punch cards held in Leeds Industrial Museum, textile designer Rebecca Ough worked with the in-house Hainsworth Creative Hub to create a 'New Heritage' jacquard cloth. The mill was able to trial a new service offering short-run, designer-led bespoke cloth, which may also create new opportunities for luxury designers and businesses with smaller order quantities to access bespoke fabrics.
Items produced by Hainsworth Creative Hub were on show at the event, alongside garments made in the 'New Heritage' cloth by the Fashion team in the School of Design at the University. These were based on designs from a student project inspired by the Yorkshire Fashion Archive housed on campus.
'New Heritage' cloth project
The jacquard loom is credited with using the earliest form of coding to produce its elaborate designs and so is widely considered as one of the earliest computers. That spirit of innovation, which has been at the heart of Yorkshire's textile sector since its earliest days, continues to drive new developments in the industry through Future Fashion Factory's research.
The 'New Heritage' project is one of nine collaborative R&D projects that were successful in the Programme's first funding call earlier this year, all currently in delivery. They focus on a wide range of challenges, such as enhancing the accuracy and efficiency of the wool dyeing process, using immersive technology for staff training in large-scale textile manufacturing, and reducing the lead time on a UK made-to-measure suit from 6-8 weeks to 48 hours. 
The support of the region's mills and other industry partners has been phenomenal in our first year.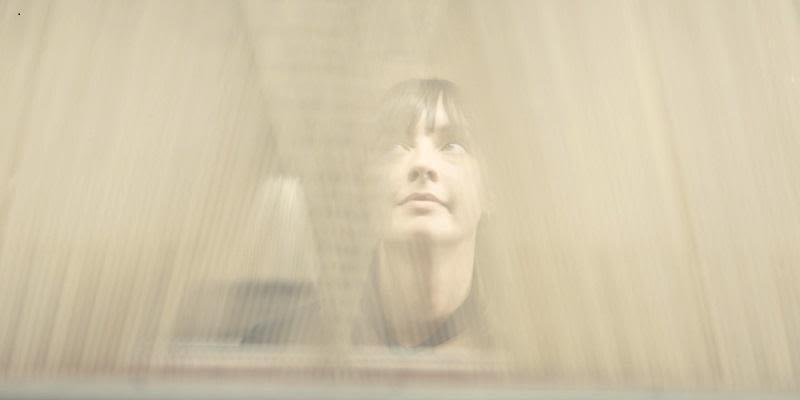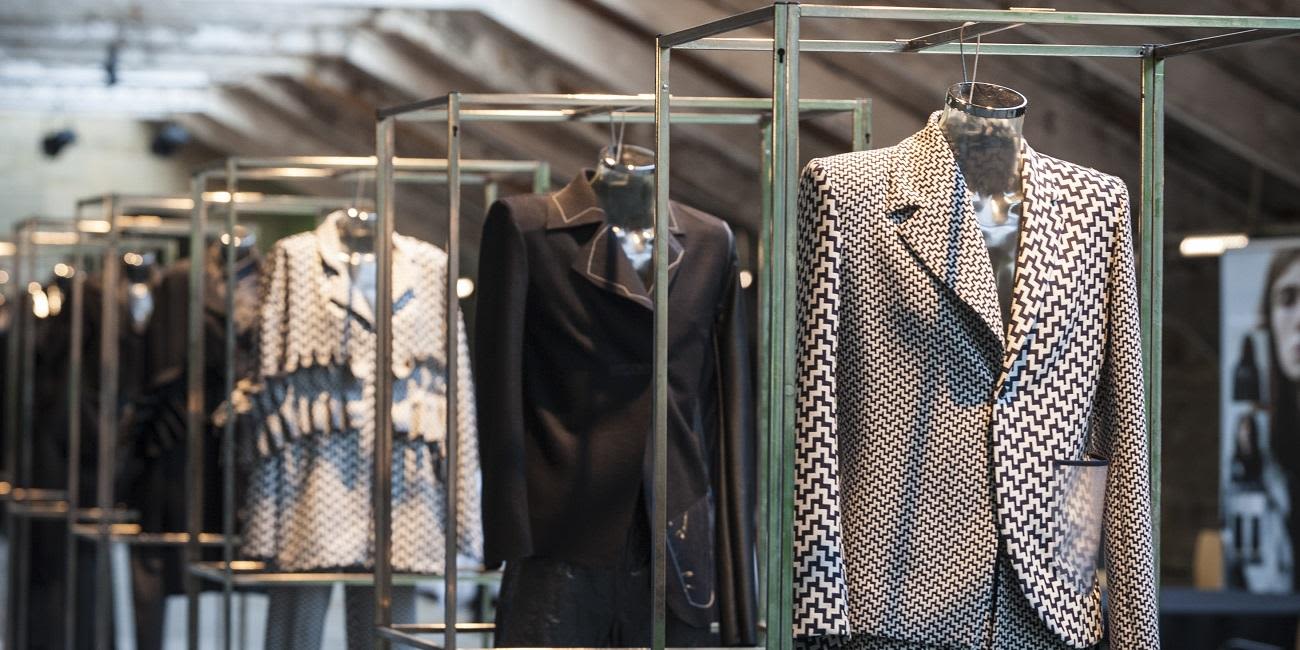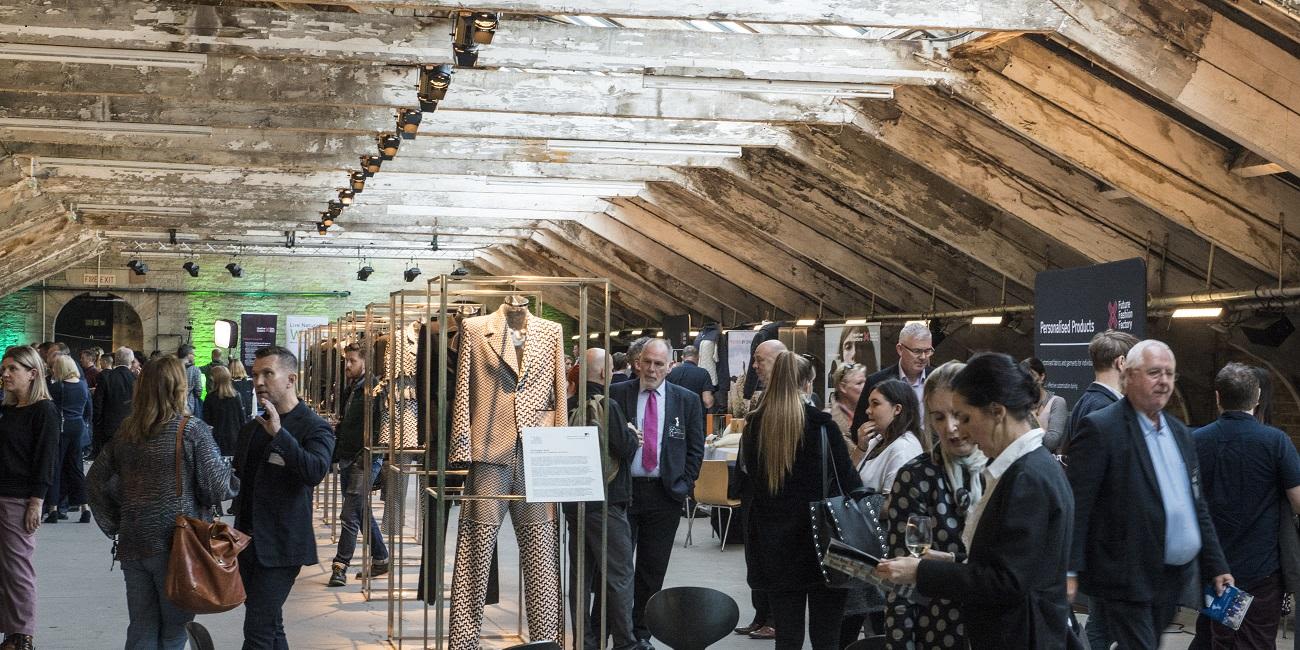 Guests networking at the Future Fashion Factory showcase event.
Guests networking at the Future Fashion Factory showcase event.
Creating a community
Throughout its first year Future Fashion Factory has continued to attract and maintain a wide network of businesses, professionals, and students interested in every facet of the industry, from independent fashion designers and iconic brands such as Burberry to Yorkshire's famous mills, supply chain specialists and technology providers.
Ten industry partners have been involved with Future Fashion Factory since its inception. The Programme team is now working with more than 150 members, bringing together a wealth of skills and experience to foster a lively community.
"The pedigree of Yorkshire's textile industry is embedded in the region," said Suzy Shepherd, founder of Yorkshire Textiles and co-director of Future Fashion Factory.
"To combine this with design, digital technology, fashion and skills makes a very powerful statement about how the sector and Future Fashion Factory's academic partners are continuing this tradition of innovation. The support of the region's mills and other industry partners has been phenomenal in our first year."
The programme team are already looking ahead to the third funding call in spring and the projects selected in the previous funding call are also due to be announced next year.
Through a combination of academic, creative and industry expertise, the programme plans to strengthen the UK's position as a world leader in designing and manufacturing the right product for the right customer at the right time – and doing so in a sustainable and economical way.
Before then, there is still a lot to deliver. Future Fashion Factory will continue to bring together industry and researchers to co-design new tools and technologies that will be truly transformative for the sector.
"This is not a trade show," said Sue Rainton, Future Fashion Factory programme manager, at the showcase event. "It's a talking point."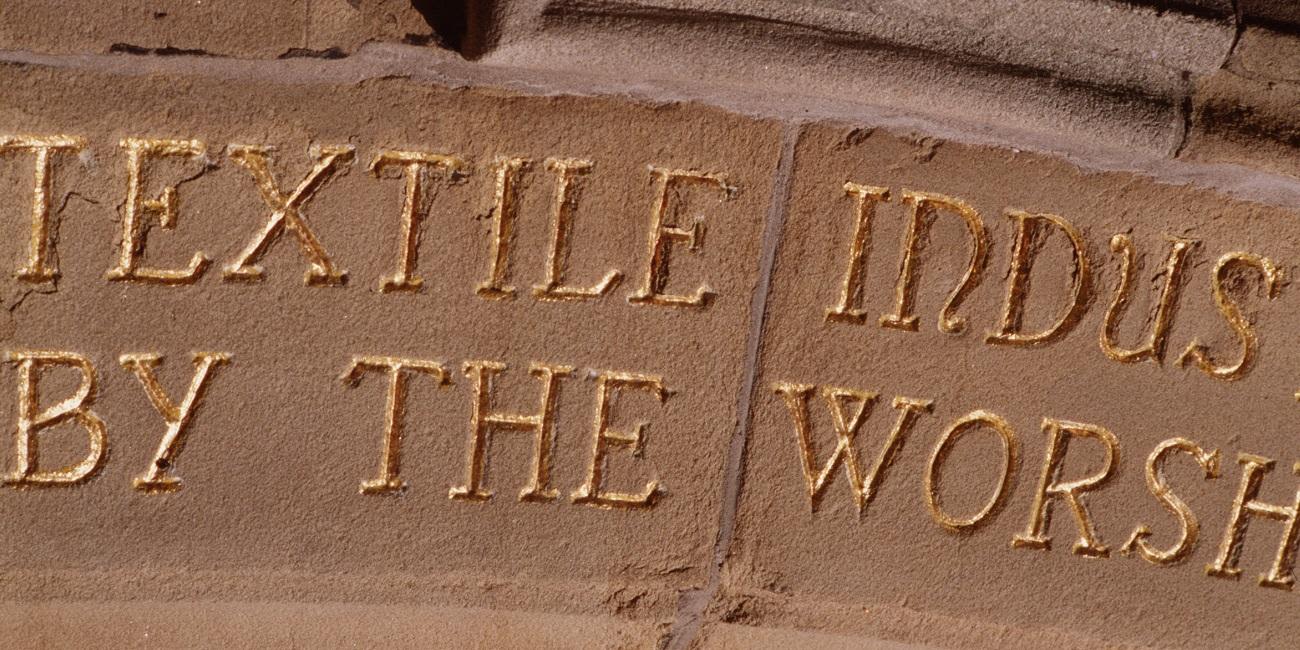 A close-up of ornate engraved masonry work at the Clothworkers Court building that mentions the textile industries department.
A close-up of ornate engraved masonry work at the Clothworkers Court building that mentions the textile industries department.
Innovation is part of the region's fabric
Yorkshire has a proud heritage in textiles. During the Industrial Revolution different parts of the region developed different specialisms. Leeds was known for wool, and many of its mills also produced flax-based linen. Bradford specialised in worsted (a high quality fine wool yarn), whereas Huddersfield produced heavy woollens such as for blankets, alongside fine suiting cloth. Batley and Dewsbury were at the forefront of recycling waste material from the industry, such fibre and rags, into usable fabrics.
It was a booming industry driven by innovations in technology and techniques. Salt's Mill near Bradford was the biggest factory in the world when it opened in 1853, producing 30,000 yards (around 27km) of cloth every day. Owner Titus Salt experimented with alpaca wool and pioneered a durable lightweight fabric produced by combining it with cotton.
In the early 1900s, a few miles away in Oakworth, worsted spinning mill Holmes Laxton & Co created the very first lightweight suiting fabric from mohair, by developing technology that allowed cotton to be dissolved away after being woven with the mohair wool. The company, now trading as Laxtons, is one of the core industry partners in Future Fashion Factory.
Like any thriving industry, skills and expertise were in demand, and in 1880, funded by the Worshipful Company of Clothworkers, the Department of Textile Industries and Dyeing opened at the Yorkshire College. The Department included lecture rooms, workshops and weaving sheds, laboratories, drawing studios and a museum. Photographs, pattern books and other items from the Department are held in the Leeds University Library's Special Collections.
In 1904, the Yorkshire College became the University of Leeds.