Man Behind the Moderns:
the Art Collection of Herbert Read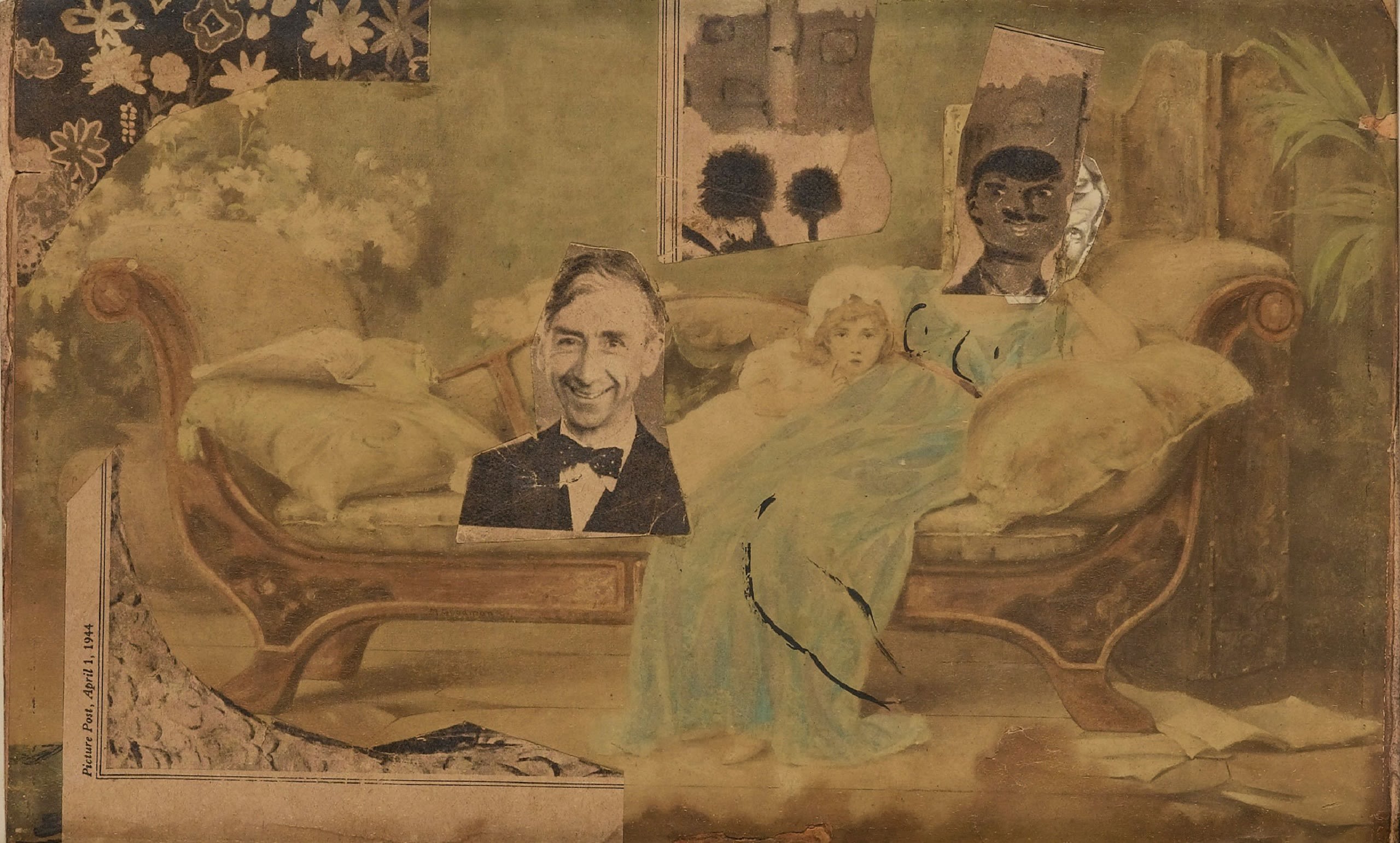 Sir Herbert Read (1893–1968) is widely recognised as one of the leading advocates of modern art in 20th century Britain.
He helped to organise the London International Surrealist Exhibition in 1936, co-founded the Institute of Contemporary Arts in 1947 and served as a Trustee of the Tate Gallery from 1965.
His writing interpreted and popularised new artistic movements across Europe. Two of his influential works are Art Now (1933) and The Philosophy of Modern Art (1951).
Read also championed and maintained close friendships with some of the most important artists of the last century, including Barbara Hepworth, Henry Moore and Ben Nicholson.
He received gifts and tokens of appreciation for his unwavering support, acquiring an impressive, yet deeply personal, collection of approximately two hundred works of art over his lifetime. It was as multi-faceted as the man himself: spanning genres, techniques and artists from Pablo Picasso to a chimpanzee.
This online exhibition tracks Herbert Read's life in artworks, revealing the fascinating stories behind his artistic connections and collecting interests. The University of Leeds holds a significant portion of Read's collection, thanks to a generous bequest by his son Benedict in 2017.
Some of these artworks are shown here for the first time. The exhibition is enhanced with links into archive records for material from the Herbert Read Archive, his personal library and other archives around the world. The aim is to create a deeper understanding of Read's extensive cultural network and his enduring influence on the world of modern art.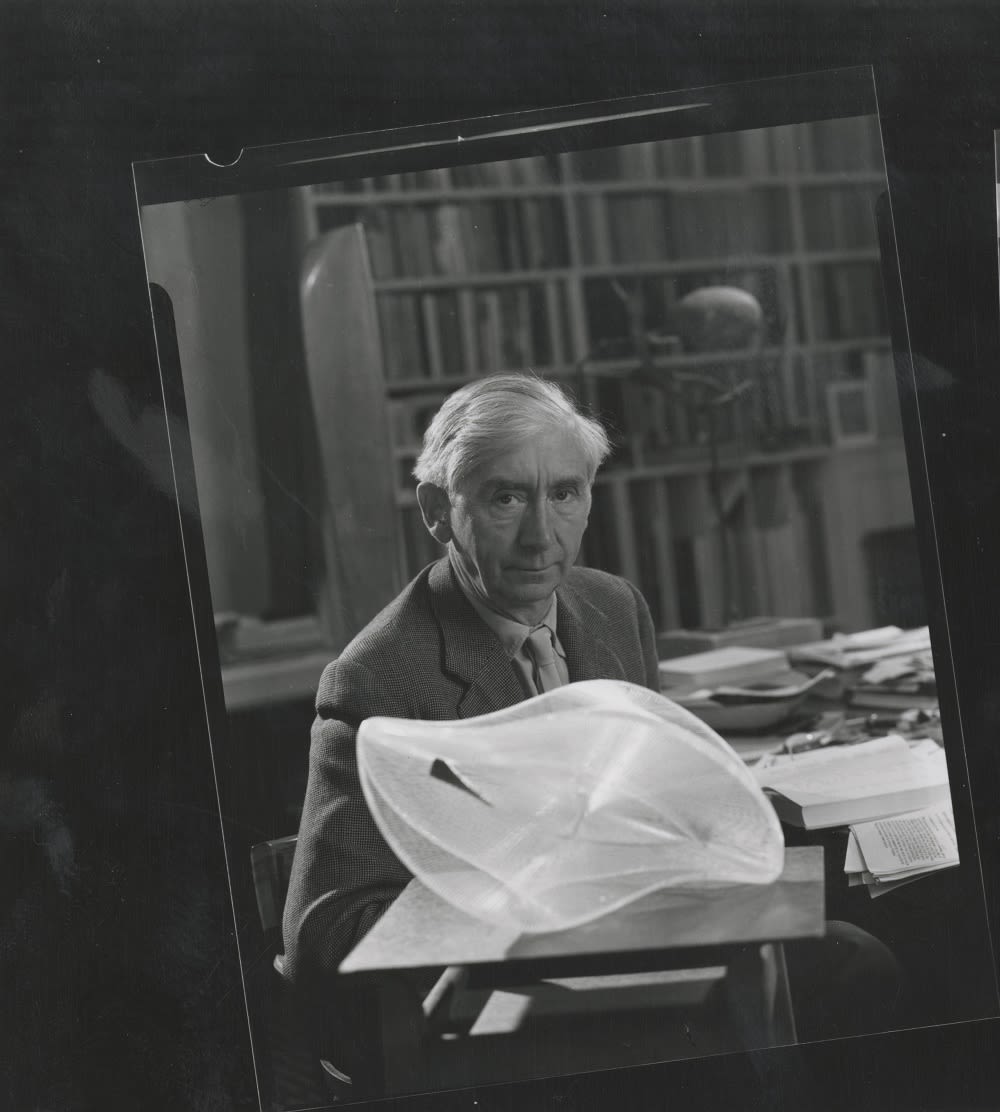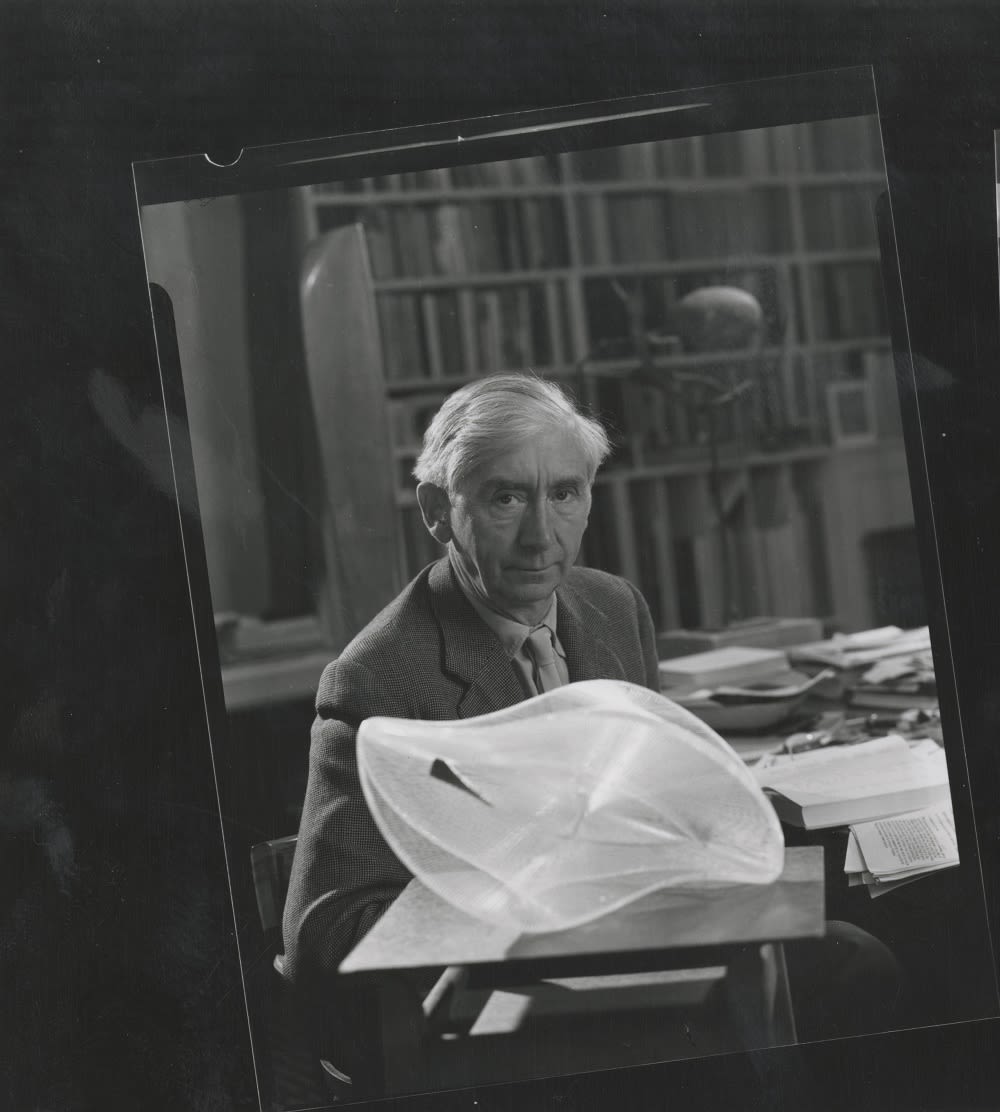 ...we became conscious of our unity and of our strength… there was new hope and a new feeling of possible advance… from that time forward, I don't think the modern movement has looked back"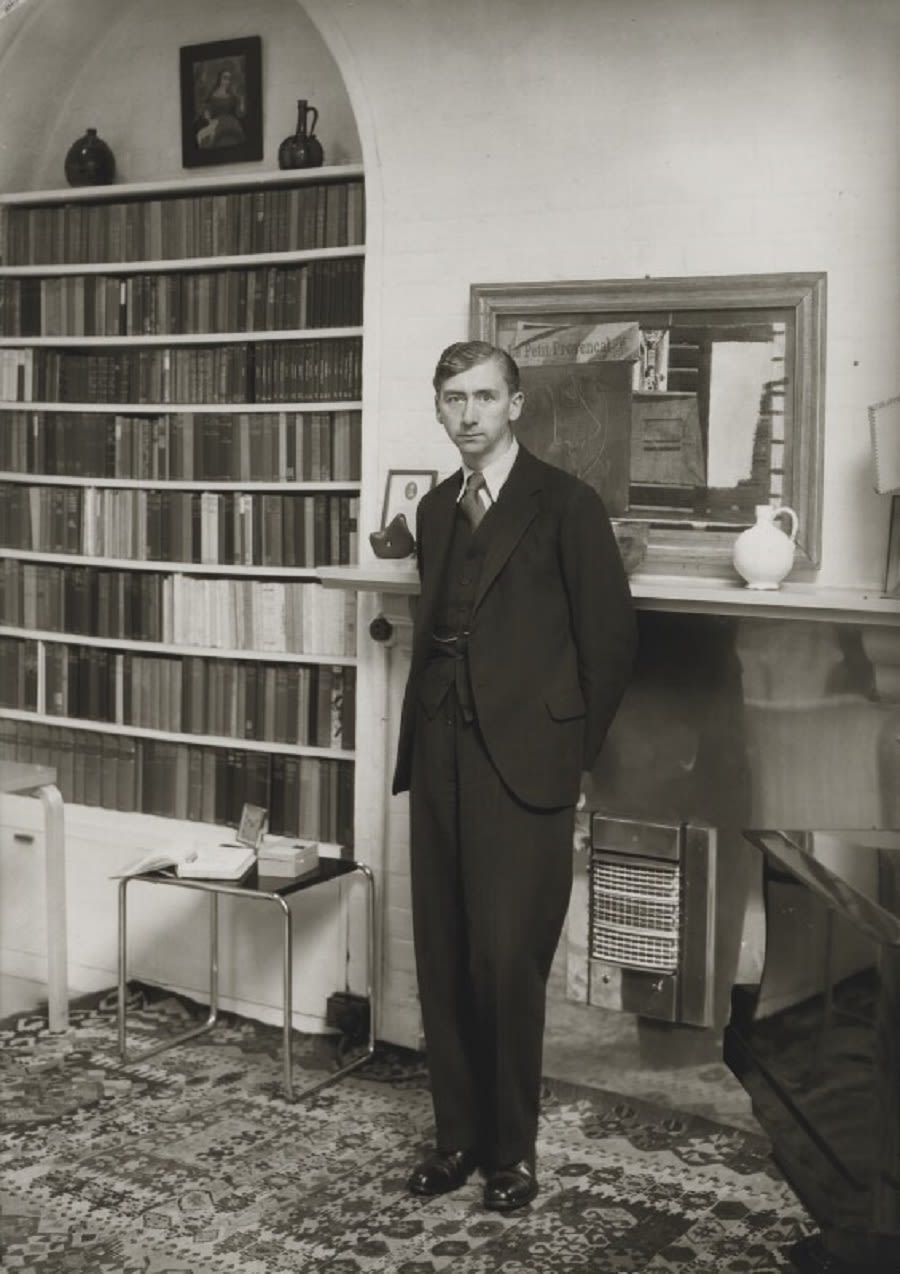 A nest of gentle artists
In 1931 Herbert Read moved to Edinburgh to take up the post of Watson-Gordon Professor of Fine Art at the University. Intellectually, the position proved disappointing but whilst there he met the musician Margaret "Ludo" Ludwig.
Read resigned in 1933 and the couple moved to the Mall Studios in Hampstead, London. They found themselves in the middle of an artistic community. Barbara Hepworth and Ben Nicholson were neighbours, Henry Moore lived around the corner and Paul Nash was nearby in North Hampstead.
By 1935, a stream of European constructivist artists fleeing persecution for their art also settled in the leafy suburb, including Naum Gabo, László Moholoy-Nagy and Walter Gropius.
Read later described this period: "For five years I lived in friendly and intimate association with this group of artists, visiting their studios almost daily and watching the progress of their work… it was the happiest time of my life."
It was also during this time that Read wrote his only novel, The Green Child (1935).
The gentle artists
Henry Moore (1898–1986)
Herbert Read met fellow Yorkshireman Henry Moore for the first time in the late 1920s.
They were introduced by Sir Eric Maclagan, who was Director of the Victoria and Albert Museum whilst Read worked there.
Moore subsequently invited Read to view his works at his studio. He reminisced in a BBC interview: "On that first visit to my studio, it was me who had to do all the talking because Herbert didn't say a word."
Moore offered his flat as an initial place for the Reads to stay when the couple first moved to Hampstead. From then onwards, Read was a devout champion of Moore's work, writing the first monograph on Moore in 1934.
Moore would later state in the same interview: "Herbert was terribly important, he was the champion of the whole of the contemporary art in England."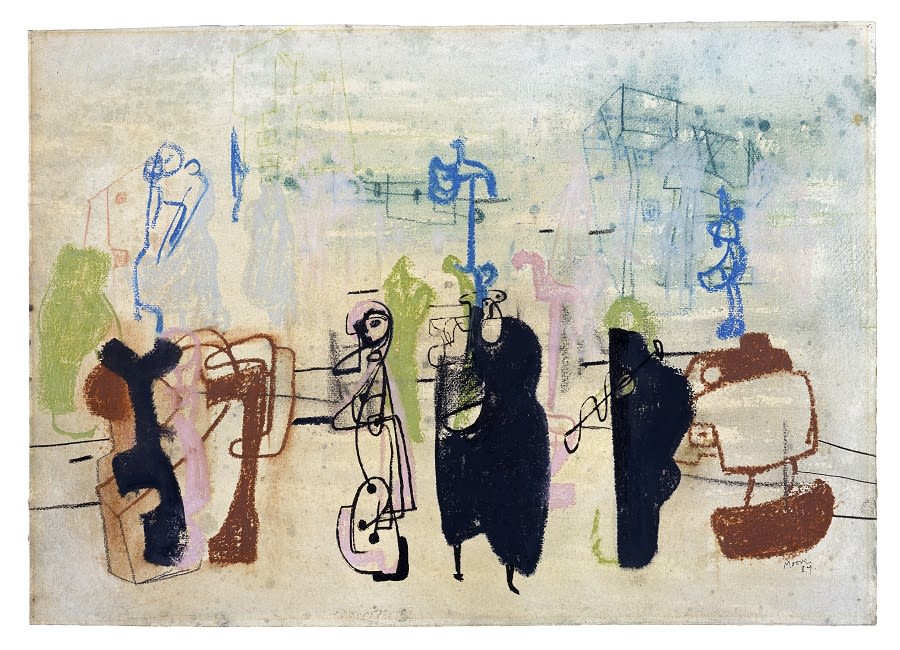 Read owned at least six of Moore's drawings and sculptures. They included Drawing for Metal Sculpture, and a study for Moore's UNESCO Reclining Figure (1957–58). Read sat on the commissioning committee for this sculpture, designed for the UNESCO headquarters in Paris.
Ben Nicholson (1894–1982)
Herbert Read's immediate neighbour in the Mall Studios, Hampstead, was the abstract painter Ben Nicholson.
Photographs of the interior of Read's flat from this time show him surrounded by Nicholson's works, usually on loan to him. Once, Nicholson visited Read's modern and white-walled flat and nailed a scarlet painted disc above one of the fireplaces, effectively turning the whole room into a work of art.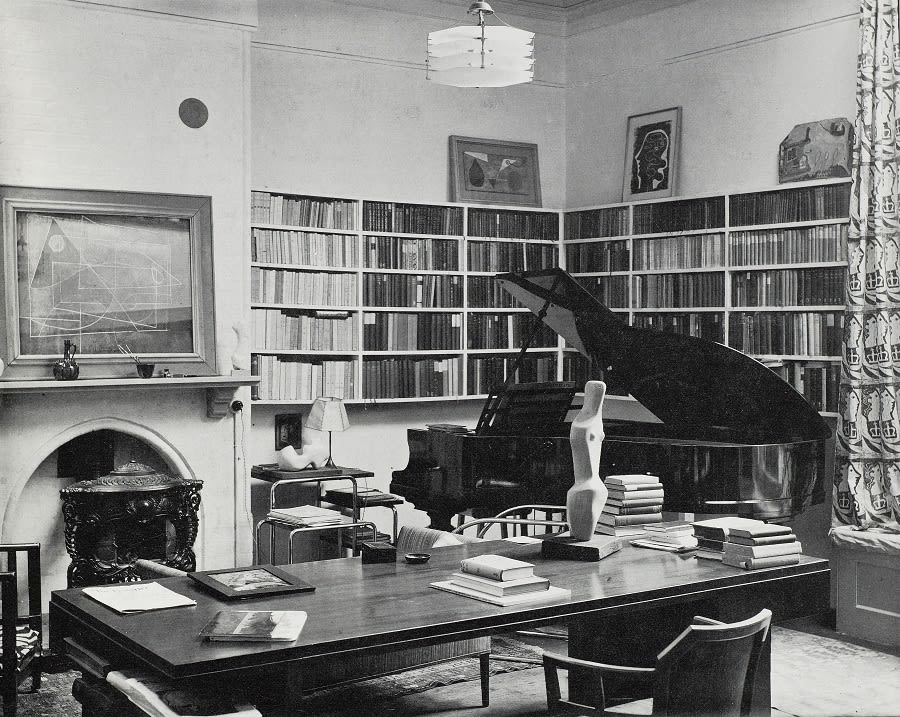 Numerous letters exist between Read and Nicholson discussing the casual exchange of artworks from painter to friend, including a letter from Read noting that a "missing" relief was actually stored in his loft.
In another letter, Read discusses the name of his wedding present Collage with Spanish Postcard (1933): "It sounds rather dull to me. Why not Le Petit Provencal, which is printed quite distinctly across it?"
Read is recorded as having approximately 20 works of art by Nicholson in his collection, including 1963 (drawing) that has an etching of Read's poem Tenement on its other side.
Barbara Hepworth (1903–1975)
Barbara Hepworth was another immediate neighbour of Herbert Read in Hampstead, where she lived and worked with Ben Nicholson.
Hepworth and Read became lifelong friends and corresponded until the week of Read's death in 1968.
Read wrote extensively about Hepworth, including the foreword to her solo exhibition at Wakefield City Art Gallery in 1944. He also wrote the foreword to the 1952 monograph on Hepworth that helped to establish her reputation as a key British sculptor.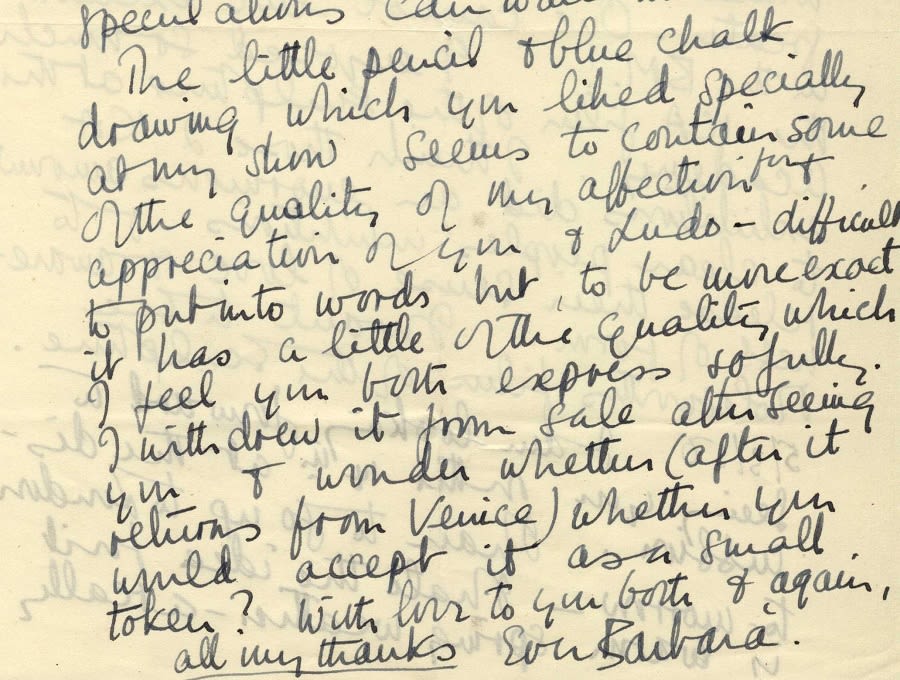 Read owned at least seven of her works. They included the sculpture Single Form (1937), which sat pride of place next to Read's desk at Stonegrave House. After Read's death his son Benedict wrote to Hepworth to say that his father working beside the sculpture "form a certain fixed image in my memory."
A letter from Hepworth to Read, dated 5 March 1950, offered him her drawing Theatre Sister as a gift after her exhibition at the Lefevre Gallery in London. It was one of Hepworth's personal favourite works and she eventually bought it back and presented it to the British Museum in 1972.
Naum Gabo (1890–1977)
In 1935 the Russian-born abstract artist Naum Gabo arrived in England as a refugee and went on to influence the development of modernism in the following decades.
He recalled meeting Herbert Read for the first time upon his arrival in Hampstead: "I remember Ben [Nicholson] brought me to him; he was in the next studio. He was sitting reading a book near the fire… I saw a very handsome young man looking old with curiosity."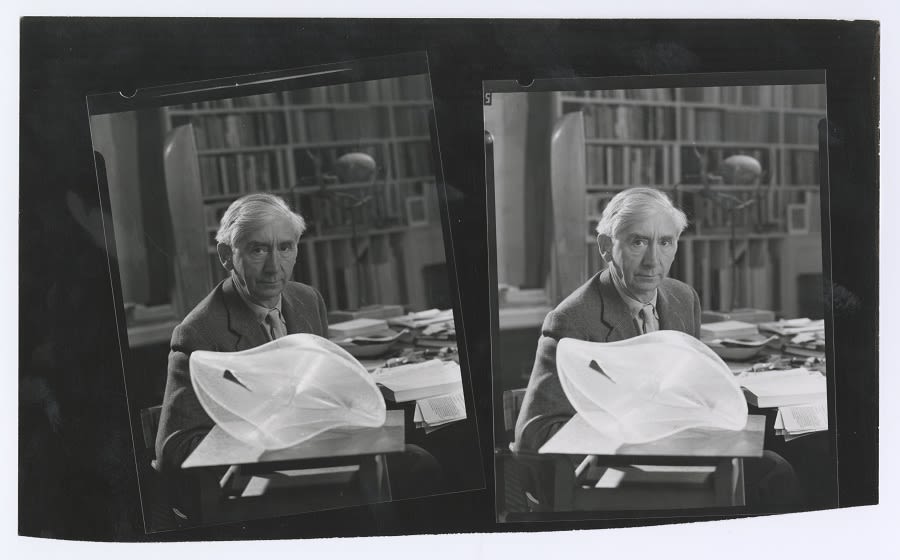 The two became lifelong friends and corresponded extensively after Gabo's move to the USA after the Second World War.
A letter from Gabo to Read, dated 30 November 1950, says that he gifted Read the wood engraving Op. 4, and at least two others from his Opus series, for Christmas that year.
In 1958 he also gifted Read the Perspex and nylon sculpture Linear Construction II (1957–58), sending him detailed instructions on where to place and how to clean it in a letter dated 24 June 1958.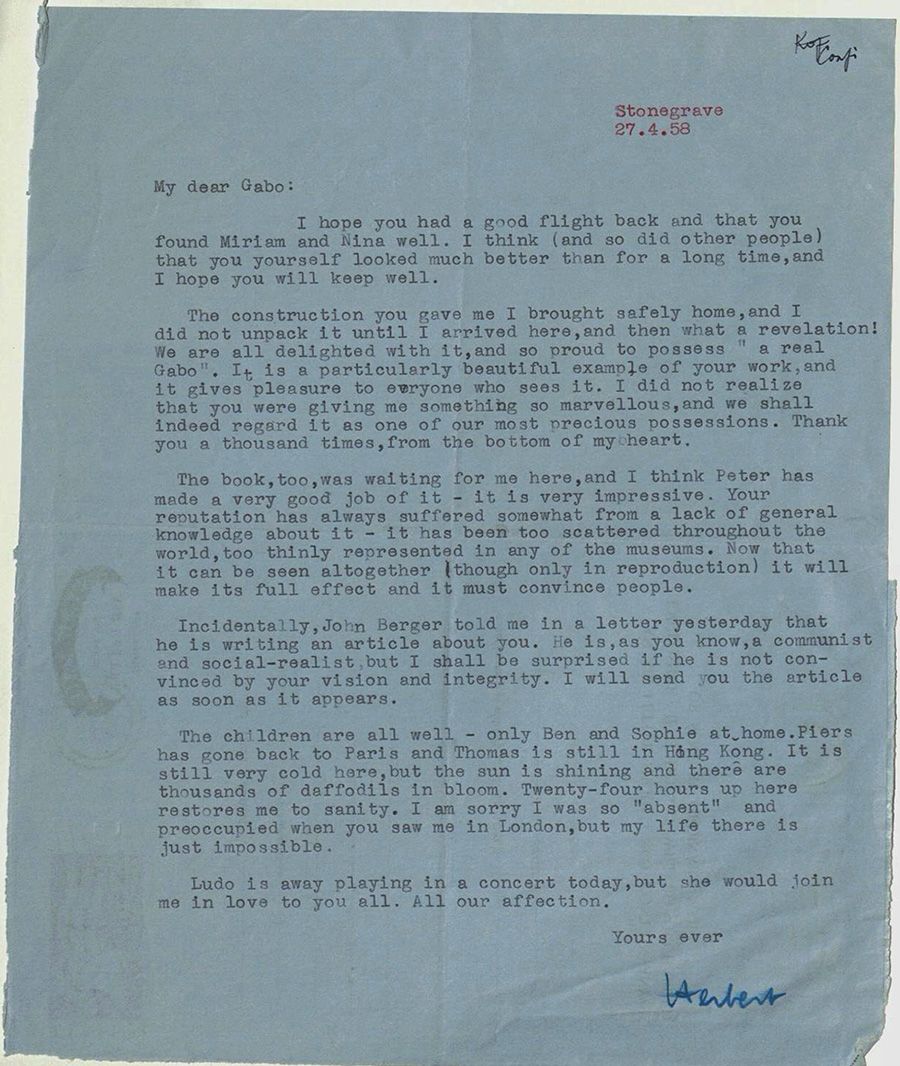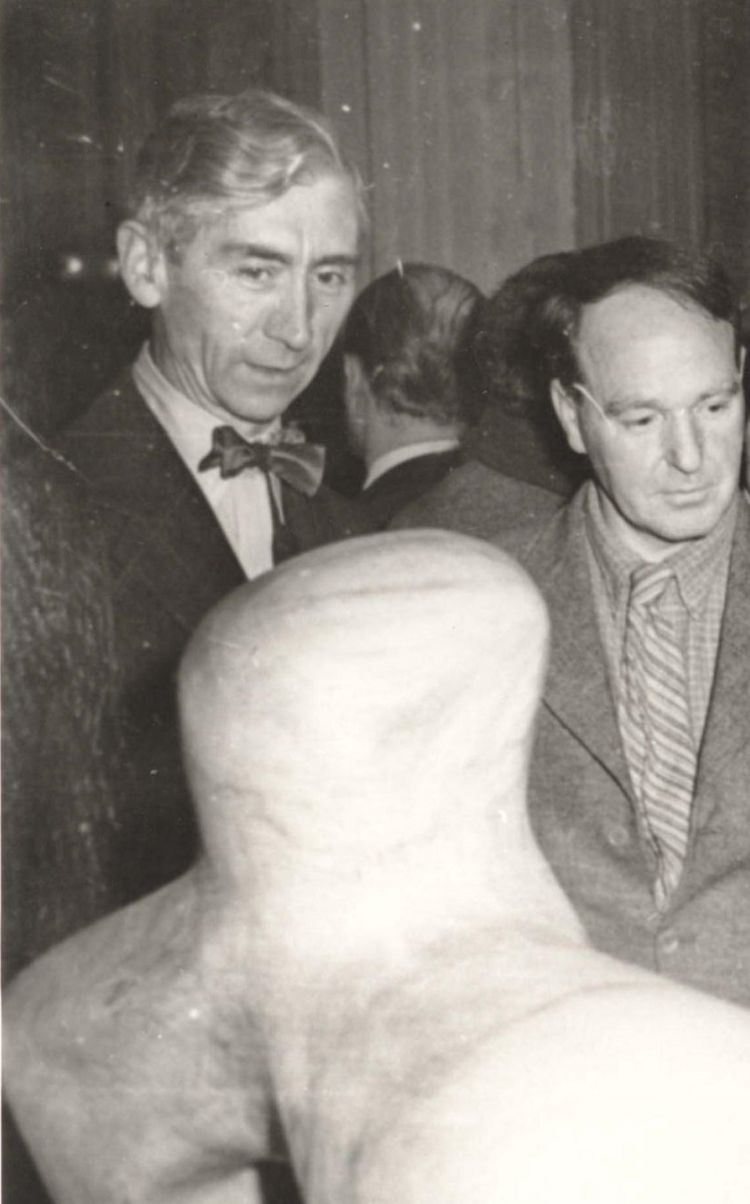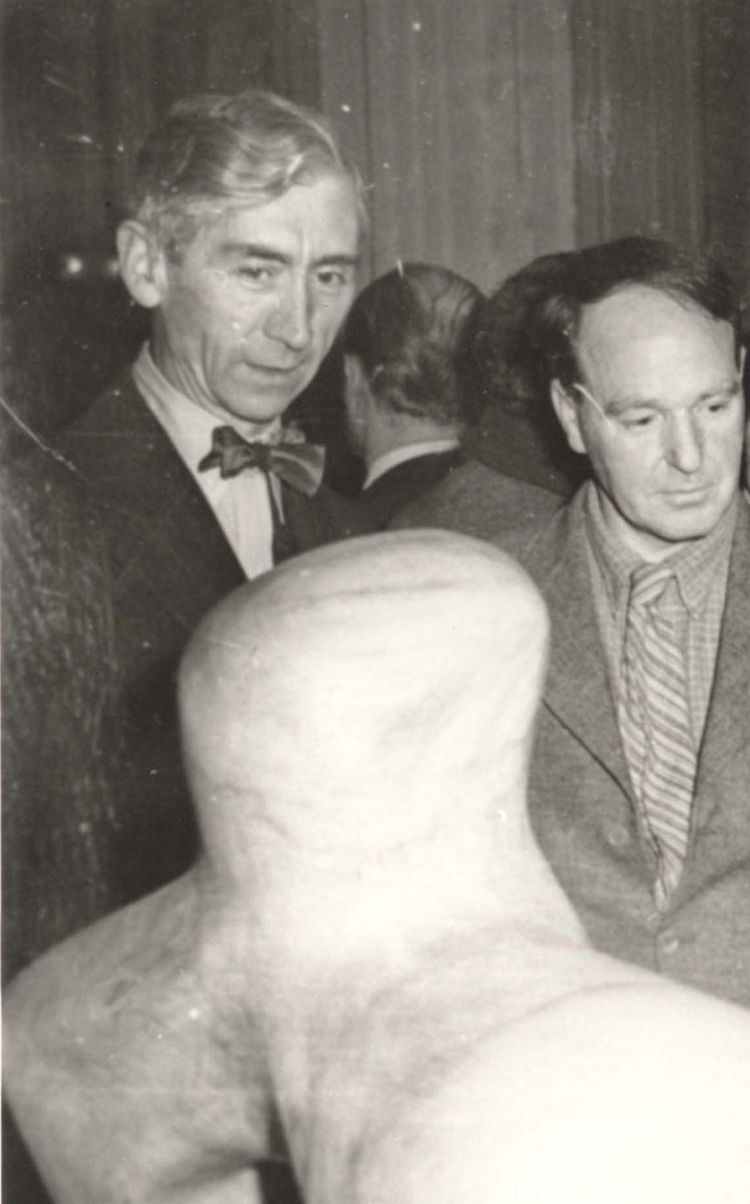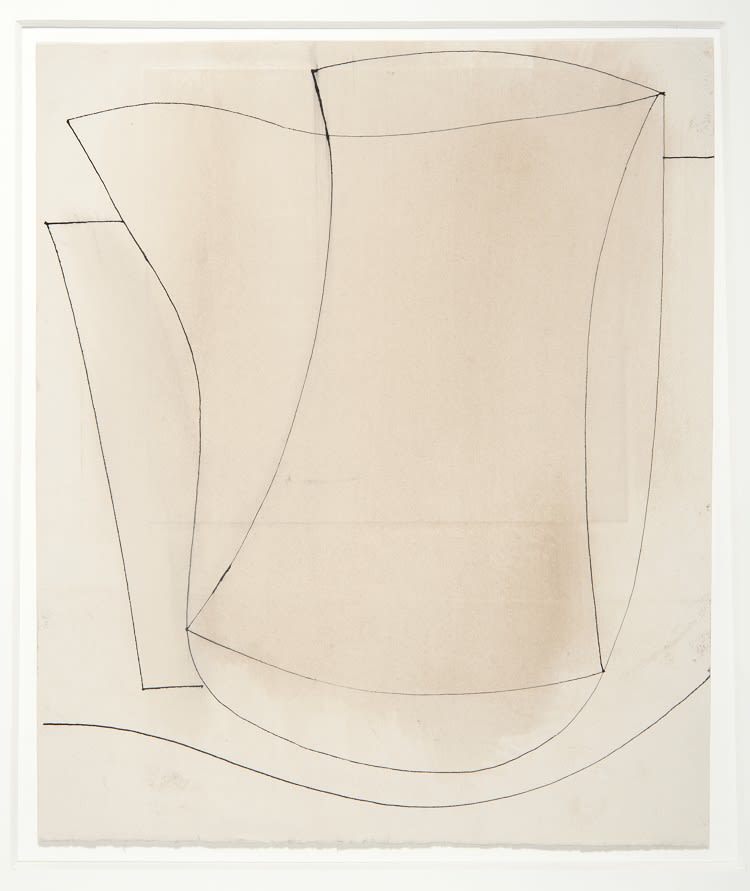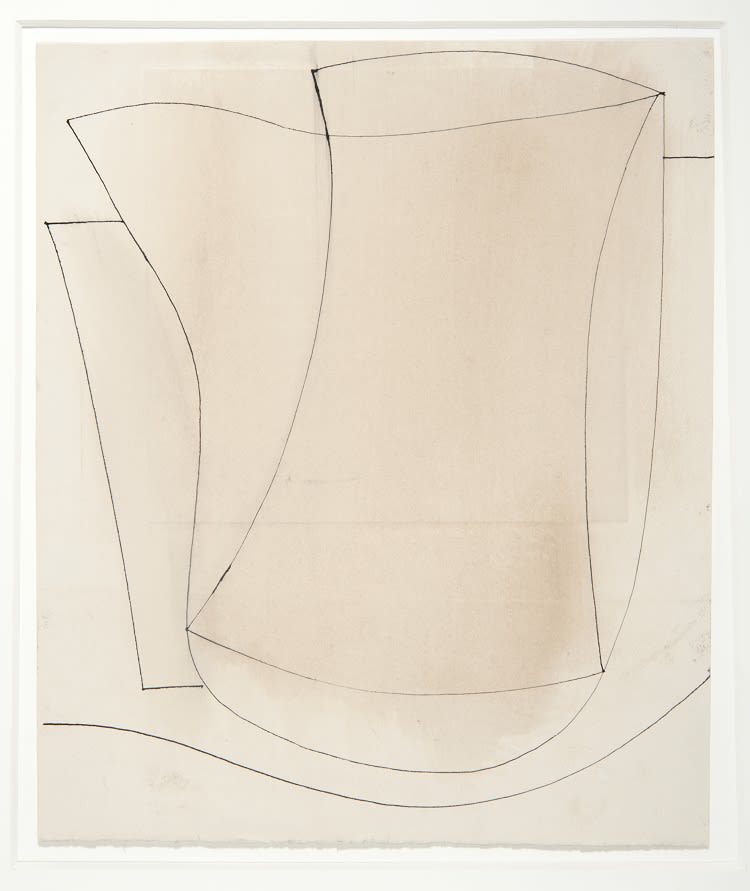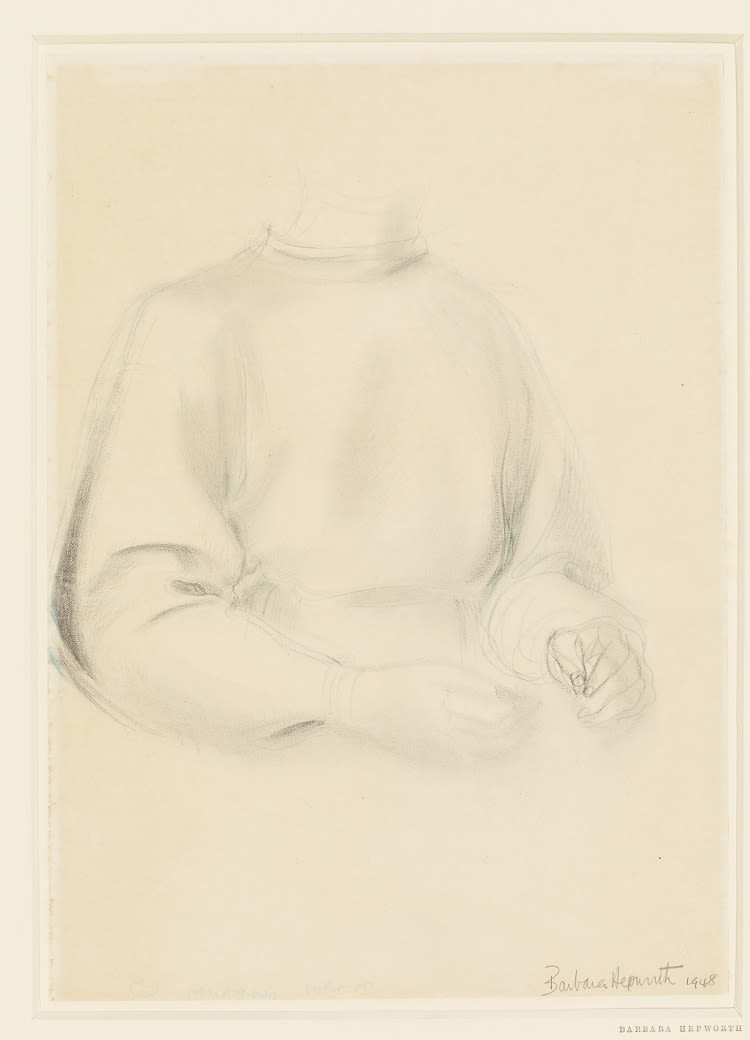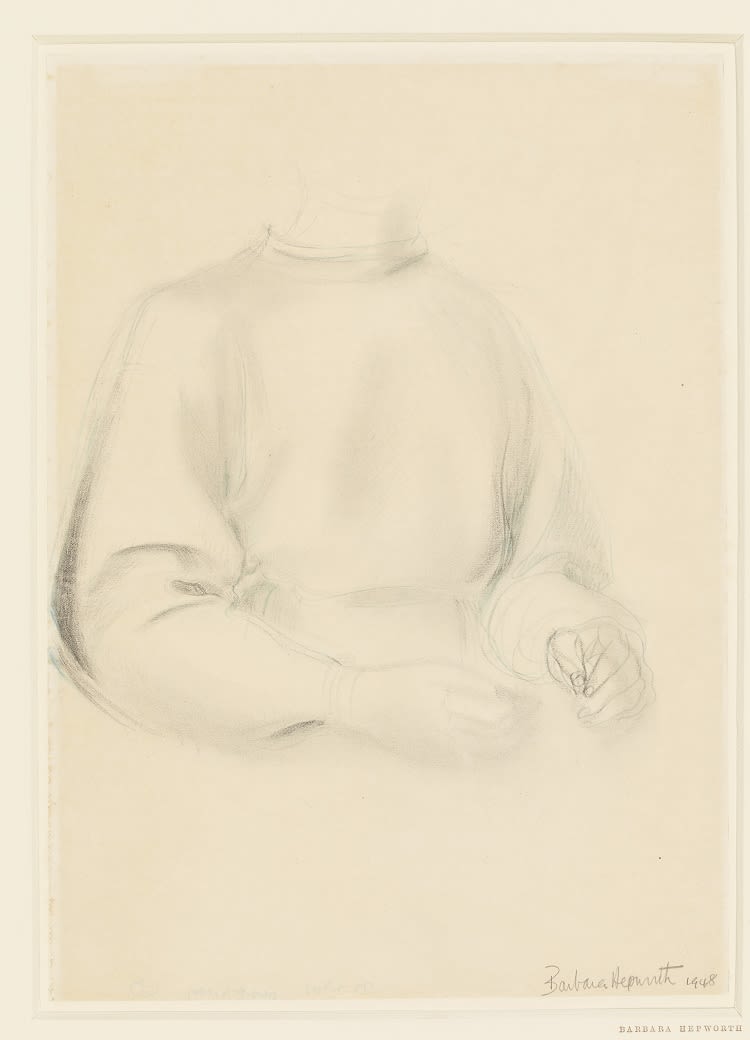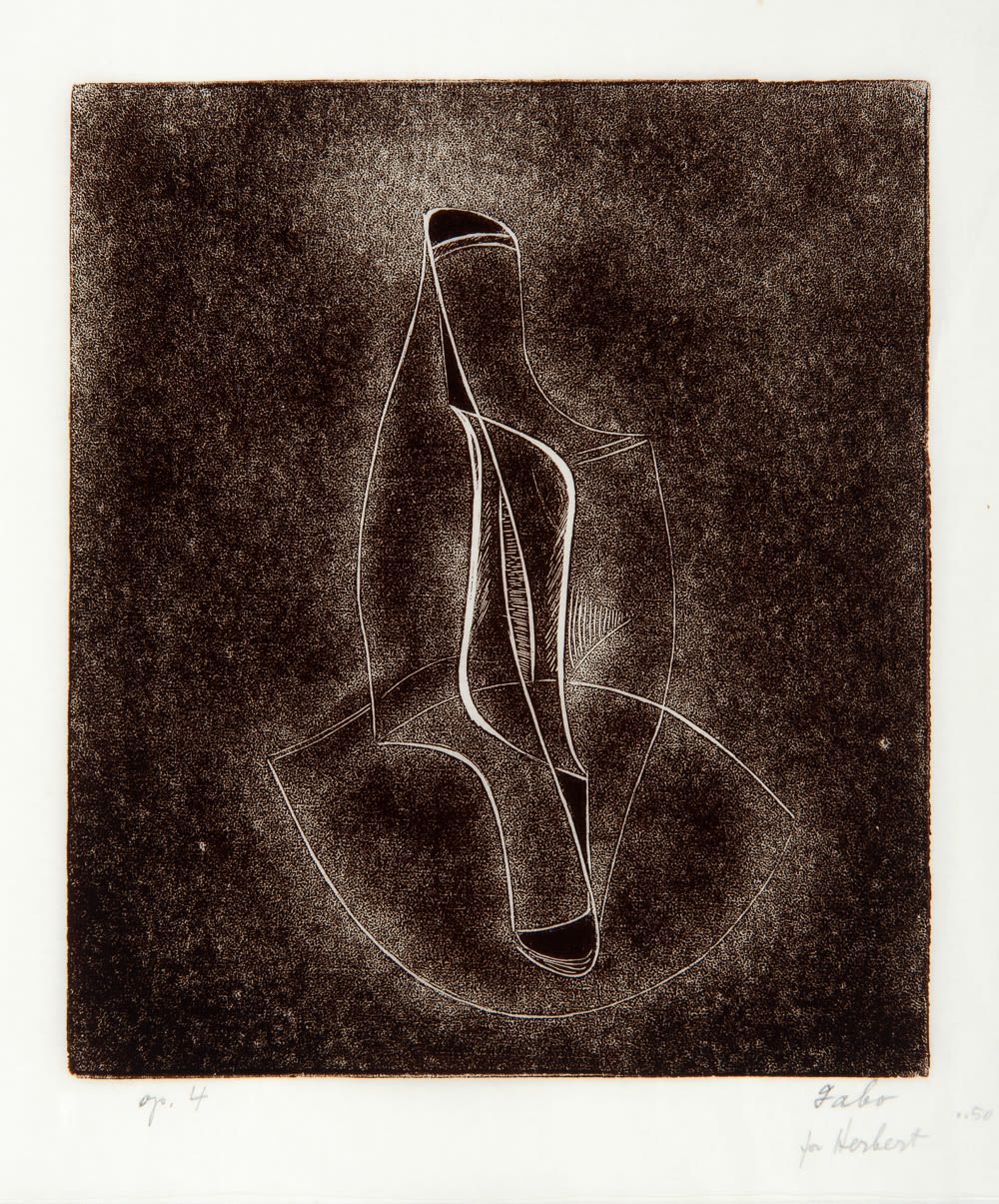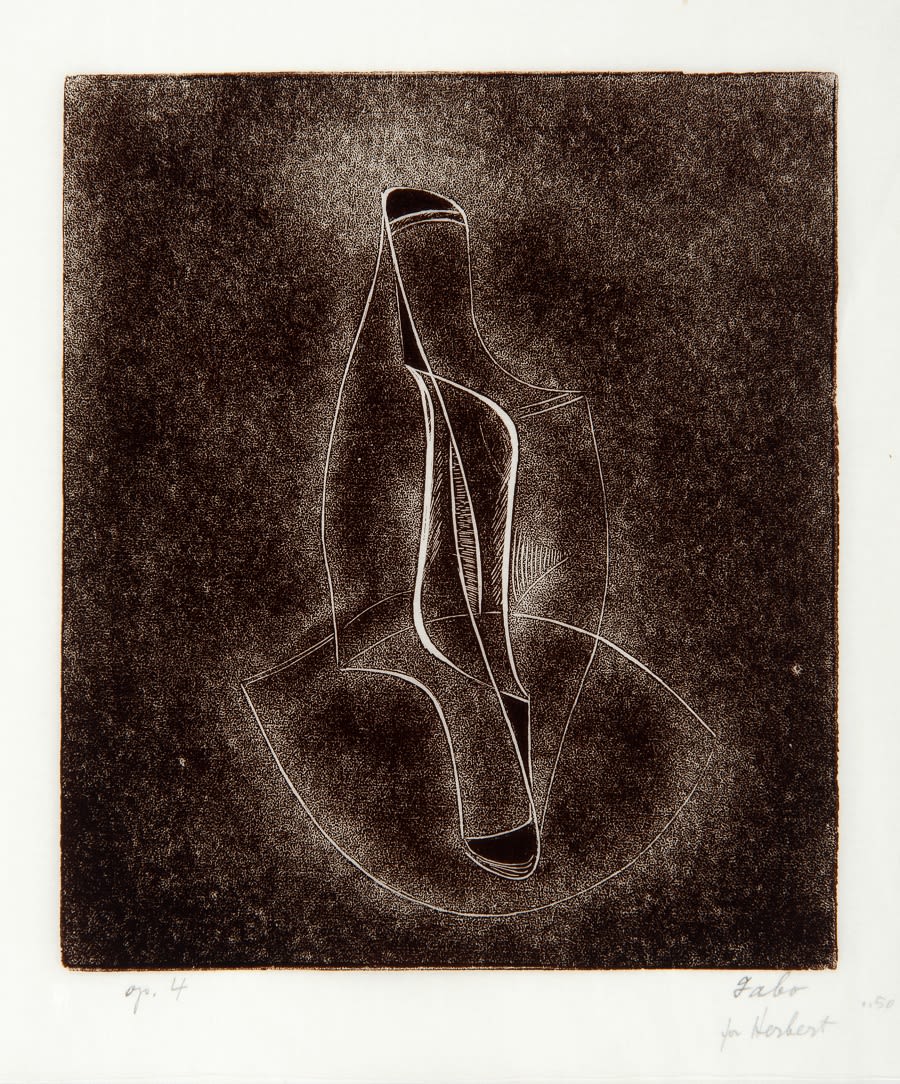 Art Now and other writings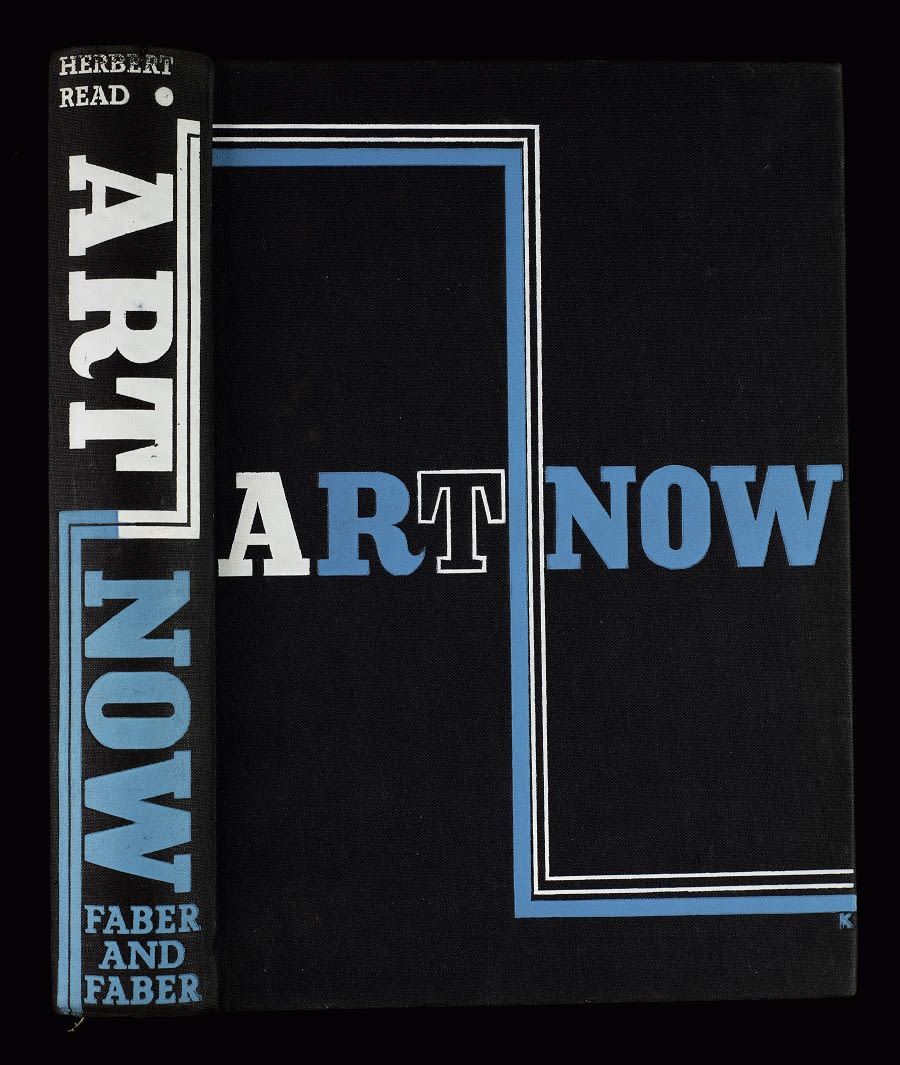 From his base in Hampstead, Herbert Read emerged as the foremost defender of modern art in Britain.
In 1933 he took editorship of the prestigious Burlington Magazine and published Art Now: An Introduction to the Theory of Modern Painting and Sculpture. It showcased for the first time to a British audience examples of abstraction, expressionism and surrealism, with illustrations by artists including Max Ernst, Barbara Hepworth, Henri Matisse, Henry Moore, Joan Miró, Paul Nash, Pablo Picasso, and Ben Nicholson.
Read wrote countless other books and articles that acted as a mediator between art and people, writing scholarly but accessible explanations of works and the ideas behind them.
Being included in one of Herbert Read's writings helped artists to gain recognition and approval. Throughout his life he was inundated with requests from artists and institutions to write introductions to catalogues or articles for magazines, which he often agreed to.
Jean Cocteau (1889–1963)
Frustratingly, not much is known about the friendship between Herbert Read and the French poet and artist Jean Cocteau.
However, a friendship is indeed indicated by the fact that Read used Cocteau's drawing Night of the Night (1926) as the frontispiece for Art Now (1933). It is a work recorded as being in Read's collection, with an inscription translated into English as: "Friendly remembrance to Professor Read by Jean Cocteau".
In 1936, Read was given this delightful portrait of himself by Cocteau, with an English transcription of "For Read in remembrance of La Sarraz friendship – 1936".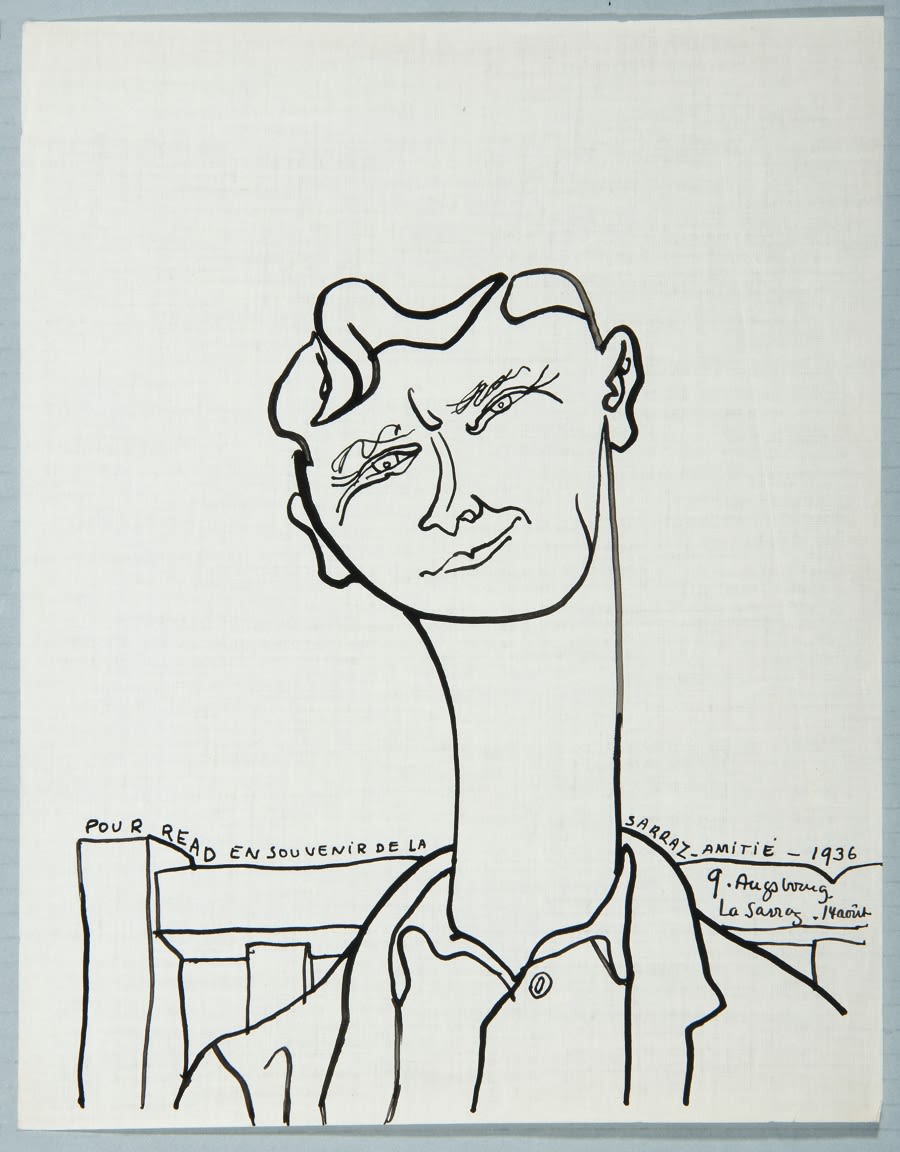 La Sarraz is a castle in Switzerland where multiple modernist artist meetings occurred throughout the 1920s and 30s – a likely first meeting point between Read and Cocteau.
Willi Baumeister (1889–1955)
In the catalogue introduction to Willi Baumeister's 1935 exhibition in Milan, Herbert Read described his work as "constructive, creative and prophetic."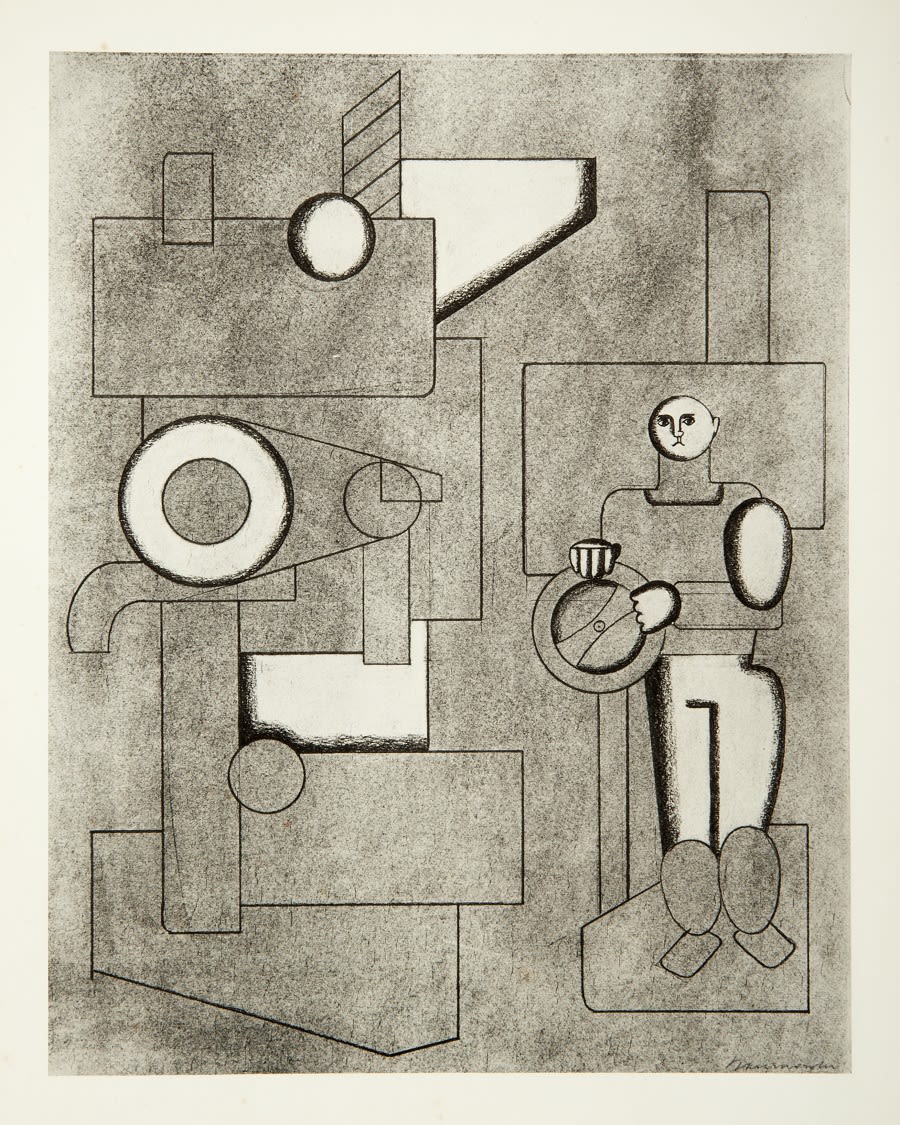 The critic and artist had begun corresponding in October 1933, when Read wrote to Baumeister to thank him for sending him a drawing, noting that he was "so glad to possess an example of your work."
Further correspondence throughout the 1930s shows that Baumeister continued to send his work to Read, many examples of which can now be found in the University art collection.
Read discussed Baumeister's work in both Art Now (1933) and A Concise History of Modern Painting (1959). He also included him in the 1938 Twentieth Century German Art exhibition held at the New Burlington Galleries, London.
Joan Miró (1893–1983)
The Spanish painter Joan Miró was just one of the many artists to contact Herbert Read to ask for a favour.
In a letter dated 21 November 1933, Miró asked Read to contribute a text on his work to the magazine Cahiers d'Art "considering your authority in England as defender of contemporary painting".
A second letter dated 19 July 1934 thanks Read for writing the article, and notes that in gratitude he is sending Read this gouache, showing how much he valued the text.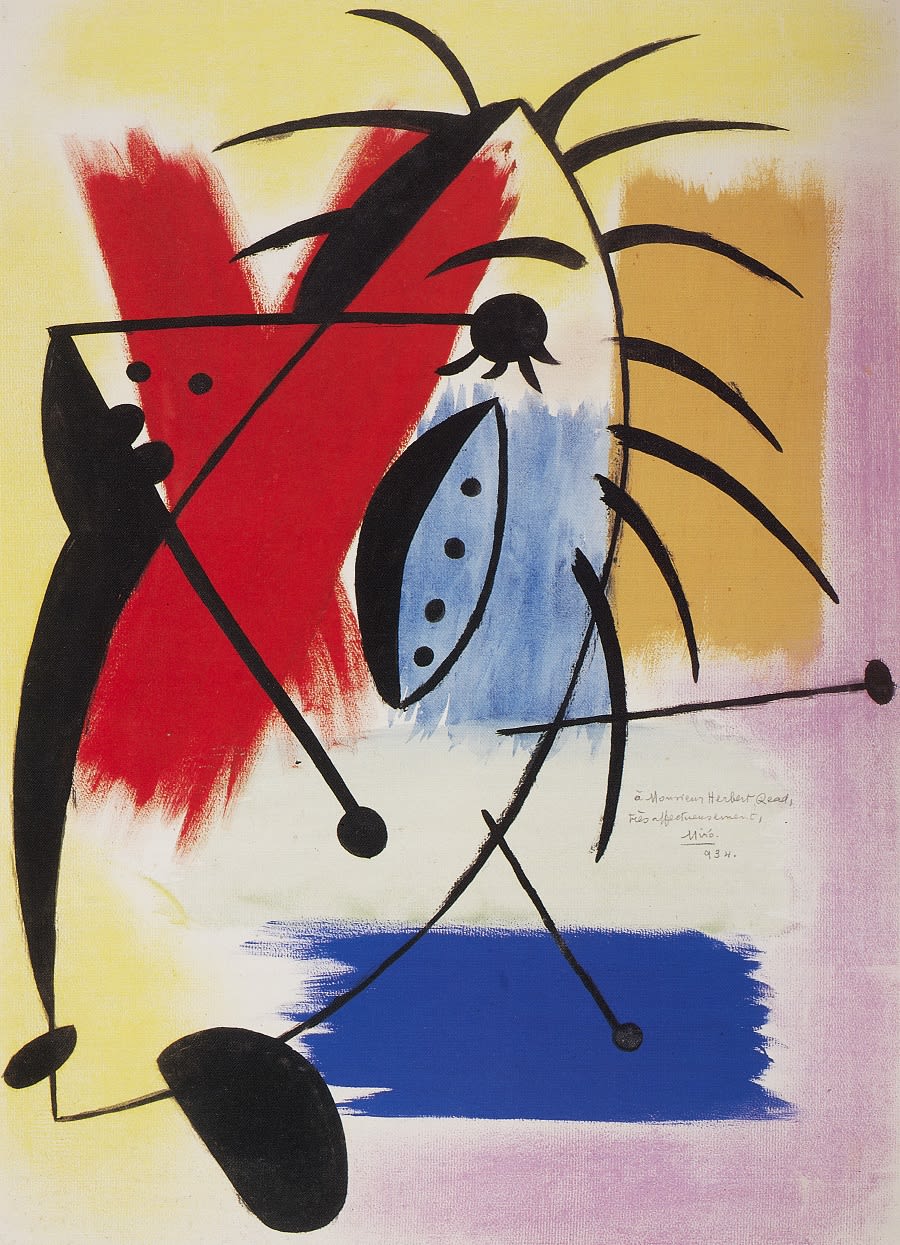 In 1963 Miró also presented Read with a chalk drawing for his 70th birthday, which Read described to his insurers as "difficult to value because it is very personal – a fantasy on my name".
Herbert Bayer (1900–1985)
Herbert Bayer was an Austrian-American graphic designer and artist, who studied for four years at the German Bauhaus under teachers including Wassily Kandinsky, Paul Klee and László Moholy-Nagy.
Walter Gropius, a Hampstead neighbour of Herbert Read, founded the Bauhaus and later appointed Bayer as Director of Printing and Advertising.
Read likely met Bayer through Gropius and utilised his progressive graphic designs for some of his books, including Art and Industry (1934).
Surrealist Composition was likely given to Read around this time.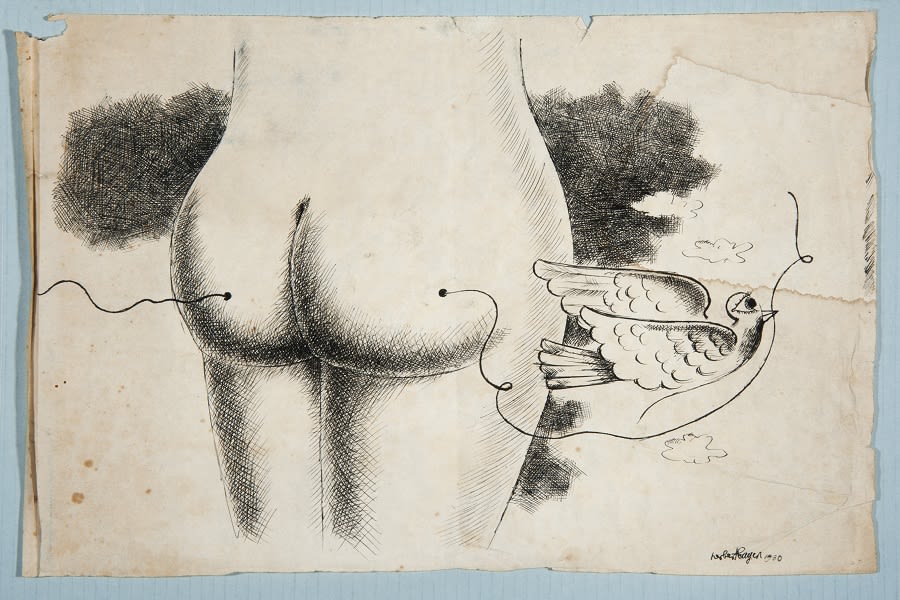 London International Surrealist Exhibition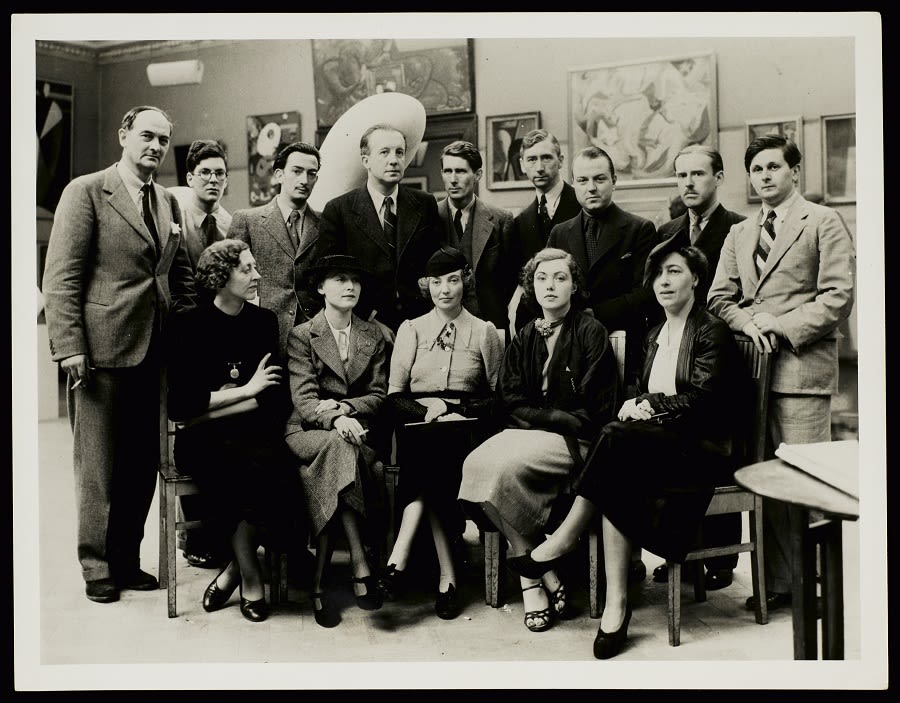 In 1936 Herbert Read championed the cause of surrealism, writing a book on the subject, Surrealism, and co-organising the London International Surrealist Exhibition with his friend and Hampstead neighbour Roland Penrose.
Together they visited artists to look for work for the show, which included leading European surrealist artists such as Salvador Dalí and Marcel Duchamp alongside the work of an emerging surrealist group in Britain like Henry Moore, Eileen Agar and Paul Nash.
It opened in June at the New Burlington Galleries, London to a crowd of about two thousand people and was attended by an average of one thousand people per day. Read also wrote the introduction to the exhibition catalogue.
According to his son Piers Paul, Read was given as tokens of appreciation "works by Yves Tanguy, Paul Klee, Paul Delvaux, Max Ernst, Rene Magritte, Graham Sutherland, Joan Miro, Jean Cocteau, Alexander Calder and – a gift from his friend Roland Penrose – a small Picasso."
Pablo Picasso (1881–1973)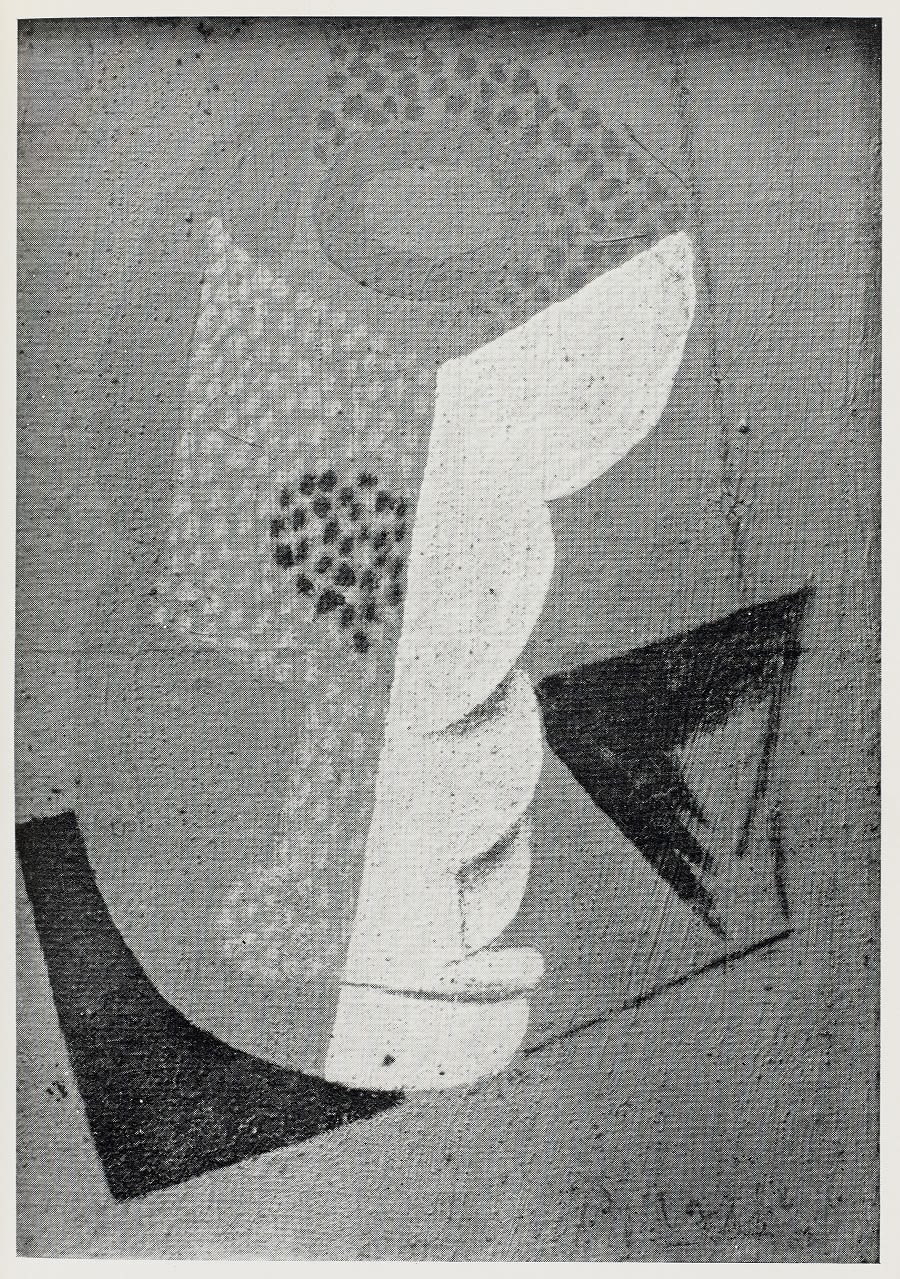 Herbert Read received this still life by Pablo Picasso as a gift from Roland Penrose, in gratitude for all the work he had done on the International Surrealist Exhibition.
It had originally been given by Picasso to Paul Éluard sometime after 1924 and was in his collection until at least 1932, when it was shown in Paris and Zurich.
The work's next public appearance was at the Picasso in English Collections exhibition at the London Gallery in 1939, where it was acknowledged as being in Read's collection.
Read and Picasso became friends through Penrose, and shared a common enthusiasm for children's art.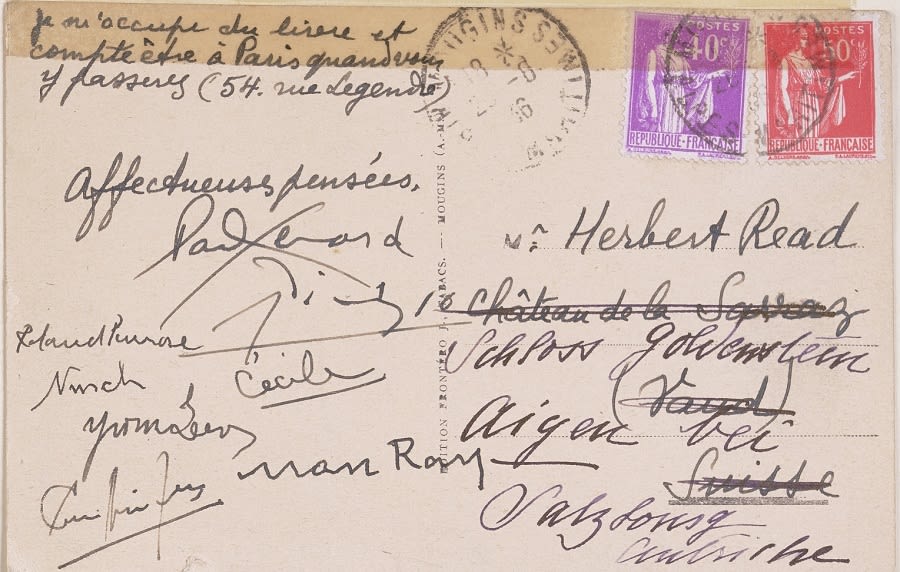 Paul Klee (1879–1940)
Paul Klee was a Swiss-born German artist, influenced by cubism, expressionism and surrealism.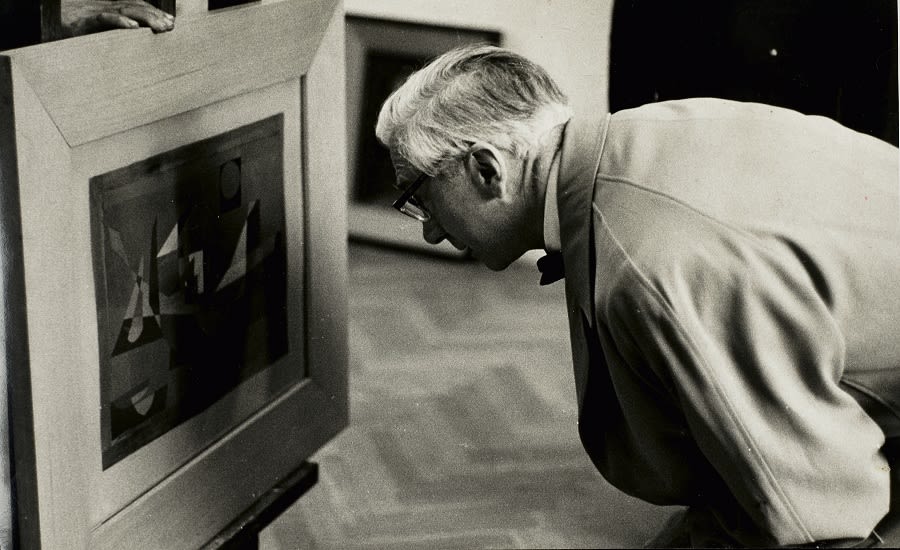 Herbert Read clearly had a strong appreciation for Klee, writing extensively on his work beginning with an article in The Listener magazine in 1931.
He also wrote the introductions to Klee's exhibition at the Leicester Galleries, London in 1941 and Klee's volume of Faber and Faber's On Modern Art series in 1948.
Rauferei was the only work of art by Klee in Read's collection – most likely a gift for including fifteen of his works in the International Surrealist Exhibition.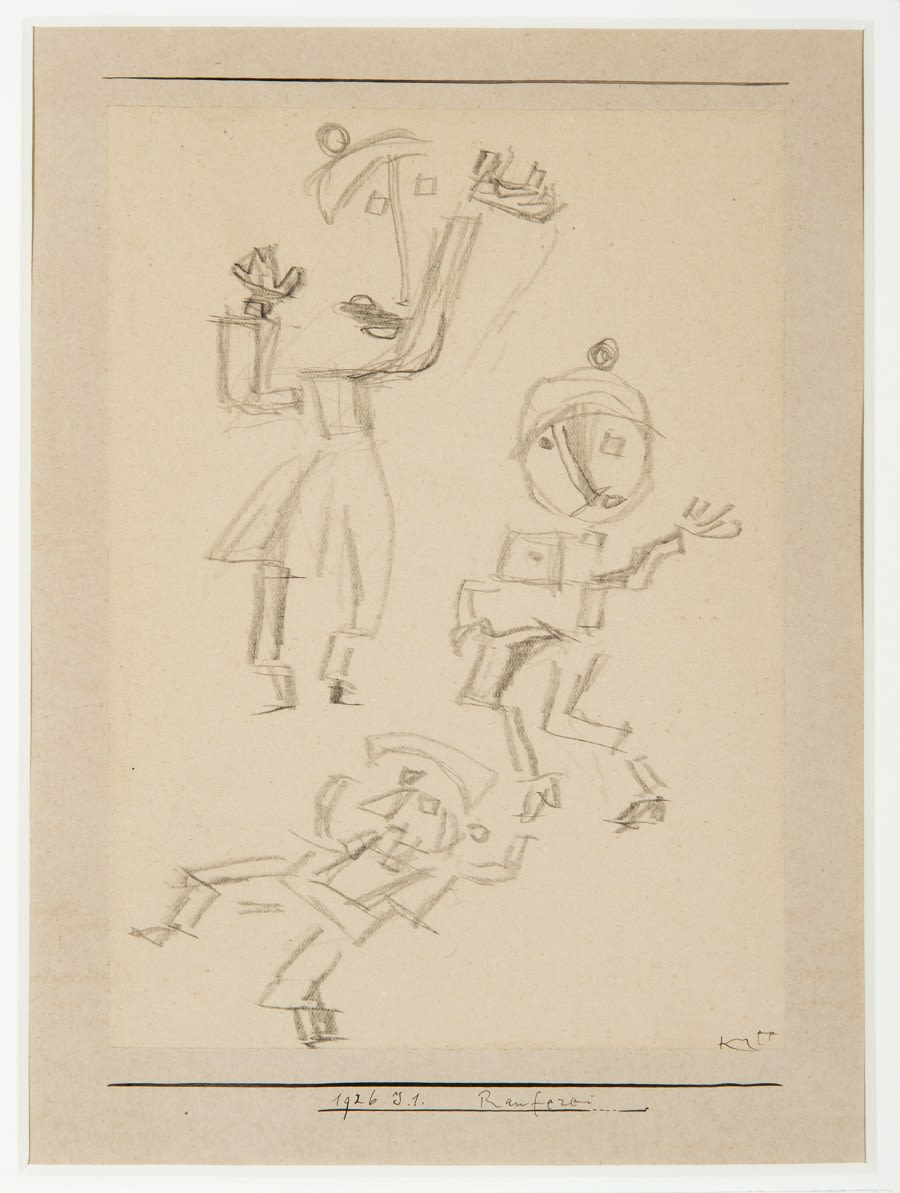 Stonegrave is just the house I have always wanted… Ludo is very pleased about it all (even keener than I am, if that is possible) and the children terribly excited"
Stonegrave House
In 1949 Herbert Read moved his family from London back to North Yorkshire. He purchased the draughty old parsonage, Stonegrave House, just three miles from his birthplace of Muscoates Grange.
It became a regular visiting spot for writers and artists, who would be greeted by Read's vast library and art collection, alongside a mish-mash of modernist furniture, poodles and Chinese geese.
Read was very particular about its decoration, wanting to live not in a museum where artworks were hung according to their school or style, but with works in vivid contrast to one another. As he described to the artist Eric Finlay: "As I write two pictures face me on the wall, one a pure abstraction by Ben Nicholson, the other a surrealist fantasy by Paul Delvaux. By chance their colours harmonise, if there is any contradiction in their forms, it must correspond to a contradiction in my own mind, for both appeal to me with equal force."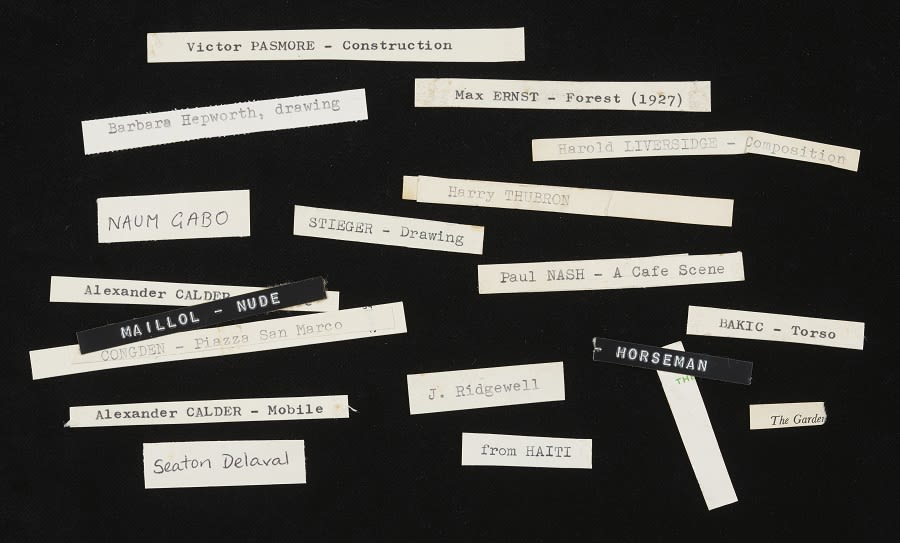 On several occasions the House was opened to the public to view the artworks and in 1963 Read, helped by his son Benedict, created a catalogue of artworks at Stonegrave – the first attempt at recording his art collection.
Gregory Fellows and British art
Herbert Read's return to Yorkshire also coincided with a renewal in his involvement with the University of Leeds in the 1950s, helping to establish the Gregory Fellowships.
The brainchild of his close friend, Yorkshire businessman Eric Gregory, the scheme was the first time that artists had worked with a university in this way anywhere in Britain.
As part of a distinguished appointing committee made up of Henry Moore, T.S. Eliot and Bonamy Dobree, Read admitted artists such as Kenneth Armitage, Martin Froy, Trevor Frost, Trevor Bell, Reg Butler and Austin Wright to the Fellowships.
He also continued to patronise British artists in other ways, for example as a member of the Fine Arts Committee for the British Council. In this role Read was involved in selecting artists for the British Pavilion at the Venice Biennale in 1952 and buying contemporary British art to decorate British institutions abroad.
Reg Butler (1913–1981)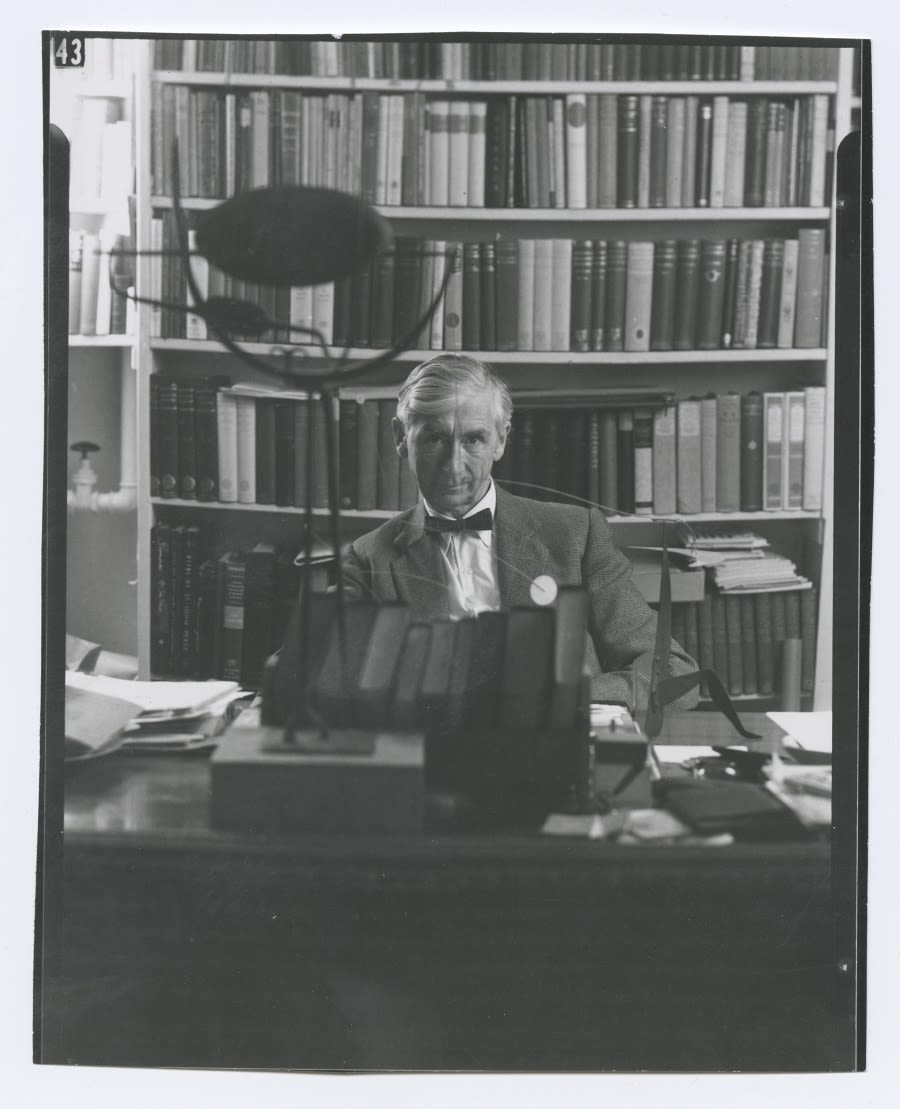 Reg Butler was Gregory Fellow in Sculpture at the University of Leeds from 1950–52.
He went on to win the Unknown Political Prisoner competition organised by the Institute of Contemporary Arts in 1953, becoming one of the best known British sculptors of the 1950s and 60s.
Herbert Read clearly had an appreciation for Butler prior to his appointment to a Gregory Fellowship, as he bought the sculpture Head at Butler's first exhibition at the Hanover Gallery, London in 1949.
According to photographs of Read's study at Stonegrave House, he displayed this sculpture on his desk.
Terry Frost (1915–2003)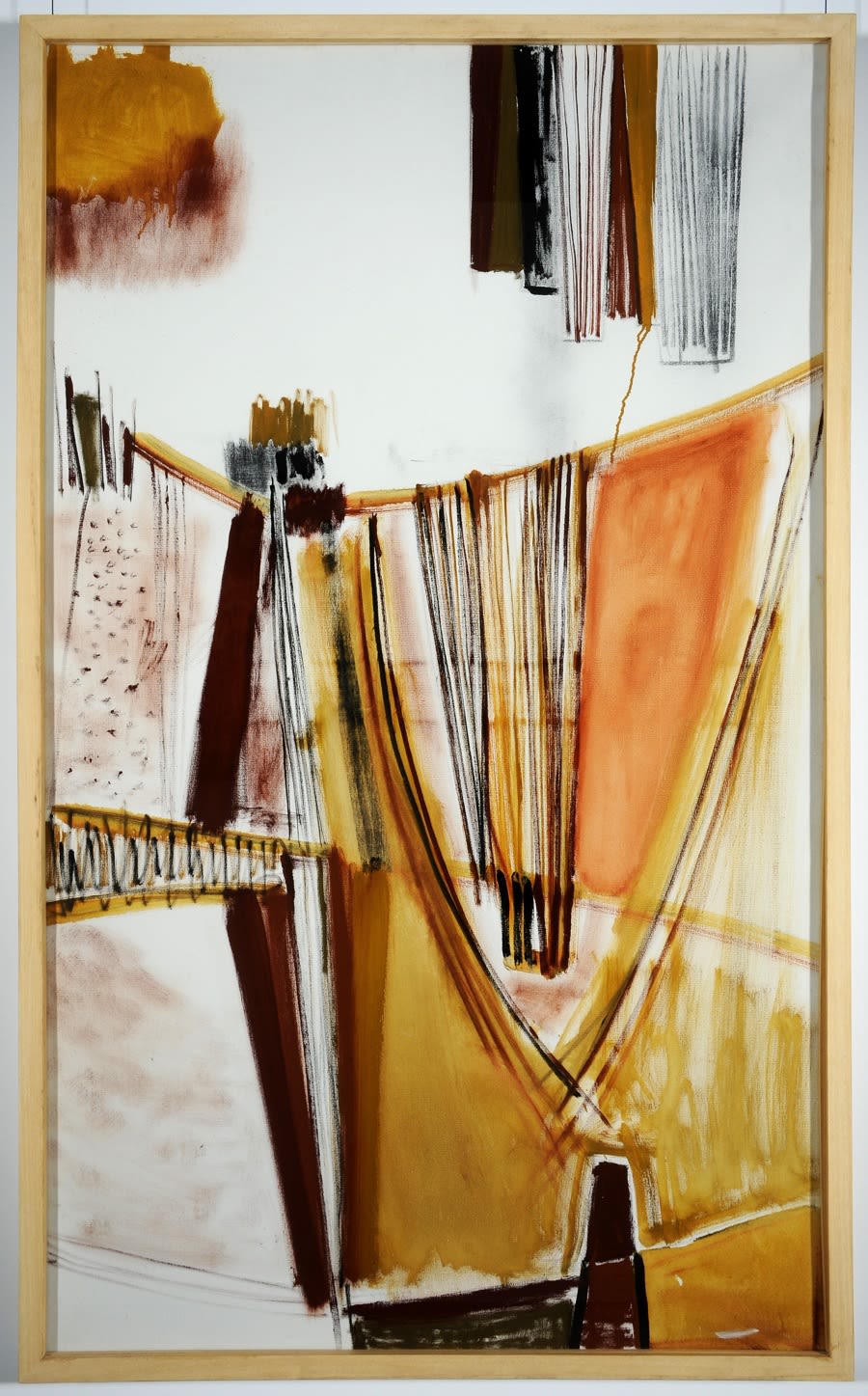 Terry Frost was Gregory Fellow in Painting at the University of Leeds from 1954–56.
The oil painting Mars Red, Yellow and Brown was produced directly afterwards, when he began teaching at the Leeds Collage of Art.
A "Composition" by Frost is listed in numerous documents as being part of Herbert Read's collection, perhaps given as a gift by the artist in recognition of the end of his Fellowship.
Although described in one document as a "big black brown and pink canvas", in contrast to its title, it is likely this work — gifted to the University by Read's son Piers Paul.
Austin Wright (1911–1997)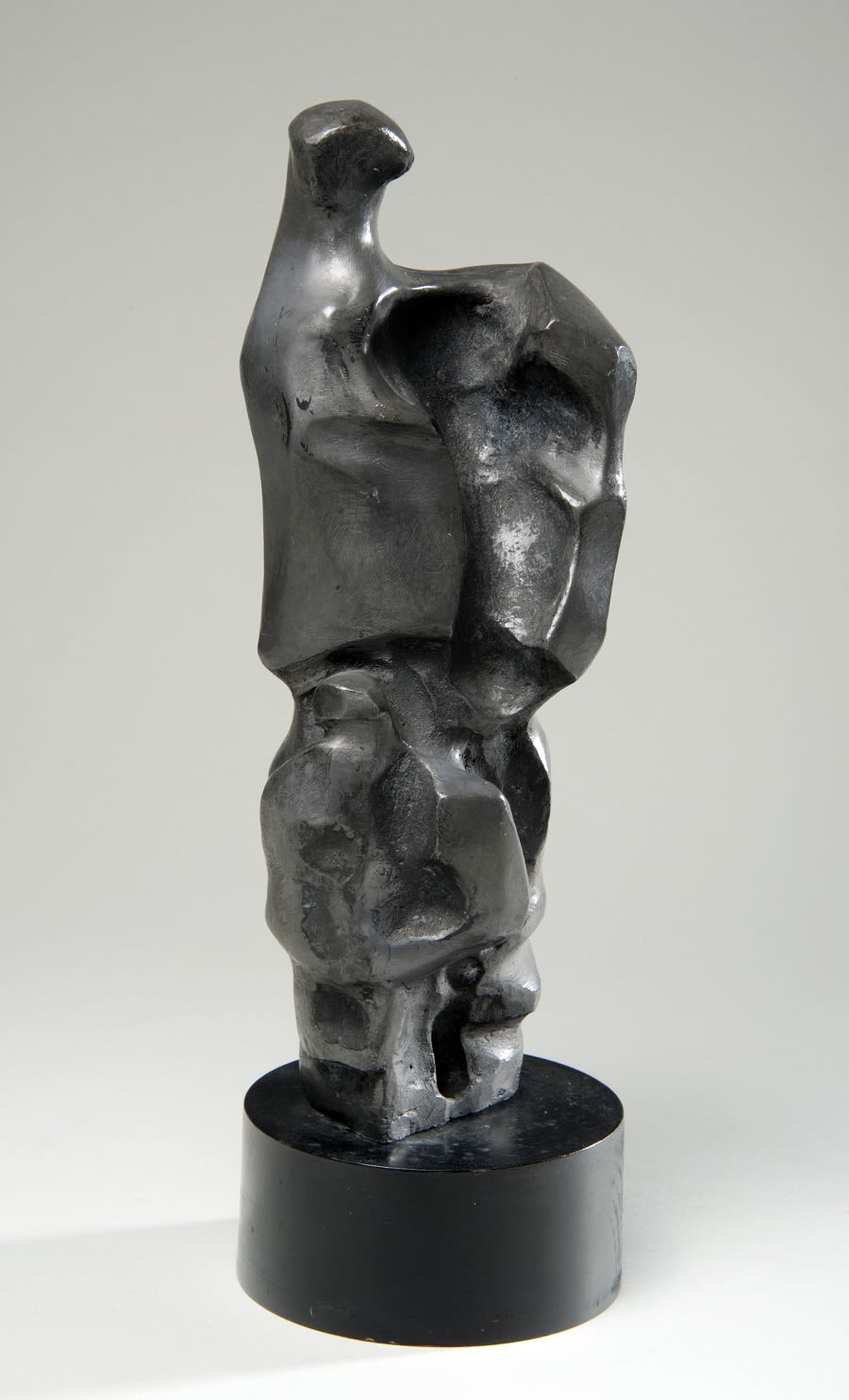 Austin Wright was a British sculptor raised in Cardiff, who won the acquisition prize at the São Paolo Biennial in 1957.
He was Gregory Fellow in Sculpture at the University of Leeds from 1961–64.
Years before this, Mother and Child had made its way into Herbert Read's collection as a present from his wife Ludo, who bought the sculpture from Wright on Christmas Eve in 1955.
Read also owned an untitled etching by Wright.
Victor Pasmore (1908–1998)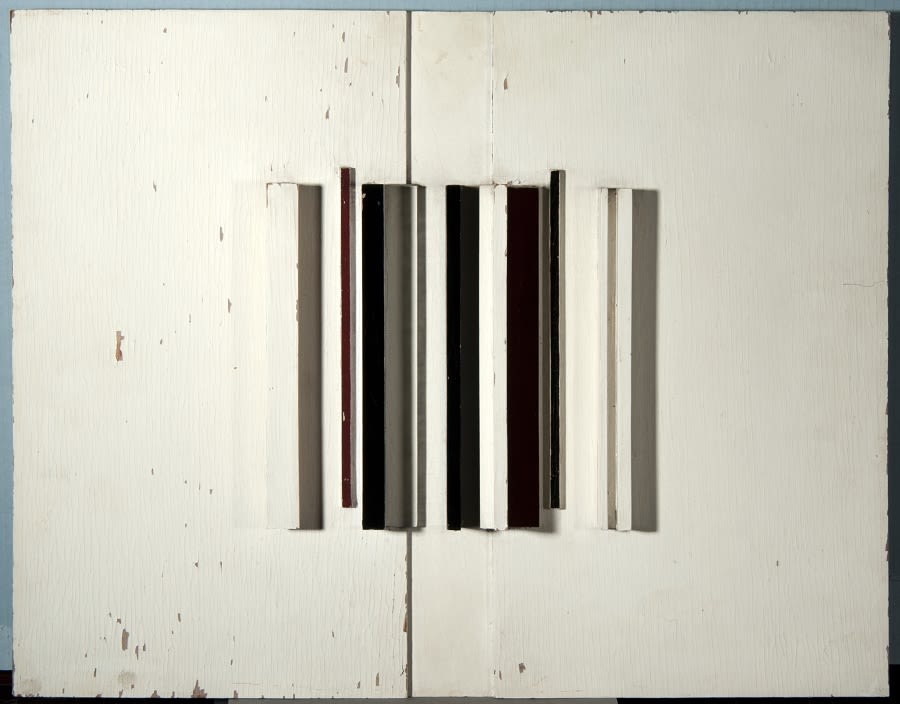 Victor Pasmore pioneered the revival of constructivism in post-war Britain, making abstract works in collages and reliefs.
In 1946, the British Council allotted £1,000 for the purchase of artworks to Herbert Read and fellow art critic Clive Bell. A Pasmore was one of the first artworks they selected.
Pasmore held his first abstract solo exhibition at the Redfern Gallery, London in 1948. This led Read to describe his style as "The most revolutionary event in post-war British art."
Read had numerous "Constructions" by Pasmore in his collection, including Abstract in White, Black and Green and a small painted wood construction given to Read for his 70th birthday in 1963.
The Pope of Modern Art
The title "the Pope of Modern Art" was conferred on Herbert Read by an unknown American journalist in the 1950s. Read continued to live up to this title in his later years, championing an impressive roster of post-war contemporary artists such as Eric Finlay and Ruth Francken.
Grand plans to establish a Museum of Modern Art in Britain had been thwarted by the onset of the Second World War. Influenced by his earlier engagement with the Leeds Arts Club, Read co-founded the Institute of Contemporary Arts with Roland Penrose in 1947. Its aim was to provide a home for progressive sculpture, architecture and painting as well as poetry, music, film, literature and performance.
Read continued to publish titles such as A Concise History of Modern Painting (1959) and A Concise History of Modern Sculpture (1964). He also became the first art critic/historian to be appointed to the board of the Tate Gallery in 1965.
Kurt Schwitters (1887–1948)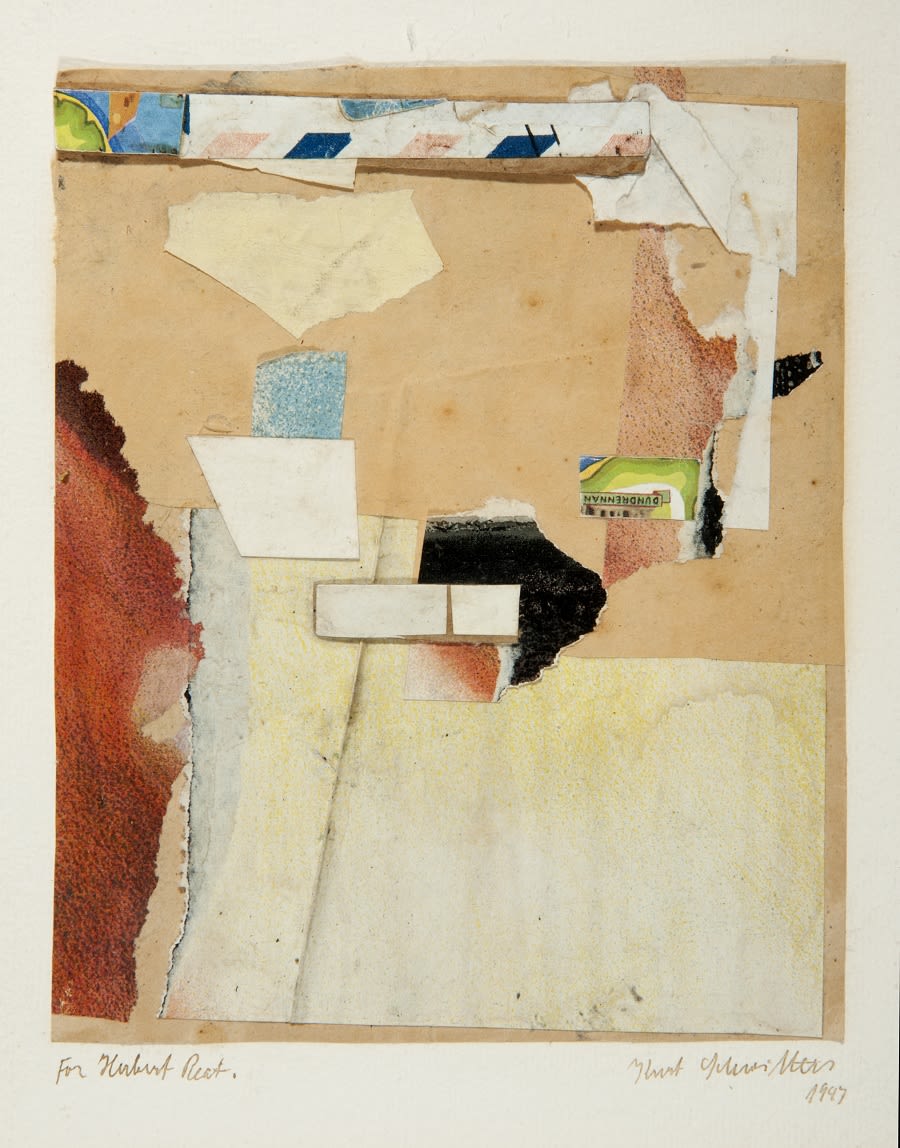 Kurt Schwitters was a German artist who worked across multiple genres and media, including dadaism, constructivism, surrealism, poetry, sound, painting, sculpture, graphic design, typography and collages. Yet upon Schwitters' arrival in wartime London in the early 1940s, Herbert Read was one of very few people aware of his significance.
Read first visited Schwitters at his studio in October 1944. He subsequently wrote the catalogue introduction for Schwitters' only solo exhibition in England during his lifetime at the Modern Art Gallery, London in December 1944.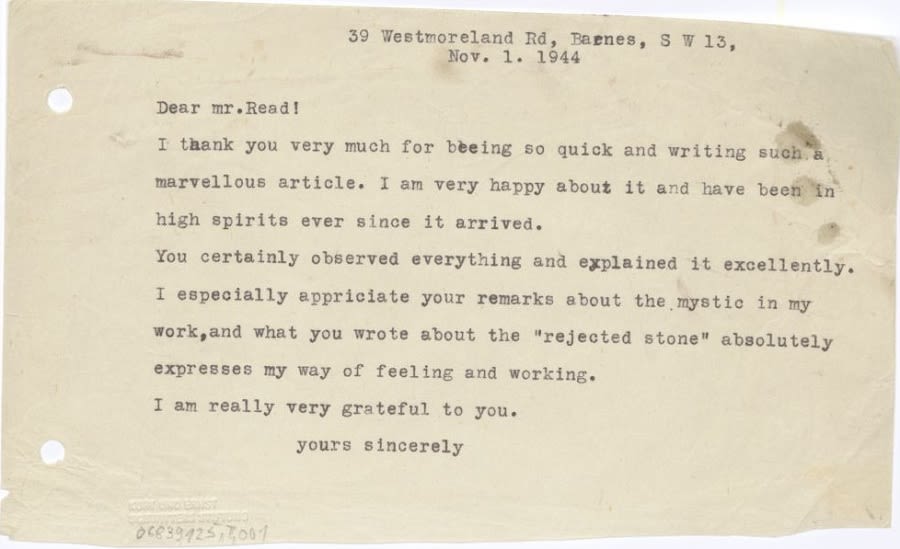 Correspondence shows that Read's support also went as far as sponsoring Schwitters' application for British naturalisation.
Read called Schwitters "the supreme master of the collage" and was given three from the artist as gifts, all from his famous Merz series. Schwitters also featured Read as the central image in one of his 1944 collages, using a photograph cut from an issue of the Picture Post in which an article by Read appeared.
Ruth Francken (1924–2006)
Herbert Read met the Czech-American artist Ruth Francken at Peggy Guggenheim's palazzo in Venice in 1952.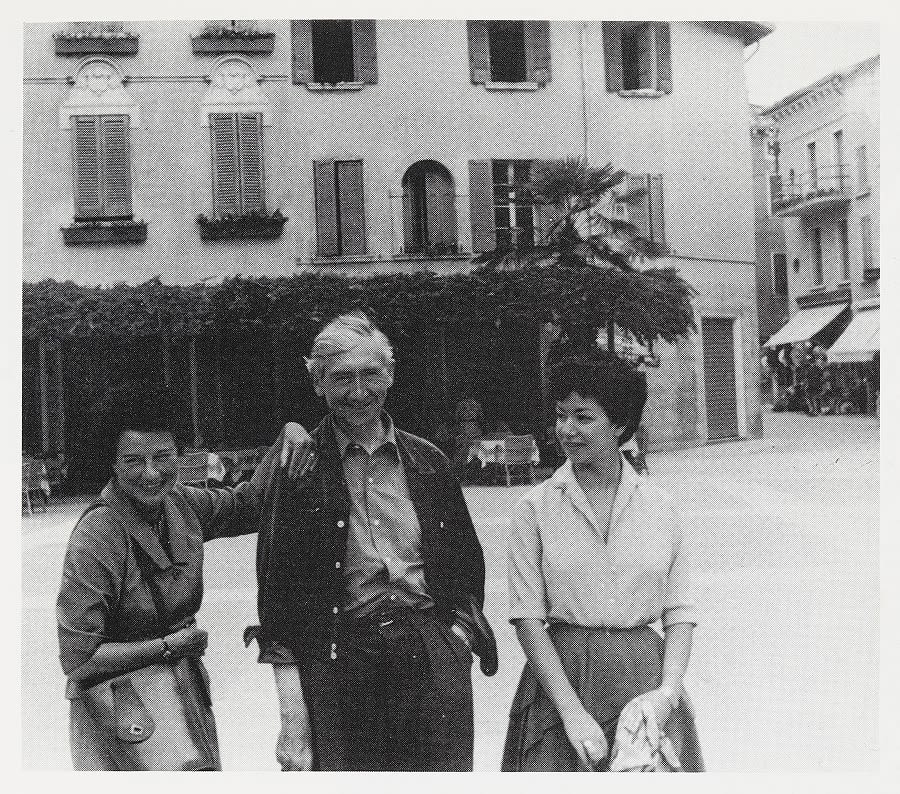 Read's passionate support of Francken's work led her to nickname him as her "Anchor" in their extensive correspondence, in which she would frequently discuss her doubts about her career and send him sketches of things she was working on.
Francken was the original recipient of Read's A Letter to a Young Painter (1962), in which he describes her work as having a "haunting quality" that "remained in my mind in all their original clarity."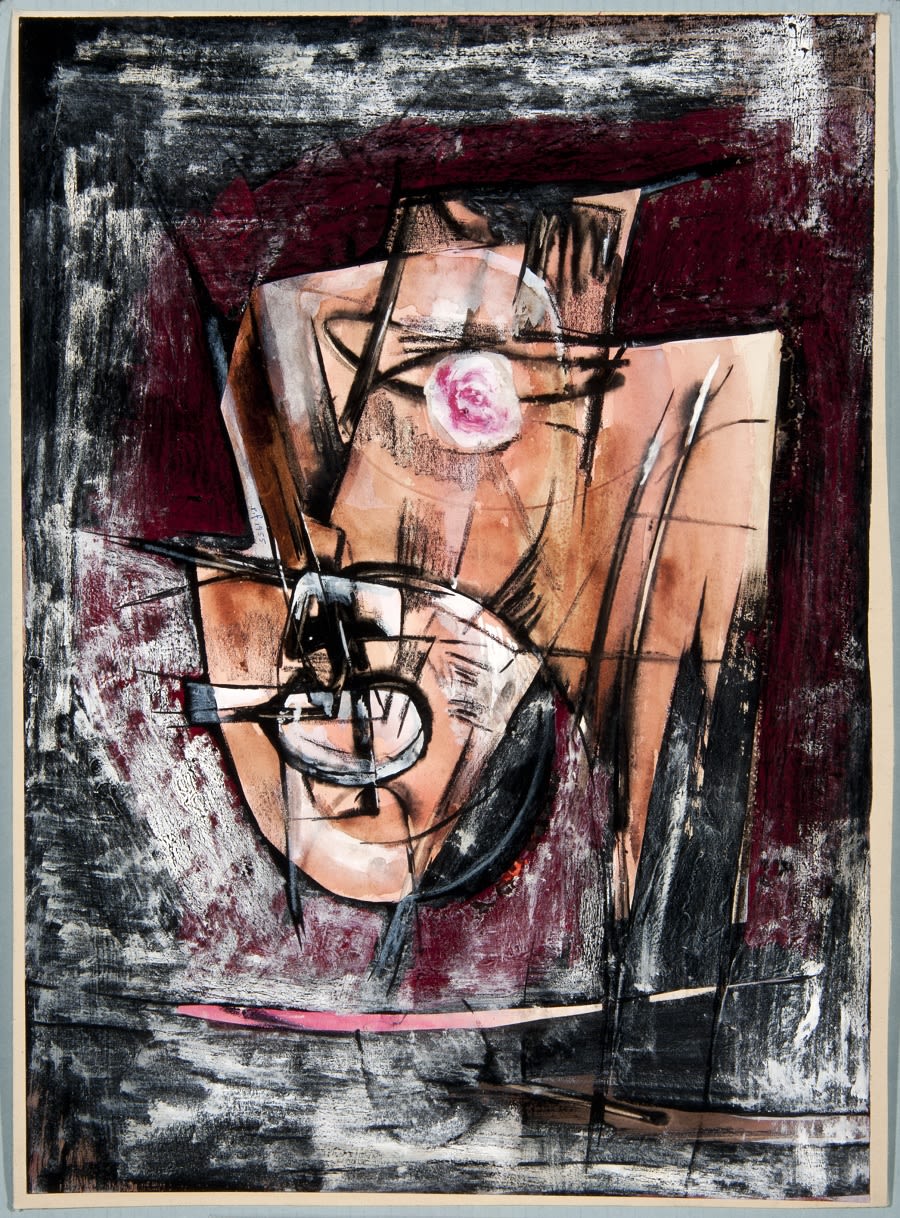 Alongside this Composition, Read had at least five other works by Francken in his collection.
Congo the Chimp (born 1955)
In 1957 the Institute of Contemporary Arts held the exhibition Paintings by Chimpanzees.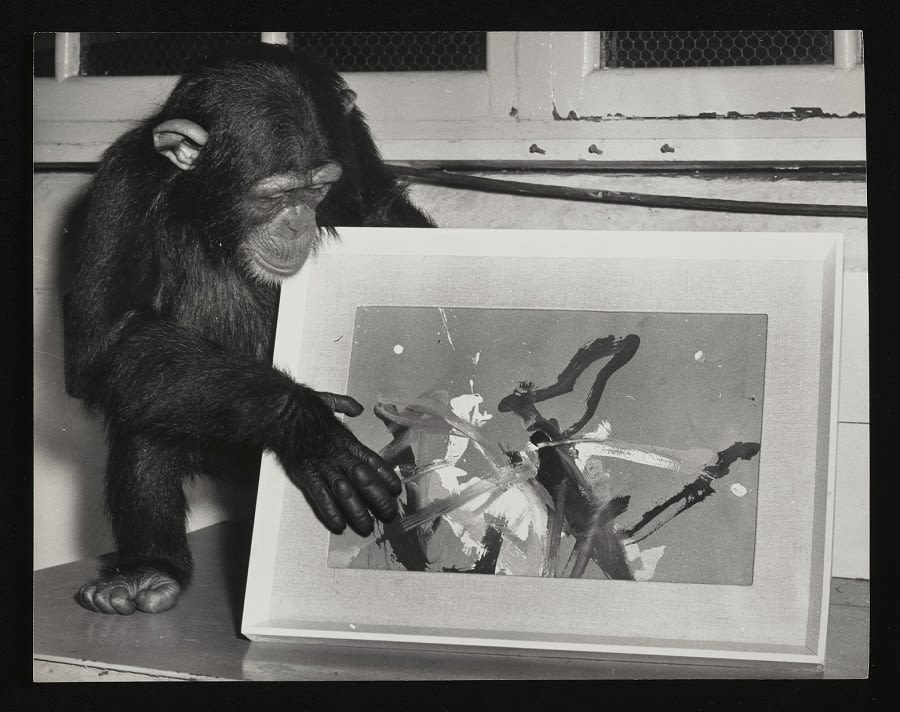 It was the result of a three-year experiment by the surrealist artist and zoologist Desmond Morris, who recorded the artistic outputs of a number of apes as evidence of their innate urge to make and play with visual patterns.
In particular, it included a number of works by a young chimp named Congo. Congo made approximately four hundred works of art, many in a repeating "fan" pattern.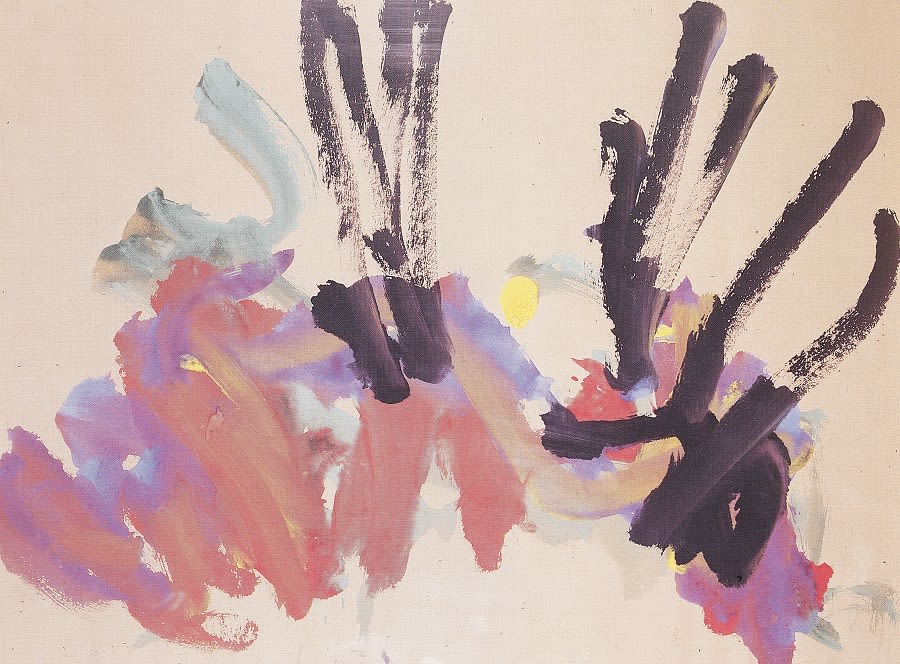 The exhibition drove a flurry of interest among collectors including Pablo Picasso, the Duke of Edinburgh and Herbert Read, who owned two works by Congo.
Hans Erni (1909–2015)
Hans Erni was a Swiss graphic designer, artist and sculptor.
When Herbert Read wrote the catalogue introduction for one of Erni's exhibitions in New York in 1958, Erni sent a letter to Read enclosing a "little drawing… to express our present joy."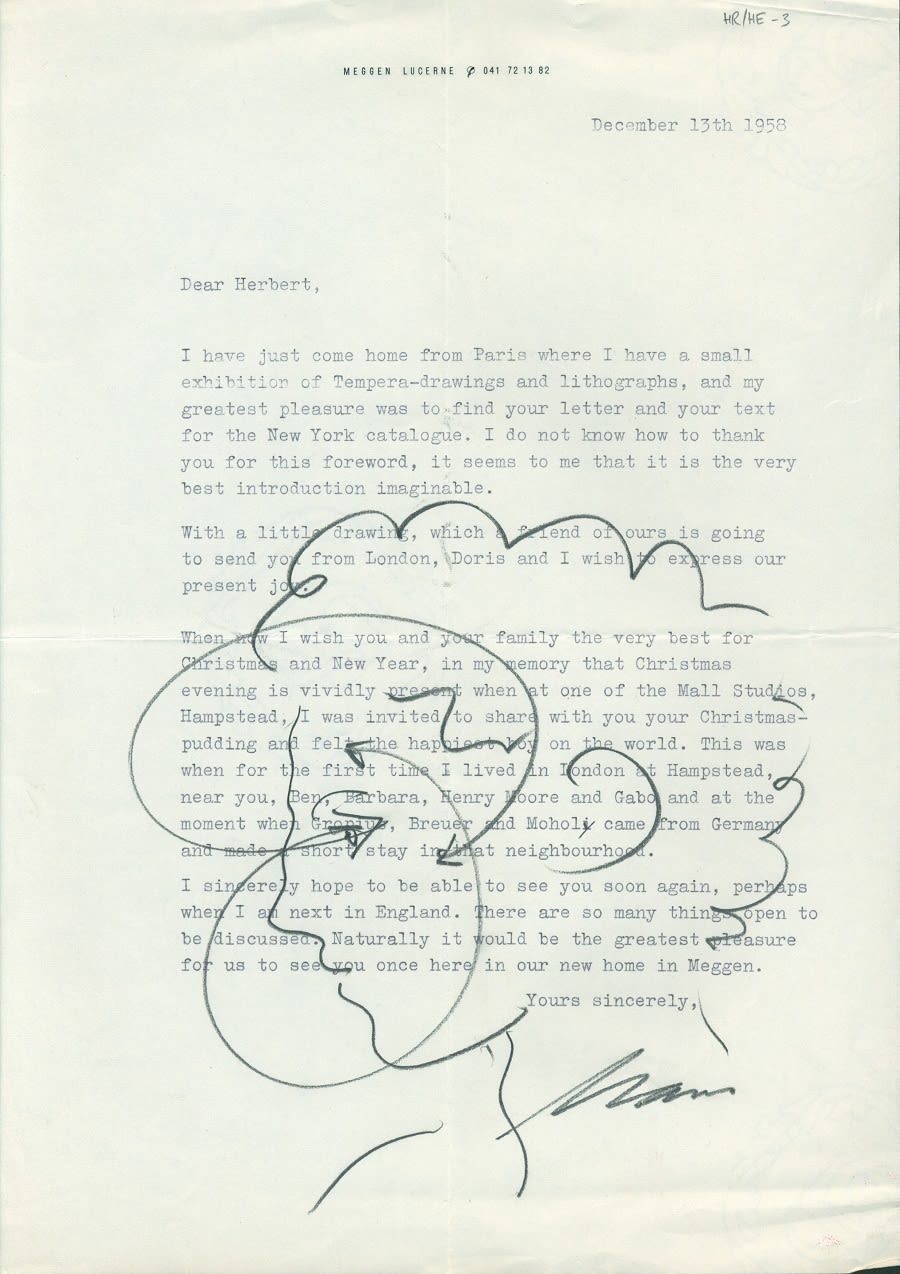 Based on the date of the letter and the recorded list of works Read owned by Erni, it likely refers to the work Pyramus and Thisbe, which is inscribed "For Herbert Read in friendship Hans Dec 58".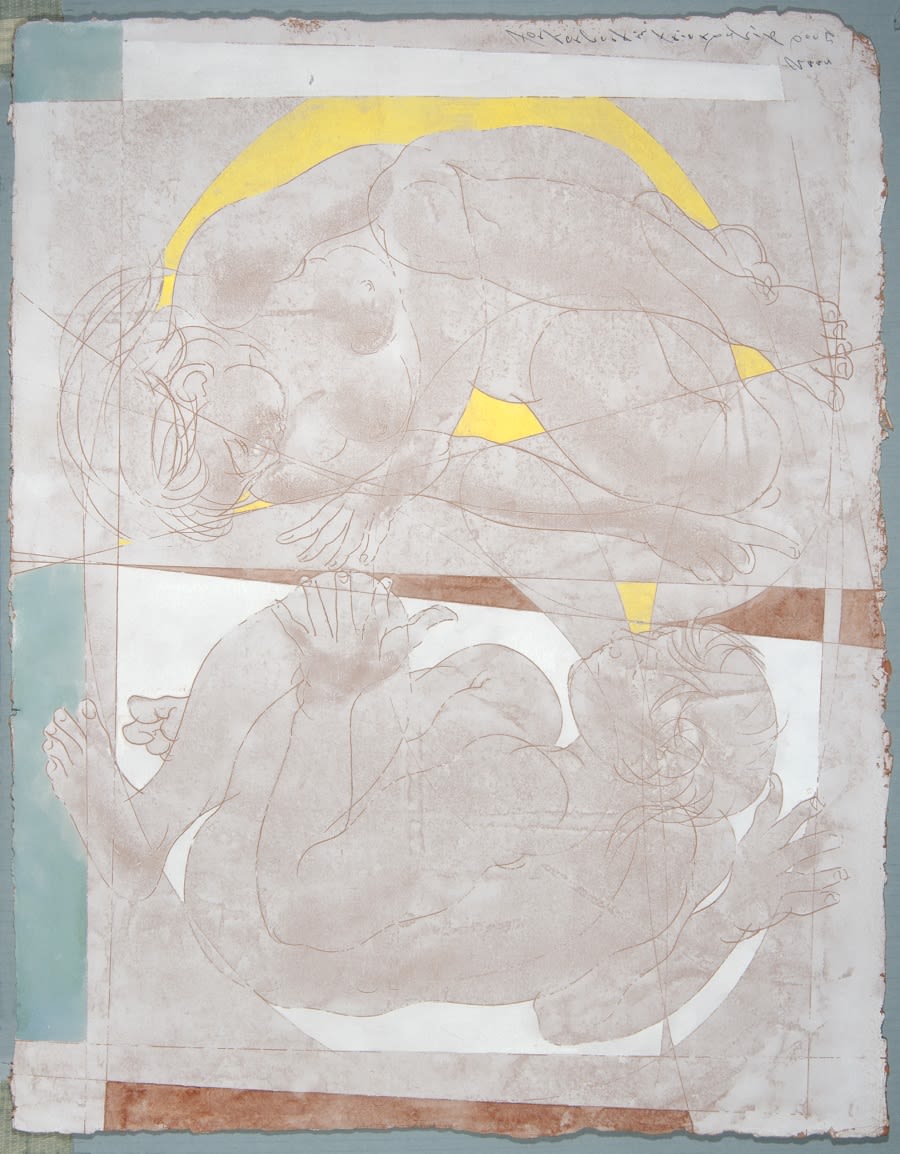 Read also owned a series of lithographs by Erni, sent to him in 1946.
J. Iqbal Geoffrey (1939–2021)
J. Iqbal Geoffrey was a modernist painter and barrister from Pakistan, who moved to London in 1960 to begin his artistic career. He was somewhat of a prodigy; his work Epitaph 1958 (1958) in the Tate Collection was produced when he was just 19.
He found almost immediate support from Herbert Read, who amongst other writings on the artist edited the monograph Iqbal Geoffrey: Paintings, Drawings, Watercolours 1949–63 (1963). In one letter to Read, Iqbal Geoffrey refers to him as "the greatest human being" in recognition of his support.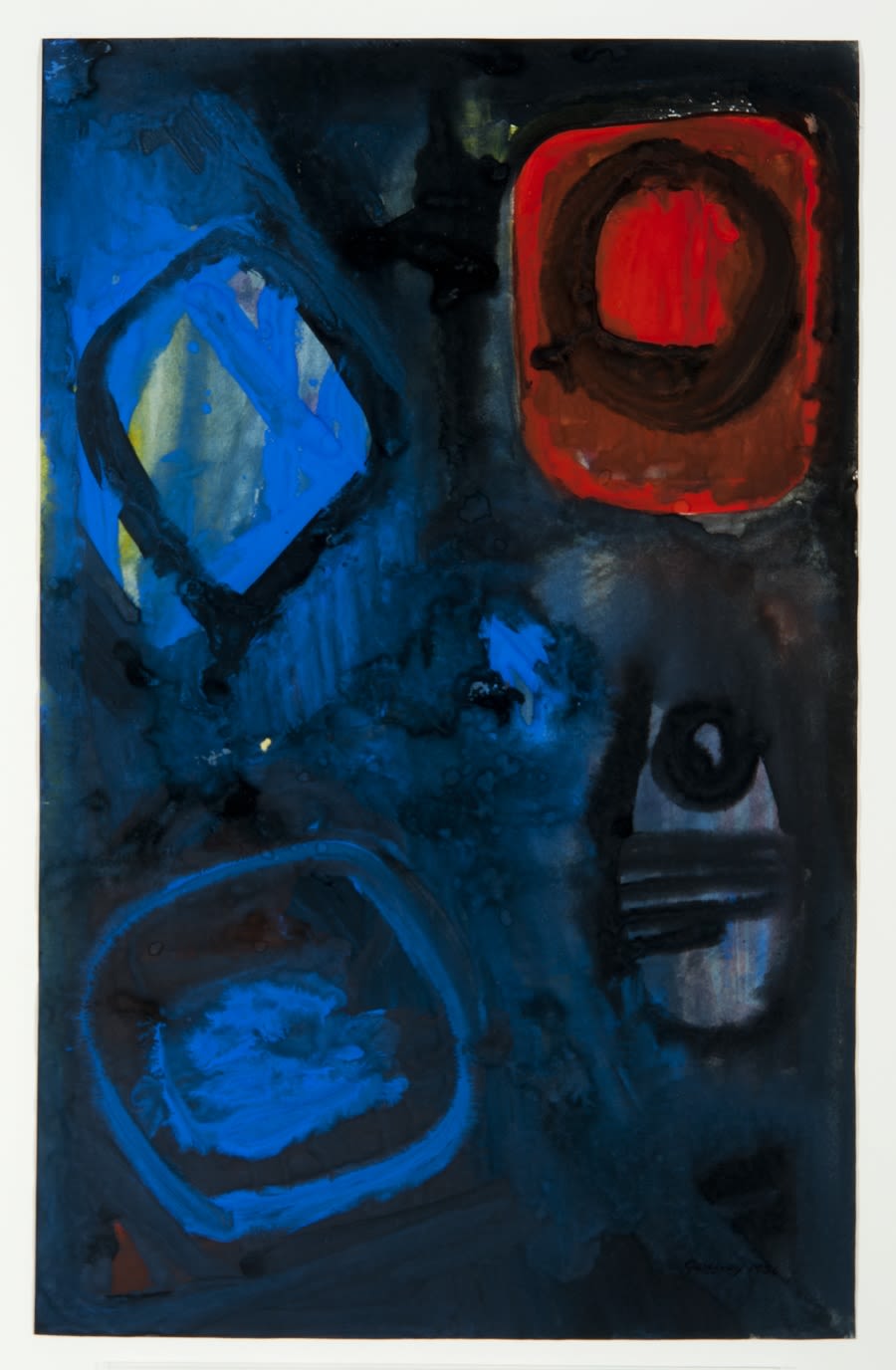 Further correspondence from Iqbal Geoffrey to Read discusses his experiences of racism as a South Asian artist. This resulted in him largely giving up painting by the mid-1960s, instead moving to the USA to take up teaching and law positions.
Read owned one of the earliest abstract works ever made by Iqbal Geoffrey, alongside the drawing Brown Bulletin (1963), given as a gift for Herbert's 70th birthday the same year.
Peggy Guggenheim (1898–1979)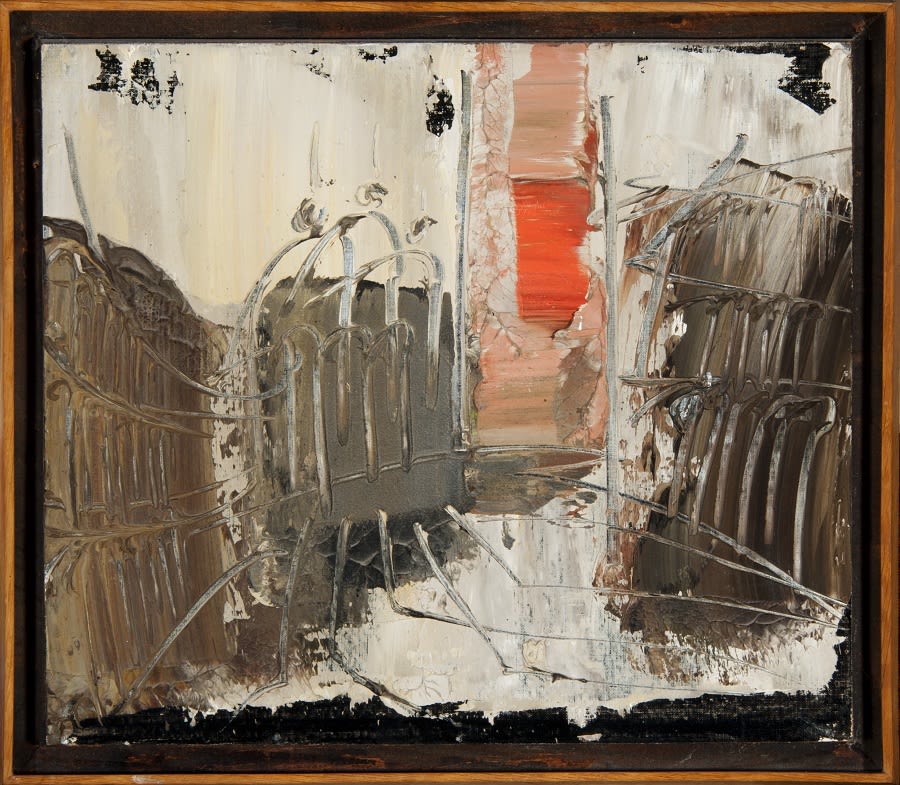 Herbert Read was gifted Piazza San Marco 2 from the American art collector Peggy Guggenheim for his 70th birthday in 1963.
The two likely first met in 1938, when Guggenheim opened her Guggenheim Jeune Gallery in London.
By 1939, Read had left his job as Editor of the Burlington Magazine to assist her in opening a Museum of Modern Art in London. Whilst never realised due to the onset of the Second World War, the list of artists drawn up by Read for this proposed museum was likely later used as the basis for the world-renowned Peggy Guggenheim Collection in Venice.
The two remained friends until Read's death and he frequently visited Guggenheim at her home in Venice.
He also owned the artwork Fête Champêtre (1950) by her daughter, Pegeen Vail Guggenheim.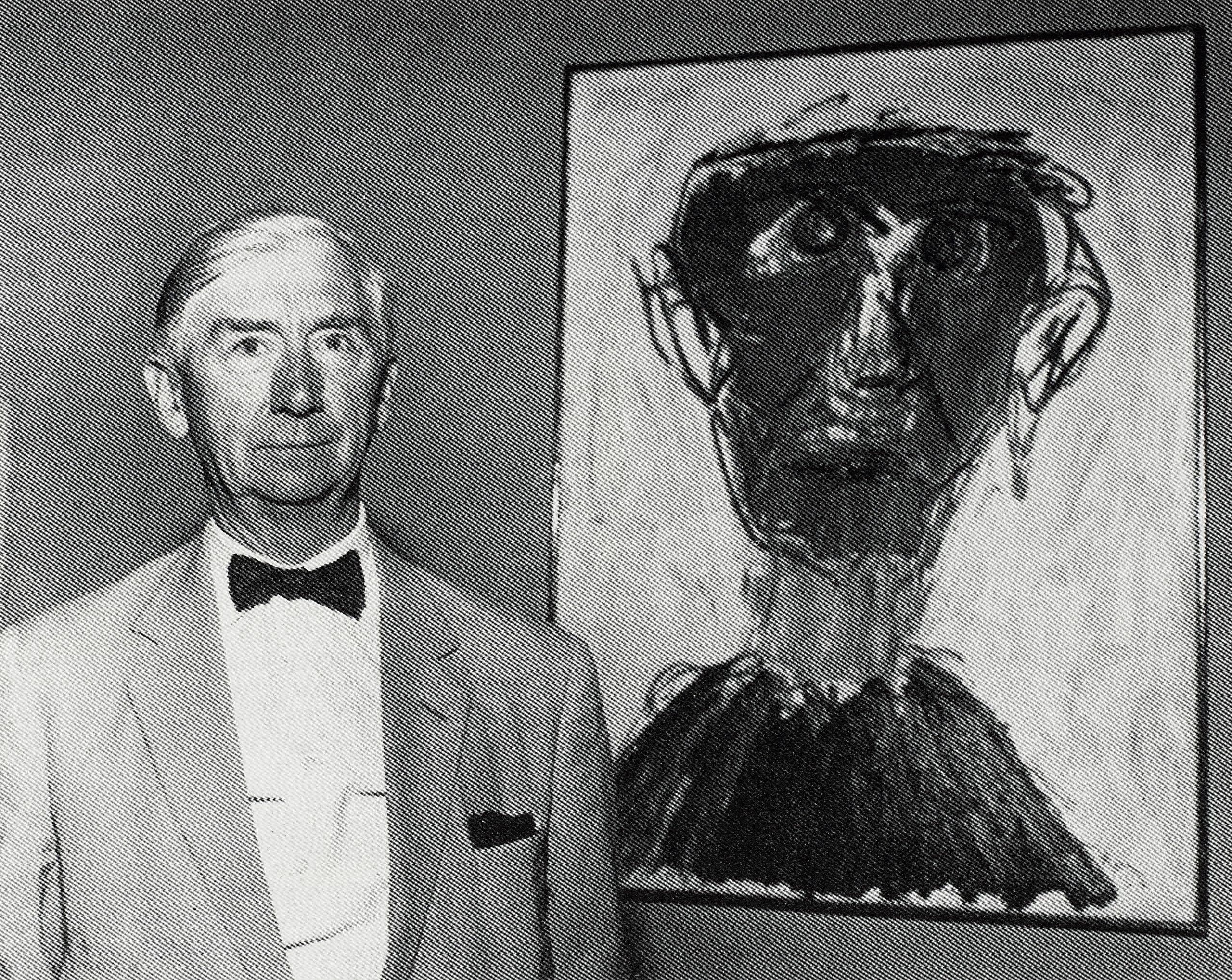 Sir Herbert Read died at Stonegrave House on 12 June 1968, surrounded by his books and his friends' artworks.
One of his last visitors was Henry Moore, and he was corresponding with Barbara Hepworth until the week of his death. Soon after, she sent the gouache Marble Forms (1965) to the Read family as a gift, with the inscription: "In praise of Herbert Read / his poetry + eloquence / his creative silences".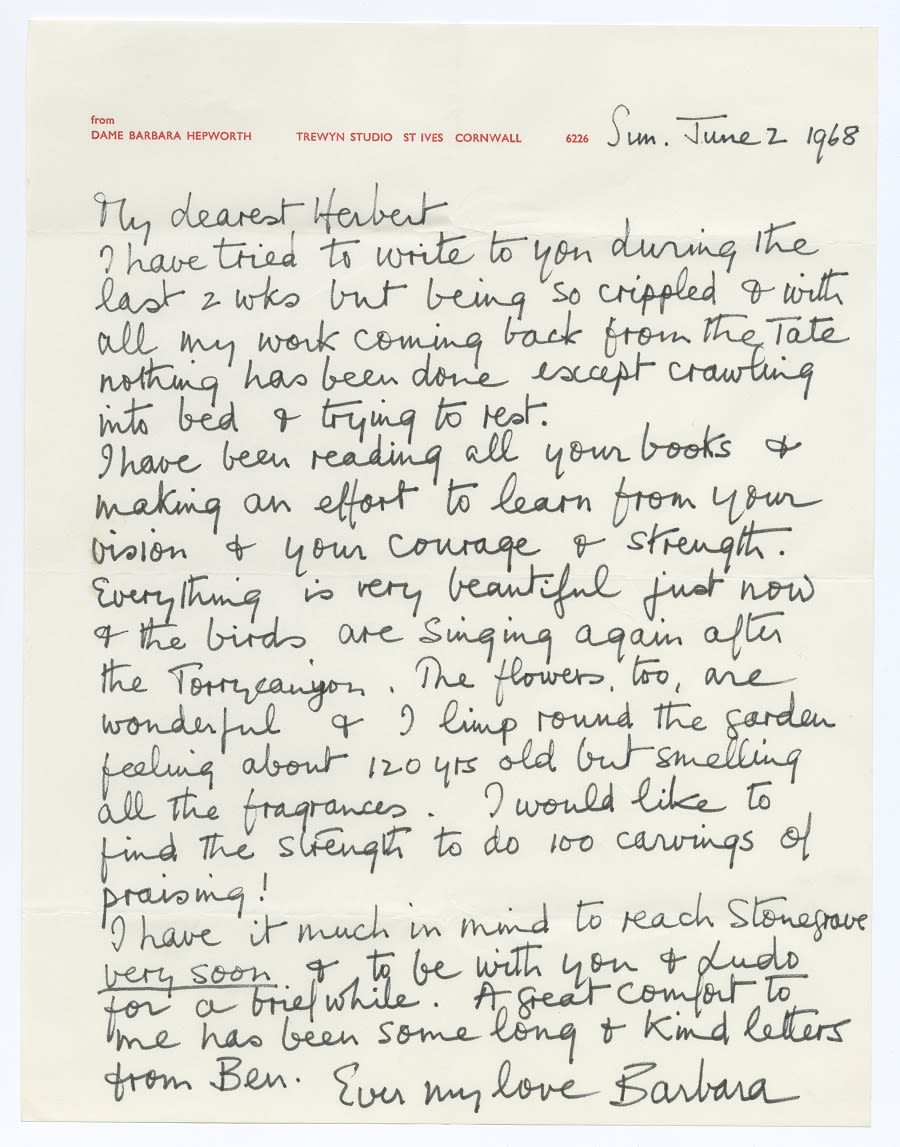 Read continued to have an effect on the art world; in memory of their friend, Moore and Hepworth donated Portrait of Herbert Read (1950) by Patrick Heron to the National Portrait Gallery. They also, along with Ben Nicholson and Naum Gabo, each donated a work of their own to the Tate Gallery.
They were deeply personal pieces: Moore presented Upright Form: Knife Edge (1966), because at the time of their greatest friendship he had been a stone carver; Hepworth chose Figure (Nyanga) (1959–60), which she noted Read had had a deep affection for; and Gabo donated one of his own favourite works, Linear Construction No. 2 (1970–71) – another version of which had been owned by Read.
Herbert's likeness also lives on in numerous portraits made during his lifetime. In addition to the portraits shown in this exhibition by Jacob Kramer, Jean Cocteau, and Kurt Schwitters, he was also captured in the following works:
Herbert Read's profound impact on modern art from the 1930s to the 1960s cannot be overstated. His relentless written output and influential positions in artistic, literary and academic institutions helped to promote the cause of modernism and boost the careers of some of the most highly regarded artists of the 20th century.
Read's impressive art collection was a by-product of his stature and as multi-faceted as every other area of his life: consisting of gifts from friends, tokens of appreciation for his words, and purchases he made to support up-and-coming artists.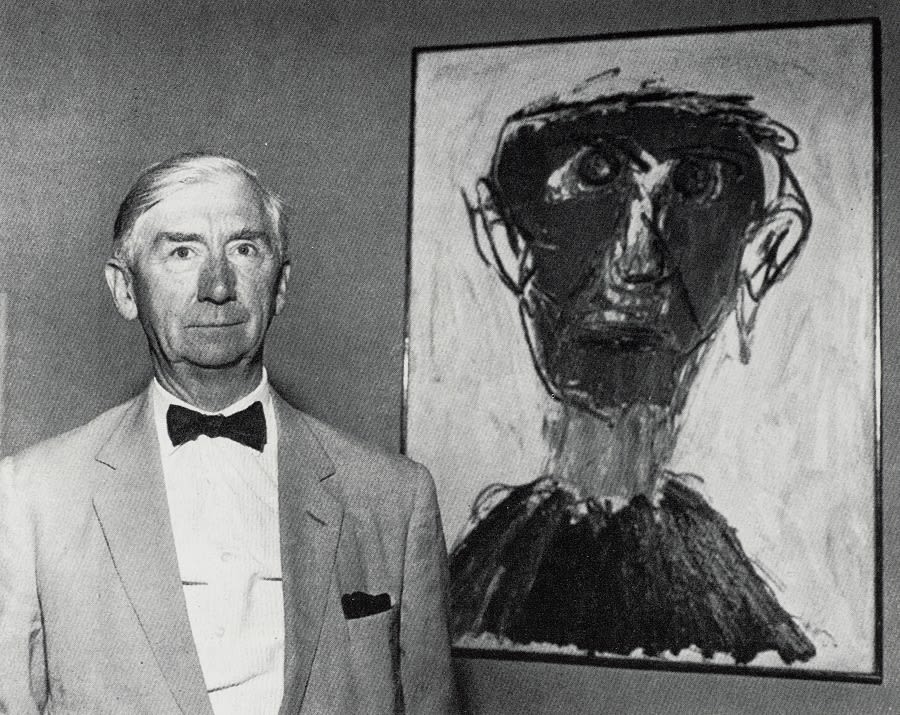 This exhibition aims to deepen understanding of Read's influence and extensive cultural network by illuminating some of the stories behind the artworks that he owned.

Herbert Read's art collection was a unique and personal reflection of a man at the very heart of modern art: the Man Behind the Moderns.
You can explore the full archival and art collection records relating to Herbert Read and his collection, held at the Brotherton Library at the University of Leeds.
Please contact Special Collections to arrange a visit, make an enquiry or offer information related to this exhibition.
Curatorial researcher: Rebecca Higgins
Digital exhibition design: Katy Sidwell
Image descriptions
The full text descriptions of the images of the objects in this exhibition are below.
Introduction
1. Schwitters Homage to Sir Herbert Read
A collage of various image cut-outs. The central image is a black-and-white photograph cut-out of Herbert Read's head and upper body. He is smiling and wearing a suit and bow-tie, and his head has been placed on a cut-out image of a chaise longue.
Back to introduction
2. Read in his study with Gabo's Linear Construction II
A black-and-white photograph of an older Herbert Read wearing a suit and sat at a desk filled with books and papers in his study at Stonegrave House. In front of him on a small table sits a curved sculpture, made from Perspex and nylon strings. Behind him are a row of bookshelves, a tall wooden sculpture and a wrought iron sculpture.
Back to introduction
Early life
3. Read in uniform
A black-and-white photograph of a young Herbert Read in military uniform. His arms are folded and he is looking straight to camera.
Back to Early life section
Leeds Arts Club
4. Kramer's Drawing of Herbert Read
A pencil drawing on brown paper of a young Herbert Read's head and neck. It is inscribed "Kramer" at the bottom-right of the page.
Back to Leeds Arts Club section
5. Letter from Read to Kramer
A 2-page handwritten letter from Herbert Read to Jacob Kramer. The letterhead reads "Broom House, Seer Green, Beaconsfield, Tel: Beaconsfield 476" and is dated 20th February 1928. It reads:
"My dear Jacob, I feel quite ashamed of not answering your letter of a fortnight ago and of not thanking you immediately for the etching. I have had it framed and brought it home today. It looks very well and we all like it very much indeed. I would like to see you doing some more etchings, for I think the medium suits your kind of sensibility. But you know best. Don't forget about the drawings for the Museum. And please look me up if you get a chance when you are in London. I was glad to hear about the paintings for the Washington exhibition and hope it will attract attention there. But don't follow Epstein across there! Let the dollars come to you instead if you can persuade them. With all good wishes, in which my wife joins. Yours ever, Herbert".
Back to Leeds Arts Club section
6. Wadsworth's Yorkshire Village
A printed woodcut on aging paper, featuring black and grey geometric shapes rising to the top of the paper. It is inscribed "Edward Wadsworth 1914" at the bottom-right of the page.
Back to Leeds Arts Club section
7. Read's Figure Composition No.1
A composition of yellow, red and black geometric shapes. They are arranged in a fan pattern at the bottom of the page and vertical lines at the top of the page. It is inscribed "Figure Composition No. 1" at the bottom-left of the page and "H.E. Read 1916" at the bottom-right of the page.
Back to Leeds Arts Club section
First World War
8. Read with soldiers
A faded photograph of a group of thirteen soldiers sat outside of a wooden barracks. A young Herbert Read is sat in his military uniform on the second row, to the far right. His legs are crossed and he is resting his head on his right hand.
Back to First World War section
9. Barlach's Mors Imperator
A printed woodcut on aging paper. It features the image of a cloaked male figure lying down with his hands placed together and his feet bare, as if in a coffin. At the top-left of the image is a sun or coin-like circular composition containing the profile of a skull. It is inscribed "E. Barlach" at the bottom-right of the page.
Back to First World War section
10. Nash's The Crater, Hill 60 (Mine Crater)
A printed lithograph on brown paper, featuring the image of a crater that has destroyed a World War One-era battlefield. The top of the print shows a desolate landscape with bare trees, whilst the rest of the print features details of the crater and loose rocks, leading to a pool of water at the bottom of the page. It is inscribed "13/25 Herbert Read from Paul Nash" at the bottom-left of the page and "Paul Nash 1918" at the bottom-right of the page.
Back to First World War section
European travels
11. Worringer's Und Mordgeschats
A printed lithograph on aging paper. The centre of the paper features a cloud-like formation containing multiple small female figures. They are gathered together in groups with fearful expressions on their faces, many clutching their head in their hands. It is inscribed "…und Mordgeschats Marta Worringer" at the bottom-right of the page.
Back to European travels section
1930s
12. Coster's Herbert Read photograph
A black-and-white photograph of a middle-aged Herbert Read wearing a suit and standing in front of a large fireplace in his flat at the Mall Studios, Hampstead. The room around him is busy and full of objects, including a large patterned rug underfoot and large bookshelves behind Read to his right. A small sculpture and porcelain vase can be seen behind Read on the mantelpiece, with a large framed collage above it. On top of the bookshelves are two more porcelain vases with a framed portrait of a female figure above it.
Back to 1930s section
A nest of gentle artists
13. Moore's Drawing for Metal Sculpture
An ink, chalk and watercolour drawing of multiple abstract figures. The figures are in multicolour; some are black, brown, green, pink and blue. The background of the top-half of the drawing has been coloured in blue chalk. It is inscribed "Moore 37" at the bottom-right of the page.
Back to The gentle artists section
14. Read and Moore at the British Council Gallery
A black-and-white photograph of Herbert Read and Henry Moore. They are both wearing suits and heads appear behind them, as if they are in a crowd. They are partially obscured by a wooden figure sculpture. Read is looking directly at the sculpture, whilst Moore is looking downwards, perhaps to a part of the sculpture out of sight.
Back to The gentle artists section
15. Nicholson's 1963 (drawing)
A pen and wash drawing, featuring simple thin lines that create an abstract pattern. A second image of the verso of this drawing shows the etching of Herbert Read's poem Tenement, which reads "Tenement. Third block four up the windows shut blank uncurtain'd. Other windows glint grin all sinister within. Reflect rainy clouds uncertain tracery of winter twigs. A wire sings an insulator clings like a wren to the wall. Herbert Read." It is inscribed "For Herbert Dec 4 65 overcloverleaf from Ben" at the bottom-right of the page.
Back to The gentle artists section
16. Interior of No.3 The Mall
A black-and-white photograph of the interior of Herbert Read's flat in the Mall Studios, Hampstead, filled with furniture, books and artworks. In the foreground is a wooden desk and chair, with various books, notebooks, a framed photograph and a figure sculpture placed on top. Behind the desk is a large fireplace, with a porcelain vase and figure sculpture on the mantelpiece. A large framed linocut hangs above it. Also featured in the room is a large piano, full bookshelves with three framed artworks placed on top of them and printed curtains to the far-right of the photograph.
Back to The gentle artists section
17. Hepworth's Theatre Sister
A faint graphite drawing touched with blue pencil, featuring the upper body of a theatre nurse with arms half outstretched. The head is truncated. It is inscribed "Barbara Hepworth 1948" at the bottom-right of the page.
Back to The gentle artists section
18. Letter from Hepworth to Read
A paragraph from a handwritten letter from Barbara Hepworth to Herbert Read. It reads:
"The little pencil and blue chalk drawing which you liked specially at my show seems to contain some of the quality of my affection for and appreciation of you and Ludo – difficult to put into words but to be more exact it has a little of the quality which I feel you both express so fully. I withdrew it from sale after seeing you and wonder whether (after it returns from Venice) whether you would accept it as a small token? With love to you both and again, all my thanks. Ever Barbara".
Back to The gentle artists section
19. Gabo's Op. 4
A printed woodcut on paper. A large black square takes up the majority of the paper, with an abstract white-lined shape inside. It is inscribed "Op. 4" at the bottom-left of the page and "Gabo for Herbert" at the bottom-right of the page.
Back to The gentle artists section
20. Read with Linear Construction II
A black-and-white photograph of an older Herbert Read wearing a suit and sat at a desk filled with books and papers in his study at Stonegrave House. In front of him on a small table sits a curved sculpture, made from Perspex and nylon strings. Behind him are a row of bookshelves, a tall wooden sculpture and a wrought iron sculpture.
Back to The gentle artists section
21. Letter from Read to Gabo
A 1-page typescript letter with handwritten signature from Herbert Read to Naum Gabo. It reads:
"Stonegrave 27.4.58. My dear Gabo: I hope you had a good flight back and that you found Miriam and Nina well. I think (and so did other people) that you yourself looked much better than for a long time, and I hope you will keep well. The construction you gave me I brought safely home, and I did not unpack it until I arrived here, and then what a revelation! We are all delighted with it, and so proud to possess "a real Gabo". It is a particularly beautiful example of your work, and it gives pleasure to everyone who sees it. I did not realise that you were giving me something so marvellous, and we shall indeed regard it as one of our most precious possessions. Thank you a thousand times, from the bottom of my heart. The book, too, was waiting for me here, and I think Peter has made a very good job of it – it is very impressive. Your reputation has always suffered somewhat from a lack of general knowledge about it – it has been too scattered throughout the world, too thinly represented in any of the museums. Now that it can be seen altogether (though only in reproduction) it will make its full affect and it must convince people. Incidentally, John Berger told me in a letter yesterday that he is writing an article about you. He is, as you know, a communist and social-realist but I shall be surprised if he is not convinced by your vision and integrity. I will send you the article as soon as it appears. The children are all well – only Ben and Sophie at home. Piers has gone back to Paris and Thomas is still in Hong Kong. It is still very cold here, but the sun is shining and there are thousands of daffodils in bloom. Twenty-four hours up here restores me to sanity. I am sorry I was so "absent" and preoccupied when you saw me in London, but my life there is just impossible. Ludo is away playing in a concert today, but she would join me in love to you all. All our affection. Yours ever, Herbert".
Back to The gentle artists section
Art Now and other writings
22. Art Now book cover
An image of the black front cover and spine of Herbert Read's book Art Now, with the title emblazoned across both in bold blue and white modern typescript design. Blue and white lines follow the title text around the cover and spine. At the top of the book spine reads "Herbert Read" and at the bottom reads "Faber and Faber".
Back to Art Now section
23. Cocteau's Portrait of Herbert Read
An ink drawing on white paper of Herbert Read's upper body sat in a chair with a comical, elongated neck. It is inscribed "Pour Read en Souvenir de La Sarraz Amitie 1936 9 Augsborg La Sarraz 14 aout" across the page as part of the drawing.
Back to Art Now section
24. Baumeister's Untitled
A printed lithograph on paper, featuring a male figure to the far-right of the page holding a steering wheel. The figure is surrounded by multiple circle, rectangle and pentagon-shaped compositions.
Back to Art Now section
25. Miro's Composition
A bold gouache and ink work on paper, featuring a central abstract composition in black ink surrounded by brushstrokes of yellow, red, orange, pink and blue paint. It is inscribed "a Monsieur Herbert Read, tres affectueusement, Miro, 934" towards the far-right of the page.
Back to Art Now section
26. Bayer's Surrealist Composition
An ink drawing on aging paper. The large central image is of a figure's lower back, buttocks and upper thighs. To the right of the figure, flying away from it, is a dove. It is inscribed "Herbert Bayer 1930" at the bottom-right of the page.
Back to Art Now section
27. Art Now frontispiece
An image of the inside cover pages of Herbert Read's book Art Now. The left-hand page features an ink drawing of a male head placed on top of a square mount. It is inscribed "Le bain de lumiere (maison de Sante) 1926", "night of the night", "Jean" and "amical Souvenir au professeur Read : de Jean Cocteau" at various points below the image of the head. The right-hand title page reads "Art Now. An Introduction to the Theory of Modern Painting and Sculpture by Herbert Read. Faber and Faber Limited. London 24 Russell Square W.C.1".
Back to Art Now section
28. Letter to Baumeister from Read
A 1-page typescript letter with handwritten signature from Herbert Read to Willi Baumeister. The letterhead reads "3 The Mall Parkhill Road London NW3 Gulliver 4538" and is dated 27th October 1933. It reads:
"Dear Professor Baumeister, I was delighted to receive the drawing you so kindly sent to me. I like it very much indeed, and am so glad to possess an example of your work. I was in the Mayor Gallery yesterday and heard that they had just sold one of your paintings. The interest in modern art is growing in England; the exhibition at the Mayor Gallery has been very successful, and my book, too, is selling very well. With best wishes, Yours sincerely, Herbert Read".
Back to Art Now section
29. Letter from Miro to Read
A handwritten letter in French from Joan Miro to Herbert Read. It translates as:
"Dear Mister Read; I hope that you are well since I saw you in Paris. I am pleased to send you today a gouache (and pastel) which it is a pleasure to offer you as I had already told you in Paris. Would you be kind enough to tell me that this gouache has reached you in good condition? I must set off for Paris to prepare an exhibition which I must open on 1st August in the Kunsthaus Zürich. It has not been possible in Barcelona to find your book "Art Now". - Could you be kind enough to send me a copy of it? Did you receive the edition of "Cahiers d'art" which Zervos should have sent you? Could you send my regards to Cooper. My kindest regards, my dear Mister Read, Miró."
Back to Art Now section
30. Art and Industry inside cover
An image of the yellow inside cover pages of Herbert Read's book Art and Industry. The left-hand page features the black typescript text "Faber and Faber" in a small white circle at the top of the page, and the larger black typescript text "Art and Industry by Herbert Read" in a larger white circle to the bottom of the page. A grey steel composition features across the page, with a circular part enclosing the text "…Industry by Herbert Read" and extending upwards to the top of the page. The right-hand page features the black typescript text "Faber and Faber" in a small white circle at the top of the page, and the larger black typescript text "Art and Industry by Herbert Read" in a larger white circle to the bottom of the page.
Back to Art Now section
London International Surrealist Exhibition
31. Surrealist Exhibition group photograph
A black-and-white photograph of a group of fourteen people (five sat down and nine stood behind them) in a gallery space with artworks and sculptures visible behind them. A middle-aged Herbert Read is stood on the back row, fourth from right. His head and upper body are visible and he is wearing a suit and tie.
Back to surrealist exhibition section
32. Picasso's Still Life (Wineglass and Napkin)
A black-and-white reproduction of an oil painting on canvas, featuring a composition of cubist shapes and dot formations. It is faintly inscribed with possibly "P 1914" at the bottom-right of the page.
Back to surrealist exhibition section
33. Postcard with loving thought
The back of a postcard with two "Republique Francaise" postal stamps attached to the top-right of the card, addressed to Herbert Read. It is signed in French, translating to "with loving thought" by Paul Éluard, Pablo Picasso, Roland Penrose, Nusch Éluard, Cécile Éluard, Man Ray, Yvonne Zervos and Christian Zervos.
Back to surrealist exhibition section
34. Read admiring Klee's Resting Ships
A black-and-white photograph of an older Herbert Read leaning over to inspect a framed abstract artwork placed in an easel.
Back to surrealist exhibition section
35. Klee's Rauferei
A pencil drawing on brown paper of three figures staggered down the page, depicted as if in movement. It is inscribed "1926 J. 1. Rauferei" at the bottom of the page.
Back to surrealist exhibition section
Later life
36. Artwork labels
An image of nineteen small typescript and handwritten labels for artworks. They read from left to right, downwards from the top of the image "Victor Pasmore – Construction", "Barbara Hepworth, drawing", "Max Ernst – Forest (1927)", "Harold Liversidge – Composition", "Harry Thubron", "Naum Gabo", "Stieger – Drawing", "Paul Nash – A Café Scene", "Alexander Calder", "Maillol – Nude", "Congden – Piazza San Marco", "Bakic – Torso", "Horseman", "Alexander Calder – Mobile", "J. Ridgewell", "The Garden", "Seaton Delaval" and "from Haiti". One label is blank.
Back to Stonegrave art catalogue section
37. Stonegrave House art catalogue
Art catalogue inside cover pages
An image of the inside cover pages of Herbert Read's catalogue of the artworks in his collection. The left-hand page is blank and the right-hand page reads: "Catalogue of Paintings, Sculpture and Drawings. Stonegrave House."
Back to Stonegrave House section
Pages 1 and 2 of art catalogue
An image of pages 1 and 2 of Herbert Read's catalogue of the artworks in his collection. Three artworks are handwritten into the notebook, in black and blue ink with pencil annotations. They are mostly written in the same format, with each entry depicting the artist, title, medium, date, measurements and inscriptions of the artworks. The left-hand page reads: "Ben Nicholson, Nov. 62 (Morbihan), 1962, s.d. on reverse, Pencil, 17 x 23 ½in and frame, ph 488 and Marlborough label No. BN 59. Gouache painting, 1936, gouache, s.d. on reverse, 12 x 16 ½in, "version 3/12 hand painted by BN", "for Herbert and Ludo Xmas 1938" [another version in V & A]. Drawing [jug motif], pen and wash, 10 5/8 x 9in, inscr on reverse "for Herbert Dec 4 65 overcloverleaf from Ben". The right-hand page reads: "1, Pablo Picasso, Still-life: wineglass and napkin, 1914, oil on canvas, 8 x 5 ½in (with mount and frame, 3 ½ x 10 5/8), (Arts Council Picasso Exhibition, 1960, Cat. No. 270. Ill. Plate IIj, Ex Graffe Colln. (Brussels) ex Penrose Colln), 1000."
Back to Stonegrave art catalogue section
Pages 3 and 4 of art catalogue
An image of pages 3 and 4 of Herbert Read's catalogue of the artworks in his collection. Six artworks are handwritten into the notebook, in blue ink with pencil annotations. They are mostly written in the same format, with each entry depicting the artist, title, medium, date, measurements and inscriptions of the artworks. The left-hand page reads, from top to bottom: "Paul Nash, Ghost of The Monster about to rise (crossed out), 15, Minotaur: Monster Pond, watercolour, 1942, 15 x 11in, 100. 13, The Peacock Path, 1912 (crossed out), 1911, watercolour drawing, (pen, pencil and chalk), 18 x 14 ¾in. Ex Mrs J.L. Garvin Colln. Tate Gallery Memorial Exhib, (1948, Cat. No. 72). Carfax Gallery Ex (1912), No. 19. (Property of Benedict Read), 200. 14, Strange Encounter, 1935, Watercolour (study for oil painting) 7 ½ x 11in, inscr: "Souvenir for Herbert from Paul", 100. An asterisk leads from this entry to a note at the bottom of the page, stating "Possibly 'Encounter of Two Objects', Oil on canvas, Leicester Galleries Ex. 1938. Memorial Ex. No. 42). 16, Drawing, Watercolour, 6 ½ x 4 ¼in, 25." The right-hand page reads: "2, Joan Miro, Composition, 1934 (Tate date 1931), Gouache, 18 x 24 ½in, crayon and black ink, inscribed: "a Monsieur Herbert Read, tres affectueusement, Miro, 934.", 750. 17, Paul Klee, Rauferei, 1926, Pencil drawing, 10 x 7 ¼in, inscribed '1926 J.1. Rauferei', 75. Ref: Paul Klee Handzeichnungen 1921-30, ed. Grohmann, Potsdam/Berlin, 1934 – 1926 no. 103 (p. 22)."
Back to Stonegrave art catalogue section
Pages 25 and 26 of art catalogue
An image of pages 25 and 26 of Herbert Read's catalogue of the artworks in his collection. Six artworks are handwritten into the notebook, in blue and black ink with pencil annotations. They are mostly written in the same format, with each entry depicting the artist, title, medium, date, measurements and inscriptions of the artworks. The left-hand page reads: "Barbara Hepworth, 70, Theatre sister (alternate title 'Bust (Nurse)' crossed out), Blue chalk and pencil drawing, 1948, 13 ¼ x 9 ½in, 75. 69, Concourse (in the Operating-theatre), pencil and oil, 1948, 14 x 10in, 100. 68, Drawing (abstract), Pencil and red gouache, 1941, 11 ½ x 9in, 75. The right-hand page reads: "Barbara Hepworth, 66, Single form, 1937, H: 31 ¼in, Holly wood, 200. 67, Pierced ironstone (mother and child), 1934, H: 4 ¼in (with base, 6 ½in), 50. Amulot, 1962, Bronze s & d, no 4/9, h 12 ins."
Back to Stonegrave art catalogue section
38. Stonegrave House gallery
Stonegrave photo and wallet
An image of Herbert Read's small, square, brown wallet with a small, square photograph laid on top of it. The colour photograph shows the exterior of Stonegrave House from a slight distance, with a large garden in front of it and hills with trees behind it.
Back to Stonegrave House gallery section
Stonegrave House corridor
A black-and-white photograph of a ground-floor corridor at Stonegrave House, with a door to the left and two wooden chairs and a table in the corridor, underneath a window. Above both chairs on the wall are framed artworks, and on the windowsill sits a bronze sculpture.
Back to Stonegrave House gallery section
Stonegrave House drawing room
A black-and-white photograph of the drawing room at Stonegrave House, featuring two sofas and an armchair positioned in front of a large fireplace, with a coffee table and patterned rug in the middle and mid-height bookshelves around the walls. Sculptures, lamps and framed artworks are positioned on top of the fireplace, bookshelves and coffee table. Five framed artworks are hung on the walls, including a large framed still life above the fireplace.
Back to Stonegrave House gallery section
Stonegrave House study
A black-and-white photograph of the study at Stonegrave House. In the foreground is a wooden desk filled with books, papers, various stationary and a pair of glasses. Behind the desk is a partition separating it from two armchairs and a small gas fire. Bookshelves fill the room, and on the top of the mid-height bookshelves against the back wall of the study sit various sculptures, vases and lamps. Five framed artworks are hung on the wall above them.
Back to Stonegrave House gallery section
Gregory Fellows and British Art
39. Read with Butler's Head
A black-and-white photograph of an older Herbert Read wearing a suit and sat at a desk filled with books and papers in his study at Stonegrave House. He is sat facing the camera, and in front of him on the desk sits an iron sculpture. Behind him are rows of full bookshelves.
Back to Gregory Fellows section
The Pope of Modern Art
40. Schwitters' Merzbild Dundrennan
A collage of various fragmented cut-outs of coloured paper. It is inscribed "For Herbert Read" at the bottom-left of the page and "Kurt Schwitters 1944" at the bottom-right of the page.
Back to Pope of Modern Art section
41. Letter from Schwitters to Read
A typed letter from Kurt Schwitters to Herbert Read. It is headed "39 Westmoreland Rd, Barnes, SW13, Nov. 1. 1944" and reads:
"Dear Mr. Read! I thank you very much for being so quick and writing such a marvellous article. I am very happy about it and have been in high spirits ever since it arrived. You certainly observed everything and explained it excellently. I especially appriciate [sic] your remarks about the mystic in my work, and what you wrote about the "rejected stone" absolutely expresses my way of feeling and working. I am really very grateful to you. Yours sincerely".
Back to Pope of Modern Art section
42. Guggenheim, Read and Francken in Venice
A black-and-white photograph of Peggy Guggenheim, Herbert Read and Ruth Francken stood together in a courtyard in front of a building. All three are laughing and Guggenheim is resting her hand on Read's right shoulder. Francken has turned her head to look at Guggenheim.
Back to Pope of Modern Art section
43. Congo the chimp at the ICA
A black-and-white photograph of Congo the chimpanzee, standing and holding a framed artwork consisting of random paint brushstrokes. Congo is looking down at the artwork and has his right hand touching the front of the work.
Back to Pope of Modern Art section
44. Letter from Erni to Read
A typed letter with handwritten signature from Hans Erni to Herbert Read. Drawn across the letter is the profile of a head with curly hair. The letterhead reads "Meggen Lucerne 041 72 13 82" and is dated 13th December 1958. It reads:
"Dear Herbert, I have just come home from Paris where I have a small exhibition of Tempera-drawings and lithographs, and my greatest pleasure was to find your letter and your text for the New York catalogue. I do not know how to thank you for this foreword, it seems to me that it is the very best introduction imaginable. With a little drawing, which a friend of ours is going to send you from London, Doris and I wish to express our present joy. When now I wish you and your family the very best for Christmas and New Year, in my memory that Christmas evening is vividly present when at one of the Mall Studios, Hampstead, I was invited to share with you your Christmas-pudding and felt the happiest boy on the world. This was when for the first time I lived in London at Hampstead, near you, Ben, Barbara, Henry Moore and Gabo and at the moment when Gropius, Breuer and Moholi [sic] came from Germany and made a short stay in that neighbourhood. I sincerely hope to be able to see you soon again, perhaps when I am next in England. There are so many things open to be discussed. Naturally it would be the greatest pleasure for us to see you once here in our new home in Meggen. Yours sincerely, Hans".
Back to Pope of Modern Art section
45. Erni's Pyramus and Thisbe
A collage on paper depicting two figures lying in foetal positions, one looking downwards and the other upwards, towards each other. It is inscribed "For Herbert in friendship Dec 58 Hans" at the top-right of the page.
Back to Pope of Modern Art section
Legacy
46. Letter from Hepworth to Read
A handwritten letter from Barbara Hepworth to Herbert Read. The letterhead reads "from Dame Barbara Hepworth Trewyn Studios St Ives Cornwall 6226" and is dated Sunday 2nd June 1968. It reads:
"My dearest Herbert, I have tried to write to you during the last 2 wks but being so crippled and with all my work coming back from the Tate nothing has been done except crawling into bed and trying to rest. I have been reading all your books and making an effort to learn from your vision and your courage and strength. Everything is very beautiful just now and the birds are singing again after the Torrycanyon. The flowers, too, are wonderful and I limp round the garden feeling about 120 yrs old but smelling all the fragrances. I would like to find the strength to do 100 carvings of praising! I have it much in mind to reach Stonegrave very soon and to be with you and Ludo for a brief while. A great comfort to me has been some long and kind letters from Ben. Ever my love Barbara".
Back to Legacy section
47. Gabo, Moore and Hepworth
A black-and-white photograph of Naum Gabo, Henry Moore and Barbara Hepworth stood in the Tate Gallery next to a photograph of Herbert Read's head and upper body, wearing a suit and a hat. Both Gabo and Moore are holding a glass of champagne and looking at Hepworth, who is looking back to them. Hepworth is resting on a cane and holding a handbag.
Back to Tate Gallery photographs part of Legacy section
48. Gabo, Hepworth, Moore and Lady Read
A black-and-white photograph of Naum Gabo, Barbara Hepworth, Henry Moore and Lady Read stood in the Tate Gallery. A large Perspex and nylon string curved sculpture on a plinth separates Gabo and Hepworth from Moore and Read. Gabo is holding a glass of champagne and gesturing towards Hepworth, who is laughing and resting her right hand on his shoulder. Moore is also holding a glass of champagne and is seemingly in conversation with Read, whose back is turned to the camera.
Back to Tate Gallery photographs part of Legacy section
49. Moore, Hepworth and Gabo with Figure (Nyanga)
A black-and-white photograph of Henry Moore, Barbara Hepworth and Naum Gabo stood together in the Tate Gallery surrounded by a crowd. Both Moore and Gabo are holding a glass of champagne and the three have been caught mid-conversation, chatting and smiling. Hepworth is resting on a cane and in the background to the left of the photograph is a large wooden sculpture.
Back to Tate Gallery photographs part of Legacy section
50. Read with portrait by Appel
A black-and-white photograph of an older Herbert Read, stood in front of an oil on canvas portrait of himself. Both the photograph and the portrait are of Read's head and upper body. Read is wearing a suit and bow-tie and smiling at the camera.
Back to Legacy section