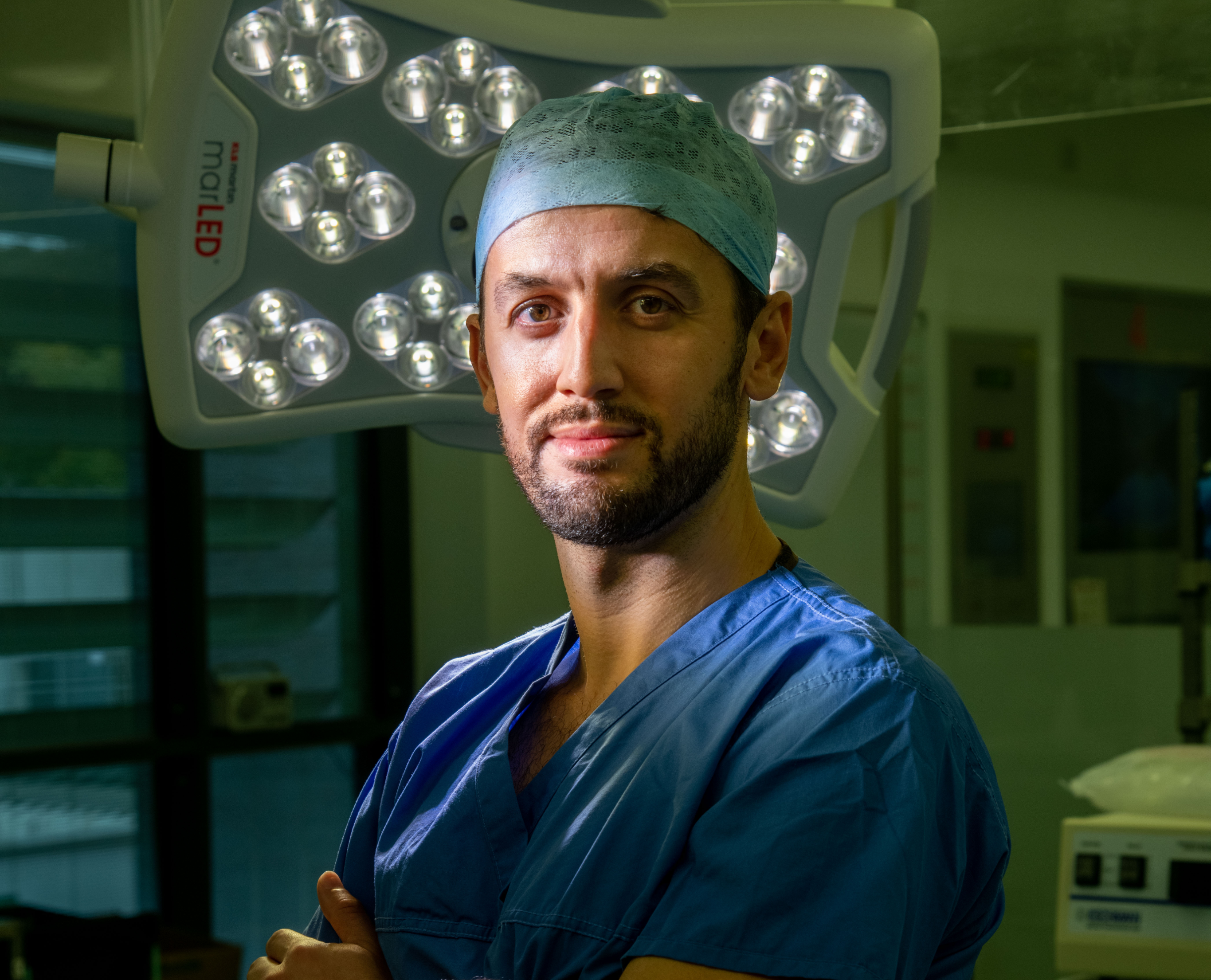 Trauma surgeon Dr Moez Zeiton (Medicine 2009) travels to war zones to use his skills where they are needed most. But he never expected to treat similar injuries back home in Manchester.
"Why do you travel to warzones?"
Dr Moez Zeiton pauses before he answers the question. Eventually, he shrugs: "If I don't do it, who else is going to?"
Since graduating from Leeds in 2009, Moez has treated and saved major trauma patients on the front line in Libya and Iraq. He has travelled to Turkey and Palestine to train surgeons treating casualties. He never imagined that the trail of destruction would follow him home to Manchester. There he used his war zone experience to help treat concertgoers injured in the suicide bombing of the city's arena in 2017.
"I was first introduced to surgery in the anatomy labs in my first year at Leeds," Moez remembers. "The ninth floor of the Worsley Building. That's where it all started."
It was a subject in which Moez excelled, and after two foundation years in east Lancashire, Moez embarked on a career in surgical training. Outside of the hospital, however, world affairs played on his mind.
"I've always had an interest in global affairs and politics. At university, I represented Leeds in the National Union of Students where global issues often took centre stage.
"As issues around the Arab Spring came to light in 2011, I got involved with charitable initiatives, sending medical aid, writing opinion pieces and helping with advocacy work."
The conflict in Libya was of particular importance to Moez; his parents were born in Libya, and much of his extended family live in the country. He felt compelled to do more, and when the opportunity arose, he deferred his surgery training and travelled to the war zone.
"I really jumped in at the deep end, but it was an opportunity I couldn't turn down. I was 25, entering a hostile environment without the support or equipment I was used to – there was no anaesthetic, for example. But whether in the UK or in a warzone, trauma requires quick thinking and multidisciplinary working. You have to put the patient at the centre and do the best you can within those limitations."
An ability to speak Arabic, coupled with cross-cultural knowledge, gave him a skillset which proved invaluable. He switched to a non-clinical role with the Libyan Ministry of Health, co-ordinating aid and working alongside the World Health Organisation.
The experience had a profound influence on Moez. "Whether you like it or not, seeing those things will affect you as an individual," he said. "You can keep a brave face and deal with a patient in the heat of the moment, but it is important to debrief and to speak to people about your feelings and experiences afterwards."
"Nobody wants to be in a warzone, it's a frankly terrifying experience."
When he returned to surgical training in Manchester, Moez took further courses in surgery in hostile environments with the David Nott Foundation. He met doctors heading to Mosul, Iraq, to help trauma victims following the ISIS occupation in 2017, and thanks to the support of his training programme, department and colleagues, he was able to join them.
"Nobody wants to be in a war zone, it's a frankly terrifying experience at times. But there was no question in my mind about going again. The work in Libya opened me up to the human need, and I'd developed a skillset which could make a difference."
Now a more experienced trauma surgeon working in the field, Moez helped run practice drills to prepare for mass casualty events – of which he has seen three up close. "It's crucial that you have drills, policies, and job roles allocated so everyone knows their responsibilities, because clinical needs of the casualties very quickly overwhelm the clinical resources. You've got to make some difficult decisions to provide the greatest benefit for the greatest number of people."
Working in a WHO-funded field hospital in Mosul, Moez and his team aimed to "preserve life and limb". They worked to stabilise the injured, dealing with the brunt of the trauma – namely bullet injuries and shrapnel wounds, the types of injuries Moez never expected to see in the UK. But just two weeks after returning to Manchester, the Arena terror attack claimed the lives of 22 people, and left scores more with life-changing injuries. "It was tragic to see that in my home town.
"I saw the worst of humanity, but it was also the best I've seen the NHS function in my career. The interaction, the collaboration across hospitals, everything was dropped to help injured patients. We hadn't seen that profile of injuries in those hospitals before."
Moez was well versed in the treatment of such wounds, and he played a key role in the response. "The way you manage these patients is very different – a shrapnel injury is a dirty wound meaning added considerations for infection, for example, and a different surgical philosophy."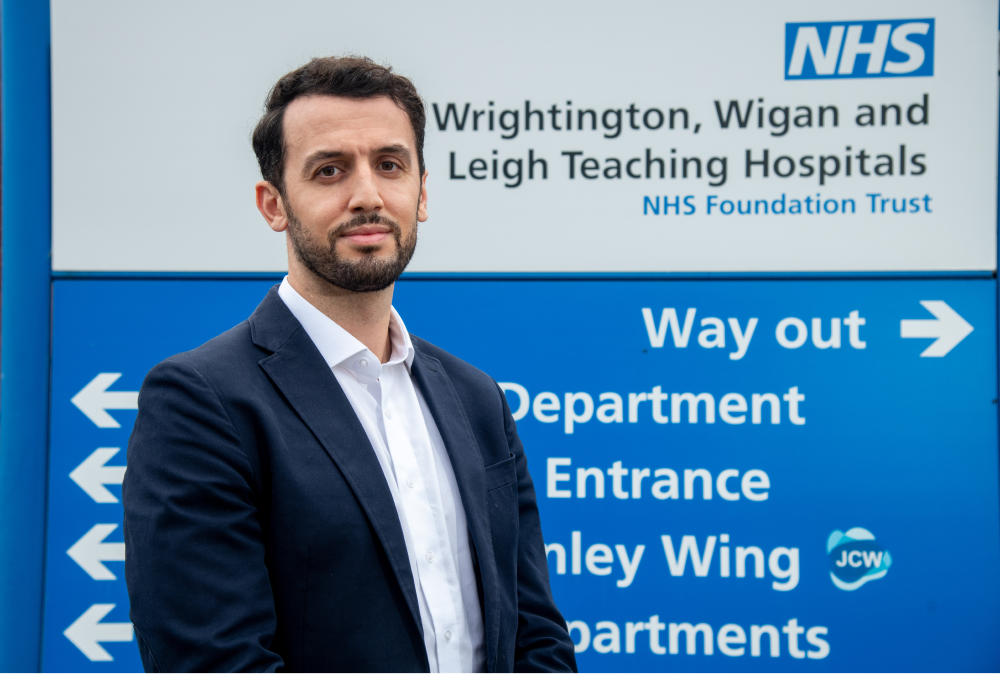 Now a senior fellow in hip and knee surgery at the world renowned Wrightington Hospital, Moez continues to look for opportunities to make a difference. He has taken on a training role with the David Nott Foundation in the UK and further afield.
"I've taught Syrian surgeons in Turkey and also Palestine," he says. "Doing so allows me to pass on skills and learn from fellow surgeons. It's humbling and also important; we have a collective responsibility to help those in need."